The Homespun Joy of Coca-Cola Chicken Wings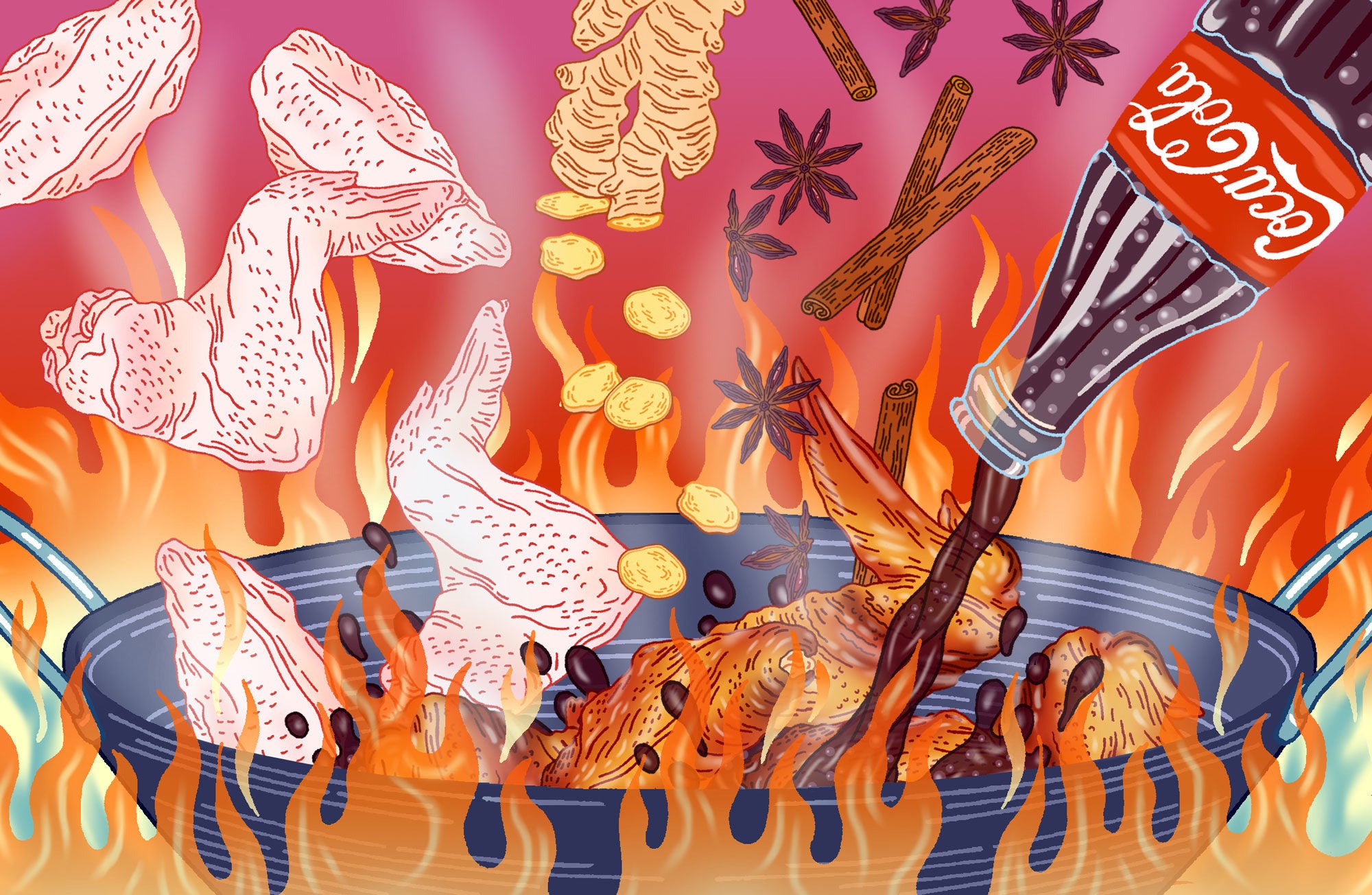 How an American soda became the heart of Hong Kong's favorite chicken dish.
Chicken wings bathed in a sweet, sticky, soy-sauce-based glaze: It's a simple formula with universally pleasing and endlessly adaptable results. To achieve this, you need only wings, soy sauce, water, and some sort of sweetener. Sometime in the 1980s at the latest, cans of Coca-Cola became the sweetener of choice in many Hong Kong kitchens, making Coca-Cola chicken wings an unlikely candidate for a beloved homestyle dish.
"It was a very dummy-proof thing," recalls Doron Wong, a restaurateur who grew up in Boston in the '80s, and whose mother, from Hong Kong, cooked the dish as a rotating home staple. "You put it all together, braise it, and reduce it down."
The method Wong describes starts with pan-frying chicken wings before adding the liquids and optional aromatics like ginger slices, then reducing the sauce to a syrup-like consistency. With its hefty 39 grams of sugar per can, Coca-Cola lends plenty of sweetness in liquid form and contributes to the wings' dark, reddish sheen. "Chicken wings have a lot of collagen, and when you mix collagen with sugar and it's sticky, it's just really good," Wong says.
"To me, it's just very normal," says Diana Kuan, author of Red Hot Kitchen, whose mother's family was from Hong Kong. Kuan's recipe uses Mexican Coke for its inclusion of cane sugar rather than the corn syrup in American and Chinese versions of the soda pop.
As Lucas Sin, chef and culinary director of Junzi Kitchen in New York City, points out, cooking down the sweet soda results in something close to a gastrique. Growing up in Hong Kong, Sin recalls, "It was one of my aunt's signature dishes, and she would feed [the wings] to us when they were fresh and hot, and the next day we would eat them just cold out of the fridge." He adds that his family's version was based on lu-style braising, where the liquid is kept at a broth-like consistency instead of being reduced to a thick glaze.
But unlike the corporate-developed recipes on the backs of American Jell-O boxes or Cool Whip cartons, Coca-Cola chicken wings were innovated by home cooks. The idea of braising wings in Coke has been organically passed on and adapted from one kitchen to another for at least three decades. And only as recently as June 2019 has the tradition been commercially acknowledged, namely with McDonalds' introduction of Coca-Cola-flavored fried wings on menus across China.
But why Coca-Cola, and why Hong Kong? In 1979, Coke reentered the Chinese market post–Communist Revolution through Hong Kong's bottling and distribution franchise, which also shipped the product throughout China and Taiwan. From then on, the drink became more accessible to a generation that grew up without it—and not just as a beverage. "When [Coca-Cola] became more democratic as a cheaper thing, people used it to cook with, and from a culinary perspective, it's a sweetener the same as sugar," says Sin.
Before the age of mass globalization, the soda gave Hong Kong a taste of the West. "Little glass bottles of Coke were definitely iconic in Hong Kong," Sin recalls. He adds that Coke was seen as a symbol of Western luxury. "Back in the day, you would go to the equivalent of a jazz club and drink Coke instead of wine."
Furthermore, Hong Kong, which was colonized by the British Empire in 1841, has a long history of catering to a Western clientele—cha chaan teng, its casual tea diners, are home to a unique category of dishes that may have sprung from this tradition, including Swiss wings. A slightly sweeter riff on typical Cantonese soy-sauce-braised chicken, Swiss wings is not at all Swiss, but became so popular that Lee Kum Kee, a major Hong Kong–based maker of Chinese cooking sauces, makes a jarred sauce just for Swiss wings. (It's marketed as "All-Purpose Marinade" in English, but the Chinese characters on the bottle say "Swiss sauce.") This may have been a precursor to Coca-Cola wings.
Ironically, given their gilded, Western-friendly reputation in the East, Coca-Cola chicken wings aren't often found in restaurants in the West—nor recorded in its cookbooks. When I asked Carolyn Phillips, author of the opus on Chinese cookery All Under Heaven, she said she hadn't heard of Coca-Cola chicken wings, presumably because she left Taiwan in 1985. Fuchsia Dunlop, author of several Chinese cookbooks, was also not aware of the dish and wrote me: "I think the only time I've ever finished a glass of [Coke] was during an anti-foreigner demonstration in China when someone who had rescued me from a sticky situation gave it to me, and I was too grateful and relieved to refuse!"
But this homegrown status may be changing. The Tang, a New York City restaurant, recently introduced Coca-Cola chicken wings to its menu, accented with Pixian chile broad bean paste for a touch of Sichuanese influence. Paying tribute to the dish's roots rather than billing it as a chef-spun innovation, they describe it simply as: "A favorite of home cooks in China."