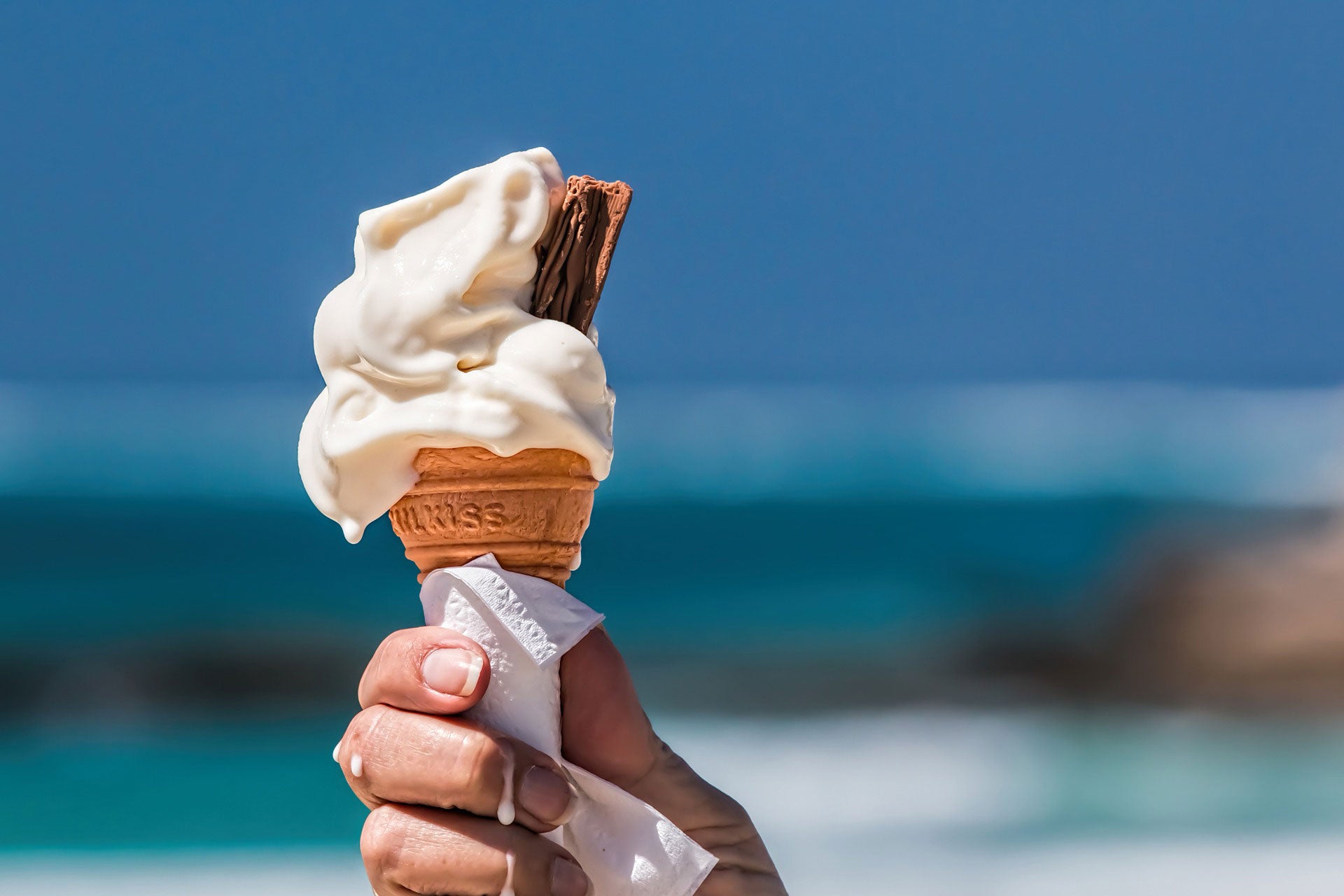 The hand-holding-cone shot has become an Instagram imperative—and a business unto itself.
After Kristen Mattern was handed a heaping scoop of Pots of Gold & Rainbows, a Lucky Charms–inspired ice cream, she immediately took the waffle cone outside of Salt & Straw's newest San Diego location. She quickly hung a right and walked around to the back, where the entire wall was painted stark white except for one corner that had an abstract ice cream cone image built of red and black lines. Mattern lifted her ROYGBIV-speckled white scoops in the air, lined up her phone, and snapped a photo. Two hundred and eighty-four likes.
While my first reaction upon being handed an ice cream cone tends to be shoving it directly into my face, for many people today, it's asking: "Where is the closest wall?!" Over the last few years, there has been an insane proliferation online of this simple image. Cookie dough cones in front of utilitarian brick, new-wave scoops fronting rustically textured stone—it doesn't matter. On Instagram, tap the location of any ice cream shop, and you'll find scads of the basic hand-holding-cone-in-front-of-wall tableau. Of late, savvy ice cream shops have even capitalized on the fad by turning their bare-bones walls into works of art to match the ice cream cone models posing in front of them.
When Salt & Straw, which now has 19 locations up and down the West Coast, was set to open this newest location in San Diego's One Paseo development, owners Tyler and Kim Malek thought of everything, specifically designing the shop to fit within its modern surroundings. Perhaps most important, the Maleks knew they needed an eye-catching mural, so they enlisted Portland-based designer Andee Hess, whose hand-painted ice cream cone is a nod to the company's humble beginnings as a red-and-white-striped ice cream cart.
Casey Milligan, Salt & Straw's VP of culture and development, tells me that every Salt & Straw location since 2011 has been designed with unique artwork, whether that's stained glass at the Venice Beach shop in Los Angeles or a special wooden mural in Seattle.
"We absolutely try to create Instagrammable spots in our shops," says David Alima, the owner and master creamer at Baltimore's the Charmery. Before opening in the summer of 2013, Alima commissioned local artist Michael Owens to paint a mural for the east-facing brick wall outside his Hampden neighborhood flagship store. The wavy, aquamarine painting quickly became a beloved backdrop for 'grams of the ice cream shop's unique offerings, like golden saffron and toasted black sesame seed.
In a world where Instagram rules everything, the photographic backdrop offered by a hip ice cream shop has become as critical as its choice of sprinkles. This is something that ice cream shops have in common with the craft beer world (some murals, like the Magnum, P.I./Sloth mash-up at Asheville, North Carolina's Burial Beer Co., have become downright iconic). It kind of makes sense: Both beer and ice cream are generally consumed standing up, and both are a bit hard to appraise from overhead—an angle that doesn't necessarily reveal the color of a hazy IPA or the tidy swirls and colorful textures of soft serve.
When it comes to ice cream, you typically take it outside and then immediately have to snap a pic before it, and your potential for likes, starts melting away. And similar to a straw-yellow pint of beer, ice cream doesn't have any identifying marks (no logos or visible branding) that enable a viewer to differentiate one from another. Many ice cream shops are realizing that they can just watermark customers' photos via their wall art.
Ample Hills Creamery, which first opened in the Prospect Heights neighborhood of Brooklyn in 2011, almost seems like it was explicitly built for Instagram from day one, even employing a full-time creative director, Lauren Kaelin. Each of its 15 shops, mostly in the New York City area, has opened with unique murals hand-painted by Kaelin. One of the newest locations, an ice cream factory in Red Hook, Brooklyn, has a cartoonish map of the borough—with cut-outs to stick your head through—that is nearly impossible to avoid pointing your iPhone toward as you hold your Ooey Gooey Butter Cake cone.
"We understand that Instagrammable moments are a reality of today's shareable culture, but we work on creating an experience that's shareable, not necessarily just one image," explains Kaelin, who is quick to point out that ice cream mostly isn't for twenty-something food influencers; it's for children.
Most shops, however, do seem to shoot for that singular backdrop, and there's no real rhyme or reason to what they choose to offer as wall art. Everything from unicorns and cats at Los Angeles's Cocobella Creamery, to a Rick Ross–like walrus at Philadelphia's IceMax, to some bowling-pin-shaped blobs "screaming for ice cream" at Akron's Chill Artisan Ice Cream. Lodi, California's House of Ice Cream has a black wall that simply reads "EAT ME" in giant white letters, something that has angered local residents and, à la the Streisand effect, rendered it way more Instagrammable for visitors.
While irreverence is often the name of the game, the closest thing to a ubiquitous genre of ice cream shop mural involves images that depict tongues. All the better for lining up your shot so it looks like, say, a golden retriever is licking your strawberry scoop, or a red-headed dragon is slurping your Spidey-themed cone, or a little boy is after your cookies and cream…or your head. There's an anthropomorphic tongue-wagging ice cream cone displayed at South Florida's Proper Ice Cream—a real Instagram ice cream Inception moment.
That's why Alima is looking to up the Charmery's game. He is currently working with artist Matt Muirhead for something that may revolutionize the ice cream hand photograph: an old-fashioned crankie with a background that changes as you crank the handle. Disembodied hands holding ice cream cones may not be going anywhere anytime soon, but behind them, the walls are shifting.