The History of Puppy Chow, a Staple at Human Holiday Parties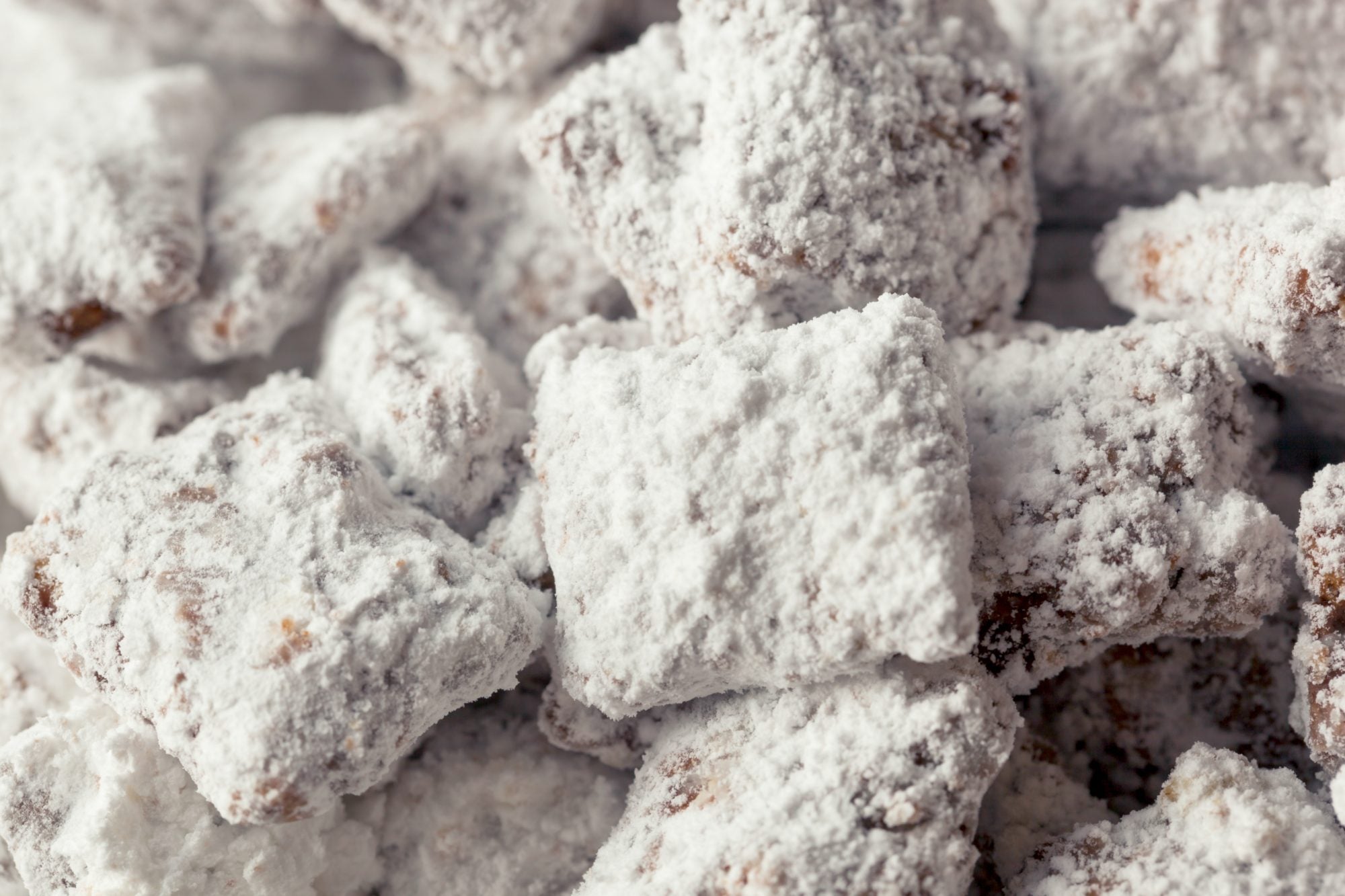 Vaguely Midwestern, and easy enough for a middle schooler to make, this masterpiece of Chex cereal, peanut butter, chocolate, and powdered sugar is in the dessert hall of fame.
I can still feel the blush of embarrassment crawling up my face as my second-grade teacher explained that her gift to me, puppy chow, was for humans, not actual dogs. She had given me the treat as I left early for winter break, and my parents sent me back in to return it. After all, we had no dog. We lived in Seattle, far from the Midwestern epicenter of the powdered-sugar-dusted, peanut-butter-and-chocolate-coated Chex cereal snack.
Puppy chow, the human food, is made by pouring melted butter, peanut butter, and chocolate chips over Chex cereal, mixing well, then dumping the mixture into a bag full of powdered sugar. It has all the elements of a good party food: sweet, salty, crunchy, and just messy enough to allow you to use "Gotta go wash my hands" as an excuse for leaving an awkward conversation.
After this elementary school incident, I wouldn't run into the snack again until college, when my Iowan dormmate made it in bulk for gifts—handing it out all wrapped up in cellophane bags and tied with colorful ribbons. It was a present as emblematic of her blonde hair, blue eyes, and flat vowels.
The puppy chow belt runs through the Dakotas, Iowa, Nebraska, and Wisconsin, fanning out into the surrounding areas. There it is at every potluck, picnic, and holiday party table. Children learn to make it early and often. "It's a rite of passage," says North Dakota native and food writer Jackie Varriano.
Sheena Louise Roetman, a lifestyle writer from Lusk, Wyoming, identifies the appeal of what was often a Christmas snack for her family: "It's very easy and cheap to make…and the recipe makes huge batches, so it's something that can be nibbled on by everyone for a few days." Sometimes, she adds, they would make it just as an afternoon snack/project, either helping adults or on their own. Now living in Atlanta, she realizes what a regional treat it was, and talking about it brings pangs of nostalgia. "Being away from home is hard enough, and the older I get the more I appreciate those little Midwestern quirks."
Sometimes puppy chow goes by other—less confusing—names, the next most popular being Muddy Buddies, the official name used by General Mills, which produces both Chex, the main ingredient, and a commercial version of the product. It occasionally goes by "monkey munch" or, playing up its Christmastime association, "reindeer chow." But most commonly (and in its geographical heartland exclusively), it is puppy chow. One might presume, given the kibble-like appearance of the brown, crunchy snack, that the name came purely from the dish's physical qualities, but while the snack's origins are murky, its dog food ties are strong.
Chex cereal first arrived on the market in 1937, made by the Ralston Purina Company of St. Louis, Missouri. Yup, that Purina. The company had adopted the name "chow" for its animal feeds after hearing World War I soldiers call their rations that. The company, which started as a horse-feed company, made dog chow, cat chow, and…cereal? People were a bit confused, and the name "Chex" didn't catch on immediately.
"We called Chex 'human chow' because of the Purina connection," says Gregg Porter, a public radio announcer, who grew up in Cedar Rapids, Iowa in the late '60s. He remembers making puppy chow (though they called it muddy buddies), but the standard snack in his circles was the savory version: Chex mix. The salty party mix first showed up on the back of Chex cereal boxes in 1952 and quickly became a household (and holiday party) staple.
While puppy chow has some of the same seasonality—helping sales of Chex cereal spike in December—it has none of the traceable history. Multiple Midwesterners happily shared stories of the prevalence of puppy chow going back to the '60s, but General Mills, the owner and producer of the Chex cereal brand since 1996, says that the Muddy Buddies recipe was developed in 2002. In 2009, the company introduced the packaged version, sold only as a seasonal product until 2011. However, it seems likely that it had come off a box or from a recipe pamphlet, now lost to time, at an earlier date—my Indiana mother-in-law, who's been making it since the '70s, was able to immediately pull up a recipe identical to the one on Chex's website from Hospice of the Calumet Area's 1992 book Recipes from Home, and says she's sure it's in many more of the community cookbooks that she, like any good Midwestern retiree, has in spades.
While plenty of people I spoke to tell stories of learning to make it at home or in Brownies and Girl Scouts, the one place repeated by most Midwesterners—from Wisconsin, the Dakotas, and Nebraska—seems to be middle school home-economics class. "It was mandatory in the seventh grade," recalls Varriano, "half-cooking and half-sewing." And by "cooking," she clarifies, she means they learned to make orange Julius, cookies, and, of course, puppy chow.
But both Varriano and Mary Bisenius, who was raised in Sioux City, Iowa, knew how to make it long before that. "In fifth grade, each person in my class had to give a 5- to 10-minute instructional speech on how to do something. Mine was how to make puppy chow," says Bisenius. "I become particularly distraught when people don't add enough peanut butter," which she explains leaves it too dry and without the quintessential clumps. "Ya gotta have clumps!"
For her, the snack recalls family gatherings, bake sales, and volleyball tournaments, where she joked that it was "the fuel of champions." She pauses, then reminds puppy chow rookies and old hands alike, "Don't eat it too fast because you inhale the powdered sugar, resulting in an awful choking cough."
Today, General Mills sells Muddy Buddies by the bag and references the homemade version in seasonal commercials. Puppy chow enjoys the kind of Pinterest-friendly food-blogger Internet fame normally reserved for spiralized vegetables and anything so laden with cheese it buckles under its own weight—in s'mores, pumpkin spice, salted caramel, or birthday cake flavor, among hundreds of others. But what these versions often miss are the very things that helped puppy chow originally catch on as the "it" snack of sixth-grade sleepovers everywhere: that it's easy enough to make without adult supervision, uses just a few ingredients (often already on hand), requires the heat of only a microwave, and is full of the kind of sugar rush that will keep everyone up gossiping all night.