As American as the Greek Salad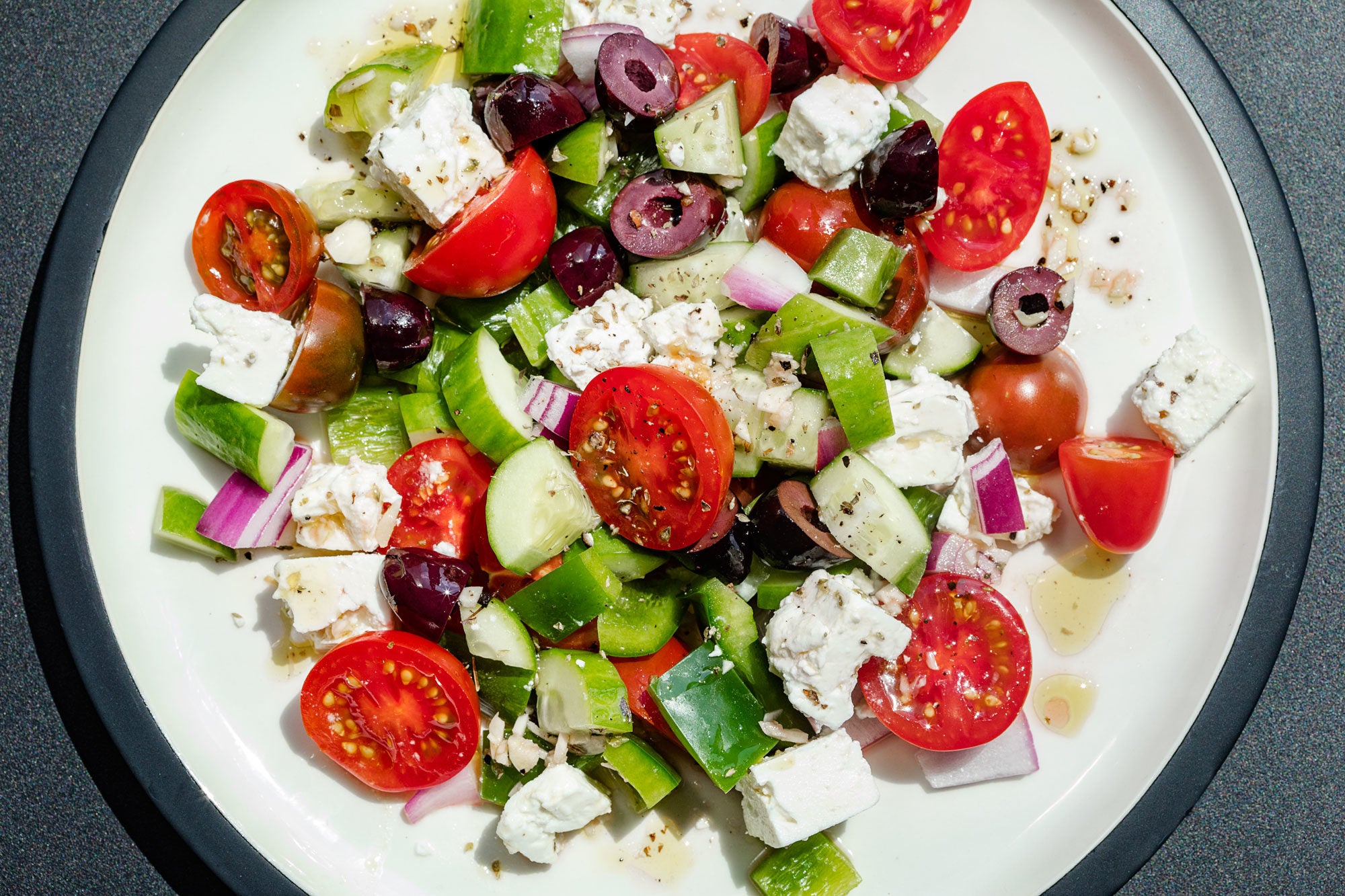 How the combination of cucumbers and feta gained a few ingredients and became a coast-to-coast staple.
The American diner menu is so long, and so puzzling—with the chocolate chip pancakes listed right next to the matzo ball soup, just a page away from the Cubano, which sits alongside a Denver omelet. These multipage bills of fare, though bloated and perplexing, are also a paper trail for the many immigrant groups who found refuge in the diner business over the past 50 years, blending their food traditions with those they found in America and creating a hybridized cuisine that was totally unique to these establishments.
Then there's the near-constant Greek salad—as it's known to many—a mélange of iceberg lettuce tossed in a thick, tangy dressing, layered with tomatoes, Kalamata olives, thinly sliced onions, blocks of feta, and always cucumbers. So many cucumbers. What started as an Americanized modification on a traditional Greek side dish has become a dish so common that there are now two versions of it at Panera Bread. That's all thanks to the diner.
Beginning in the 1960s, Greeks became dominant in the diner business, following the passage of the 1965 Immigration and Nationality Act, which ended the national quota system that restricted the flow of immigrants into American cities. At a time when far-right military juntas had taken over Greece, immigration from that country surged, and Greek-owned diners appeared up and down the Eastern seaboard, from New York and New Jersey down to Florida.
"Greeks were a close-knit community," often more so than other immigrant groups, says Richard Gutman, the author of American Diner Then and Now. "They preferred to work with family members and cousins and other people from the old country. That's how they were able to get a stronghold on the business."
Before the 1960s, diners were small and had limited menus—featuring a few dishes that were staples of the surrounding immigrant community. At the time, major American cities were highly segregated by ethnicity, so the diners "catered to a very localized clientele," says Andrew Hurley, a history professor at the University of Missouri–St. Louis. But with the advent of automobiles, there was an opportunity to increase profits by moving beyond those localized communities and grabbing a wider swath of the American population. "In the process, diner cuisine Americanized," Hurley says. Italian diners took snails off the menu and started pushing more populist spaghetti and meatballs. Polish diners leaned into their iconic dumpling, the pierogi.
The earliest Greek diners offered horiatiki, a standard accompaniment to Greek meals comprising tomatoes, olives, cucumbers, onions, and feta drizzled with oil and vinegar. To better suit an American audience, many diner owners started adding iceberg lettuce and tossing everything together with the oil and vinegar, like a dressing.
"All the other salads in America had iceberg lettuce or romaine," recalls Yanni Dionisopoulos, co-owner of the Golden Fleece diner in Detroit, started by his father around 50 years ago. "So this became the add-on to get Americans more familiar with it. To make them think it was a regular salad."
Greek diners started offering two types of salad: "Greek salad," which included iceberg lettuce, as well as "Village salad," which referred to the traditional version.
Later on, Golden Fleece and other Detroit diners added pickled beets and peperoncini to their versions, simply because "people associate pickled things with Greek cuisine," Dionisopoulos chuckles. Other adaptations abounded. In Toronto, a potato-based Greek salad became popular; in various cities, croutons were added to mimic Dakos, a Greek bread salad—or simply because Americans enjoyed crusty bread with their tossed greens. Jimmy Gonias, who, along with his nephew, co-owns the Hauppauge Palace Diner in Hauppauge, Long Island, reimagined the oil and vinegar topping "to make it more dressing-like," he says—similar to the bottled stuff Americans were seeing in supermarkets. The secret ingredient to his orange-hued creamy dressing is Dijon mustard.
Immediately, the lettuce-laden Greek salad took off. It was in high demand by customers, and it was on every diner menu.
"The response was always great" from the very beginning, Dionisopoulos recalls. The dish was just familiar enough to diners because of its salad-like presentation, but it had a few key twists—namely the tangy feta and the briny olives. "The feta had a big role," he says. "It was very unique at the time."
The earliest Greek diners offered horiatiki, a standard accompaniment to Greek meals comprising tomatoes, olives, cucumbers, onions, and feta drizzled with oil and vinegar. To better suit an American audience, many diner owners started adding iceberg lettuce and tossing everything together with the oil and vinegar, like a dressing.
Hurley remembers an interview he did with a Greek diner owner who opened her place in the 1950s with a large selection of Greek dishes. A few decades later, she had dropped everything Greek except the salad. Later, a 1979 issue of the Long Island Newsday declared the Greek salad at the Stewart Grill in Garden City one of the "great diner experiences" around.
It helped that, in general, salad was becoming popular in restaurants, as the industry was shifting to become more couple- and family-friendly. "The rationale was that women didn't want to eat goulash, they wanted something lighter," says Hurley.
Gonias believes the Greek salad's popularity was helped by the growing perception in the late '80s and '90s that the Mediterranean diet was one of the healthiest in the world. Instead of ordering the Greek salad as a side, as would be done in Greece, he says, people were getting it as their entire meal.
The salad began to transform into a dish that was entirely unrecognizable from anything eaten in Greece. "It was weird," says Kal Dellaportas, an owner of Bel Aire Diner in Astoria, Queens. "I don't want to say I don't like it," he says, but he'll often encourage diners to try the Village salad, which consists of tomato, cucumber, feta, onions, peppers, and oregano. Most of the time, though, they just want the version with the lettuce. 
The Greek salad swiftly made the transition to non-Greek restaurants, and in 1998, Kraft introduced a Greek vinaigrette to thousands of grocery stores. The national chain Panera Bread put a Greek salad on its menu in 2007, adding a second Greek salad eight years later that included quinoa and baby kale, since the first one had done so well.
"I would take my wife out before we were married, and whether it was a restaurant or a pub, she wouldn't even look at the menu. She would order a Greek salad," says Gonias. "I remember seeing a Greek salad in an amusement park in Virginia. It came on a paper plate."
Dellaportas says he doesn't mind the mass marketing of Greek salad—it's good for the spreading of Greek culture. But there are a few lines that cannot be crossed: "No canned olives, bitter greens, or unripe tomatoes. Ugh."
Of course, the Greek salad isn't the only dish in American history to make it big after debuting in diners. Hamburgers, pastrami sandwiches, and huevos rancheros were all popularized in diners by immigrant groups wanting their foods to be accepted in the United States.
"The diner was a test kitchen," Gutman theorizes, "a proving ground for dishes."
Bringing a foreign dish into the context of the American diner is how these cuisines began to enter the mainstream, and, in the case of the Greek salad, were eventually no longer seen as foreign foods.
"When you have a bull's-eye like the Greek salad, it becomes a staple on every menu," Gutman adds. "It becomes an American standard."