Malasadas: The Hawaiian Roll's Bad-Boy Cousin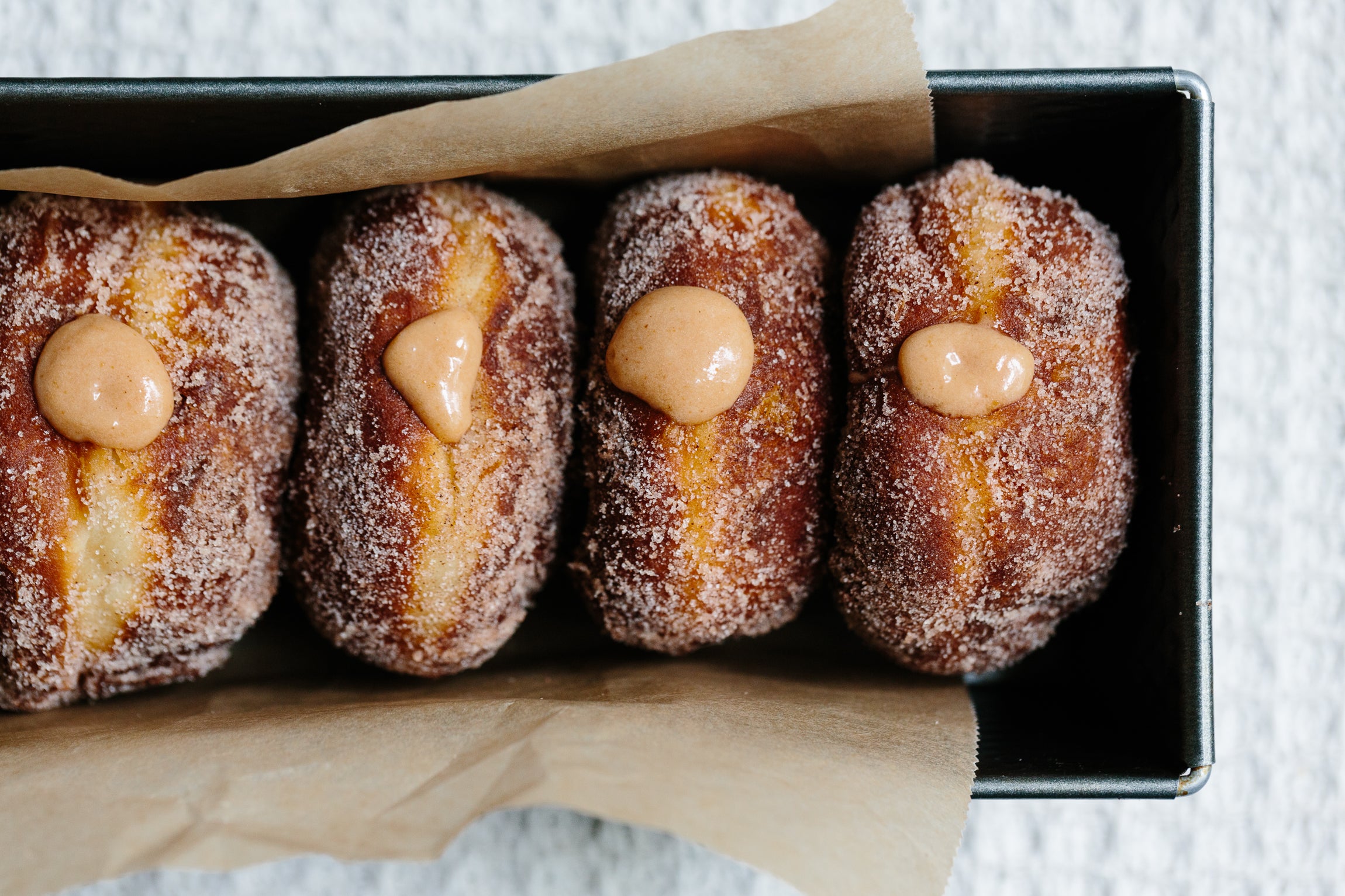 Trips to Hawaii are very, very expensive. But the "doughnuts" are so, so good! Our solution follows.
Malasadas are often referred to as "Hawaiian doughnuts," even though they're not truly Hawaiian, nor are they truly doughnuts. They were brought to Hawaii by the Portuguese immigrants who began arriving in 1878 to farm sugarcane and then proceeded to use said sugarcane to make the best goddamn bread in the history of ever. You know those itty-bitty Hawaiian rolls at the supermarket that you buy thinking you'll use them for sliders but then end up inhaling the entire slightly sweet, buttery soft bag while you're still in the car? That's close to what we're talking about, but deep fried and covered in sugar.
Etymologically speaking, the term malasada is the Portuguese term for "bad guy," probably because this is the Hawaiian roll's bad-boy cousin that you know you shouldn't tango with, yet deep down inside you desperately want to get yourself knocked up in the back of his Camaro. Another possibility is that it comes from the phrase mal assada, which is Portuguese for "undercooked" and not as much fun as my explanation. These pastries have a soft crumb with just a touch of chew, teasing you with a subtle resistance. Sometimes they come filled with chocolate, vanilla, or coconut custard, but they're a work of art all on their own. You can even skip the filling step and try them with a bit of dipping sauce on the side if you're the type who likes their lilies gilded.
My first bite of a malasada wasn't in Hawaii (sadly I have never been), but at a Hawaiian-theme party in a stuffy railroad apartment way deep in the uncool part of Brooklyn—which is a dead ringer for the Big Island when you break out a festive tablecloth, some 99-cent-store leis, and the Israel Kamakawiwoʻole Pandora station.
This was followed up with a second offense: It was not fresh. Rule number one of doughnut law states that any item in the fried-dough canon has a very strict window for edibility, being at its peak within the first 15 minutes of its birth, then steadily declining throughout the day until it is rendered inedible by the 24-hour mark. The malasadas I was served were from a place called Leonard's, a 65-year-old Honolulu landmark that had shipped their signature item to us five days prior. Yet against all odds, they were incredible.
After this first taste, I needed more malasadas immediately—and I needed to try them fresh. Alas, trips to Hawaii are very, very expensive. What's cheap are flour, eggs, and yeast, so I got to try my hand at making them at home instead of having TASTE send me on what I considered to be a tremendously important business trip (if you'd like to take it upon yourself to send a letter to my editor protesting this decision, I would greatly appreciate it).
Now be forewarned: Like doughnuts, malasadas are not easy to make. I don't mean "not easy" in an overtly complicated culinary-degree-required way, but in a "I want to eat them now and not in several hours" way. In the "Why do I need to wake up at 5 a.m. to have hot doughnuts for breakfast?" way. Yes, this is why you should start training yourself to think that little blobs of fried dough filled with vanilla pudding and rolled in sugar should be eaten for dessert. For breakfast, go have some oatmeal or eggs or something. Spend your day twittering with anticipation, knowing that when you arrive home that night you will be only a quick fry away from paradise, even if the Big Island is thousands of miles away.