Hawaiian Mac Salad Isn't Mainland Mac Salad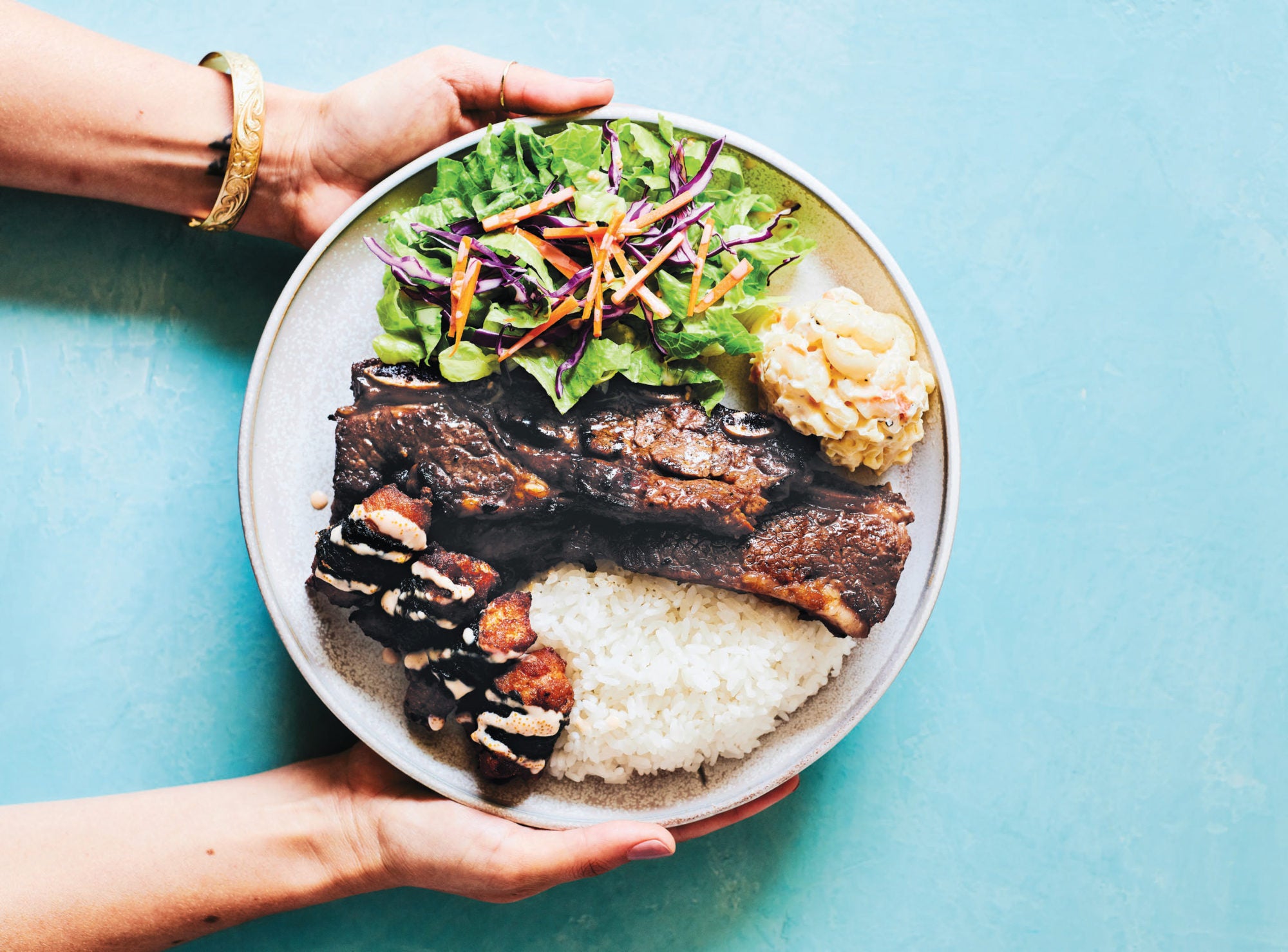 It's a creamy, mutable, cost-effective way to round out a classic plate lunch of salty meats and fluffy white rice.
"There's nothing indigenous or rooted to the land of Hawaii," Maui chef Sheldon Simeon tells me. He's talking about Hawaiian mac salad: a clumpy and creamy dish that resembles a Midwestern mush yet remains beloved by locals. Zippy's, Hawaii's favorite diner, makes 46,000 pounds of it every month.
With its European-leaning ingredients—namely, pasta and mayonnaise—mac salad is an unlikely dish for Hawaiians to rally around. But according to Arnold Hiura, the author of Kau Kau: Cuisine & Culture in the Hawaiian Islands, the dish has a few possible origins. "One is the influence coming through European chefs in Waikiki hotels; the other is from plantation managers who were also of European stock but who had local, usually Asian, housekeepers and chefs and gardeners." People adapted the dish to suit their pantries and budgets, boiling dry elbow macaroni because the noodles were cheap and imperishable (unlike potatoes) and mixing it with heaps of mayonnaise because it was easy to whisk together at home.
Eventually mac salad became a staple of the plate lunch: an affordable meal that first emerged on plantation fields around the 1900s. As sustenance to fuel their grueling work in the fields, these migrant laborers brought metal kau kau (food) tins packed with leftover white rice and meat dishes that originated in their homelands—staples like teriyaki beef or chicken katsu (Japan), kalbi or meat jeon (Korea), shoyu chicken (China), and beef stew or kalua pork (Hawaii).
Mac salad neutralized these salty, sweet, sauce-heavy proteins, adding extra calories at little additional cost and rounding out the meal. By the 1930s, street vendors in pushcarts started selling plate lunches along Honolulu's waterfront, cementing mac salad's place in Hawaii's culture. The meal (which still consists of barbecued meat, steamed white rice, mac salad, and perhaps some greens) represents almost every ethnic group in Hawaii on one platter. Today it graces menus across the islands, from food trucks to fast-casual places, local diners and modern contemporary places.
"With all the big flavors we have in Hawaii, it's a good moment to fill your palate and get a balanced bite," Simeon explains of mac salad's presence on the plate. At his restaurant Lineage, on Maui, he serves what's called "Bottom of the Plate Lunch" with pureed mac salad for the "perfect viscosity."
Unlike its Anglo counterpart, Hawaiian mac salad tends to shun vinegar and mustard; it eschews sugar and MSG (which some vintage recipes include), favoring Best Foods (also known as Hellmann's) mayonnaise instead. Old-school styles call for grated, liquid-y onion (although the chefs I spoke with say that this spoils quickly). Never al dente, the noodles are served overcooked so they balloon slightly, like bloated rainbows.
From  that base, inventive variations have emerged. At Tin Roof Maui, Simeon serves Ulu (breadfruit) mac salad for a distinctly local spin. Growing up, his family recipe included equal parts spaghetti noodles and potatoes. Sam Choy, chef and author of multiple cookbooks on Hawaii cuisine, enjoys hard-boiled eggs and fatty roasted tuna in his homemade style. Other cooks maintain peas or kamaboko (fish cake) are fair game.
"It's like Bolognese sauce," Alana Kysar, author of Aloha Kitchen: Recipes From Hawai'i, explains. "Every family thinks theirs is the best." Kysar grew up on Maui eating her mother's potato mac version, which, in a slight departure from tradition, included sweet pickle relish and juice. Both versions of mac salad that made it into her book (a classic mac salad and a potato mac salad) include these additions, as well as grated carrot and onion.
While Simeon claims he would "go crazy" with vinegar in mac salad, Kysar asks, "Where's the tang? It's so flat if you don't put vinegar in!" The mosaic of recipes, she explains, "says a lot about this plantation era when there was scarcity of ingredients and resources that required getting creative to stretch your meals."
"I've tried a lot of things to make it better, but it always goes back to that routine, basic salad," Choy says of his restaurant-served rendition. "It brings back a lot of memories of family barbeques growing up. That's why I like making it."
On the plate, classic mac salad functions like a rom-com's funny but forgettable friend—it's a sidekick, not a star. And that's the advantage. Mac salad is gloriously mutable. It succumbs to its surroundings, absorbing other tastes, enhancing other textures. A single scoop adheres to the fine grains of white rice, sticks to slippery slicks of shoyu noodles, softens the sinewy chew of charred chicken. It's perfect alongside anything—or even alone.
In fact, Pat Morita, the actor who played Mr. Miyagi in The Karate Kid, preferred the side dish solo. Whenever he would visit Hawaii, Hiura (who was a close friend until the actor passed away in 2005) would collect him from the airport, then beeline for their favorite bar. "He would order a drink and a double order of mac salad," Hiura remembers. "He would eat the whole thing by himself."
Growing up, I hated the stuff. Or at least remained slightly embarrassed by it. Served in styrofoam containers, slopped down in a tiny mound, a plate lunch with mac salad looked like what $8.50 and thousands of calories should: a humble feast. Unlike sugary shaved ice, dripping in bright syrup; or glistening poke, packed over rice; or blended açaí bowls, topped with banana, this version of Hawaiian cuisine was unfussy and unphotogenic, unhealthy and unappealing. Nothing worth boasting over.
While many claim there's one secret ingredient (onion, relish, Best Foods mayo) to making mac salad taste like the local stuff, its biggest one might depend on more than the provisions at hand. As Hiura says, "Maybe you gotta be in Hawaii to enjoy the true thing."