Have Sad Desk Lunches Gotten Sadder?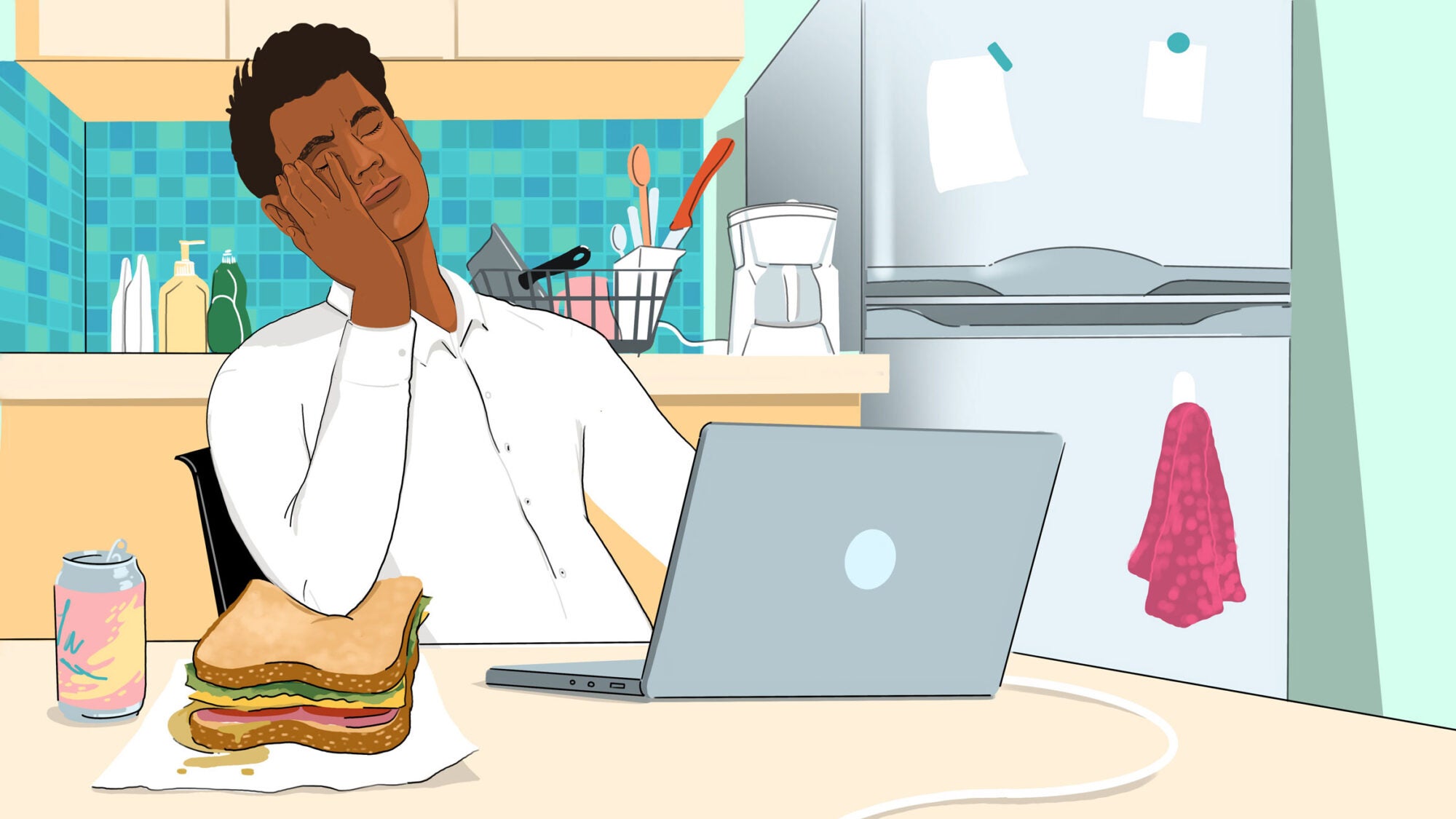 A year of work-from-home lunches has some longing for the satiating normalcy of the office lunch break.
In those first panicked weeks of the coronavirus pandemic, lunch was a respite for Debbie Davis-Graff and her husband, F. T. Before the lockdown, F. T. put in 14-hour days at work as an executive in the pipe industry and traveled so often it felt like he was rarely at their home, which sits on a lake in rural Ghent, West Virginia. "It was like a date, every day," remembered Davis-Graff of those midday meals. She'd cook with abandon: slow-cooked barbecue beef for him (even though she is mostly vegan), au gratin potatoes (secretly made with vegan cheese), and a salad with croutons made from her homemade bread. "We would eat lunch together and watch the birds outside," she said. "Sometimes we'd even have a drink, because why not?"
The honeymoon lasted less than month.
"It was fun. But then I realized . . . this is taking up my whole day," she said. "I'd fix his breakfast, and by the time it's cleaned up, it was time to start fixing lunch. And then I'd have to sit down and have lunch with him, and then I'd have to clean up. I did not sign up to be his Alice."
A year into the pandemic, the couple has his-and-her Instapots. (His holds six quarts; hers, three.) He makes chili and other "flesh" that Davis-Graff prefers not to deal with. She has set up her own mini salad bar with lettuce and precut vegetables at the ready.
In 2021, the words "lunch" and "break" are no longer a perfect pairing.
Once a novelty, the work-from-home lunch is now mostly a grind. Office workers, who last spring found a thrill in cooking a hot midday meal, are over it, while longtime WFH-ers see it as just one more meal to plan, cook, and clean up. The sentiment appears to be widespread. Last month, Bon Appétit dedicated its print magazine cover to the exhausting question: "What's for lunch?" In 2021, the words "lunch" and "break" are no longer a perfect pairing.
James Park, 27, used to love lunch. A social media manager at Eater in New York, he was known for bringing luxurious lunches to the office to share as part of the lunch club he formed with a colleague. He'd make congee, for example, then fastidiously pack six different toppings—soft boiled eggs, kimchi, shiitake mushrooms, sliced scallions, sesame seeds, chile oil—each in their own individual container. "I looked at garnishes as a way to elevate not just the flavor but the presentation," he says of his Before Times dining.
When the city shut down, Park was excited—at least from a culinary perspective. From his kitchen in Williamsburg, Brooklyn, he could cook and create content for his own social media channels, such as Instagram, where he has more than 15,000 followers. In those first weeks, Park made, among other things, kimchi quesadillas and an impressive version of fried rice: the rice hidden by a striped circle of scrambled eggs with a smiley face drawn in sriracha on top. (It's actually surprisingly easy. See his how-to here.)
As the pandemic dragged on, though, "it got really tiring," Park admits. These days, weekday lunch is more often something on toast or, sometimes, a piece of Jollibee fried chicken, which he orders in bulk, freezes, and re-crisps in his beloved air fryer. "Now I'm channeling my enthusiasm into what I'm going to cook for dinner," he said. "Lunch and dinner? It's too much."
These days, if Curtis even remembers to eat lunch, her choice is guided by what's fast and will produce the fewest number of dishes to wash.
Less passionate cooks have faced similar burnout. Meghann Curtis, a 42-year-old mom of two who does advocacy work in Washington, DC, had a home office long before the coronavirus hit. Lunch had never been a priority, but that changed last spring. At the start of the week, she'd make a large batch of brown rice. Then, in between weekday meetings, she'd whip up some fried rice, adding an egg, fresh tomatoes, whatever vegetables were around.
"That was the high point, really, of my whole culinary life," she said, only partially joking. "The fried rice period was like my Blue Period."
These days, if Curtis even remembers to eat lunch, her choice is guided by what's fast and will produce the fewest number of dishes to wash. It might be a reheated frozen burrito or a couple sticks of string cheese—which, she adds, "is really good at room temperature."
This food-as-fuel approach has many yearning for the day they can go back to the office. Take Erin Hadley, a 41-year-old psychologist who, until the pandemic, lived in Philadelphia with her husband and ten-year-old son. Pre-pandemic, her lunch was a scheduled hour off from patient meetings, time she would use to go to pick up a salad or sushi, or to make a run to Dizengoff, her favorite local hummus joint. "I had a million options," she said wistfully. "Or it felt like a million options at the time."
Last summer, the family moved to Maryland to stay with Hadley's parents. With three generations at home, she's made her office in the most private place in the house: the laundry room. Hadley sits in the rocking chair her mother used when she was a baby, and an old dining room chair serves as her desk. The food isn't bad—not at all. Her husband and father do most of the cooking, and she's lucky to be able to dash into the kitchen and reheat some risotto or a stew. "But it doesn't feel like a break anymore," she says. "The experience of eating lunch is not as fun as it used to be."
There is, of course, always the exception that proves the rule. Ebonne Just, a brand consultant, adores WFH lunches. Before the coronavirus, Just worked for years in a busy Chicago agency where "I had nine hours in the office to do 15 hours of work." Lunch, if you could call it that, was a series of snacks at her desk: a rotation of gummy bears, peanut butter crackers, and LaCroix: "I'd pig out when I got home, because I'd be starving."
Due to a sharp decline in business, Just, 42, was laid off last spring. She has since moved to Charleston, South Carolina, where she works remotely for another Chicago firm that encourages its staff to walk away from their screens.
These days, she takes at least 45 minutes for lunch. She makes sandwiches and eats leftovers; at some point in most weeks, she'll set up a leftovers buffet. The week I talked to her, she was grazing through the remains of a pork tenderloin, collard greens, some Chinese takeout, chicken strips, and salad greens. Just says she used to feel she had to prove to people in her office that she was working by always being at her desk. "Now that everyone has shifted, it gives you that freedom."
Freedom—or at least a quick breath of escapism—is what everyone seems to be craving for lunch. For Hadley, stuck at home with her family, that translates into a desire for a long, solitary meal, sipping Champagne and eating her way through a seafood tower. For Curtis, for whom lunch has become fuel just to get her through the day, it's a boozy Italian feast in a dimly lit grotto with a gaggle of friends. Even Just has a vision for a dream lunch—and it's not at home.
She'd be in her Chicago office, a conference room table laden with takeout from her favorite chain, Portillo's: build-your-own Chi dogs, Italian beef sandwiches, buckets of chopped salad, and a whole chocolate cake. "I'd be crammed in a conference room with all my day-to-day colleagues, maskless, just raw-dogging ALL that oxygen."