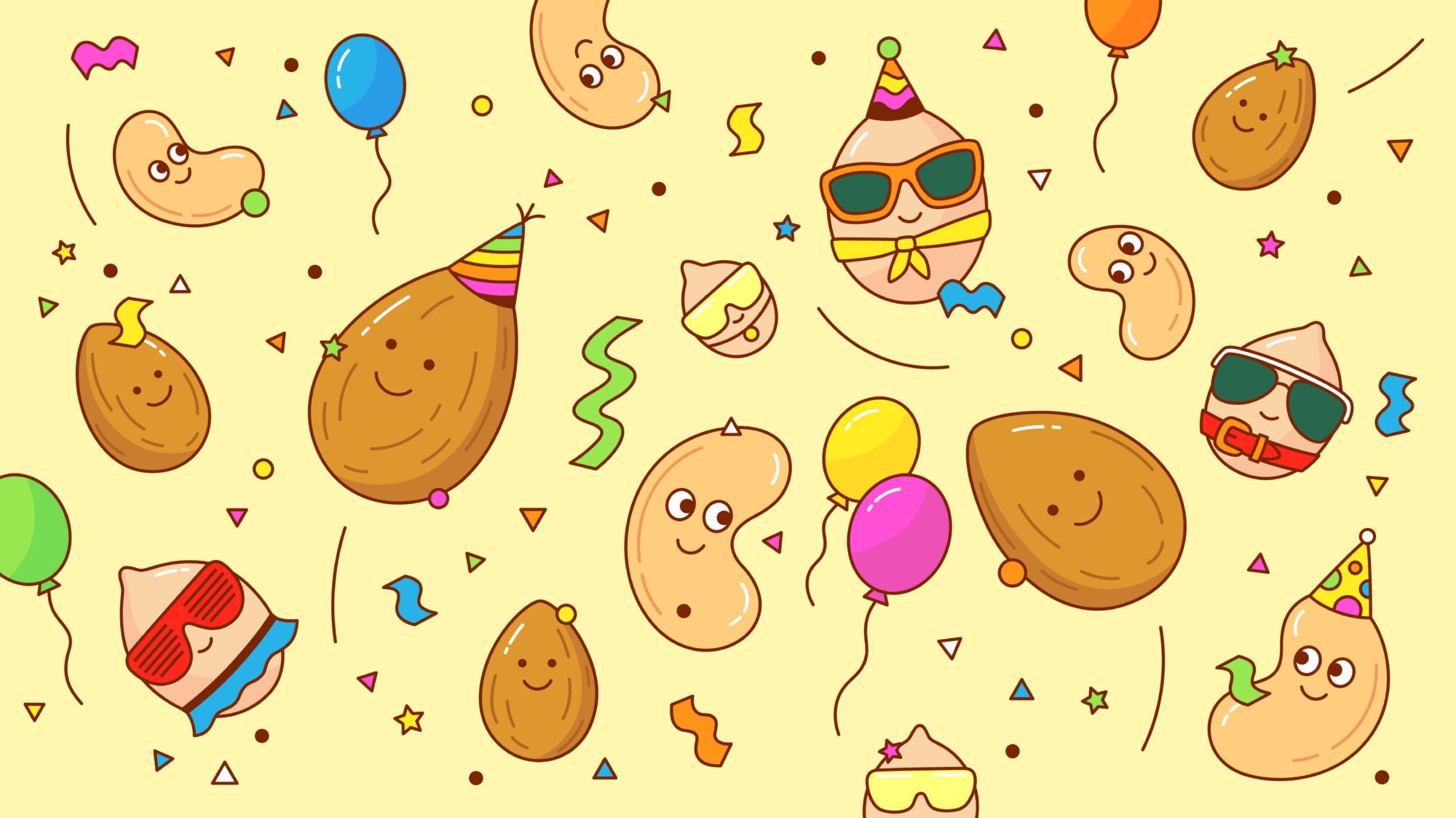 Savory or sweet, spiced nuts are an all-American standby. These brands are taking it further, with flavors from dill pickle to Buffalo wing.

 
Ganesh Nair knows cashews. His grandfather started a business processing cashews in Kerala in the 1930s, and it's the largest cashew exporter in India today. Nair grew up in the family business, but he left India for graduate school in the United States, eventually working in diabetic health care in the Bay Area and in Europe. He returned to India in 2010—his father was getting older, and his brother wanted help transitioning the business from a commodity to a value-added product. Years earlier, the Nair family had developed a proprietary technique of air-roasting cashews with their natural skins on, loosely encasing the nuts with wrinkly brown skins that crackled like dried leaves. It was a novelty that added crisp texture to the buttery cashews, but importers balked. These cashews were too different-looking—and too difficult to educate consumers about—they said. But with Nair's health care training, the family produced studies to illustrate how the skins held beneficial antioxidants, polyphenols, and fiber. 
"Most of the cashews you get from supermarket shelves are fried in oil, and there's no need to do that," says Nair. "So I thought, maybe this is an opportunity." 
In 2014, Nair launched Karma Nuts, a US-based brand that he describes as his way of giving back to his family, as well as the greater community, with a healthy snack alternative. Its flagship product is skin-on or "wrapped" cashews in flavors like Golden Turmeric, Cinnamon, Lime Twist, and Toasted Coconut (the latter a nod to Kerala, the "land of coconuts"). Another benefit of leaving the skins on cashews, Nair says, is that they allow simple seasonings like chile powders to adhere well without the help of food additives.
"Kerala is also known as the land of spices," says Nair. The golden turmeric flavor, with hints of black pepper and chile, is quickly becoming the brand's best seller. 
Flaky, skin-on cashews that come in a kaleidoscope of savory and sweet flavors is just one of dozens of examples in today's expansive spiced nut trade. With more Americans shifting to a plant-based diet, nut consumption has been steadily rising, with sales of around 5 billion, according to Circana. And the snack-nut market is expected to grow by a compounded annual rate of 3.52% over the next five years. We all know that nuts are healthy and that we should probably be eating them more. Several brands are giving us more reason to do so—by specializing in various added perks, from skins to "sprouted" processing techniques, and audacious flavors like Buffalo wing and dill pickle. Shopping for nuts has never been more nuts. 
Perhaps it only makes sense, considering America's long affinity for zhuzhing up nuts with something—be it honey-roasted nuts from a steaming street cart in New York City or Cajun boiled peanuts from a bubbling vat in New Orleans—for snacking on. And snacking is typically the primary function of nuts in American culture. 
In The Wonderful World of Nuts, a 1967 recipe booklet distributed by the Graham Company, a nut distributor at the time, the company's director laments in the preface: "In the United States, we seldom think of nuts as cooking ingredients but more as tidbits to nibble with drinks or munch at baseball games." The booklet proceeds with recipes for the likes of "curried," "deviled," "sugared," or just "coated" nuts—the latter with a frothy concoction of whipped egg whites and cornstarch suspending ground cloves, nutmeg, and salt that bakes to a crisp, meringue-like shell. 
The way we flavor our nuts often reflects the food trends of our times, too. A 1987 macrobiotic cookbook self-published by Kristina Turner includes a recipe for tamari-roasted almonds—a staple of health food store and co-op bulk bins for a generation. Tamari, explains Jonathan Kauffman, author of Hippie Food: How Back-to-the Landers, Longhairs, and Revolutionaries Changed the Way We Eat, was the chosen terminology for naturally brewed soy sauce (i.e., not La Choy) in the macrobiotic movement, founded by George Ohsawa. And the sauce's fermented-food health halo made it an attractive salt stand-in when seasoning nuts. 
Making a batch of homemade seasoned nuts is still a holiday pastime for many Americans, who cling to their favorite spiced nut recipes. According to Daniel Gritzer, senior culinary director at Serious Eats, nuts inherently contain layers of earthy flavors that "lend themselves to a really nice spectrum from savory to sweet." He's crafted his share of spiced nut recipes for the Serious Eats community, including cashews coated with a paste of finely ground fresh rosemary and oil-cured olives. Making up your own spice blends is fun, he says, but it's so easy to buy all kinds of flavored nuts in the grocery store, too: "It's like potato chips, but a sensibly healthier option," says Gritzer.
That sweet (or savory) spot that many brands aspire to in today's snack food aisle is precariously perched between "satisfies like junk food" and "nourishes like superfood." Nuts alone are an excellent source of protein, are high in beneficial vitamins and minerals like selenium and vitamin E, and many are hailed as heart health boosters thanks to omega-3 fatty acids. All this nutritional data is great fodder for marketing teams looking to sway customers away from potato chips. But some are on a mission to exploit lesser-known nut benefits. 
That sweet (or savory) spot that many brands aspire to in today's snack food aisle is precariously perched between "satisfies like junk food" and "nourishes like superfood."
Diane Orley had been sprouting almonds in her Detroit basement for 20 years, giving them away to friends and family. The process involves soaking almonds in their skins overnight until they sprout, then drying them, rendering them slightly hollow and therefore more brittle and crunchy than the denser, plain old roasted almond. They also become easier to digest, thanks to the removal of phytic acid in the soaking process. She learned the technique from her sister, a Buddhist who picked it up while studying in India. But it had become Orley's signature—so much so that when her niece, Laurel Orley, left her job of 13 years in strategy at Unilever, she couldn't stop thinking of Diane's sprouted nuts. In 2020, the two women launched Daily Crunch, a line of sprouted almonds that includes zeitgeist-tapping flavors like Nashville Hot, Turmeric & Sea Salt, and Dill Pickle. The Nashville-based brand is currently sold in local retail shops as well as online.  
"Nuts right now in the mainstream market are either boring or caked in so much crap—sugar, oils that are bad for you," says Laurel. She hopes their product brings a new allure to the "trusty but dusty" nut category. The name Daily Crunch nods to the FDA's recommendation of one serving of nuts per day—which Laurel doesn't think enough consumers are getting because they're not excited enough about them. "We're trying to solve that problem by not only being sprouted and having that different texture but also having really innovative flavors," she says. 
The brand's latest offering is dill-pickle-flavored sprouted almonds and pepitas, featuring upcycled dill pickle ends from a pickle brand they met at Natural Products Expo West, Cleveland Kitchen. The pickles have been pulverized into a dark green paste that's liberally crusted onto the nuts and seeds. Sniffing the just-opened package is a peculiar experiment in olfactory identification. (There's dill and . . . something sweet?) Popping a few of these morsels in your mouth to munch on can bring about a wild procession of tastes (and likely facial expressions) as your brain tries to discern what's going on. It's a trippy almond, all told.
Not to be left out of the newfangled nut trend, peanuts are being reimagined by an enterprising brand as well. (Though technically a legume rather than a tree nut, peanuts would be America's most popular nut if that's what they actually were.) It started out with stuff like gorp, the classic outdoorsy snack mix that some say got its name from the acronym "good old raisins and peanuts." Jerry and Betty York began selling this and other "trail mixes"—a recently coined concept—in 1977, in Charlotte, North Carolina. They called their brand Truly Good Foods. 
"Maybe hikers ate them. We still have a lot of the original mixes they created, with nuts and seeds, and we kind of evolved them since then," says Lisa Smith, director of marketing for Truly Good Foods today, which sells mixes like Chile Mango Tango (cashews, dried mango, and chile de árbol butter-toasted peanuts) and So Gouda Keto (almonds, walnuts, and dried cheese bits) to wholesale customers like bulk grocery stores and airlines. The company is now owned by the Yorks' daughters, Carolyn Bennett and Angela Bauer. And this year, they launched their first consumer packaged goods brand, Henrietta Said. Its specialty? "Scandalously spicy" jumbo Virginia peanuts, in a line of wing-centric flavors like Ancho Kimchi, Nashville Hot Chicken, and Classic Buffalo. Despite the association with chicken, each is vegan.
Peanuts, Smith points out, are the highest in protein among nuts (though it's technically not one) with 9.5 grams per quarter cup. Yes, the prevalence of peanut allergies may have lowered their stock in the snack food aisle. But for those able to indulge, peanuts are a perennial favorite.
"Better-for-you snacking as a whole is doing very well," says Smith, who says Truly Good Foods saw an opportunity in the marketplace for their own line because of the success of some of the brands they were distributing, as well as the rise of low-carb, protein-rich diets like keto. Henrietta Said's flavors reflect their market research—Nashville hot is super on-trend now, alongside fermented foods and global flavors, which the ancho kimchi flavor speaks to. And spicy snacks alone are big sellers nowadays.   
The vacuum-sealed packets are beguiling—each flavor features a different peanut mascot in a feisty, femme getup (a nod to the woman-owned company), like a black mesh tutu and red sunglasses. The oblong peanuts, sans skin, are dusted with copious seasoning powder that sticks to your fingers like Doritos. Crush a few of the bright vermilion classic Buffalo flavor, say, and the heat starts to activate your saliva glands. A plethora of tangy, salty, and sweet notes chime in. Crunch through them for a bit longer, and that familiar peanutty taste, earthy and reassuring, starts to make an entrance, as if trying to catch up with the rest of the party just as it turns into a chunky butter in your mouth and is swallowed.  
They're not your grandma's roasted peanuts, but that was the whole point. 
"It's taking an ingredient everyone knows and loves—the peanut—and having fun with it," says Smith.