Is Guy Fieri Finally Cool?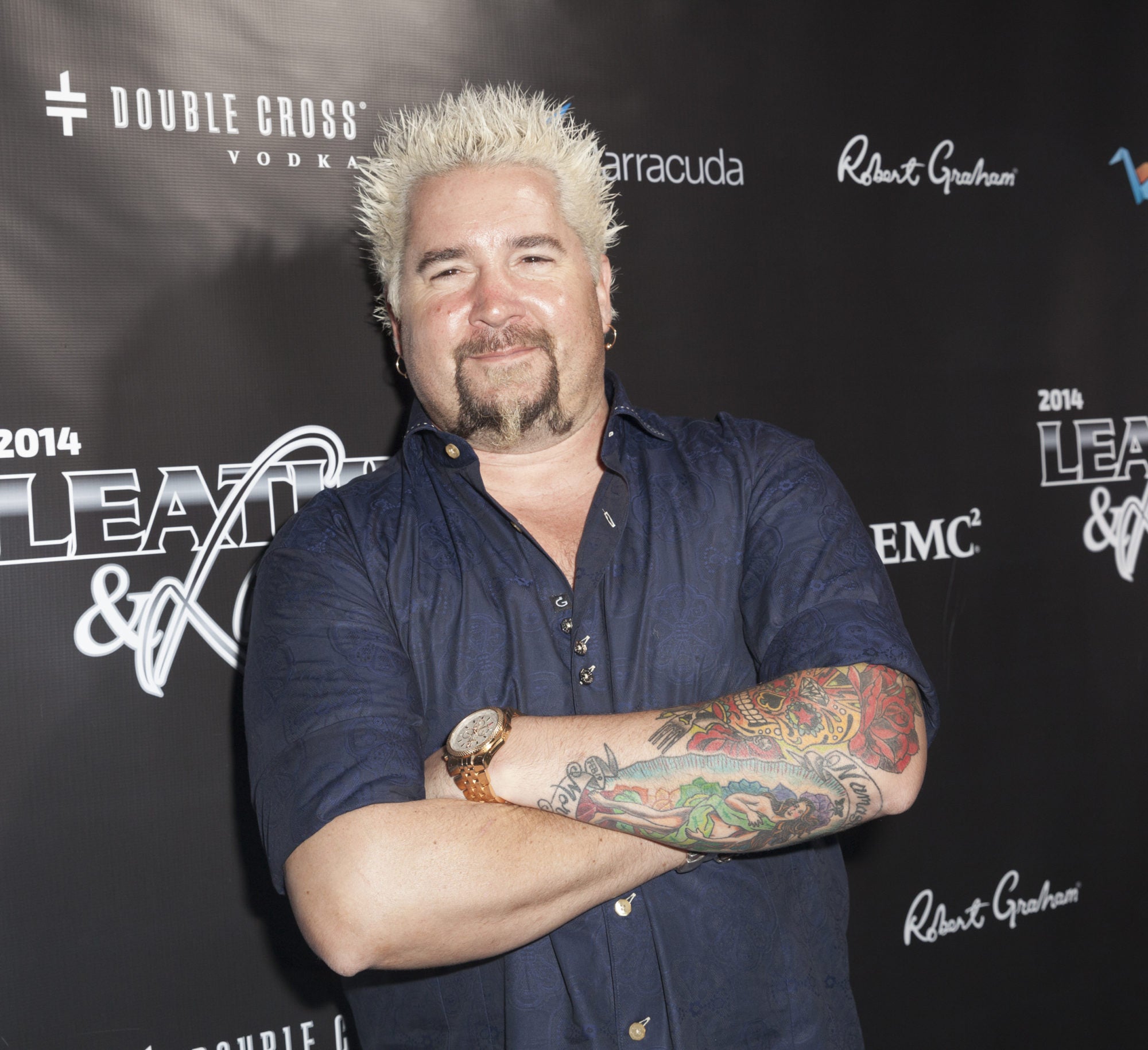 How the object of food-snob ridicule became a cult hero.
"Has anyone ever told you that your high-wattage passion for no-collar American food makes you television's answer to Calvin Trillin, if Mr. Trillin bleached his hair, drove a Camaro and drank Boozy Creamsicles?" This is one of the questions New York Times restaurant critic Pete Wells posed to Guy Fieri in his review of the celebrity chef's Times Square restaurant back in 2012, an atomic blast in the culture wars between so-called coastal elite food snobbery and gravy-slathered down-home culinary populism.
For years, Guy Fieri has been the subject of foodie derision for his unabashed love of greasy only-in-America grub. Of course that's only made him more popular; last year saw the first inaugural Fiericon, a New York pub crawl devoted to all things Guy. And among a certain class of the food-world intelligentsia, Guy's lambasted rep is on the rise. "Diners, Drive Ins, and Dives elevated the casual, everyday foods we eat," Josh Scherer writes at First We Feast. "Guy Fieri turned diner meatloaf sandwiches into idols of worship."
Wells has since explained to the press that he himself deeply respects that mission, and his review was actually a reaction of disappointment to the distance between the ideals of Guy's veneration for mom-and-pop restaurants and the realities of his crummy corporate money pit. Plus, as one food celebrity after another topples from their pedestal in the wake of disturbing reports of their history of sexual harassment and assault, Guy, who by most accounts seems to be a genuinely loving and supportive husband and father, remains refreshingly unproblematic.
Whether these virtues make up for the Falstaffian vices he sometimes reaches on TV and in the American psyche is up to you to decide. But no matter how you feel about him, it's hard to dispute that he's one of the most influential figures in modern American eating, and an apt mascot for food culture's decades-in-the-making ranch-soaked poptimism.
For more TASTE Food Questions, subscribe to our podcast TASTE Daily on Apple iTunes and Spotify. It's also free to add to your Alexa flash briefings. Just add the TASTE Daily Skill.