Guisados: The Stewy King of All Tacos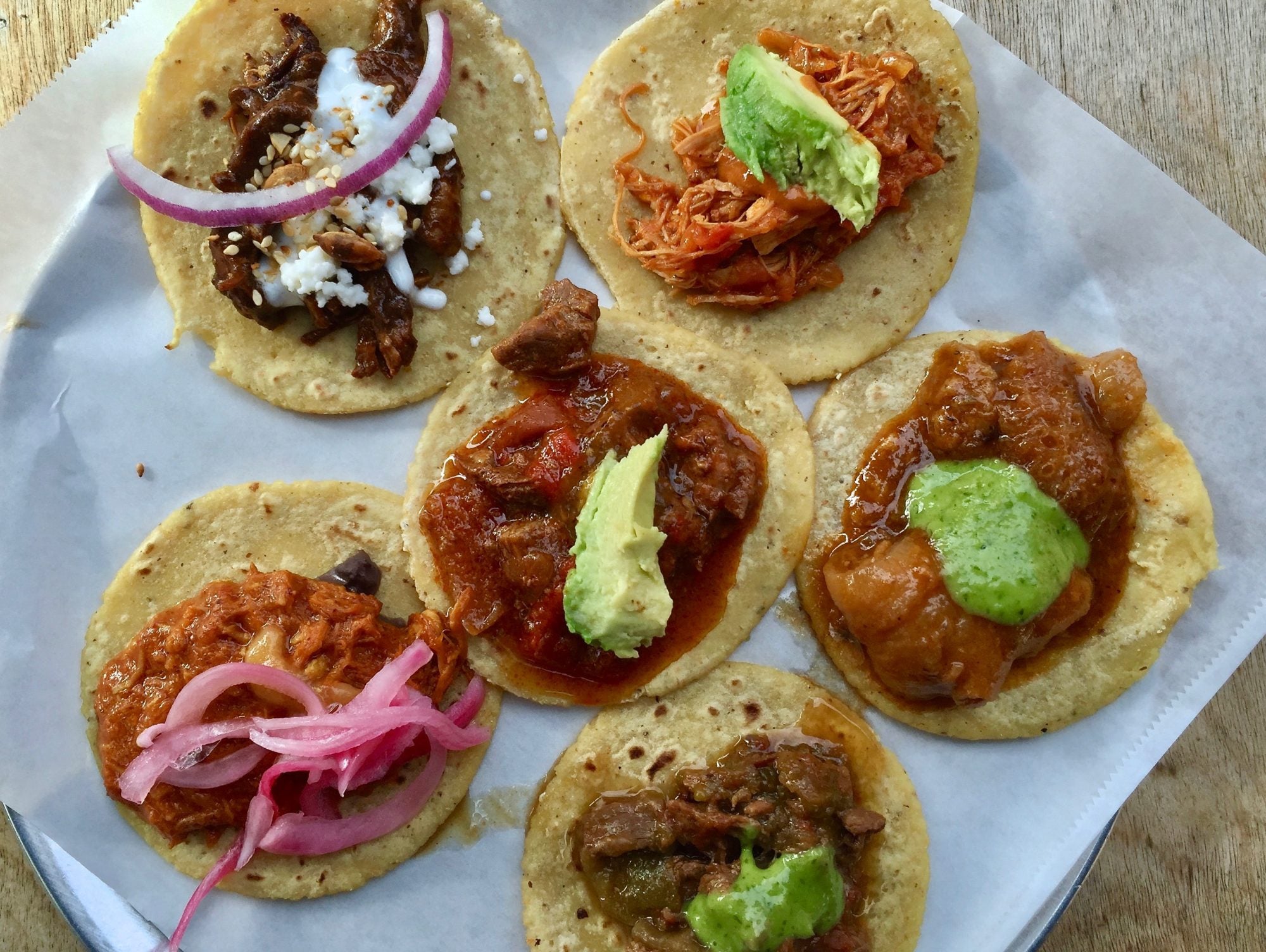 Though they may not have charred edges from a plancha or the crispy coating of a beer batter, guisados leave a lasting impression.
Carne asada lovers, fried-fish aficionados, al pastor addicts—go ahead and fight me on this one, but I will argue to my death that there is one taco that transcends all: the taco de guisado. The taco's stewed fillings can be made with everything from pork shoulder spiked with ancho chiles and cinnamon to dark and leafy greens like amaranth and purslane with tomatoes. Everything is thrown into a pot together, softened over heat for a long time, and embedded with flavor. Spooned onto a toasty, aromatic corn tortilla, the guisado and tortilla become one.
It's the kind of taco that makes you ache the moment before you bite into it and melancholic the minute it's gone.
For me and my husband, Joe, tacos de guisados were a reprieve during a time in 2009 when the recession was kicking the life out of a restaurant Joe owned in San Francisco. To recalibrate, or maybe to hide, we escaped to Mexico, stopping for a few nights in Mexico City. It turned out to be a trip of taco kismet.
All over Mexico City—and Mexico for that matter—tacos de guisados can be found on the streets, at taquerias, and in markets. They're served out of charred, brick-orange cazuelas or pragmatic steam tables that contain any number of humble stews whose swampy appearance belies their deliciousness. There's something for everyone: spicy conchinita pibil, gelatinous pigs' feet in salsa verde, earthy blood sausage, picadillo studded with peas, huitlachoche, smoky rajas with crema, soft squash and sweet corn, gizzards in salsa roja, chicken tinga. Sometimes there's also rice and beans on offer as well as hard-boiled eggs, fritters, and pancakes. But I'm searching for the kind of stuff that bubbles on the stove of the abuela I've never had. I'm looking for the juice.
Because soulful food isn't neat and tidy. A taco de guisado should drip down your wrist and onto your plate. At the recently closed Tacos Gus—a spot formerly located in the tranquil neighborhood of Condesa—a plastic plate is prudently covered with a plastic bag, which is promptly removed and tossed when you're done so the plate can be reused for the next customer. Joe and I ate there on that first trip to Mexico City and have returned ever since. With over a dozen selections of guisados, the little spot offered vegetarian options that were as satisfying as the chorizo con papas. Once you selected your filling, it was quickly popped into a sturdy little corn tortilla, and then it was up to you to upgrade by adding wilted, paper-thin slices of raw onion in habanero or choosing a salsa. The first time we ate here, it was a revelation—it was like the ultimate fast food. If your mom made it.
Upon our return to San Francisco that fateful summer, Joe was asked by Lulu Meyer, the director of the iconic Ferry Plaza Farmers Market, if he wanted open a Spanish stand at the new Thursday market. Invigorated by our trip to Mexico City, he asked on a whim if he could serve tacos instead. Eyebrows were raised, but approval was granted. We landed on the frivolous name Tacolicious and Joe got to braising.
The guisado recipes Joe developed when we launched still anchor our menu. Though the shot-and-a-beer chicken (chicken thighs simmered with habaneros, tomatoes, tequila, and beer) is beloved, my favorite is made with beef cooked down with fruity guajillo chiles, smoky chipotles, earthy cumin, and Mexican oregano. It has heat without being spicy, and it passes the juice test.
The next year, shortly after we had opened the first brick-and-mortar Tacolicious location, Armando De La Torre, Sr., opened a little place in Boyle Heights simply called Guisados. The restaurant is an homage to the food his Mexican-American mother made him when he was growing up in Los Angeles. There he serves up everything from chicken braised in mole poblano to his personal favorite, chicharron simmered in chile verde. Fugly puddles are spooned onto perfect tortillas made from scratch and topped with, at most, a slice of avocado. They are exquisite.
In a city used to carne asada topped with cilantro and onions, it was hard to get people into the idea of this soupier, less photogenic type of taco, De La Torre says. But the late Jonathan Gold's review of Guisados turned the tides. Of their chiles torreados, Gold wrote, "It is a taco that will sneak out of the house in the middle of the night to do things that no taco should ever do, but you will always take it back, because you have tasted the complexity that lies three layers down." Today, De La Torre has five Guisados locations.
When I ask De La Torre about the best compliment he's ever received, he recalls a day a man came in and sat down to eat. After one bite of a taco, he started crying. "I went over to ask him if everything was OK," says De La Torre. "He said his mom had just died and he'd been down the street cleaning out her house. My calabacitas reminded him of her cooking." You can hear the pain in De La Torre's voice as he recalls this story. He lost his own mother just last year. "That's when I knew I was doing something right," he continues. And he is.