A Green Bean Casserole for the 21st Century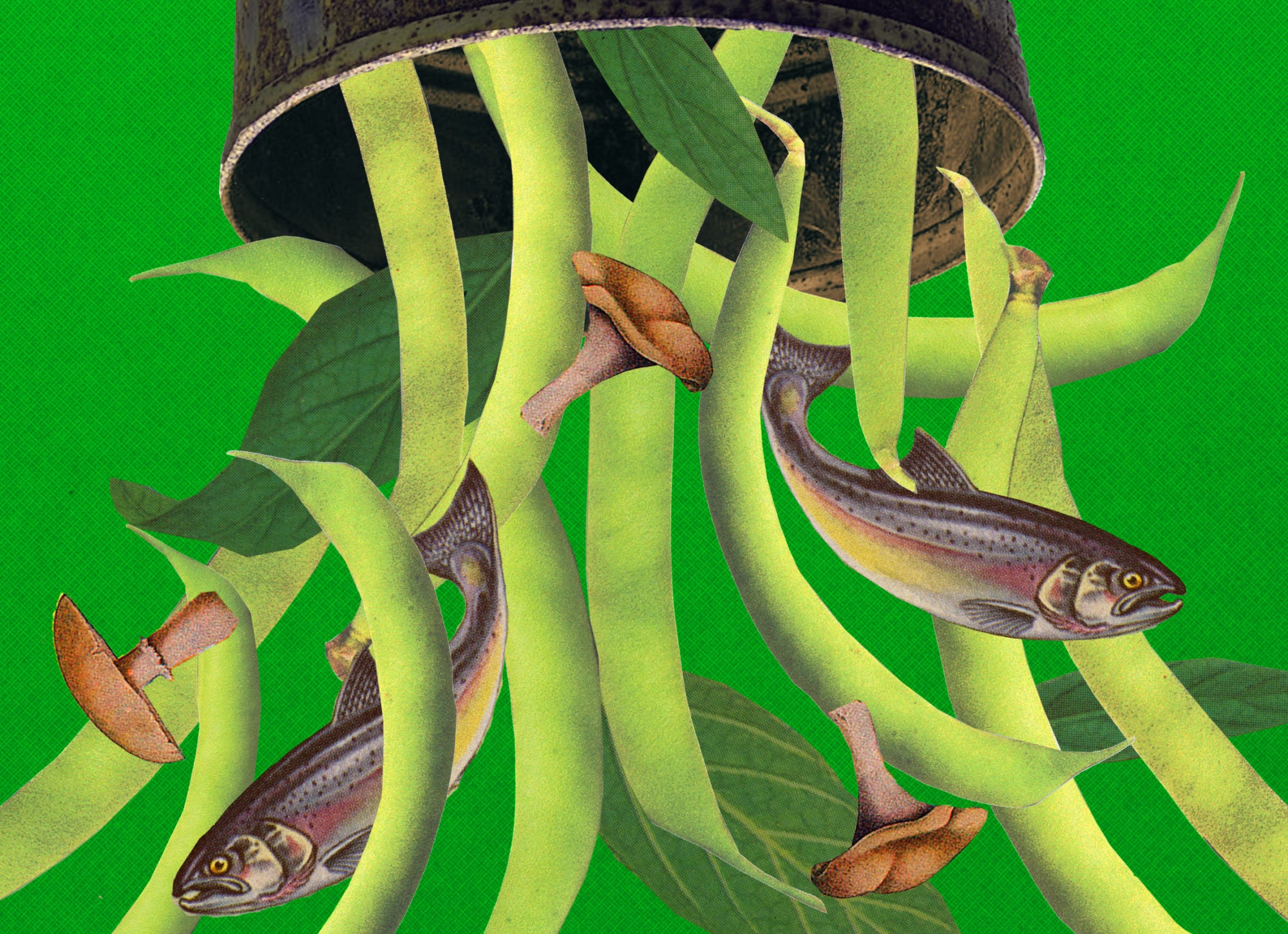 If the green bean casserole is going to survive the next half century as a staple of the American table, we're going to need to rethink it.
Canned food was invented, so the story goes, because Napoleon wanted to fight during the winter. He got his wish with preserved and heavily salted off-season produce. And so did we. Two centuries later, we too get to eat summer corn and green beans in the middle of January. Few could have foreseen that a method of food preservation—designed to supply armies in wartime—would lead to France's arguably most lasting contribution to American cuisine, the green bean casserole.
To be clear, green bean casserole is a lot more American than it is French. The dish didn't pass through some culinary Ellis Island. It didn't even exist prior to 1955. But the assembly of its sodium-rich, battle-ready components—one can green beans, one can cream of mushroom soup, one can fried onions—evokes privation, efficiency, and sticking it to the Russians. Three modular blocks snapped together like a set of Lincoln Logs. A dish that's not so much prepared as constructed.
Dorcas Reilly, an employee of the Campbell's Soup Company, invented green bean casserole in the company's test kitchen in1955. She came up with it as a quick and easy two-ingredient recipe using ingredients she thought most Americans already had on hand: canned green beans and canned cream of mushroom soup. (Fried onions would come later.) Even today, Campbell's estimates that searches for the recipe constitute about 70 percent of the traffic to its website.
I didn't come across green bean casserole until I was an adult, even though its block assembly—open cans, stir, bake—certainly registers the dish as something I should have grown up with. But unlike other foods I've learned to enjoy as I age, this one has been a challenge to warm up to. Green bean casserole just seems more a food of necessity, suggestive of limited supply chains, when the usual criteria for ingredients—flavor, freshness, desirability—are swapped for what is durable and what is there. Not luxurious, exactly, just good enough.
But deconstructed, the dish's three components have potential—cooked green beans, cream soup, and crisped topping. This year I've been nearly overwhelmed with an abundance of green beans from the garden, and while it's been enjoyable to steam them, sauté them, or eat them fresh, it seemed time to try something new. Or rather, something new to me.
Rather than lay them in a dish and bake them in gravy, I decided to roast the fresh green beans with a little lemon juice and oil. Then, separately, to prepare a cream soup—in this case salmon chowder—to serve alongside. And as a topping, rather than fried onions, some Parmesan crisps. Finally, with the flavor and texture of roasted beans rather than mushy stewed ones, the three ingredients came together on the plate instead of in the oven.
The result was something of a reinvention, but also a renovation. A dish I could see myself in. Because I want to love green bean casserole. Or at least like it. I respect it as part of the American culinary identity: It arrived just at the time when we as a nation were transitioning in sensibility from Rockwell's tableaux of Sunday dinner to Warhol's cans of soup. Midcentury, for sure, but also there's something undeniably timeless about green bean casserole. And while it's not even 65 yet (retirement age), with a little bit of revamping, it's a dish that could withstand the centuries. That's something Old Boney could only dream of.