Grate Some Cukes, Make Some Slaw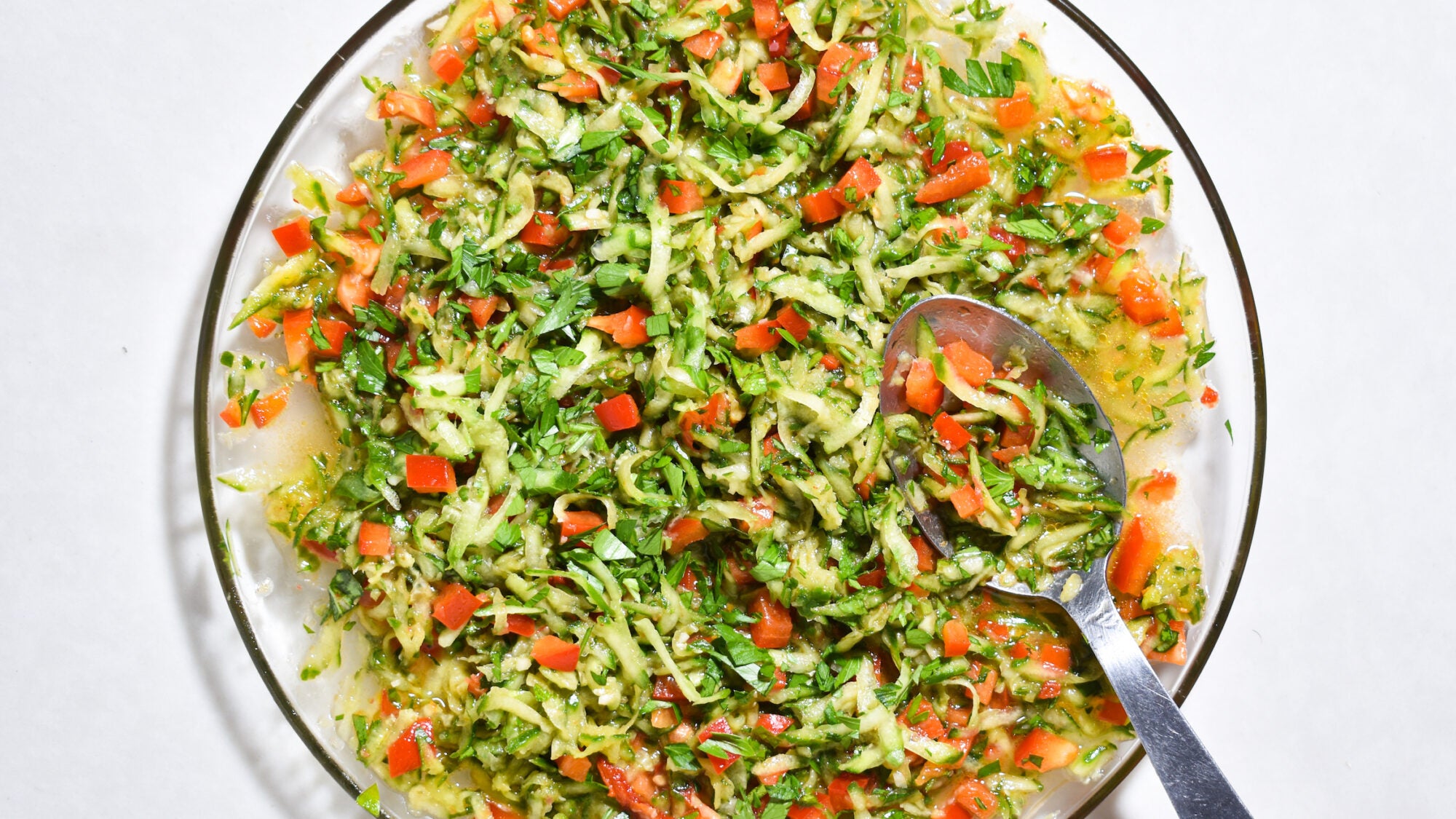 This green slaw dressed with garlicky tomato vinaigrette belongs on every summer plate.
Ever feel burnt out on slaw? Do you get to the point where you can't bring yourself to eat another dreary forkful of raw cabbage? Blame might be placed on that pale, drab-looking coleslaw, which is chronically underseasoned because someone forgot the lemon juice and the salt. Or it might be placed on the fact that, at some point, as a society, we decided that a bag of prechopped cabbage and carrots mixed with mayonnaise was a sufficient side dish for everything from a grilled hot dog to a diner tuna melt.
Help is here. I bring good news and a new way to slaw. It comes in the form of a fresh-tasting cucumber salad that I dress with a punchy, garlicky vinaigrette. The base dressing is just as easy to make as the cucumbers are to prepare. I start by pickling garlic and capturing the quick, smoky heat from Calabrian chile peppers in red wine vinegar before adding olive oil. I then add freshly grated tomato, which brings sweetness and body to the sauce. The large holes on a handy old 1970s-style box grater work best here.
I use that box grater again to shred the cucumber into small, threadlike pieces. It's a little more unconventional than, say, just slicing up your cuke, but, unlike a slice, grated cucumber possesses a light, airy, silky texture that soaks up the vinaigrette. It's a texture that makes as much sense forked directly from the plate as it does piled onto a hamburger bun with whatever's fresh off the grill. Since cucumbers carry so much water, I squeeze those shreds so that they can soak up the vinaigrette. Last, I add some diced red sweet bell pepper and chopped parsley and basil.
This slaw is best served immediately or within 30 minutes—after that, it starts to soften and get soggy. But since it comes together so quickly, there's no reason not to make it fresh for the party, even if you need to prepare it à la minute in your friend's kitchen while the ribs are getting their final char on the grill.