Grapes in September, Olives in November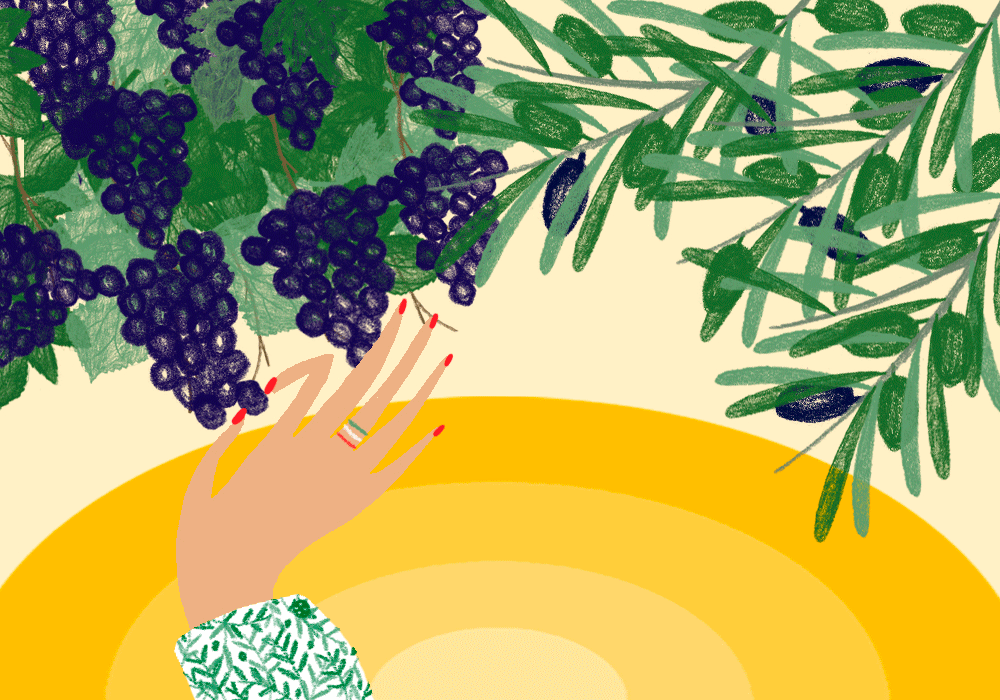 Scenes from an Italian harvest. A play in two acts.
In September, my husband and I joined a group in Sorano, a tiny ancient village in Tuscany where our friend Francesca's family has kept a house for the past decade. As we unloaded our suitcases, we learned that Francesca's neighbor Adamo planned to harvest his grapes the next day—and that we had been volunteered to help.
I didn't protest. I had always wanted to work a harvest, but mostly I was enamored of the harvest lunch: that long, family-style meal of legend, fueled by tired satisfaction, wine from past harvests, and hope for the year ahead. I wanted to earn that lunch all morning and share it in the afternoon, to make something lasting and celebrate it.
We woke early and drove to Adamo's vineyard, where 15 rows of grapes hung in clusters and a dozen burly guys of varying ages, all speaking Italian, lugged baskets brimming with fruit. I expected someone to demonstrate where to snip the grapes, which ones to leave behind, and how to avoid bruising them. Instead, Adamo shoved a bucket and shears at me. "Go," I learned, is one of the few English words he knows.
A Sorano native, Adamo makes his own wine and olive oil, grows tomatoes and peaches, and ages vinegar and grappa in his family's limestone cave. He wears his hair in a low man bun and rarely sits for more than a few minutes at a time. He speaks in brisk Italian that's hard for even fluent speakers to follow, skipping syllables with characteristic urgency.
After three hours of picking we followed Adamo back to the patio of his apartment, a concrete slab with an unadorned table, pepper plants in old terracotta pots, and more grapes hanging from a trellis overhead. We toasted with Prosecco made by his friend and Adamo's own wines from previous years, and ate salumi from the butcher shop where he works during the day.
Finally, when the table was set, Adamo emerged from his kitchen holding a pan heavy with acquacotta, a chunky Tuscan vegetable stew he'd begun two days earlier. Acquacotta, which translates to "cooked water," is the embodiment of peasant food; traditionally, farmers simmered it over embers all day while they worked in the fields. Served over stale, unsalted bread and topped with an egg, its flavor is almost unimaginably luxurious, the sum of humble parts made rich by time.
After lunch, we crushed the grapes in a press, watching juice gush from the spout and collecting it in a barrel to age. When we finished, Adamo poured us more wine and grappa and filled our arms with peaches to take home.
"Come back for the olive harvest in November," he offered in Italian. We did.
The nuances of harvest celebrations change with the season. Where September was shorts, suntans, and so many faces that I was never introduced to each one, November is colder and quieter; there are half as many of us picking olives as there were picking grapes. We harvest over two days, which feel long even though the light is short-lived.
Again I wait for instructions that never come. A few of us pull olives off the trees by hand while Adamo waves an electric rake and rattles them in droves from the highest branches. We arrange nets to catch them, and once a tree is bare we move on to the next.
This time we eat lunch inside. Adamo and I cook the acquacotta together, and he serves it with bruschetta con cavolfiore, toasts topped with steamed romanesco, anchovies, and generous glugs of his oil from last year. Now I know why people here are proud of their oil: It is the flavor, texture, and heart of every dish.
Adamo keeps some oil for himself but sells the rest to friends. He is proud of his work but not precise; I'm still not sure which varieties of grapes or olives he grows, and he pours both wine and oil with abandon. He also doesn't bother with organic certifications, even though he never uses chemicals. For him, making these products isn't about cachet: It's an act of humility, generosity, and respect for the past.
I'll always think about these things when I think about the harvest, and I'll also remember the orange peels. One day, after we eat mandarins for dessert, Adamo saves the peels to dry on top of his wood-burning stove, leaving the piths to shrivel and the rinds to brown.
As I stand by the fire, Adamo takes a peel and throws it into the flames, launching into a string of Italian words I don't understand. But eventually I understand the peels: kindling.
"My family didn't waste anything," Adamo says quietly. As I watch the fire rage and swallow the peels, I think I've never seen anyone live so richly.