Grab That Whole Fish by the Tail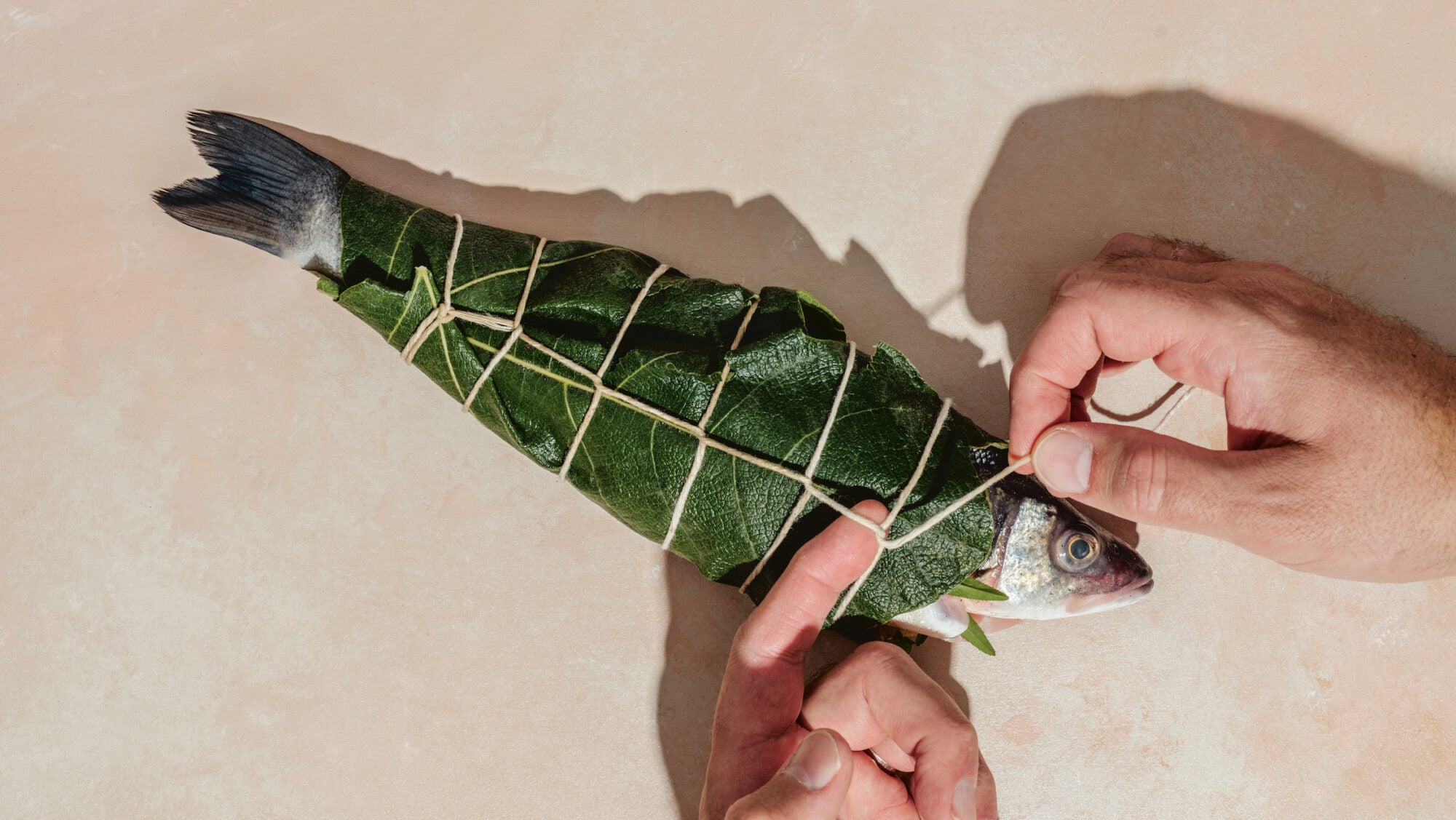 Whether you're roasting, grilling, frying, or packing fish into a cozy salt crust, cooking it whole is the simplest way to a dinner party centerpiece.
One of the most infamous recipes from Alice B. Toklas's 1954 cookbook describes a whole striped bass that the author cooked for Pablo Picasso. Toklas poached the fish in a peppery bouillon, then moved it to a platter and decorated the outside with piped mayonnaise and tomato paste stripes, truffles, and sieved eggs.
When I first read this description, in my early 20s, it struck me as the sort of grandiose, unattainable entertaining gesture I could only dream of—one that would require extreme seafood prowess, not to mention a much better fish counter than the one at the Stop & Shop within walking distance of my apartment. Now, in 2021, cooking a whole fish as the centerpiece of a meal doesn't seem that much more far-fetched than roasting a chicken. In fact, it sort of seems like everyone is doing it.
In That Sounds So Good, an upcoming cookbook by Carla Lalli Music, readers are coached through a "Not-Scary Grilled Whole Fish." Cravings: All Together, the latest book by Chrissy Teigen, contains a recipe for a whole branzino, rubbed with the key flavor components of Thai tom yum soup and roasted over a bed of Japanese eggplant. Cooking at Home, by David Chang and Priya Krishna, has an easily riffable approach to cooking a whole fish in a steamer basket, stuffed with aromatics. And in Tasty Over the Top, the latest in the Tasty cookbook franchise, a whole snapper is filled with citrus slices, roasted, and laid on a bed of homemade chile crisp.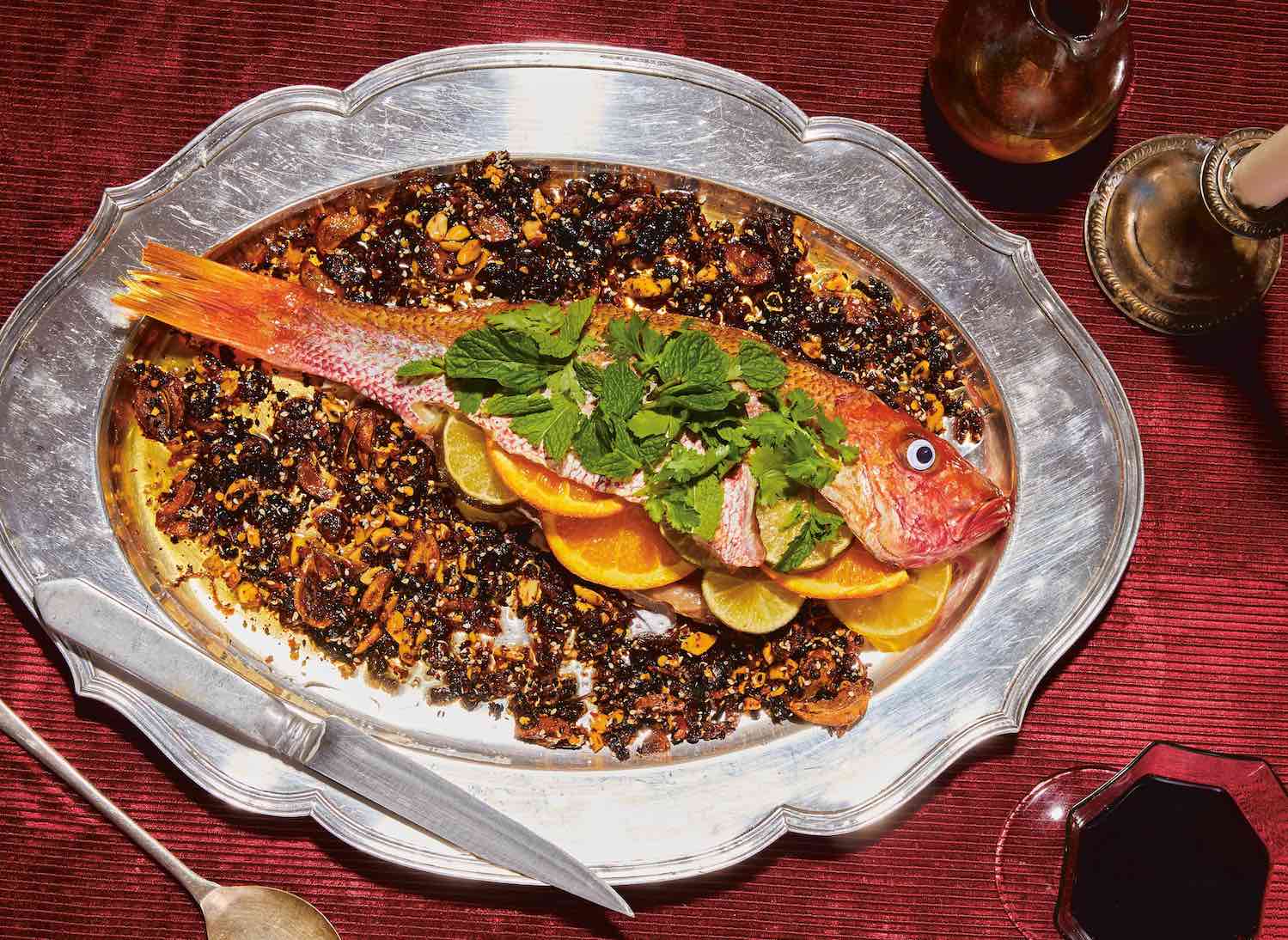 "Cooking a whole fish is obviously nothing new—humans around the world have been doing it for eons," says Casey Elsass, the Tasty recipe developer who contributed the dish to the book. "But in the United States, it's very easy to lean on convenience, especially with meat that has been deboned, skinned, and perfectly portioned. So the idea of presenting a whole fish at the dinner table feels especially fun, extravagant, and maybe a little daring."
While there are plenty of places in the United States where high-quality fish is hard to come by or prohibitively expensive, convenience has become top of mind as online retailers like Fulton Fish Market, Sea to Table, and FreshDirect have ramped up business. And when restaurants started to close down temporarily in early 2020, restaurant suppliers like Pierless Fish and Baldor pivoted to home deliveries, giving home cooks access to all of the same ingredients their favorite restaurants had been using.
"In part, it was a yearning for that dramatic restaurant-style presentation at home during the pandemic, but then, of course, you get the hang of it and realize it's such an easy way to get impressive flavor."
Chef Josh Niland, author of The Whole Fish Cookbook and Take One Fish, says that he's noticed a marked increase in the quality of fish available to home cooks in Australia, which he attributes in part to the decreased demand caused by restaurant closures. But he also observes that consumers in general are more concerned about the provenance of the fish they're buying, which is beginning to affect what's available. "For fisherman, improved techniques to catch, kill, and transport fish are resulting in a far better product then years gone by, with a superior shelf life. This means the customer gets a better product and the fisherman gets a better financial return," he explains.
In Foodheim, a new cookbook by comedian Eric Wareheim and TASTE contributor Emily Timberlake, Wareheim shares a technique for cooking the whole fish of your choice on a grill, swaddled in fig leaves. It's a trick he picked up during the pandemic, when chef Chris Kronner started selling restaurant-quality seafood by delivery in the Los Angeles area.
Maggie Hoffman, the digital director of Epicurious, tells me that the idea of cooking a whole fish has become more appealing to her lately. "In part, it was a yearning for that dramatic restaurant-style presentation at home during the pandemic, but then, of course, you get the hang of it and realize it's such an easy way to get impressive flavor," she says. "If you're buying good fish, there's no reason you can't cook one that's every bit as delicious as what you'd have in a restaurant."
"Also, cooking stuff with its own bones tastes better."
Portland chef and restaurateur Gregory Gourdet is a huge proponent of cooking fish whole, and his debut cookbook, Everyone's Table, which came out earlier this year, contains no less than three recipes. "I definitely think some people are intimidated by cooking a whole fish, but all around the world, many cultures thrive on whole fish cookery as an everyday staple," he says.
As Gourdet points out, whole fish cost less per pound than pre-butchered parts. And, you get to maximize the surface area of crispy skin while minimizing the little bits of tender meat around the collar and the tail that might otherwise wind up going to waste. Plus, there's opportunity for flavoring the fish from the inside out, by stuffing the cavity with citrus and herbs and rubbing the skin with seasoning.
"Also, cooking stuff with its own bones tastes better," says Francis Lam, Clarkson Potter's editor in chief. "I don't know if that's a fact, but I know it's a fact that I've been told my entire cooking life, so I just take it as gospel."
Niland confirms Lam's assumption: "There are obvious benefits to cooking a whole fish over a fillet. There is greater retention of moisture and size. There is also minimal labor in baking and consuming a whole fish, and it has the potential of carrying a list of different flavors in the cooking." His newest book, Take One Fish, contains recipes for salt-and-vinegar grilled coral trout, and for snapper baked in salt pastry that's been patterned to look like fish scales. For any first-time whole fish cooks, Niland recommends the salt pastry route as an easy approach with a big payoff.
"The reason I love roasting a whole fish—and why we should all be doing it more often—is it's almost impossible to mess it up," says Elsass. "Fish naturally has fatty skin and a skeletal structure that is rich in gelatin, which, in plain English, translates to 'insane flavor and impossibly moist.' Even if you accidentally go a few minutes over, you're guaranteed that bite after perfectly flaky bite is still waiting for you inside."
Lead photo by Julia Stotz, excerpted from Foodheim. Second photo by Lauren Volo, excerpted from Tasty Over the Top.