Got Saltines? Make Fire Crackers.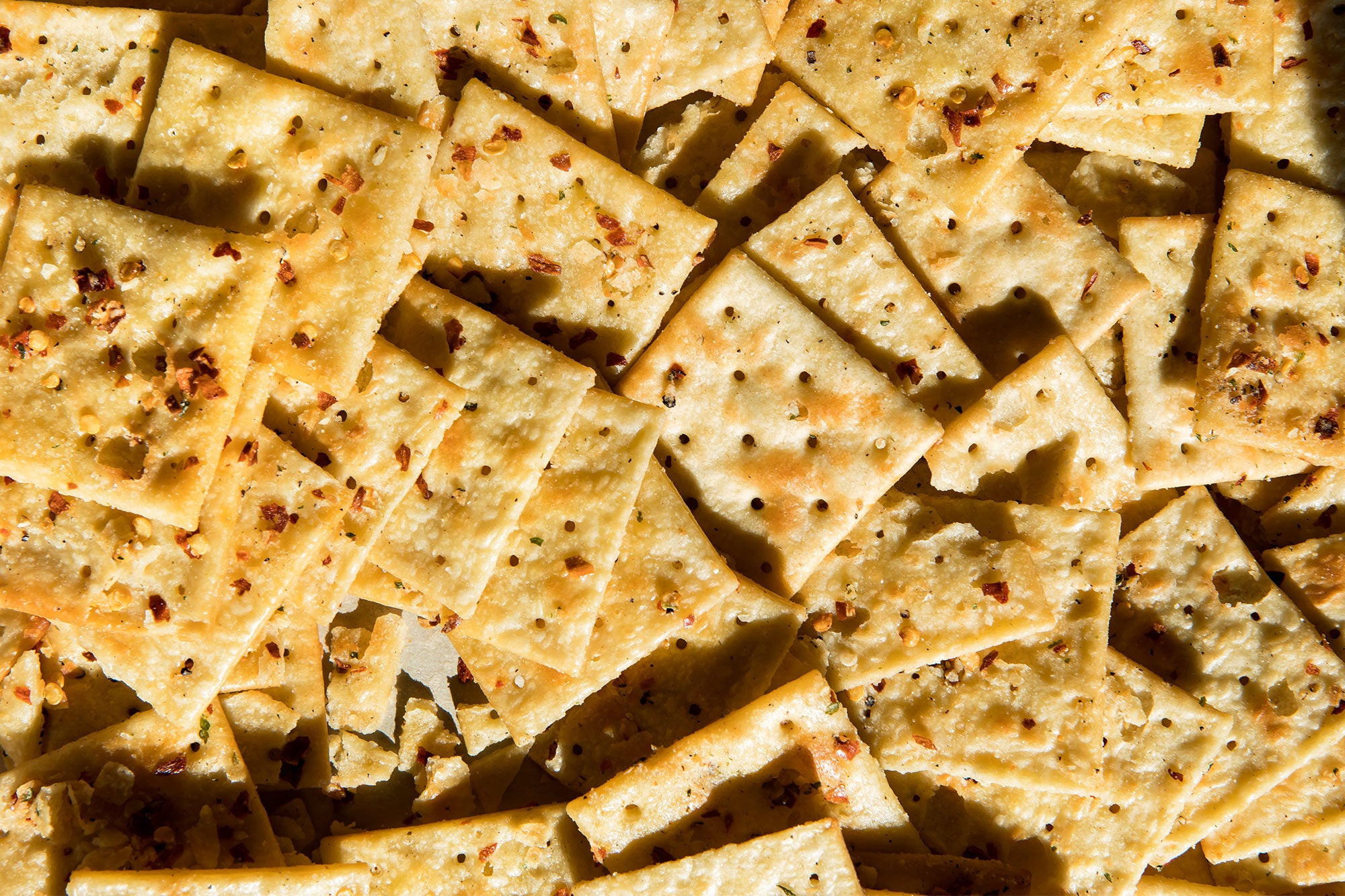 Give the iconic cracker a new lease on life.
To most Americans, buying saltines is a little like buying paper towels. They're there on the grocery store shelf for $2 a box when you need them, but they're rarely a source of excitement or inspiration. Most of the time, we take the salty, flaky crackers for granted as a reliable source of calories on a sick day, or as the gratis two-piece packet alongside a bowl of chicken noodle soup at a diner.
But as many Southern home cooks know, you haven't really had saltines until you've emptied a full box of them into a giant ziplock bag, poured in an entire pint of olive oil and a packet of dehydrated ranch seasoning, and then watched each saturated square turn from ivory to glossy, golden brown in the belly of a roaring oven.
"There is a long history of enterprising home cooks—Southern and otherwise—using crackers as ingredients in other dishes," says Sheri Castle, the author of Instantly Southern. Castle's version of this particular snack (sometimes known as fire crackers, comeback crackers, or party crackers) uses a seasoning blend of garlic powder, onion powder, red pepper flakes, and ranch dressing mix.
Texas snack food company Savory Fine Foods has even capitalized upon the semi-homemade phenomenon by selling packets of "Party Cracker Seasoning" (to be mixed with the copious glugs of canola oil) in flavors like Sweet Bar-B-Q, Garden Dill, and Texas Chipotle. The recipe on the back of each packet tells you to skip the baking part altogether and start partying right away once the crackers have been marinated overnight.
Although Castle is hesitant to claim any regional ownership over the standby, she says, "Most old Southern community cookbooks and family recipe boxes include some version of enhanced crackers such as these." Some involve wrapping crackers in bacon, spreading them with butter before baking, or deep-frying. "Ice water saltines" or "soufflé crackers" turn the rigid cracker into a warm, puffy, rich pastry by dipping it in ice water and then baking with plenty of butter.
The cracker will hold its crumb structure even when soaked in fat, ice water, hot sauce, or any number of other secret household ingredients.
Saltines, and all of their baking-soda-leavened cousins, are a late-19th-century American innovation that expanded on the centuries-old genre of dense, non-perishable wheat crackers known as hardtack, or ship's biscuits. The cracker's trademark dry, rigid texture gives it a remarkable life span—almost a year—and makes it famously impossible to eat six in one minute. But this same quality also means that the cracker will hold its crumb structure even when soaked in fat, ice water, hot sauce, or any number of other secret household ingredients.
In The Homesick Texan's Family Table, Lisa Fain includes a recipe for oyster crackers that follow a similar rubric—tossed in canola oil and seasoned with a chipotle-ranch spice mix before a quick bake. "My grandma started serving seasoned oyster crackers in the late 1980s," she tells me. "I asked her where she first got the recipe, and she said it was straight off the back of a Hidden Valley packet."
The recipe in Fain's book employs a homemade take on the ranch mix, which she describes as a delicious alternative "if you're averse to using commercial seasoning packets." But she admits that they were a tough sell to family members who were used to her grandma's punchy MSG-laden version.
North Carolina chef Ashley Christensen sometimes fries saltines to serve alongside dishes at her Raleigh restaurant, Poole's Diner. In her cookbook, Poole's, skillet-fried saltines accompany an oyster stew with charred turnip relish. They're as simple as heating half an inch of oil to a shimmering 325°F and turning the crackers in the oil for a minute or so.
At the seafood-focused restaurant Saint Julivert Fisherie in Brooklyn, Alex Raij serves fried saltines in plastic sugar caddies to accompany dishes like ceviche and pickled shrimp. "It's kind of like a bread course," says Raij of the complimentary crackers. "It's sort of like you're getting a roll or a piece of toast."
There's not much science to her method—you dip the saltines into a bubbling deep fryer and, as Raij says, "Just count to 30!" They come out evenly browned, slightly shiny, and already salty enough to act as a foil to a vinegary seafood accompaniment. She's used the same trick for turning oyster crackers rich and flaky for a summer panzanella with cherry tomatoes, and for frying matzo to serve at La Vara, another Brooklyn restaurant of hers. To her, both are reminiscent of a cracker-like Spanish flatbread called regaña that's made with olive oil.
"I believe all these things evolved from matzo," says Raij, who sees a common thread of migration and resilience in these economical, enduring ingredients. "So that's my guess on saltines, as much as the Southern Christian community might love them."