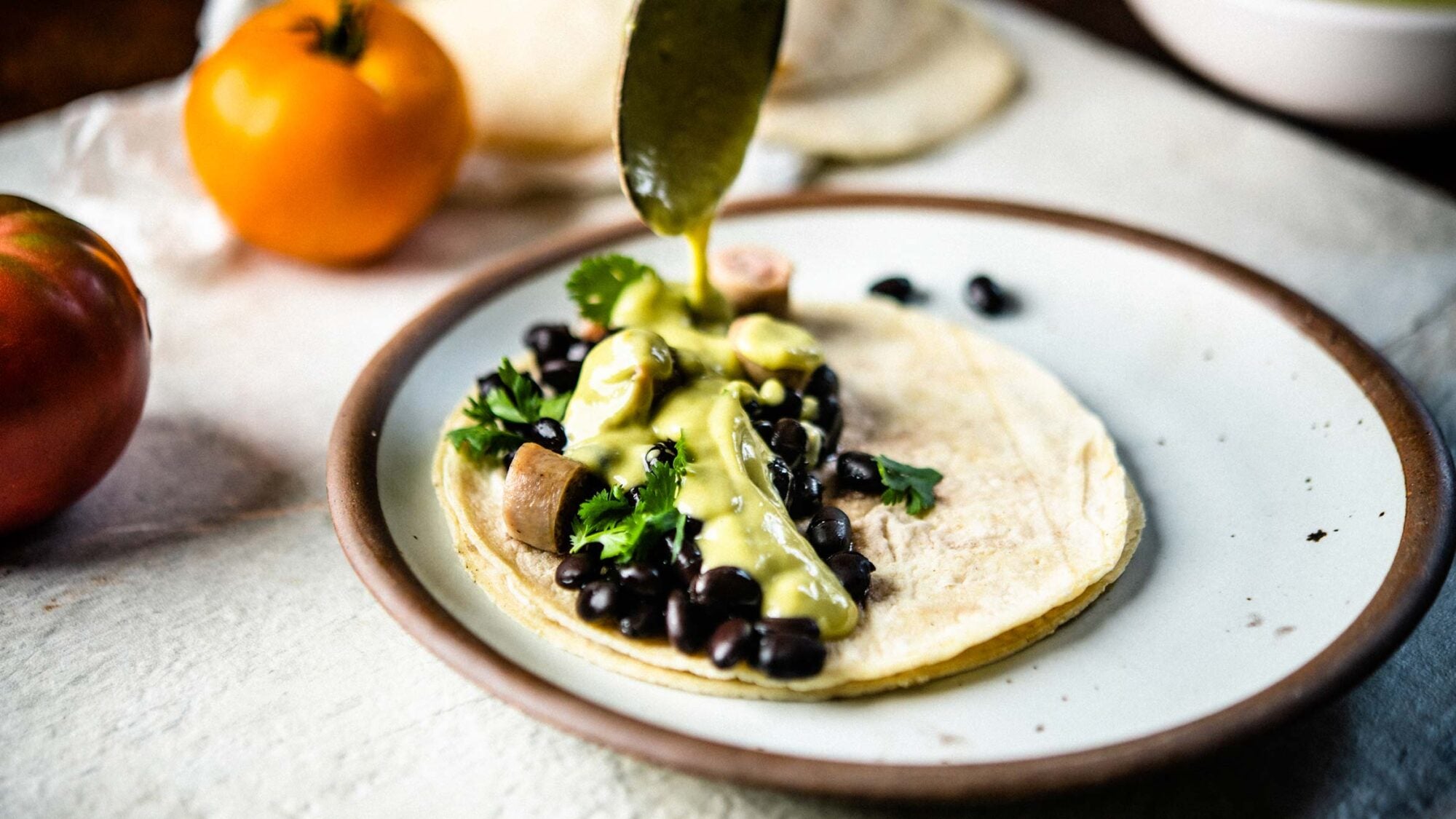 With avocados, tomato, and chiles, it's the all-purpose salsa you never knew you needed.
I try to visit Mexico at least once a year. It does not always work that way. Each time I do go, I try to visit a city I never have before. On one of these trips a few years ago, I traveled to Santiago de Querétaro, the capital of the central state of Querétaro. This is not a story about the pulchritude of Santiago de Querétaro's town center, or the humbling power of international travel. That would be cruel to both you—and me—during these pandemic days. This is, instead, a story about a cookbook series I discovered in a bookstore in Santiago de Querétaro.  
The series is called Cocina Indígena y Popular ("Indigenous and Popular Cooking") and it comprises a staggering 78 titles produced by a federal cultural agency in Mexico. I have never seen all 78 titles in one bookstore during my travels across Mexico, but most bookstores carry at least a few. Easy to recognize by their somewhat diminutive size and the volume numbers emblazoned on their spines, as the series's name suggests, multiple installments feature the cooking of Mexico's indigenous people, like the Zapotecs of Oaxaca in volume no. 33, and the Tepehuán of Chihuahua and Durango in no. 53. The series is more of a deep-dive regional snapshot than a practical kitchen manual. I will not be cooking from no. 50, which focuses on the mushrooms of Veracruz, or from no. 25, Recetario colimense de la iguana, as there are no iguanas where I live, in New Orleans. If I ever move to Florida, where iguanas fall from trees in the winter, all bets are off.  
Be where you are, I figured, so I bought volume no. 59, Voces y sabores de la cocina otomí de Querétaro ("Voices and tastes of Querétaro's Otomí cuisine"). The book's author, Héctor Latapí López, worked on the volume for three years and, blessedly, credits each recipe's contributor by name. The book is also bilingual. Not in Spanish and English—because, contrary to popular colonizer belief, English is not always the linguistic centerpiece—but in Spanish and Hñähñu, the language of the Otomí, a people indigenous to Mexico's central, arid plateau. 
I imagined what flor de sábila al vapor (steamed aloe flower) and fried tantarrias (a kind of leaf-footed bug) might taste like, fumbling my way through the volume in my semi-feeble Spanish. Then I spotted salsa para tacos, a recipe contributed by Doña Teresa Montes Cabrera. It demands five ingredients, all available most everywhere in the United States. A recipe I could make! 
Two avocados, half a kilogram of fresh tomato, two serranos, one-quarter liter of milk, and salt to taste—plus one blender. I converted the metric measurements: about one pound of tomato and 1 cup of milk. I considered reducing the recipe's milk allotment by half, because a cup of milk read like too much liquid. Far too much. I buried my concerns and added the ingredients as written to the blender's pitcher. My misgivings turned to certainty when I saw a pool of milk enveloping the other ingredients; I forged ahead anyhow. Then, in moments—alchemy. What began whirring as a slack puree wobbled into a lush cream. Agog, I swiped a finger. Suave, hot with verdancy, rich: what anyone and everyone wants plunked on their tacos. 
I do not know how Doña Teresa uses her salsa para tacos. (The book's recipes do not include headnotes or descriptions.) Me, I used it on tacos filled with chorizo and potatoes. I used it to garnish quesadillas. I used it on pinto beans. I think I even put it in a sandwich. The days of a pandemic era are long; so, too, are the ways to use Doña Teresa's salsa para tacos.
I also do not know how to demand that the United States government create a similar cookbook series. We deserve a tome on the Choctaw of the Deep South and the Menominee of Wisconsin, and volumes on the foods of the Down Easters along Maine's coast and the Gullah of the Lowcountry. I suppose our country would first have to own its multivalent, often extirpating history to ever celebrate its foods and people 78-some-odd ways. I can hope. 
A Kitchen in New Orleans. Many years of eating, cooking, and writing about food have left Scott Hocker with many stories to tell. In this monthly column, he re-creates a dish tied to a distant, or sometimes recent, food memory.