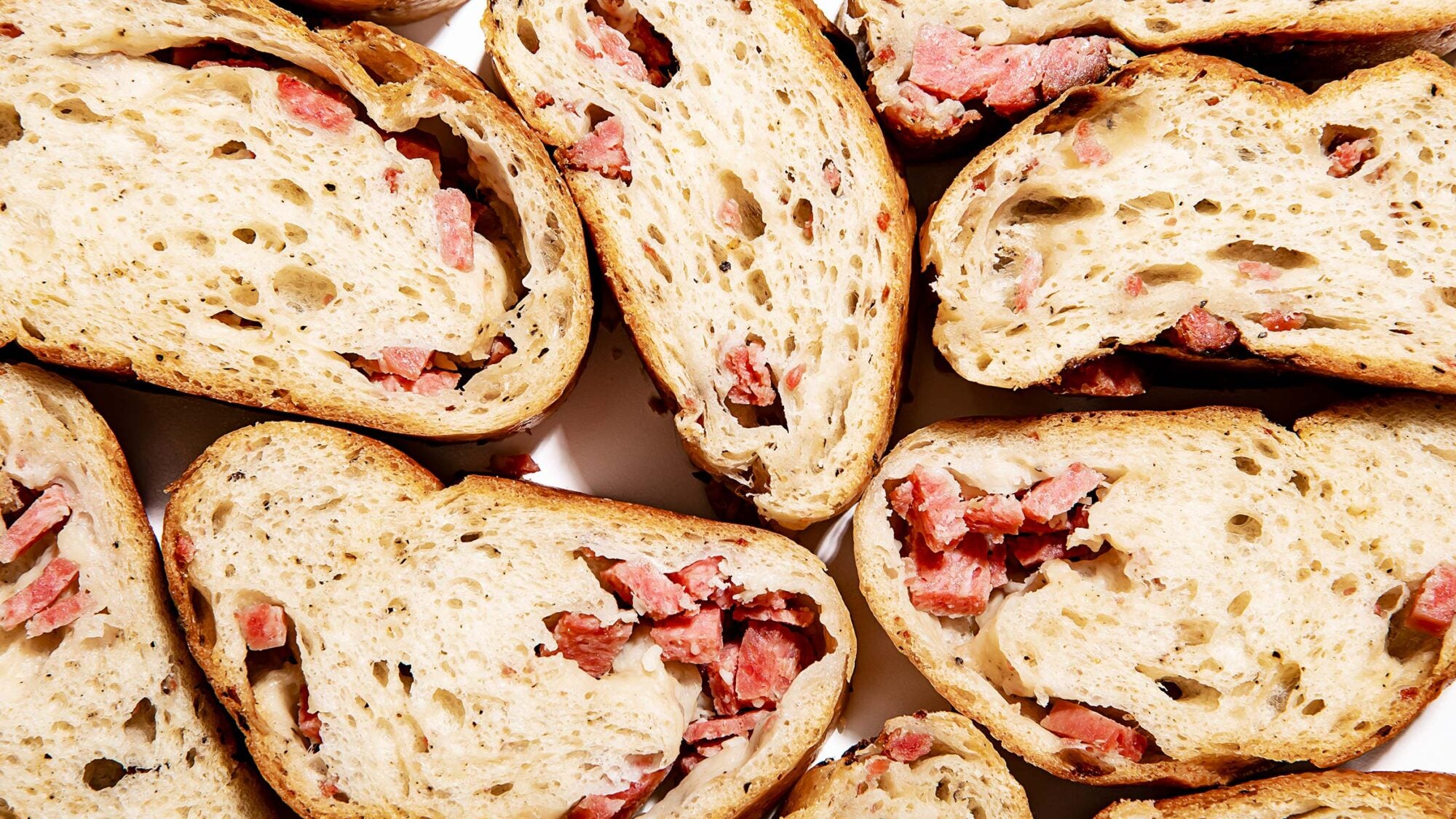 The name might be a tough sell, but the salami- and prosciutto-filled bread has its fans, and a few dedicated bakers are keeping it alive. 
If you've never heard of lard bread—also called prosciutto bread or ciccioli bread—you're not alone. The loaf is virtually unknown outside New York City and parts of New Jersey and Philadelphia, where a critical mass of Italian Americans has kept the tradition alive since their ancestors immigrated to the country in the 1800s. But even in the American epicenter of lard bread culture along the Northeast corridor, you won't find it in most Italian bakeries. "Lard bread" isn't the most appealing name in times like these, especially after decades of fatphobic cultural conditioning, and while it's not exactly endangered (yet), it never captured the public imagination like you might expect for a bread stuffed with meat and cheese. 
But lard bread deserves our love.
With its studly tidbits of Genoa salami, its twang of sharp provolone, and a double-barrel blast of black pepper, Mazzola Bakery's lard bread is less a loaf than a savory cake you don't want to share. The faintly sweet crumb exhibits the pillowy tenderness of brioche, and once you break it open, the porky aroma is intoxicating. I personally think of lard bread as a distant cousin of fruitcake, stuffed full of cured meats that signal good times ahead, the act of making it a kind of celebration all its own. I suspect I'm not alone; this past holiday season, Mazzola sold more than 5,000 loaves.
New York City lard bread fanatics will tell you that Mazzola, a Brooklyn corner bakery that since 1928 has seen the neighborhood of Carroll Gardens transform from Italian enclave to home base for movie stars, makes some of the best you can find. (I'm also a fan of the cheesy loaf at nearby Caputo's Bake Shop, and the leaner version at Parisi Bakery in Manhattan's Little Italy, which I prefer for making sandwiches.) "If you bring up Mazzola's, the first thing people mention is the lard bread," says Josephine Messina, who owns the bakery with her brothers, Frank and Anthony Caravello. 
Think of lard bread as a distant cousin of fruitcake, stuffed full of cured meats that signal good times ahead
For most Italian Americans who eat it, lard bread is mainly a Christmas and Easter thing, but Messina recalls it making frequent appearances in antipasti spreads during Sunday dinners at her grandmother's, who once lived above the bakery, and who would serve it alongside a bowl of hot marinara sauce for dipping. The Caravellos prefer to keep the recipe in the family, but Messina admits that it begins with a lean dough typical of the puffy "Italian" loaves you'd find at a supermarket or bakery. In addition to the fat from hard salami and cheese, striations of rendered lard are folded into the dough during shaping, which makes the finished bread tender and supple. The recipe hasn't changed since her family purchased the bakery from the Mazzola clan in 1980.
The lard bread story gets hazier once you try to trace it back to Italy. Like Nicolo Mazzola, who founded the bakery in 1928, Messina's family originates in Sicily, but on trips back to the homeland, she's never seen anything like Mazzola's lard bread on the streets of Palermo. Recipes for lard bread don't appear much in Italian cookbooks, and while stuffing fatty odds and ends into bread dough is a common theme up and down the boot, no particular region seems to have much connection to the peppery cured-meat-and-aged-cheese format that's proliferated on this side of the Atlantic.
What you will find in Italy—in homes, if not in many bakeries—is something called pane con ciccioli. Ciccioli are the crispy nuggets of fresh pork leftover from rendering lard, and baking them into bread was, historically, a smart form of preservation in the days after slaughtering a pig. In her cookbook Celebrating Italy, the Italian food scholar Carol Field put it this way: "When pigs go to their reward in the cold days of winter, country people save the crisp bits left over after the lard is rendered and knead them into a rustic loaf." Writing for an American audience in 1990 that likely wasn't butchering winter hogs, she adds, "If you don't have cracklings on hand, pancetta is a delicious substitute."
This is the bread that Josephine Restaino grew up with in Newark and Belleville, New Jersey. A former chef and caterer, she's baked hundreds of loaves of lard bread for friends and family over the years, and on a lark last September, she started a Facebook brand page called Lard Bread Lady with photos of her brocaded breads and a "coming soon" message for nationwide shipping. "I set it up as an experiment, and within seconds, I can't even tell you the response I got," she recalls of the dozen or so inquiries. Messages came from Italian Americans in Texas and Tennessee, mostly fellow baby boomers who remember the bread from their childhoods and have hardly seen it since. "It's a soft spot," Restaino muses. "Lard bread wasn't something you got introduced to as an adult, so it takes you back." She's currently working out the details of online food mail order and plans to launch the business this year.
Restaino learned how to bake "cigola bread" (the North Jersey patois for "ciccioli") from her grandmother, whose husband immigrated to the United States from Naples when he was 13 years old. While Restaino has dabbled with inclusions of prosciutto, pepperoni, and even olives and raisins, her grandmother, she recalls, "was a purist. Lard, cigola, pepper, cheese. I apologize to her every time I put something else in the dough." Rendered lard was a key ingredient in her grandmother's eggplant parmigiana, as well as a wintry braise of cabbage and escarole with various pork parts called minestra. Making minestra meant cigola, which in turn meant lard bread. "She'd only make it for that dish," Restaino continues. "We'd have the minestra and polenta and lard bread. We were on her all the time: 'When will you make the lard bread?' If she was making it for dinner, I wouldn't eat all day."
Bridging Naples's pane con ciccioli and Newark's cigola bread doesn't take a big leap. With the bounty of meat available to early Italian immigrants in 19th-century New York, and the proliferation of Italian pork stores and bakeries as paths to entrepreneurship, rendering lard at home and baking bread with the cracklings would have been a luxury more than a necessity. Meanwhile, formerly regional styles of cured pork products—prosciutto from Parma, salami from Genoa—became available to Italian cooks of all origins. Lard bread's evolution makes sense as a benchmark for what a community prizes. In rural Italy, that meant the cook's crackly reward for a hard day of cutting up a pig; in America, no prosciutto is left behind, and the neighborhood bakery has enough lard bread for everyone.
As far as Restaino is concerned, swapping cured meat for cigola is a cheat. "There are bakeries near me with prosciutto bread now, but it really sucks," she says, matter-of-fact. "It's dry and tasteless and terrible." Many self-styled prosciutto breads, such as this 1986 recipe in the Chicago Tribune, don't involve rendered lard at all. As a pork-loving Jew who embraces all forms of lard bread, I don't have any dog in this fight, but I do worry about what the future has in store.
Up the New Jersey Turnpike from Josephine Restaino, Angelo Competiello is working on a lard bread revival. Competiello is a second-generation deli man, and at his A&S Fine Foods in Wyckoff, he's baking what may be the next generation of lard bread. His version involves trimmings of shoulder, jowl, and neck, rendered into lard, and nuggets of shatteringly crisp cracklings, plus coarse ground sausage, plus, to lighten things up, shreds of low-moisture mozzarella. Competiello rolls this mixture up in a ring of dough for a stuffed bread that functionally eats like a calzone. "It's more like an appetizer than a bread," he says, especially if you warm it up in the oven at home so the cheese stretches and the pork nuggets start to sizzle in their own fat. "But I use some of the best fats in the pig, the parts with good, clean flavor that you'd use to make guanciale or lardo." 
Competiello has seen lots of lard breads across Italy, some with cured meat, some with ciccioli. He's less concerned with which came first than with preserving the intent and technique of these traditions. "I love Italian American food with all my heart, but there's so much that's not made with good ingredients or careful procedure," he says. "Years ago, everybody baked with lard. It was a traditional way to cook, to use everything from the animal. Every day, it's my battle to learn and respect these traditions and pass on the motivation."
So far, it's working. Lard bread is the most popular loaf in the store, and Italian old-timers and young things both love it. Competiello has also played around with the classic Italian-American combination of fennel sausage and broccoli rabe, stuffing that mixture in a bread. His Instagram functions as an educational archive of Italian foodways, replete with house-made porchetta made from heritage breeds and odes to historic Roman pastas. Over in the deli case, there's a fresh farro salad where other shops keep the macaroni and mayo. That's winning people over, too.
A Few Lard Breads to Buy
Mazzola Bakery
192 Union Street, Brooklyn, NY
(718) 643-1719
Mazzola ships lard bread and other Italian treats nationwide. Call to place an order.
Lard Bread Lady
Josephine Restaino plans to launch nationwide mail order in 2020. Follow her page for updates.
A&S Fine Foods
525 Cedar Hill Avenue, Wyckoff, NJ
(201) 447-0800
Caputo's Bake Shop
329 Court Street, Brooklyn, NY
(718) 875-6871
Parisi Bakery
290 Elizabeth Street, New York, NY
(212) 460-8750