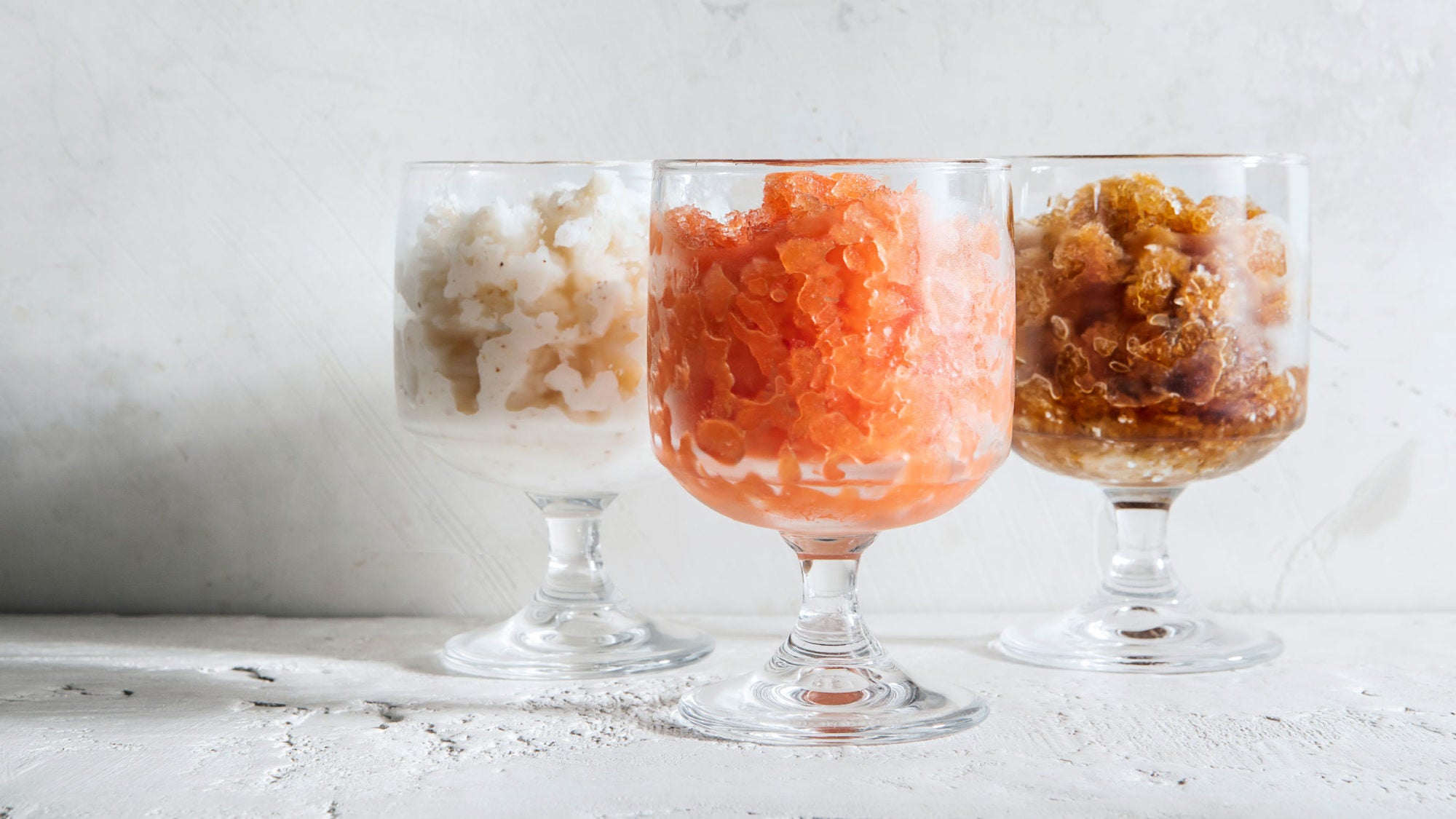 Layer it with gelato and crushed cookies, or just pile it into a glass with a spoonful of whipped cream.
Maybe your summer dessert secret weapon is your Vitamix, for on-demand strawberry smoothies—or, even better, an overflowing glass of icy halo-halo. Or maybe your tool of choice is a shaved ice machine, used for the sole purpose of making flaky mountains of kakigori and bingsu drizzled with sweetened condensed milk and covered with fresh fruit. But for a refreshing granita, the only pieces of technology you need are a shallow Tupperware container, a fork, a functioning freezer, and a bit of patience.
Halfway between a scoop of smooth sorbet and the coarse, technicolor syrup–doused granules of shaved ice, granita is defined by its lighter-than-air texture from loosely packed, grainy ice crystals. The basic technique for achieving this texture is as simple as gradually freezing a flavored base over the course of several hours, removing it from the freezer a few times along the way to scrape two forks back and forth across the surface to separate the crystals of ice from one another. Repeat a few times, and you have yourself the base for granita.
There's a granita for every mood—whether you're rescuing your over-ripened peaches, taking your cold brew to new heights, or trying to use up that last bit of almond paste. These three recipes from Laurie Ellen Pellicano revolve around the same idea: mix a flavorful liquid (like pureed fruit or coffee), simple syrup, and salt, and after a few rounds of fork scraping and freezing, you'll be left with a balanced granita that's flavorful, sweet, and icy. (It's important to note that flavors dull when they freeze, so while you're tasting the liquid, adjust for a mouth-puckering, intense flavor.) And better yet, you'll be left with an ingredient that you can mix and match with your favorite gelato, amaro-tinted whipped cream, or crème fraîche, for a colorful, composed dessert.
Peach Granita
You could make a new granita every day of the week with the fruit of summer's peak, but we're partial to yellow peaches for their juicy, sunny sweetness and bright acidity. Pro tip: You can usually score a discount from farmers' market "seconds" (the bumped, bruised, and nearly over-ripened fruits are actually ideal for making granita). When it's ready to serve, make it a peaches-and-cream-inspired sundae of sorts—alternating the spoonfuls of slushy peach with velvety vanilla gelato and fresh peach slices.
Coffee Granita
This is iced coffee in the most literal sense. Make a cold brew granita for a refreshing reprieve on the muggiest of summer mornings. Turn it into a classic Sicilian-style breakfast and finish it off with a dollop of cream, plus a warmly toasted brioche bun on the side. And for a pick-me-up later in the day, pour a shot of your favorite amaro on top.
Almond Granita
Also popular in Italy, this granita relies on both almond paste and almond meal, mixed with water to give the final product creaminess and to build upon the almond's toasty, nutty qualities. A spoonful of salted whipped cream (or coconut cream), crème fraîche, or mascarpone perfectly complements the rich, aromatic ice crystals.