Give Your Spaghetti the Gift of Chile Crisp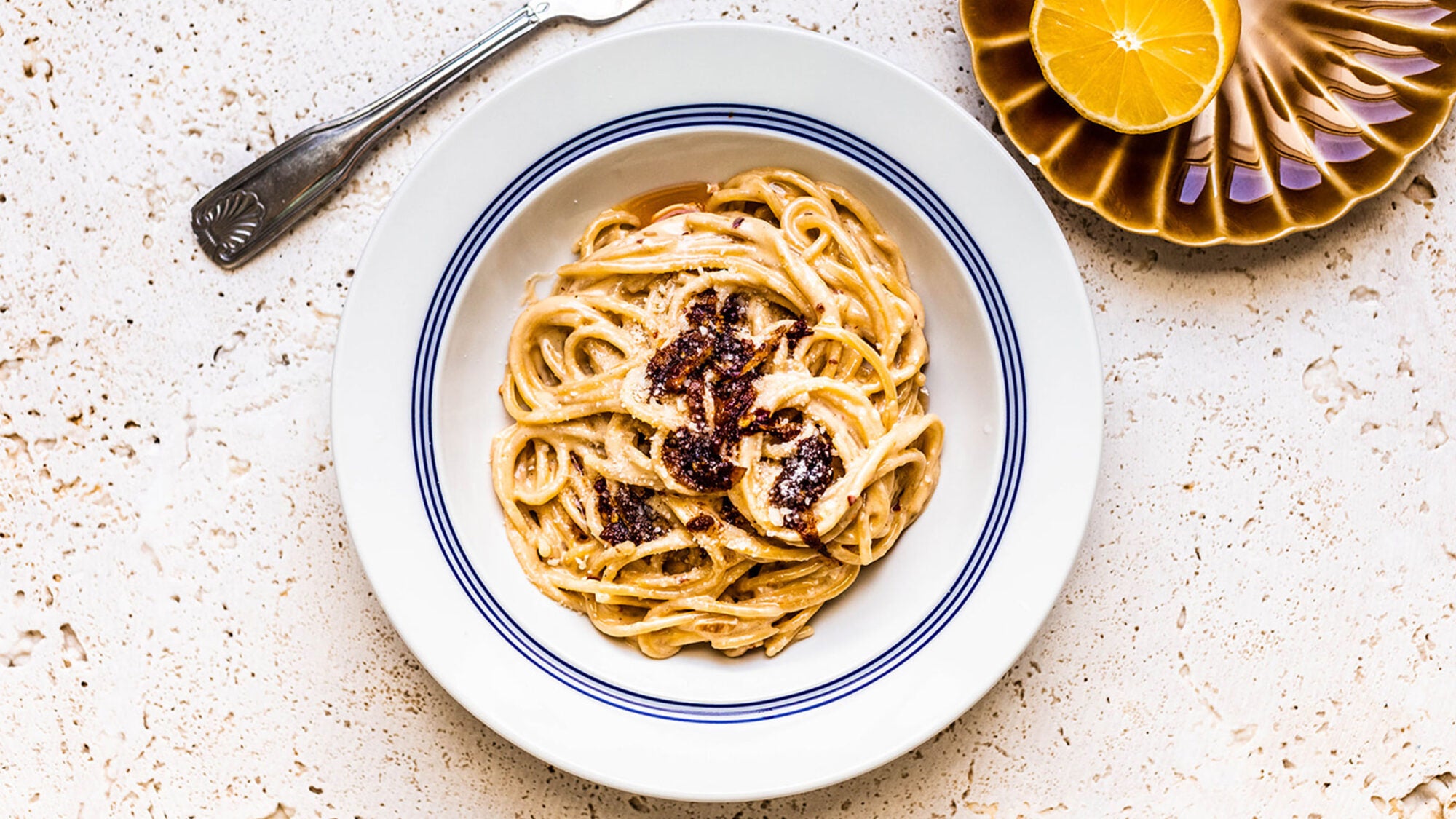 Fold it into peanut pesto, swirl it into lemon and butter, or spoon it onto butternut squash puree.
You could pick a different jar of chile crisp to eat for every day of the month. Each jar of crunchy chile flakes submerged in glistening, ruby red, infused oil has a slightly different flavor profile, depending on the brand—there's tingly, mouth-numbing mala spice from Sichuan peppercorns; savory garlicky crunch; umami bombs of MSG alongside crunchy pepper flakes; and sometimes all of the above.
No matter which jars have become your chile crisps of choice, the condiment's foundation of flavorful oil can be worked into your morning eggs and toast, salad dressings, slippery noodles, and more. But in these recipes by Jenn de la Vega, chile crisp becomes more than a condiment to reach for after you're done cooking. Instead, it's incorporated into a trio of spaghetti sauces suited for any mood and built with chile crisp's crunchy, umami notes in mind—worked into a fiery peanut pesto, the buttery emulsion of an al limone, and a vegan butternut squash puree.
When cooking with chile crisp, de la Vega points out that the oil should be mixed thoroughly before measuring out each tablespoon to avoid drying out the rest of the jar. (And if you're running low on oil in the jar, simply add some neutral oil to loosen everything up again.)
Chile Crisp Spaghetti with Peanut Pesto
Riffing on Ligurian pesto, fresh basil is blended with peanuts, pecorino, lime juice, and chile oil. The solid bits of chile crisp are reserved until the end to preserve its original texture, giving each strand of al dente spaghetti an added bite. Swirling this spicy, verdant pesto into spaghetti is only the start—keep leftover sauce to spread onto an Italian hoagie, morning omelets, or a Caprese salad.
Chile Crisp Spaghetti al Limone
When it comes to a less-is-more recipe like pasta al limone, where only a handful of ingredients speak for themselves, chile crisp can be a worthy addition. Rather than stirring it into the finished sauce, cooking it down with butter and a splash of dry white wine gives the acidic sauce an added dimension of spice that's tamed by creamy richness.
Vegan Chile Crisp Butternut Squash Spaghetti
Taking inspiration from butternut squash–based vegan queso, the "cheesy" blend gets reimagined as a creamy pasta sauce bolstered with sautéed shallots, garlic, and ginger. A sprinkle of nutritional yeast, cumin, and several tablespoons of pickle juice add deeper savory notes that are rounded out by a final drizzling of chile crisp.