How Do You Get a Name Like Pepper?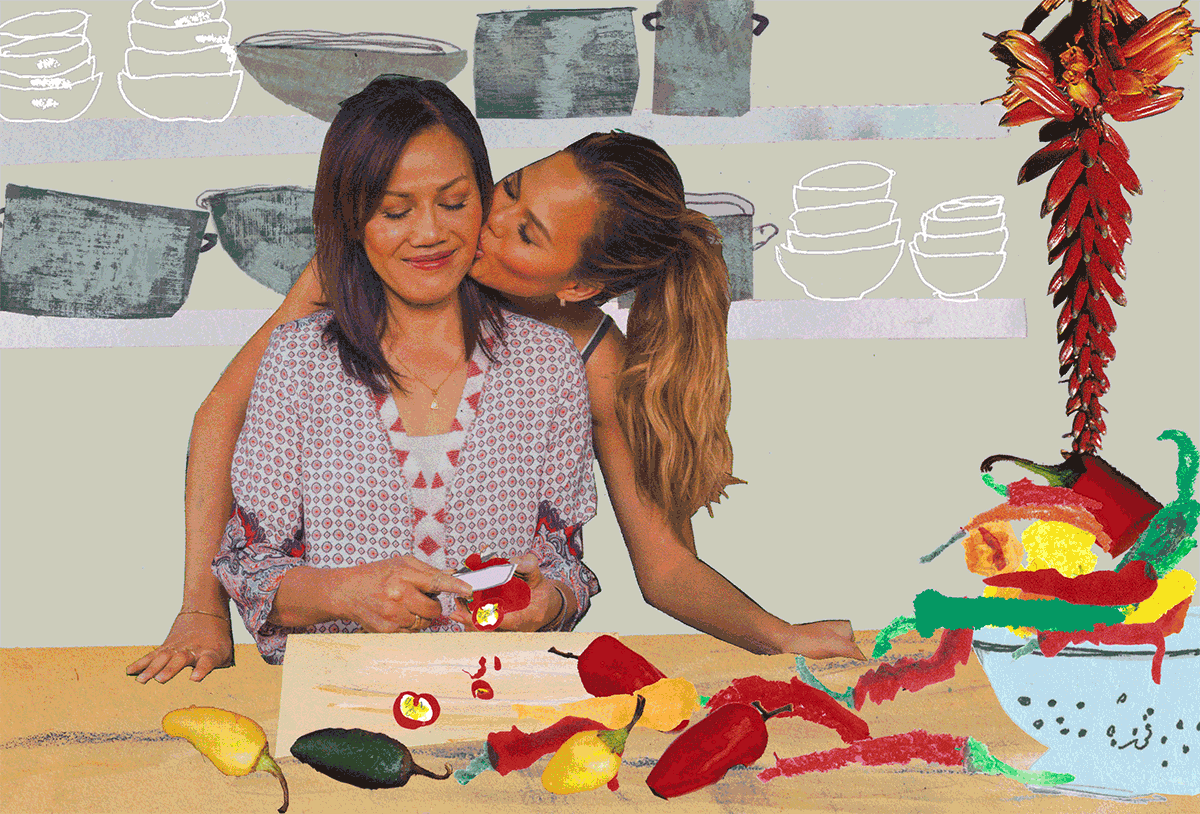 We had to find out: How did Vilailuck Teigen get one of the greatest food-related nicknames out there?
Vilailuck Teigen is one of the Internet's favorite moms. Living with model and cookbook author Chrissy Teigen and singer-actor John Legend, she makes frequent cameos in the candid videos and pictures that her daughter posts, casually filling the kitchen with homemade sausages or reenacting scenes from Varsity Blues. But Vilailuck (or Pepper, as her family likes to call the spice-loving matriarch) has her own public presence, too, sharing pictures of her farmers' market hauls, pepper-filled papaya salads, and, like any good mom, photos of her daughter and granddaughter.
Pepper worked closely with Chrissy on her first cookbook, Cravings, and made sure to infuse the whole book with a healthy dose of heat. In a tribute chapter titled "Thai Mom," Chrissy writes about some of the spicier dishes her mom likes to cook for the family, like jok (rice porridge), pad grapow (stir-fried basil chicken), beef salad, and of course two different kinds of hot sauce. On a recent afternoon while Pepper and Chrissy tested out a new recipe for a soup called tom kha gai for Chrissy's next cookbook, I called into the Teigen-Legend household to talk about nicknames, spice tolerance, and the importance of carrying ghost chiles around in one's purse.
Who was the first person to call you Pepper? How did that nickname come about?
My husband. I love hot food, and my name is kind of long. Every time I eat, I have to have peppers or something spicy. Sometimes we even have a contest to see who can eat hotter, and I always win.
What's your favorite type of pepper?
Thai peppers, ghost chiles, bird's-eye chiles. Those are hot. Habaneros too, sometimes.
What sorts of things do you like to cook with them?
Thai dishes, mostly. I add them to everything, even just on the side for myself. I can't make it too hot—not everyone can take the heat. So I always have the peppers on the side. I even travel with them.
Really? You just travel with the raw peppers?
Yes! I brought them to Italy recently. It's always in my purse.
Do you bring them to restaurants, too?
I do, I do. Sometimes I make my own hot sauce, and I bring it with Chrissy all the time to restaurants.
Is Chrissy ever embarrassed?
No, she envies me.
Do you and Chrissy cook together a lot? Did you help develop any of the recipes for Chrissy's cookbook?
All the time. We're doing it right now.
What are you cooking?
We're cooking for our cookbook, so we've been practicing and trying to get ingredients together. We are always cooking together.
What dish are you working on today?
Today is tom kha gai. It's a soup kind of like tom yum, but this one is with galangal. It turned out very good, so it's going to be in the cookbook.
Are there any dishes that Chrissy's taught you how to cook?
No, but I learn from her a lot. I'm just good at Thai food, and that's about it.
What's the best Thai dish that Chrissy likes to cook?
Pad see ew. It's a flat noodle, kind of like pad thai.
Does your granddaughter like spicy foods?
She's learning it now. She just started eating rice and rice porridge.
Are you going to start sneaking hot sauce into all her food?
Yes, that's how we do it. But she knows all the herbs and all the smells of all kinds of different herbs—the mint, the basil. She likes to smell them. We have a little Thai garden out in the back.
What kinds of herbs do you grow in the garden?
I got Thai peppers, kaffir, lemongrass, the usual for Thai cooking. Mint, cilantro.
What are the ingredients you always keep around the kitchen?
Lime, mint, cilantro, and peppers.
If you have to buy a hot sauce at the grocery store, what's your favorite type?
If I have nothing else at my house at all, I would go with Sriracha sauce. If I have to buy it.
But you prefer to make it on your own?
Yes, I prefer to make it or just bring a whole chile pepper.
Who has the highest spice tolerance in the family?
You know, I came in, and now everybody does very good. Chrissy and John can take spice just as same as I can now. I just trained everybody—the housekeeper, the security around our house. Before that, nobody could take the heat, but now they do very good. John can eat as hot as I can.
Photographs by Aubrie Pick