Fruit Salad Can Be Bitter, Floral, and Spicy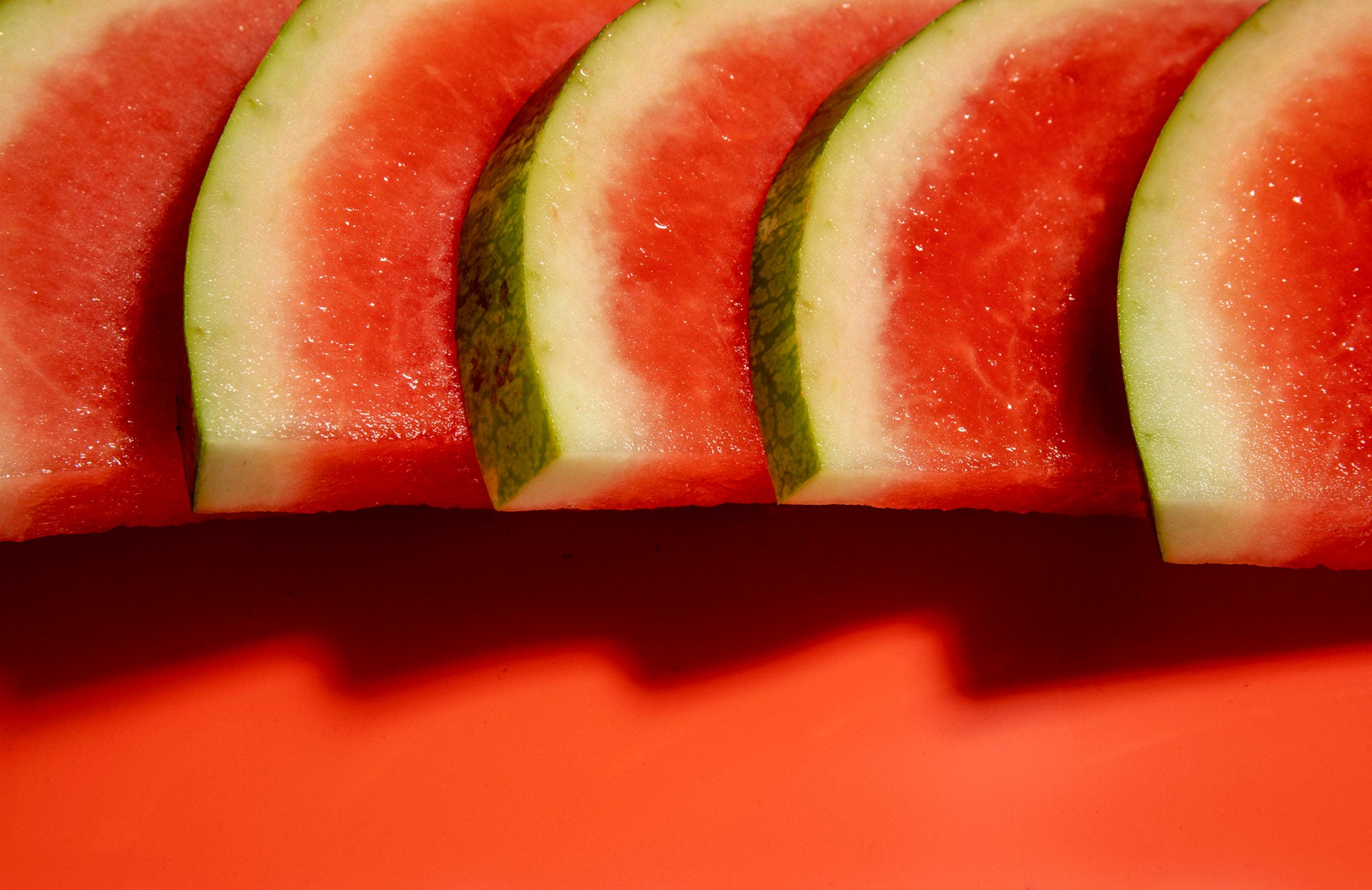 How do you add mystery and intrigue to sliced fruit? With a drizzle of bracingly bitter Campari or subtly spiced Maraschino.
When I was a pastry chef at a fancy restaurant in Lyon, France, we briefly had a fruit salad on the menu—a confetti of tropical fruits on a piped curve of avocado-pistachio puree with a madeleine balanced on the edge. The plate was kind of a disaster, with its weird green smear and unremarkable side cookie, but at the center of it all was the first fruit salad that made me care about fruit salad.
We had to make fruit salad following a recipe pulled from the files of the absentee owner. The ingredients weren't that exotic—just a sturdy mix of sliced pineapple, mango, and kiwi—but the process was what made the result so remarkable. It was a little involved, requiring me to chop the fruits into an orderly ⅛ -inch cubic brunoise. While fussy knife skills can seem like a relic of haute cuisine, there was a practical reason for this: A small dice is the best way to enjoy multiple types of fruit in one bite—like a spoonful of Fruity Pebbles. Sauced in a vanilla-flecked syrup fortified with rhum agricole, this fruit salad was a fully formed dish, a luxurious fruity confetti.
Spirits, especially liqueurs, are like colognes for fruit. Used thoughtfully, these blends of distillates, flavorings, and extractions let you perfume your fruits in ways that bring out all of the best natural qualities. Liqueurs like Grand Marnier, limoncello, and Chambord might seem like the most compatible because they're already fruity, but the best spirits add surprising element of contrast to fruit's predictable sweetness. Reach for herbal, aromatic oddities, like anise-tinged pastis, salty-smoky Scotch, and fruity grappa to reap the greatest rewards.
Nothing proves this better than Campari, the aperitif you've had in Negronis and Boulevardiers. Much like adding a sprinkle of salt lets you taste sharp or acidic notes more clearly, a touch of bitterness provides a distinct counterpoint to juicy fruits like citrus. A spoonful over a supremed orange is an impromptu treat for one.
But Campari can also transform refreshing watermelon into a fruit of intrigue. Campari's intense shade of red adds immediate flair, but it is particularly striking against the craggy pink watermelon flesh. A whole Campari melon with the inside cut into cubes (or, heck, just cracked in half with a knife sticking from the middle) would be a dramatic centerpiece at any outdoor party. I've always fantasized about receiving an Edible Arrangement and dousing it in a Campari. But it works with any amount of fruit, whether you're carving up a prizewinning giant or grabbing sliced fruit from the salad bar. Just drizzle and serve.
Maraschino, although made from fruit, doesn't really taste like it. The liqueur made from marasca cherries is colorless and sweet, with a spicy scent like cinnamon red hots, and known for its role in classic cocktails like the Aviation, Martinez, and Last Word, but most people have difficulty identifying its mysterious flavor. If Campari is like a big whiff of Axe, Maraschino is a haunting oud.
A dash of Maraschino works wonders on most fruits, with a special affinity for tropical fruits like papaya, passion fruit, and kiwi, which is why I use it to re-create my restaurant fruit salad in addition to a few dashes of angostura bitters and lime juice. Mixed with the cut fruit juices, the sweet Maraschino forms enough of a syrupy sauce that you don't need to add any sugar.
Liqueurs are also an easy way to add floral flavors to a dish. With a little bit of sugar and lemon, crème de violette becomes the perfect dressing for uninspiring supermarket berries (think blackberries, raspberries, strawberries) and even thawed frozen ones. The liqueur adds a complex flavor that helps cultivated berries resemble their wild counterparts a little more.
There's no real limit to seasoning fruit with spirits: Look for inspiration in drinks, or just rely on your own kitchen sense. Balance big flavors with acidity and sweetness depending on the ripeness and type of your fruit. Experiment enough, and you'll find your signature combination—a fruit salad calling card of your own.