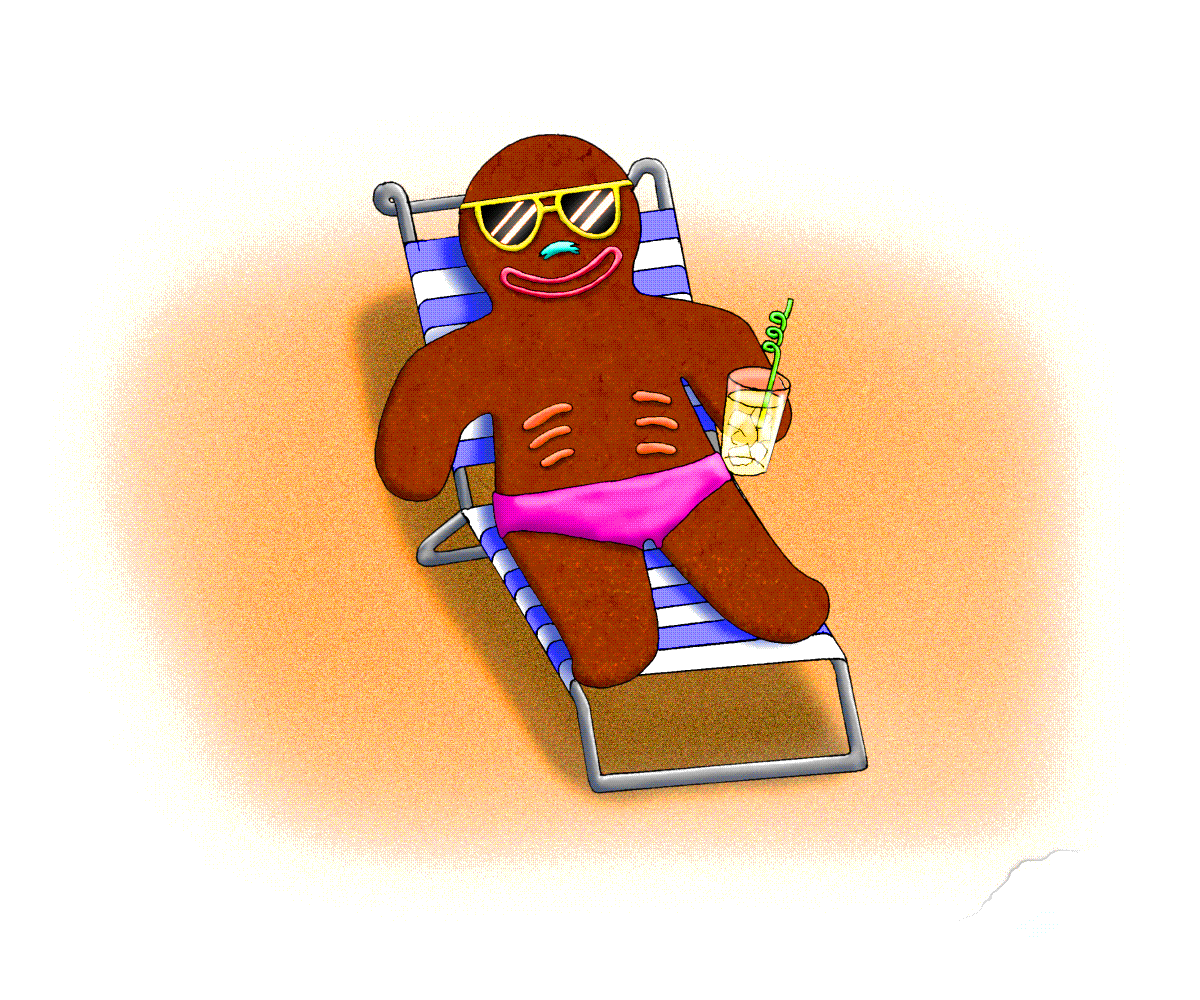 Gingerbread, long held hostage by holiday-entertaining magazine spreads, is shedding its bulky sweater. That is, it's perfect for warmer-weather baking. 
When I'm working in my kitchen in July and August, I wash corn and throw it in the oven to cook in its husks. I smash ripe avocados into a puddle of olive oil and lemon zest. I use feta and bruised basil to sharpen sweet summer tomatoes. And I bake a large pan of gingerbread, with zero belief that one of these things is not like the other.
This is a one-bowl enterprise made out of mostly shelf-stable pantry standbys. It's so simple that you can stumble inside and throw a pan of it together, spend 40 minutes in the backyard grilling and drinking pony-necked beers, only to be greeted by your perfumed house and a warm, springy cake.
I never understood—what is it about a heaping spoonful of ginger and a molasses-flecked cake that screams autumn leaves and snowflakes? When ginger pops up poolside in Moscow mules or spikes our lemonades, we don't flinch. We praise its refreshing spiciness. During the summer months, we turn on our ovens for pies and crumbles, so it's not a fear of an overheated house that keeps us away from summer gingerbread. We simply don't know how to dress gingerbread in its summer wardrobe.
Gingerbread can make a cameo in nearly any seasonal dessert. Serve it with heaping scoops of ice cream and sliced cherries, or barely sweet whipped cream and strawberries. Bake tart pluots into the batter, coat them in butter and sugar and create an upside down cake. Freeze sliced gingerbread with ice cream spread in between, wrapped in wax paper, and tart up the outside with sprinkles or toasted coconut. Cube it and pour it with melted vanilla ice cream into popsicle molds for a portable, frosty cake à la mode.
Hadassah Patterson, owner of Triangle Gluten Free and fan of year-round gingerbread, swaps winter buttercream frosting for thick Greek yogurt and farm-fresh North Carolina blueberries. She creates layered parfaits with gingerbread, blueberries, yogurt, lemon zest, a drizzle of honey, and mint.
Most summer pies, cobblers, crisps, and shortcake recipes favor fruit. They call for buttery toppings, biscuits, and crusts that won't compete with the explosive flavor of summer produce. But this underestimates the power of exceptional berries and stone fruit. It's not mandatory to make these flavors stand alone. A ripe cherry becomes sublime with a coating of dark chocolate. A perfect blackberry can mingle with a deeply funky cheese. And in gingerbread, the big flavors of summer fruit meet their match and thrive.  
Take it to a bonfire and make spiced s'mores by sandwiching chocolate and roasted marshmallows in between two solid hunks of gingerbread. Pile it high with ricotta and sliced peaches. Savor the blood-rush heat of ginger, barely tamed by a frosty scoop of frozen yogurt.
Summer breeds wildness. Childhood standbys return: Marshmallows are roasted; ice cream is sandwiched; popsicles are spiked. Farmers' markets resemble psychedelic kaleidoscopes. We cook with fire and eat with our hands. Summer is the season to tend to our rebellious hearts.