France Has a Canapé Secret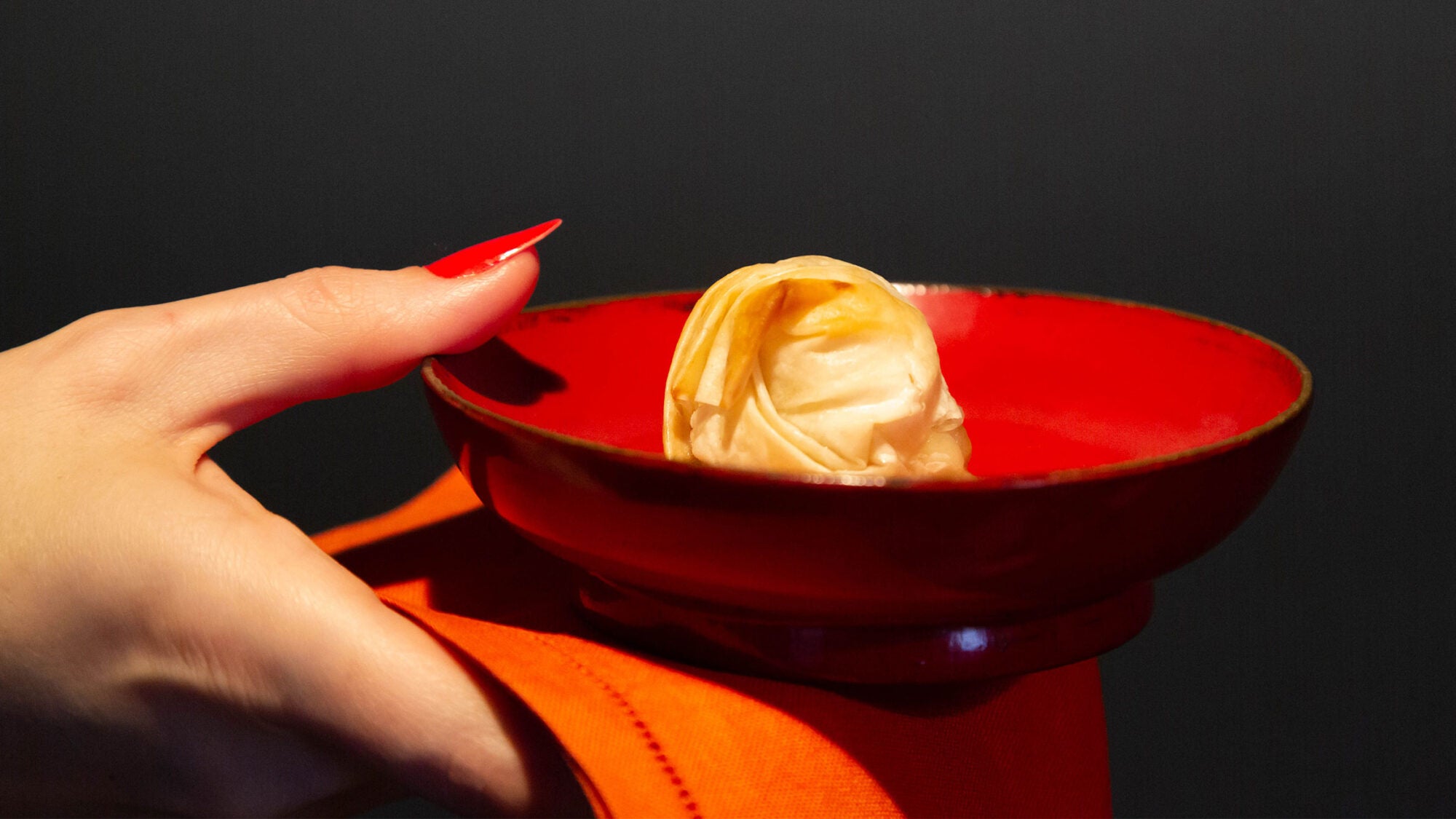 A frozen-food store with more than 900 locations is changing the way the French soiree.
The French marché holds a special place in our collective imagination. Stalls stuffed with plump cherries and sumptuous figs displayed in charming wood containers; hearty chanterelle mushrooms just plucked from nutrient-rich soil; heads of romaine so big and bright they'd send your limp desk salad into a deep depression. The marché remains a national symbol in France, wherein the mere act of buying a handful of perfect blushing plums has become part of a narrative of superior living—perpetuated both outside the country and within.
But if the market has come to represent variety and freshness, the French have a companion, less-discussed go-to for convenience, too. Think of the French market—the beautiful breads, the juicy mirabelles, the still-breathing seafood—then imagine every single thing (dinners, desserts, produce, fruits, cheeses, meats, and canapés) is sold frozen, in row upon row of glowing chest freezers. This is the concept behind the French frozen-goods emporium Picard, a destination that has become as ubiquitous as the markets themselves. It's one of France's best-kept culinary secrets.
In France, like everywhere else, the fast-paced lifestyles of those living in major cities, as well as an increasing demand for convenience, mean less time to produce impressive hors d'oeuvres before a cocktail party. This accounts for why there are now over 900 Picard stores in France alone, with a few dozen more in Belgium, Luxembourg, and Switzerland. Picard is like the Trader Joe's frozen-foods aisle on steroids (for comparison, TJ's has 488 stores in the entire United States).
There are now over 900 Picard stores in France alone, with a few dozen more in Belgium, Luxembourg, and Switzerland.
Having people over for a quick, last-minute apéro? There are puff pastry shells, Emmental crepes, and smoked salmon millefeuilles, all oven-ready. There are silver-dollar-sized quiche lorraine tartlets, bite-size croque monsieurs, mini duck burgers, and an array of tapas-y boards of manchego and chorizo that can be warmed up in microwaves or left at room temp. There is foie gras frozen in slabs, escargots encased in compound butter, and tarte tatins. Not to mention giant bags of chopped garlic, leeks, onions, and haricot verts in a half-dozen varieties, as well as strawberries, figs, cherries, and every component of the fruit bowl that you'd typically find at the marché, if you're looking to prepare something more complex yourself.
It's not uncommon to see people walking down the street in France toting a baguette under one arm and a Picard-branded cooler bag on the other, so seamlessly has Picard been woven into the fabric of French entertaining. "The number one thing that makes Picard so popular is that it's very affordable," said Rosa Jackson, a chef who runs a Paris food tour business and who teaches cooking courses in Nice. "It can be quite expensive to get readymade food at a charcuterie or a traiteur."
"I remember a time when I was running late from work and in a rush to pick up my son. We were entertaining friends who were in town from London, so I ran to Picard," Anne-Sophie Dhoste, a friend who lives in Paris, recalls. "I opted for their stuffed tomatoes and paired them with some fancy rice and that was that. No regrets. They were delighted, and I successfully managed to not lose my shit." Picard's inventory has become so familiar to the French that you now have to be conscious about who you're serving. "Most Parisians know Picard's offerings by heart and will recognize you made close to zero effort for them [if you serve them something from Picard]," Dhoste slyly warns.
"My grandmother typically cooks coquilles Saint-Jacques for Christmas, but last year, she couldn't do it," Lauréna Valette, a 24-year-old lifestyle journalist, tells me of the traditional scallops in half-shells. "So my mom bought some at Picard. At Christmas lunch, my family was like, 'Oh, Grandma, your coquilles Saint-Jacques are very good this year.' And nobody noticed."
"I think part of the popularity of Picard is that the French like concepts, and Picard is definitely a concept store of sorts."
Our American relationship to the frozen aisle is a touch less sentimental, as the drab image of the preservative-filled postwar TV dinner and the microwave Lean Cuisine prevails. Picard, on the other hand, manages to source 70 percent of its ingredients from French producers, and the company claims to use as few additives and preservatives as possible. For a culture in which the daily market trip has a long—but perhaps no longer realistic—legacy, Picard appeals to the French's desire to eat fresh, superior ingredients.
"I made my microwave explode once when I forgot to take the aluminum paper off my favorite fondant au chocolat before cooking it," another French friend, Annabelle Bonnefont, admits. "Picard is honestly the only frozen food I'll buy. It's used by everyone in France."
But is it possible that a frozen-foods mecca like Picard could take off in America? Parisian author and blogger David Lebovitz thinks that's unlikely. "We don't shop that way, and we also like to buy everything in the same store, so we'd go to the grocery store for everything," he says. "I think part of the popularity of Picard is that the French like concepts, and Picard is definitely a concept store of sorts." The French are more accustomed to bopping around from place to place to fill their pantry: butcher, the baker, the cheesemonger, the marché. That last stop they don't tell you about? The freezer.