Forget Everything You Know About Sparkling Wine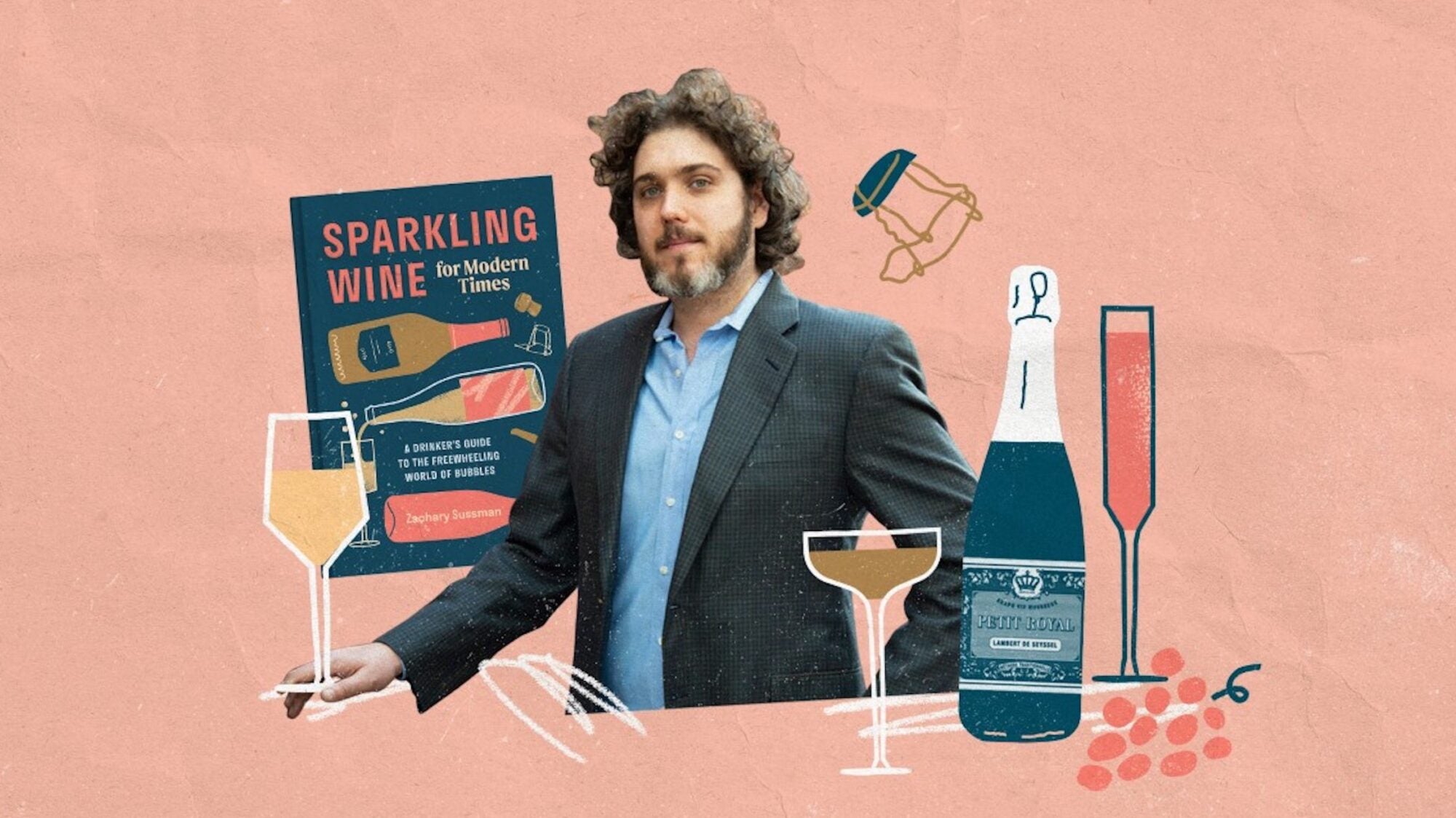 A new book by Zachary Sussman takes on the changing landscape—and rules—of sparkling wine.
It's easy to forget when you're staring down a shelf of expensive, name-brand bottles at the liquor store, but sparkling wine is supposed to be fun. And if you ask Zachary Sussman, the author of Sparkling Wine for Modern Times, it is fun, once you set aside some of the old-school myths and rules (you definitely don't have to have flutes; 30 minutes in the fridge is all the chilling time you need).
The illustrative book proves that the world of sparkling wine is much bigger than better-known French Champagne, and there are plenty of gutsy, personality-packed bottles out there that cost a whole lot less than a bottle of Veuve Clicquot or Dom Pérignon. To Sussman, who's written plenty on the subject for PUNCH and is also the author of The Essential Wine Book, that bubbly world is just as big and varied as any other style of wine's. I asked him for a few pieces of advice about shopping for and drinking sparkling wine this winter—and well beyond New Year's Eve. 
What are the biggest shifts that have happened in sparkling wine over the last quarter-century?
For longer than anyone can remember, French Champagne has been synonymous with all things bubbly. If you walked into a wine shop 20 years ago and poked around in the sparkling wine section, the selections available to you would have reflected that fact: you'd have found the usual large Champagne brands, along with a smattering of the inexpensive Cavas and Proseccos that filled the role of "Champagne alternatives."
Over the past 10 to 15 years, though, this old paradigm has cracked wide open. Thanks to an increasingly curious generation of drinkers, there's now a market for sparkling wines from all over the globe made according to a multitude of styles, colors, and techniques, from Californian pét-nat to bottle-fermented Lambrusco to Hungarian Pezsgő. Never before have we had such an abundance of options—which is both amazing and, frankly, more than a little disorienting. That's the main reason I wanted to write this book.
You get into glassware a little bit in the book, and you make the case that flutes aren't really necessary. What's your take on coupes?
For the record, I'm not a stemware snob, and I have been known to drink Champagne out of a plastic Solo cup if the situation calls for it. For the most part, whatever glassware you have on hand will work just fine. That said, if it has become popular among "wine people" to ditch the traditional Champagne flute (some find that the narrow opening makes it difficult to pick up the underlying aromas of what's in the glass), then the coupe risks overcorrecting in the opposite direction by being too diffuse. In my experience, it also doesn't do any favors for the wine's carbonation, but I do appreciate the Gatsby-like aura of glamor.
When people think of sparkling wine, their minds usually travel, geographically, to the Champagne region of France. What do you think is the most underrated region, or country, in terms of the sparkling wine it produces?
There are far too many to pick just one, but the first place that springs to mind is Catalonia—specifically, Penedès, the traditional home of Cava. Cheap supermarket stereotypes still surround the category, but the area's proximity to Barcelona's natural wine scene has transformed Cava country into a laboratory for some of the most thought-provoking and experimental sparkling wines available today. You have this whole new generation of winemakers who are rejecting the high-volume, mass-market model that always defined the area's production. Together, they're shining a light on their unique grab bag of native grapes through a prism of styles that offer a far more nuanced understanding of the region. The book contains plenty of names to seek out for anyone who's interested in diving deeper.
"For the record, I'm not a stemware snob, and I have been known to drink Champagne out of a plastic Solo cup if the situation calls for it."
There are, of course, certain name brands of Champagne that you can buy in almost every city or town in America (the Veuve Clicquots and Dom Pérignons of the world), but if you wanted to bring someone a really "fancy" celebratory gift, what bottle would you choose that's a little off the beaten path?
At the risk of contradicting what I just said about Champagne no longer being the sole bubbly benchmark anymore, I still think nothing says "fancy" or "celebratory" like a bottle of great Champagne. But in place of the Veuve Clicquots and Dom Pérignons you mentioned, I'd opt for one of the many small-scale, independent, family-run domains that are fueling the "grower" revolution that has upended the region's traditional balance of power. Rather than sell off their grapes to the large Champagne houses, these independent grower-producers are turning out minuscule quantities of their own estate-grown-and-bottled Champagnes. For the money, you'll end up with something far more unique and distinctive.
For people who are looking for the right bottle to bring over to a friend's holiday party or New Year's get together, is there a crowd-pleasing bottle under around $25 that you're really into lately?
When my wife and I visited her family in Switzerland this past August, we all took a day trip across the border into France to spend a day in the tiny Savoyard village of Seyssel. It turns out the area was once famous for its sparkling "Seyssel mousseux," a favorite of Queen Victoria, who apparently enjoyed it during her visits to the local spas. After eating lunch in a little hotel overlooking the Rhône river, we paid a visit to Gérard Lambert, proprietor of the Lambert de Seyssel winery, who single-handedly revived the historic Royal Seyssel sparkling wine label (originally launched in 1901).
Luckily, his wines are imported into the United States, and my wife and I have probably consumed at least a case since we arrived back home. Made in the same method as Champagne from Savoie's native molette and altesse grapes, Lambert's entry-level Petite Royale bottling is the perfect all-purpose bubbly. It's frothy and bright, with ripe quince-like fruit and this Alpine meadow quality (imagine wildflowers and fresh mountain air) that brings me right back to the French countryside. A total steal for $25.