For America's Best Teriyaki, Head West (and Bring Napkins)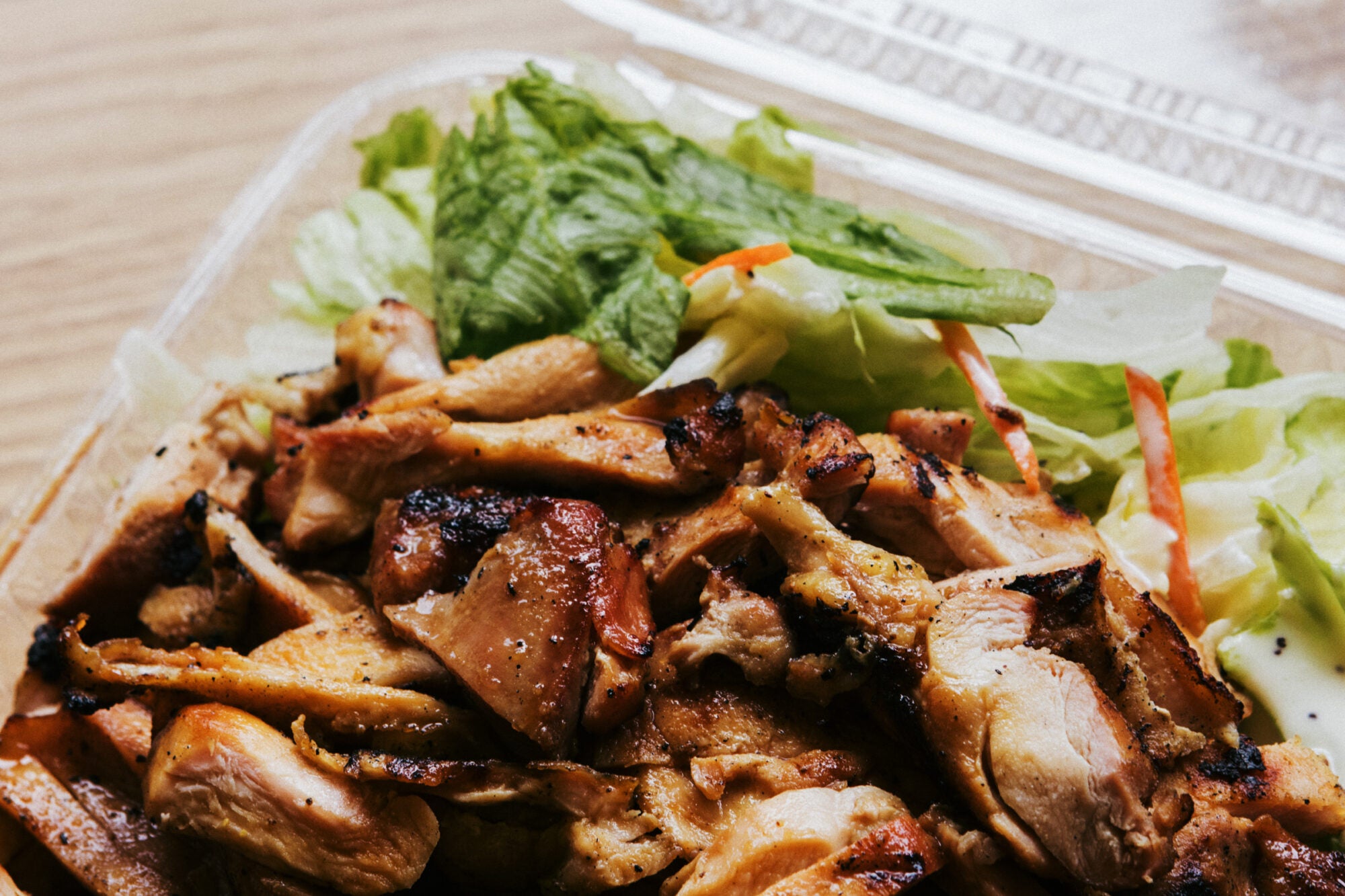 The union of soy sauce and sugar is found across America, but it's got special love in the Pacific Northwest.
I'm sitting at a plastic table in front of a strip mall at the edge of Portland. I-5 hums in the distance. There is a Cadillac Escalade parked in front of me with tinted windows and a bar lock over the steering wheel, which seems excessive for 2 p.m. on a Wednesday in June. I'm waiting for the line to die down at Bentoz, one of the hundreds of Korean-owned teriyaki restaurants along the I-5 corridor in the Pacific Northwest. 
It has been more than a decade since I've been here for chicken teriyaki. I've never ordered anything else off the menu. I'm not sure anyone else has, for that matter. I used to come to Bentoz all the time in high school, during our lunch hour. It was nearby, cheap, and I could get a close relative of my dad's shoyu chicken, which I constantly craved. I still do. 
Teriyaki refers to a Japanese method of cooking rather than a specific dish. "Teri" refers to the shine that happens because of the sugars, and "yaki" translates to grill. Chicken is the iconic receptacle for a teriyaki glaze, a mix of soy sauce, mirin, sugar, and sake. You can teriyaki anything, though—you can teriyaki a couch if you have a big enough grill. 
Food historians believe Japanese cooks invented the technique in the 17th century. It spread with the introduction of mass soy sauce production during the Edo period, which lasted from 1603 to 1867. During that same era, Chiba prefecture became a center for soy sauce production in Japan. Global soy sauce brands Kikkoman and Yamasa are still based in Chiba today.
Japanese immigrants brought teriyaki west with them to Hawaii when they came to work on the white-owned sugar plantations on the islands at the end of the 19th century, including my own great-grandparents. I hope that, despite the horrible working conditions on the plantations, they at least got to eat some teriyaki every once in a while. 
In the United States today, for the most part, teriyaki remains Japanese in name only. To understand teriyaki in its current form in the Pacific Northwest, one must learn about Korean immigration to the region as well. 
The Immigration and Nationality Act of 1965 dismantled a quota system that restricted the number of Asians allowed to enter the United States. Once lifted, a wave of Korean immigrants came to the region. In King County, where Seattle is located, the Korean population grew from 712 in 1970 to 13,000 in 1990. Koreans brought their food along with them—table staples like bulgogi, jjigae, and mandu, which were unfamiliar to most Americans at the time. 
A classic bulgogi marinade—consisting of soy sauce, sugar, ginger, garlic, onion, and pear—isn't terribly far from teriyaki, which was already rising in popularity due to places like Toshi's Teriyaki Grill, which opened in 1976 in Seattle's Nihonmachi neighborhood. 
Before teriyaki took on its current Korean-American form, Toshi Kasahara, the owner of Toshi's, introduced the Japanese dish to the region. Toshi grew up in Ashikaga, a city 70 miles north of Tokyo. "I spent a lot of time with my grandma, and she was always cooking. I was cooking a lot of fish too, usually dojo, which I caught and cooked with a teriyaki sauce that I made," says Toshi. "It became my sauce."
He brought what he learned with him when he immigrated to Seattle and opened the city's first teriyaki shop on March 2, 1976. His teriyaki chicken plate sold for $1.85 and became popular immediately. 
Seattle's significant Japanese population meant there were already many Japanese restaurants in the city, but Toshi, now 73 and soft-spoken, was the first to specialize in teriyaki. 
Soon others began to copy him, but they started taking shortcuts, he laments. "They precook the chicken, and it gets dry when you heat it back up. A lot of places do that because it's easy. They are not taking teriyaki seriously. I get in at 8 a.m. and stay until 11 p.m.," he says. "But if people like dry chicken . . . well, they have a choice!"
Korean immigrants in the region, seeing an opportunity for rebranding, took the Japanese name "teriyaki" and served something between bulgogi and teriyaki. It took off. Washingtonians search for "teriyaki" online more than any other state, followed by Oregonians in second place. 
In a 2010 New York Times article on teriyaki, John T. Edge describes the dish as "omnipresent" in Seattle and "the closest this city comes to a Chicago dog." It's still an edible mascot for the city today. 
Portland admittedly does not have the same claim to teriyaki as Seattle. Although Toshi introduced teriyaki to the unfortunate city to the north, it is still vital in Portland's food scene. NFL players Ndamukong Suh and Kenneth Acker stop by Du's Grill whenever they are in town. Rapper Aminé shouts out the same teriyaki restaurant in "Turf" (Friends used to do pills and only eat at Du's Grill) and in the music video for "Blackjack." 
Anthony Park has been running Du's since 2009 when he took it over from his parents, Bae and Muncha Park. They took over the business from another Korean owner in the late '90s after hearing it was a good business opportunity. Muncha, Anthony's mom, changed the teriyaki recipes to lean more into Korean flavors—more garlic, ginger, and onion. 
Anthony had recently moved back to Portland from Los Angeles when he decided to take over. His parents were getting older, and he didn't want Du's Grill to end. "I did it because of a sense of loyalty and duty as a son, but now it's become my way to support my family."
Du's Grill remains a symbol of teriyaki in Portland. Anthony told me how teriyaki has grown in popularity, along with East Asian food in general, since his parents started the restaurant. "It has become a go-to fast food option here."
"It's our dish in the Pacific Northwest, like tacos in LA or pizza in New York," said Park. "I lived in LA for a while, and I never found teriyaki as good as in the Pacific Northwest. I can't really explain it. I will say with confidence that we do it the best here. We got teriyaki on lock."
I left Portland for ten years to shiver in Minnesota and be stressed in New York City. In both places, I noted the lack of teriyaki—the kind I grew up with. I could find it, but it wasn't within ten minutes at all times, like it is here, and when I did have it, it was way too saucy, too sweet. 
In an age when the perceived "authenticity" of foods propels their Instagrammability and popularity, foods like pho, birria, and xiao long bao are seen as sexier than teriyaki, which plays more of an unglamorous and utilitarian role—due to its unadorned presentation over rice, low price, and convoluted cultural history. It's rarely written about in publications or hyped on social media. But if you go to a strip mall teriyaki restaurant during the lunch rush on a weekday, it's clear that customers don't care.
Back at Bentoz, there's a large group of contractors wearing neon green shirts ordering at the counter. They all order chicken teriyaki to go. The contractors pick up their food, and one squirts sriracha across his takeout box in little zigzags. I walk inside to order from a small woman wearing an indigo apron named Kate Park. She opened Bentoz 25 years ago with another owner, and she has been running it on her own for the last seven years. Sometimes her daughter helps. 
Next to the register is a plastic sign that reads "Live, Laugh, Love." Outkast's "Ms. Jackson" blasts from a boom box in the corner. I'm sorry Ms. Jackson (ooooooh), I am for real!
I get the chicken bento—grilled teriyaki chicken thighs, rice, and a small portion of steamed broccoli, cabbage, and carrots for $9.95. Kate works furiously behind a curtain and only emerges when a customer comes to the counter. She bursts from the kitchen through curls of smoke, like a WWE wrestler making their grand entrance. She doesn't suplex me, but she does hand me a Styrofoam container. The top reads: Enjoy your delicious moment! 
The restaurant is small. I count four tables, including one stacked with condiments and massive jugs of Lee Kum Kee soy sauce. Bentoz sits across from a motel, a halal market, and a place called Joy Spa, which features an image of bamboo and the face of a gigantic white man, smiling, as disembodied hands rub his shoulders. 
I open the bento container to find a pile of teriyaki chicken. It has beautiful grill marks and is perfectly cooked and seasoned, but the teriyaki sauce coats the chicken a little too much. I wish it had more independence! Each teriyaki place varies the sauce quantity, thickness, and sweetness. The most egregious sauce-to-chicken ratio I had was in Seattle's Capitol Hill neighborhood, where it cruelly drowned both the chicken and, worse, the innocent rice. 
Thankfully, this is not the case with my Bentoz plate. I am diving in, enjoying my delicious moment.
Hiding under the chicken is a larger scoop of white rice, and on one end of the container rests the pile of steamed vegetables. I poke around at the steamed vegetables as a medical student might poke their first cadaver. I recognize that roasted crispy vegetables have a hegemonic grip on us, but steamed vegetables do bore me. If we are going to go through with seeding, watering, tending, harvesting, and transporting these vegetables, isn't it kind of sad to let them end up boiling in a pot of water?
When I'm done, I thank Kate for the meal and ask if I can interview her. "No time," she says, smiling. I insist. "This is for a magazine from New York . . ." I say expectantly. Kate dips into the back and says she will come back. I hear the sound of chicken sizzling on the grill, and smoke floats out from behind the curtains. The phone rings, and she scribbles down the order. I understand that the interview is not going to happen, so I walk out the door into the strip mall parking lot. It smells like rain on asphalt. I inhale deeply. A group of teens tumble out of a sedan and into Bentoz. Kate takes their order and waves to me through the window.