Fondue Is Great for a Party, and Better for Two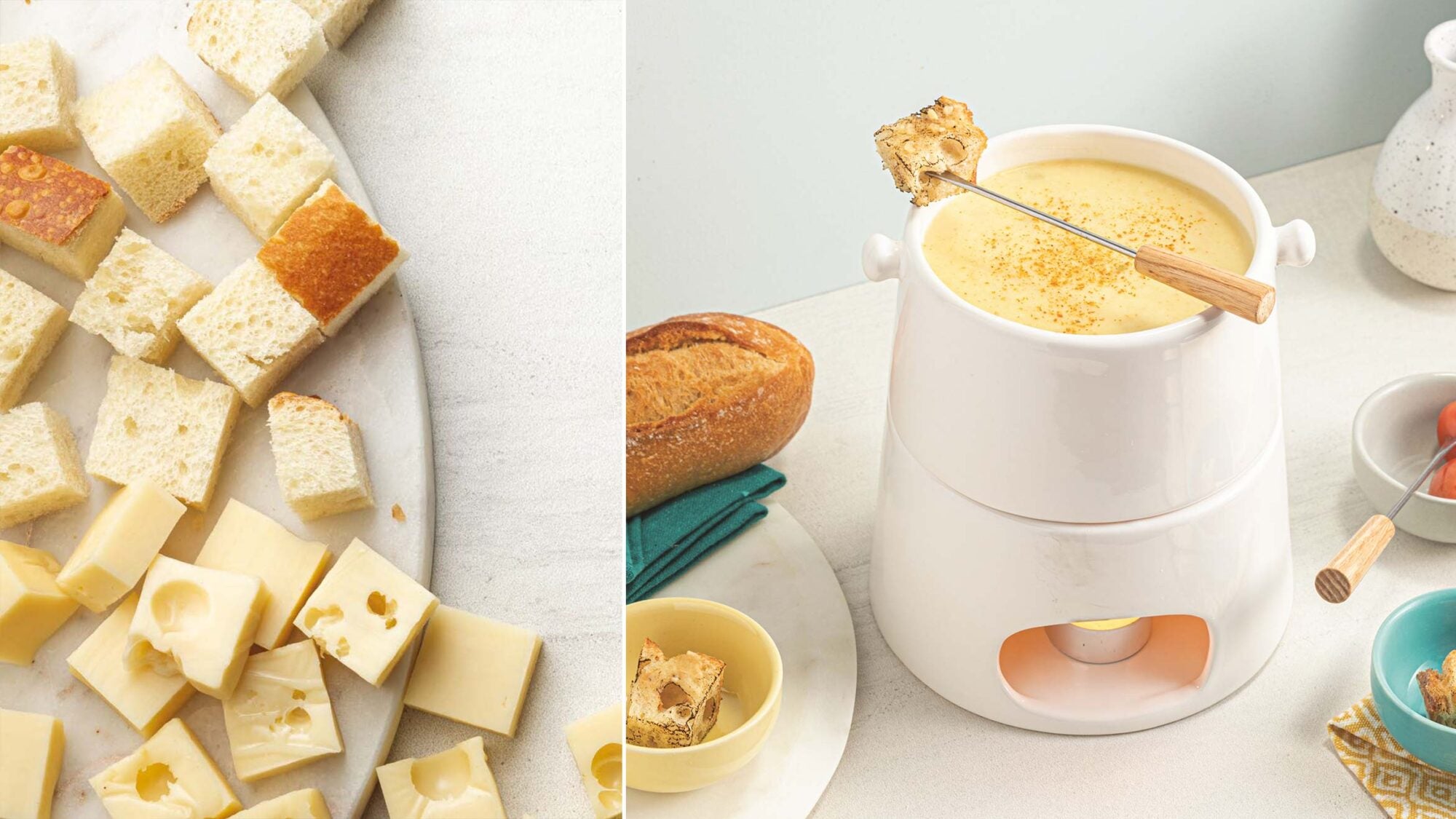 The luxurious Swiss dish is more than just a piece of Mad Men–era kitsch.
Fondue's melty and stretchy origin story places it squarely in the Swiss peasant dish realm, and there it may have stagnated were it not for Schweizerische Käseunion (the Swiss Cheese Union). Using funds from the Swiss government, and member dues from the cheesemakers, the union began advertising in the United States as early as the 1930s; by the mid 1960s, they had offices on Madison Avenue and were aggressively pushing the dipping of bread and fruit into melted Swiss cheese as a paragon of class and sophistication to mid-century magazine readers. It all worked, and interest in fondue exploded in Mad Men-era America. 
And then, as quickly as the pots bubbled across our nation, the food went out of style—tastes changed, the low-fat craze dominated food trends for decades, and dairy products became the focus of anti-lacto narratives about health, wellness, and the environment. Fondue was done, for a time at least. Yet now, in the third decade of the 21st century, it feels like fondue is a foodstuff still patiently awaiting its big revival—not quite a Pinterest meat plate, nary a TikTok challenge. There's raw milk cheeses and small, traditional dairies emerging as an old-is-new-again answer, driven by influential cheese shops and purveyors like Bedford Cheese Shop (Brooklyn), DTLA Cheese (Los Angeles), and Neal's Yard Dairy (London). 
In the United States, the gear (the mid-century pot and skewer set) is a thrift shop fixture, and the act of consuming the food carries with it significant chain restaurant baggage; like many Americans, my first experience with fondue came at a location of The Melting Pot, a distinctly corporate experience of Wisconsin Cheddars, buttery Chardonnays, and Flaming Turtle desserts. As an adult thoroughly obsessed with what everyone else is eating, always, it seems to me that fondue lacks the zeitgeisty cultural cachet and social media buzz of, say, the nouveau charcuterie board, or even the Euro-foodhall-style melty raclette wedge. 
"People are sleeping on fondue a little bit," agrees Christine Clark, a Vermont-based cheese educator and journalist (and coauthor of the Creamline newsletter) whose focus is on small dairy farmers and indie cheesemakers. "I get way more questions about things like khachapuri or raclette," she tells me. "Fondue is more like a sleepy dish our grandparents made." To me, this feels like a massive growth opportunity. Raw milk cheese, natural wine, and charcuterie are three of the buzziest foodstuffs in the modern kitchen, and fondue can happily be adapted to include all three. 
There are several cookbooks advocating a renewed approach to fondue at home—most recently Erin Harris's Essential Fondue Cookbook and Adams Media's The New Fondue Cookbook—each offering their own baseline recipes and riffs for the home fondue chef (fondueist?) to explore. Purchasing raw milk cheese to build your fondue means visiting your local cheesemonger, a task for which I need no excuse. There is grocery store Gruyère, and then there's Gruyère Alpage, a raw cow's milk cheese that comes exclusively from alpine meadows, taken from cows foraging on summer flowers and grasses. You can mix a little Fontina Val d'Aosta (an Italian alpine cheese) into your fondue, or try Beaufort d'Été, a sort of "grand cru Gruyère" with subtle complexity. Another option is Üsi Minnie, a creamy and bright cheese made using discarded curd from the Gruyère production process.  
Ultimately, it's about landing on a blend, taking singular cheeses of disparate origin and fusing them together into something greater than the sum of their respective parts. Fans of espresso, or Champagne, can think of this as somewhat similar to the process of assemblage—the blending of coffee or wine before pulling shots or moving on to second fermentation, respectively. Fondue needn't be thought of exclusively as a large-format party dish—it makes a happy pandemic meal for two.  
Here's a very basic ratio and recipe that I personally enjoyed, with notes along the way.
Wine (half cup): I live in Oregon, and I used a bottle of Eyrie Vineyards Chasselas Doré, a grape commonly found in the Jura and alpine regions of France. You could use a zippy Valle d'Aosta Petite Arvine or an Alto Adige Gewürztraminer (this region of Italy is so alpine that they actually speak German). Something with elevation and acidity is ideal. 
Cheese (2 cups): Make a coarsely shredded cheese blend. It can be as simple as a basic, entry-level Gruyère and Emmentaler, or as complex as raw milk heirloom herd alpine cheese from a single mountain valley near Zermatt. My perfect blend included one cup of Emmentaler, a half cup of Fontina, and another half cup of Beaufort d'Été. Talk to your favorite cheesemonger for a suggestion. They will have one! 
Flour (1 tablespoon): Flour is essential as a thickening agent. Many recipes call for cornstarch, which, to me, feels rather off—something about coating fine raw milk cheese in a processed thickening agent like cornstarch doesn't jibe. Use the more traditional flour instead.
Freshly squeezed lemon juice, shallot, garlic, salt, pepper, and a splash of brandy, sherry, or liqueur (kirsch, Chambord, Luxardo—something sweet).  
Method:
First, heat the wine, adding to it a whole clove of garlic and some roughly minced shallot. Heat it until it begins to burble, but do not boil it. Add the lemon juice at the very end, and stir. Strain the infused wine into a sturdy saucepan, and set the stove temperature to a gentle low-medium.

Shred the cheeses. Place inside a reusable bag and add the flour. Shake to thoroughly coat. 

Gently add the cheese, bit by bit, to the infused wine on the burner, stirring as you go with a whisk. Add a little, stir a little, and add a little more. As the process moves along, things will begin to look—and smell—distinctly fondue-y. By the end, you should have a nice, viscous pot of melted cheese that clings to the tendrils of your fork.

Finally, add a splash (1–2 tablespoons) of your preferred spirit.

Kirsch

is traditional, but a fondue pot finished with sherry makes a most welcome dip for chorizo and potatoes. 

Transfer to your preferred fondue vessel, be it vintage mid-century ceramic heated with a tea candle or

modern Cuisinart überpot

. Maintain a low but steady heat on the implement to keep things fondue-like in texture. 
Serve with (being honest here) anything and everything—the Swiss are extremely doctrinaire about what can or cannot be dipped in fondue, but this is your house, and thus, your rules. Try starting with bacon-wrapped cherry tomatoes, Cosmic Crisp apple skewers, Korean pears, multiple forms of bread (challah, baguette, rye toast, lard bread), Italian grissini breadsticks, dried Spanish chorizo, dates, grapes, Eccles cake, baby carrots, pretzels, gherkins, and—most especially—boiled and salted fingerling potatoes (if that's impossible, sub potato chips).
This is a non-exhaustive list; whatever you can possibly imagine putting on a charcuterie board can be included alongside a pot of fondue, and then some. Dip ravenously, and repeatedly, until you run out of cheese or toppings or both, using the little dipping tongs, or else dispensing with them altogether and dunking by hand—because you're at home, not at The Melting Pot.