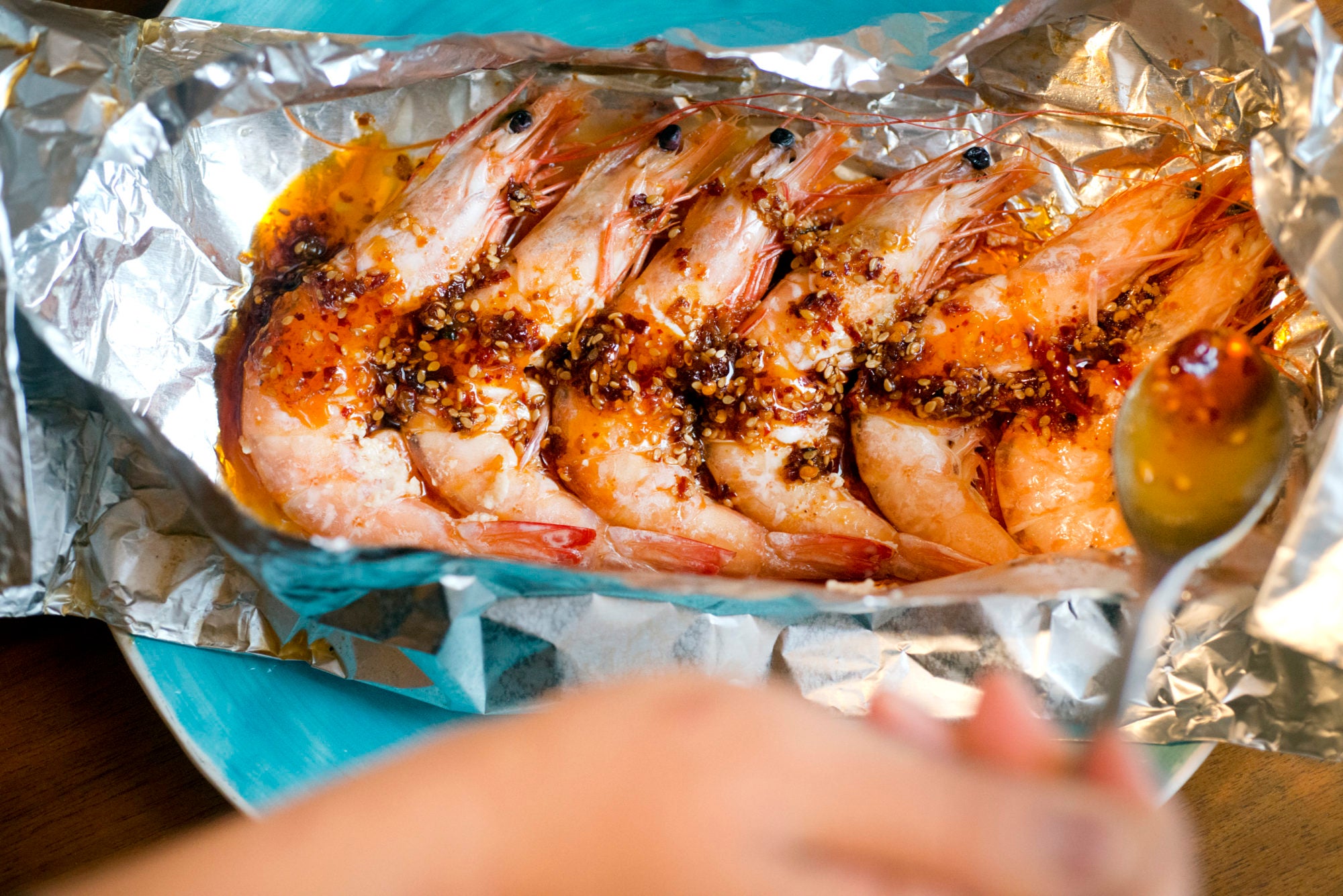 With this Japanese technique for cooking vegetables and seafood, aluminum foil acts as both the cookware and the dishware.
The roll of Reynolds Wrap at my house measures 200 feet, or 66 2/3 yards, and with it I do little more than line a baking tray when cooking or wrap up leftover pizza. In Japanese pantries, though, foil is nearly as noble a treasure as what's nestled within, a malleable metal pocket long respected by the home cook for all things foil yaki.
Foil yaki, also known as hoiru or hoil yaki, is a comfort dish and cooking method wrapped into one—commonly consisting of mushrooms, vegetables, and fish daubed with umami-rich seasonings like butter, soy sauce, miso, and sake and baked together in a foil envelope until soft and sapid.
The French have their own version of this, called en papillote, where fish and vegetables are cooked and served in a kidney-shaped paper wrapper, its edges crimped, like you'd see on a braided pie crust, to create a seal. I've seen the term used on menus, but most often the contents are removed and plated, as if serving "salmon in a bag" were too unappetizing a way to show off this technique.
Foil yaki is a method I adopted many years ago (my wife and I eat a lot of fish). I've learned the hard way—just ask my wife about my attempts at fish fumet—that it's the best way to prepare a fillet without filling the house with a piscine scent. The packet acts both as cookware and dishware for easy cooking and cleanup; the climate-controlled pouch protects food from overcooking, and if you don't finish your dish, simply wrap it up as leftovers.
This half-moon cocoon seems befitting a description of Bessou, a cozy Japanese-American restaurant that made its home on a quiet block of Bleecker Street in New York City's East Village in the summer of 2016. Owner Maiko Kyogoku's version of this dish, a whole deboned dorade stuffed with soy-sauce-braised enoki mushrooms, alongside kabocha squash in a soy koji butter sauce, is cooked in aluminum foil and presented tableside. The fish is rendered silken and succulent, the mushrooms and squash a wintry blend of sweet starch and earth, awash in an aromatic umami pool. The modesty of such simple flavors allows a moment of escape so rarely seen in the big city. A couple weeks after the first time I had this eye-opening dish, I was standing in the kitchen at Kyogoku's apartment in Alphabet City, hoping to learn how to achieve in my own kitchen the warmth of foil yaki.
Kyogoku's apartment was bathed in soft sunlight and wafting incense. She tied on an apron that belonged to her obachan (grandmother) as I slipped into a set of house slippers meant for guests and almost walked past her tiny oven, too small for full sheet trays. Across the kitchen, a compact counter was filled with an assemblage of small bowls of prepped ingredients. On a table by the window sat a pile of Dayglo satsumas and spiced gingerbread men.
We talked over tea before cooking, with Kyogoku spinning entertaining stories of her past as a project manager for Takashi Murakami, Japan's Pop Art answer to Andy Warhol. She was raised on New York's Upper West Side in a Japanese family, which meant that she was always straddling the line between Japanese and American, taking Japanese language class on the weekends and attending the occasional bar mitzvah. Kyogoku's father owned Rikyu, one of the first sushi restaurants uptown, which opened in 1979. He retired in 2004. At Rikyu, there always was a flounder yaki on menu, studded with Japanese stuffing (panko, mushroom, celery).
But it was Kyogoku's mother who instilled the importance of being Japanese, reinforcing her roots through food, while experiencing every other part of life as American. She passed away when Kyogoku was 18 years old, prompting her to instill her own traditions taught through the lens of the Japanese cooking show Kyou No Ryouri, while also picking up contemporary American recipes from Food Network episodes of Good Eats and Live With Sara Moulton.
Her mother liked to make spaghetti gamberoni, a staple in Kyogoku's youth, and a re-creation of a local Italian restaurant's recipe that was spaghetti with tomato paste, large Jersey tomatoes, chunky pieces of garlic, fresh prawns, and lots and lots of olive oil. Kyokogu's mother would often eat out with the family and come home saying she could make those dishes at home. When Kyogoku's mother died, she too attempted to re-create, or rearrange, something that felt "like home." Now Kyogoku is doing the reverse, by bringing her home to her restaurant, the allusion aided by the fact that Bessou means "vacation" or "second home."
At her apartment, Kyogoku has all blue plates, because her mother always said blue makes food look great. There's even a blue indigo print on the wall from Buaisou, an indigo dyeing company from Japan. Kyogoku told me that an awareness of palette is consistent with irodori, a way of using color schemes in a dish, because "half of eating is with your eyes," she said. I quip that you can't see anything that fully wrapped in foil. She replied, "Until it's done, then you gotta peek!"
We filled a few foil packets, one vegetarian with a blend of mushrooms: enoki, maitake, shiitake, topped with bite-sized chunks of kabocha that's been simmered in dashi, a handful of spinach and about half a dozen polychromatic cherry tomatoes for a tsukudani-style sweet soy sauce braise. A second pouch was filled with large head-on shrimp that were smeared with sake kasu, the leftover lees from the sake-making process, and finished with scallions and fiery red rayu (chile oil). And lastly, a double-folded foil packet, for which Kyogoku tore off two arm's-length sheets to wrap a whole red snapper coated in miso kasu, miso mixed with sake kasu, which she nestled in torn leaves of Napa cabbage and adorned with slices of purple potato and lime. She topped the whole thing with a good glug of sake.
Kyogoku folded the foil lengthwise before smoothing out the sides, securing the ends by folding them back toward the middle, a style of folding perfected at gift shops in Japan and prevalent during the holidays by seasoned wrappers who care about creaseless edges.
When the fish was fully cooked, Kyogoku and I cautiously unwrapped the package, not wanting to burn ourselves with the steam, but also giving ourselves time to enjoy the slow reveal of deliciousness. After it slightly cooled, we dressed in a slightly spicy and addictively tart "shiso verde," a riff on salsa verde, a traditional green sauce found in many European cultures, as well as Mexican cuisine, that used the fragrant shiso leaf. The red snapper was cooked so tenderheartedly that it felt like a dish reserved for her close friends and family. I fretted to her that I wouldn't be able to reproduce this at home. With sympathy, Kyogoku said, "Foil is forgiving."