The Flour Tortilla Has Ascended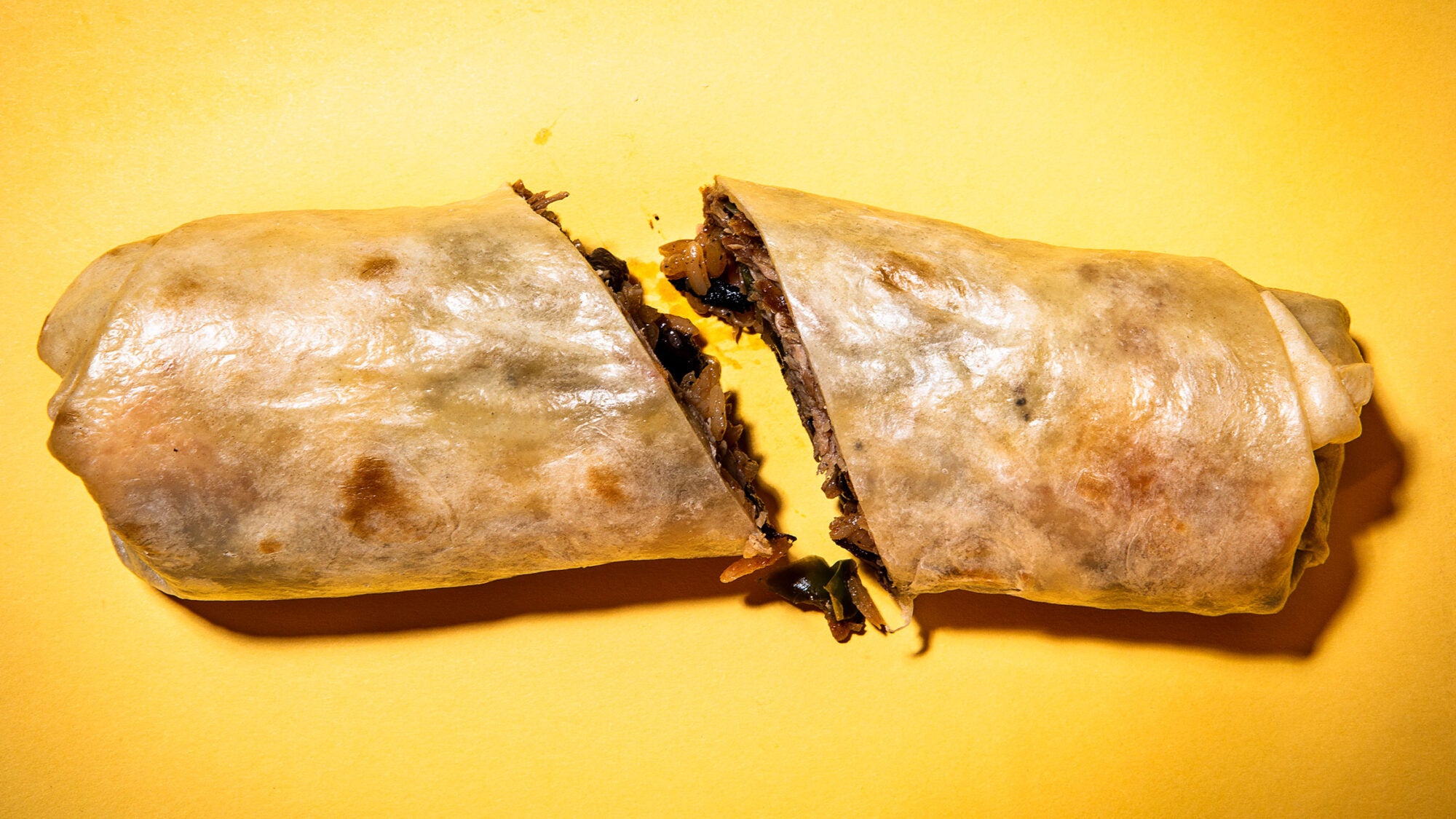 The road to flour tortilla greatness is full of risks and pitfalls, but a few American tortillerias are going the extra mile.
On a recent Sunday afternoon, at the crossing checkpoint for the border between Arizona and Mexico, Jennifer Feltham's Ford F-150 idles under the relentless Sonoran sun. As the co-owner of the popular Los Angeles restaurant Sonoratown, she's traveled 278 miles to acquire two precious 44-kilogram sacks full of pure, unbleached Sonoran wheat flour from the Bonfil flour mill, which are now piled neatly in the bed of her truck. If all goes well and she is permitted through the checkpoint, the flour will eventually be turned into the ethereally thin, chewy tortillas for which her downtown restaurant is known.
Every 12 days, Feltham makes this journey to keep up with the demand for Sonoratown's signature product, which has gained a cult following over the last several years. American flour, she says, just doesn't cut it. Unlike the hard, red wheat that is grown all over the United States, Sonoran wheat is soft, white wheat, resulting in a sweeter flavor and lighter, stretchier tortillas without resorting to additives. While Sonoran white wheat is available in the United States, Feltham swears that it doesn't achieve the texture she's after.
In order to make the dough, which has more in common with roti and paratha than with the stale, prepackaged rounds sold in supermarkets across the United States, Feltham and her partner, Teo Diaz, have forged what she calls "the stupidest supply chain ever." Legally, Feltham can cross the border with enough flour deemed appropriate for "personal use," which she estimates as two sacks per trip. To supplement this, Diaz's mother, Silvia Rodriguez, who lives in San Luis, Arizona, a few miles from the border, drives to Mexico every single day of the week to tote back a sack, which she stores for the couple next to Diaz's childhood bed, draped with a Virgin Mary–adorned blanket. All in all, she comes back with about a ton and a half of flour each trip—about 15 44-kilogram bags. Sonoratown goes through a sack of flour a day—an amount that is likely to increase soon—so the two sacks Feltham treks to Mexico for buy her business another day of tortillas.
While modern alta cocina (fine dining) Mexican restaurants in the United States and Mexico are often praised for corn tortillas, crafted with precisely nixtamalized heirloom corn and varying quantities of lime, Sonoratown is one among a growing crop pursuing the art of what is often perceived as the less authentic tortilla, synonymous with Taco Bell and Mission Foods brand. While passable in a pinch, these preservative-laden tortillas simply have no comparison to the tender, delicate staple of northern Mexico.
In actuality, flour tortillas have a centuries-long history around the arid northwestern region of Mexico, including Nuevo León, Coahuila, Sonora, Baja California, Baja California Sur, Durango, and Chihuahua.
In Dallas, Luis Perez, the founder and lead tortillero at La Norteña tortilleria, regularly encounters skepticism. "I've had chefs and restaurant owners who are interested in buying my product tell me straight to my face that flour tortillas come from somewhere else—not Mexico." Customers have even posed unsolicited theories that flour tortillas come from India. "People think it's a border, or a fringe border, thing," he says.
In actuality, flour tortillas have a centuries-long history around the arid northwestern region of Mexico, including Nuevo León, Coahuila, Sonora, Baja California, Baja California Sur, Durango, and Chihuahua. Since Spanish invaders planted wheat from their native Europe in the mid-1500s, the thriving crop has been adopted and has grown to become an indispensable pillar in Mexican cuisine. Today, flour tortillas are the de facto base for tacos, gorditas, and burros percherones (an oversize burrito common in Sonora).
For Perez, the flour tortilla business has been good. Six years ago, after failing to find a tortilla that reminded him of his hometown, Cananea, Sonora, he left a career in sports media to create his own. Using beef tallow rather than lard or vegetable shortening, and American flour that he sources mostly from King Arthur, Perez makes tortillas the way he was taught as a child. Every day, he produces about 20,000 of them, selling 20 for $3.50.
Also hoping to re-create the Sonoran-style flour tortilla of his youth in Hermosillo, Sonora, Ruben Leal opened Caramelo Tortillas in Kansas City. There, he uses local duck fat and pork lard as well as avocado oil to make his tortillas, which can be found in restaurants like J. Wilson's and Harp Barbecue, or bought online for $6 per 12-pack.
In New York City, at Vista Hermosa, culinary director Jason DeBriere supplies both corn and flour tortillas to all eight locations of Tacombi, a local taco chain. Using organic whole wheat flour and tapioca flour for its elasticity, plus avocado oil and water, he says that Vista Hermosa makes about 800 pounds of flour tortillas a day—or around 8,000 tortillas—in its production facility in Piscataway, New Jersey; eight tortillas sell for $7. "While we sell more corn tortillas through the restaurant, we are at a 60-40 split in our flour versus corn in retail," says DeBriere, a San Jose transplant who learned the tradition of tortilla-making from his colleagues at Tacombi and from travels throughout Mexico. Over the last year, flour tortilla sales (both in retail and restaurants) have grown by 50 percent.
"Remember, we are doing a carne asada at my mother's house," she tells me before lowering the radio, rolling down the window, and handing over our passports.
Back in Los Angeles, Walter Soto's tortillas at El Ruso, a Sonora-meets-Tijuana-style taco stand in Boyle Heights, have begun to attract followers who sometimes wait upward of an hour on weekends. Championed by Feltham of Sonoratown, Soto, a Mexican military veteran, was a taquero in Culiacán, Sinaloa, before opening El Ruso four years ago. He uses vegetable shortening and Mexican-grown flour, albeit a different brand than Feltham does. Recently, El Ruso was reviewed by Bill Addison of the Los Angeles Times, who declared Soto's handmade, oversize sobaquera-style Sonoran flour tortillas—a rarity outside of the region—"masterful."
At the border, Feltham's truck creeps toward the U.S. Customs and Border Protection agent. She rehearses her lines one last time. "Remember, we are doing a carne asada at my mother's house," she tells me before lowering the radio, rolling down the window, and handing over our passports. The officer flips through, makes eye contact with each of us for three long seconds, and hands them back. "You got lucky," the agent remarks, "the wait today was only two and a half hours." Feltham gently rolls into Arizona.
Some days, she's waited up to six hours. "Last time, I had to stay in a motel that usually houses migrant farmworkers because it was so late when I got to the U.S. side," she says as she cruises through San Luis. "I was too tired to drive back to L.A. They made me sign a paper that said I wouldn't do drugs in the room." Other times, officers attended by drug-sniffing dogs have rubbed the flour on their gums or put her through a more intense, secondary examination. "It's so demoralizing. They take away your phone, and you lose sense of time."
For today, Feltham is successful, and her efforts are not in vain. All of this for the love of flour tortillas.