Every Day a Swiss Cube Drops Into Nigerian Pots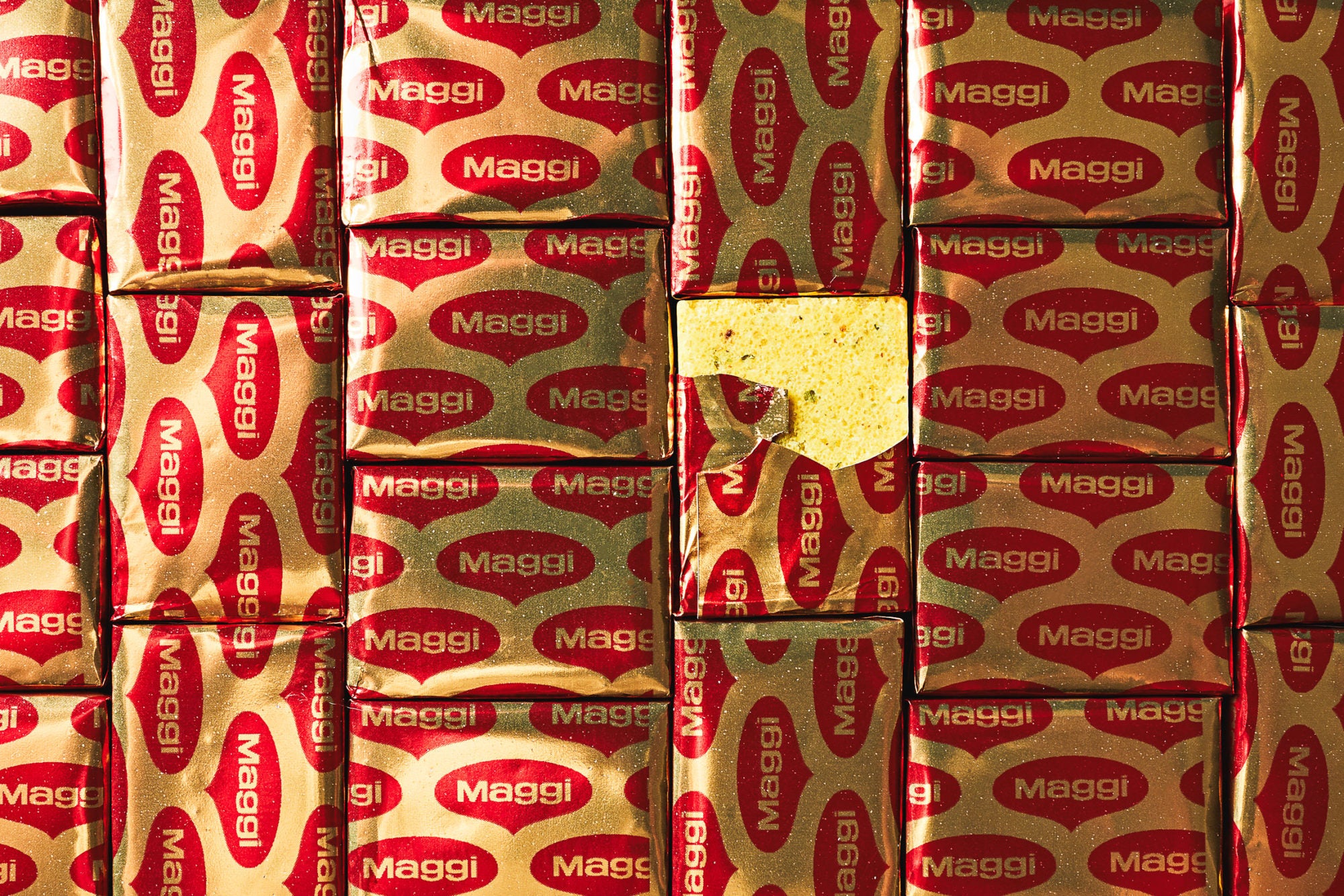 They may have been invented in Switzerland, but Maggi bouillon cubes are the starting point for a whole lot of Nigerian cooking.
All that I know about Nigerian food I learned from eating at my parents' table as a child, from watching my father at the stove as I silently wished I could cook as well as him. I wasn't born in Lagos and didn't grow up in Nigeria, as my father did; I grew up in Atlanta. Nor are both my parents Nigerian; only my father is. When he cooked and I ate—savoring bowls full of okra soup or stew with rice—it was as if I had crossed a bridge to all of who I was.
In those moments and in my memory, my father was more than a chef. He was a magic-maker who conjured cultural understanding, helping me form a connection to the family and heritage that had previously felt inaccessible, far away on the other side of the Atlantic Ocean.
Like all magic-makers, my father had a trick up his sleeve: There was his love of cooking, yes, but in addition to that, the secret component of each and every one of his dishes was a Maggi cube.
As a child, I thought of Maggi cubes as an ingredient cloaked in mystery. Each one came wrapped in shiny aluminum foil that crinkled when it was unfolded, and while that sound was instantly recognizable to me, I didn't understand what the cubes of pressed spices were for, or how they affected the flavor to the dish they were added to.
What my father knew, and I eventually learned, was that Maggi cubes are elemental to pulling off any number of dishes for Nigerians—jollof rice, okra soup, pepper soup—and West Africans at large. In pepper soup, the cubes (made of palm oil, salt, MSG, onion powder, wheat flour, turmeric, and sugar) create the salty backbone for the chicken or goat meat swimming in spicy broth. But their origins lie outside of the continent, some 2,600 miles away in Switzerland. It was there, in 1872, that a budding culinary entrepreneur named Julius Michael Johannes Maggi had an idea: to create products that made it easier for low-income working families to cook nourishing meals.
Maggi first created protein-heavy powdered soups made of legumes like beans, peas, and lentils that were ground into a fine powder to be mixed with hot water. He made his first beef cube in the early 20th century; today, it is one of the nine Maggi bouillon varieties that are sold in six-packs in bright red-and-gold packaging.
In 1947, Nestlé acquired Maggi, which led to the global distribution of the products Maggi had invented decades before. Nestlé managed to use the seemingly unremarkable formula of salty ingredients to tap into the Nigerian home cooking market, where it quickly became a staple, possibly because it concentrated essential flavors like onion and turmeric into one cube without all the chopping. The seasoning's success proliferated beyond Nigeria to other West African, Caribbean, Latin American, Asian, and even Middle Eastern countries, too.
Maggi's ability to work its way into kitchens across the world was something rival brands paid attention to, especially Knorr; only a decade after Nestlé acquired Maggi, Knorr also started selling its cubes worldwide. The popularity of both brands is evident when you ask any Nigerian which one they prefer. The difference between Knorr and Maggi isn't exactly noticeable; for most cooks, it's merely a matter of preference.
Ozoz Sokoh, a Nigerian food blogger born in Warri who delves into the artistry, history, and cultural reverence of Nigerian food on her blog, Kitchen Butterfly, has the same nostalgia for Maggi cubes that I do.
"The first dish I learned to cook was 'stew' with tomato paste and Maggi cubes, in a tin can on sticks and twigs we'd gathered in our backyard, fire station against the wall," Sokoh recalls. "Maggi cubes triggered my early understanding of the fifth taste before I understood umami and glutamic acid." She remembers finding a recipe for jollof rice in Dokpe Lillian Ogunsanya's My Cooking West African Cookbook (1998) and seeing that one of the ingredients called for was "two Maggi or bouillon cubes." "That made me smile," Sokoh says. "Because Maggi is essential to the average Nigerian cooking pot."
Of course, Nigerian food isn't a monolith. Just as the United States has regional specialties, so does Nigeria. In a country with close to 200 million people who belong to various ethnic groups and speak different languages, it's far too simplistic to assume everything is prepared exactly the same way. But there are commonalities and key ingredients—bay leaves, Scotch bonnet peppers for heat, tomatoes, onions, thyme, palm oil, stockfish, tripe, salt, pepper—and Maggi blends harmoniously with their flavor profiles.
Last November, Nestlé again capitalized on its understanding of its market by exclusively launching Maggi Naija Pot in Nigeria ("Naija" is slang for Nigeria). The tiny cube combines the essence of Nigerian flavors and spices, especially that of fish and smokiness, wrapped in the same red-and-gold foil that makes the crinkly sound that fascinated me as a child.
Recently, when I spent some time in London with the Nigerian side of my family, I was chatting with one of my aunts as she prepared jollof rice for dinner. Just as my dad did when he cooked for our family, she reached into the pantry for a Maggi cube, breaking it down and letting it dissolve into a glass Pyrex measuring cup of hot water. She swirled a spoon around in the cup before dropping its contents into a hot Dutch oven, where they made a sizzling sound.
When it comes to the Nigerian dishes I've known and loved my entire life, Maggi cubes contribute many basic things: salt, seasoning, undeniable flavor. But to me, it's their use as a unifier that resonates; it's a tie that binds, whether it's my aunt cooking jollof rice in London or my memories of my father making stew in Atlanta.