Fish Sauce, Loud and Proud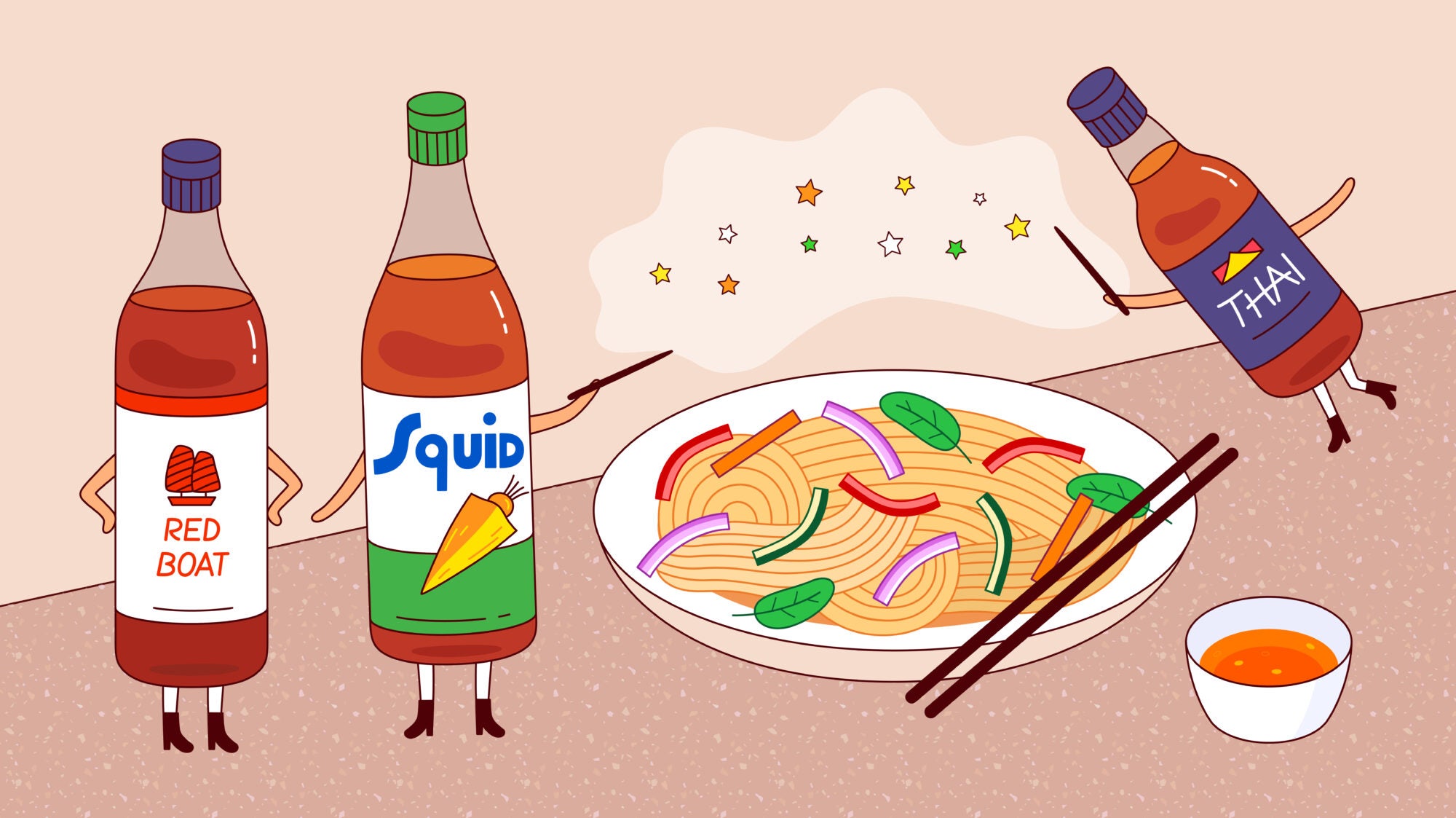 No longer a "secret weapon," Southeast Asian cooks are getting creative with the traditional umami ingredient.
Fish sauce is nothing new. The salty, sweet, and seafood-y condiment, typically made by fermenting small salted fish like anchovies, has been flavoring dishes in Asia for thousands of years. But for the last couple decades, articles in Western food media have frequently cast fish sauce as a "secret ingredient," used by "chefs" to imbue just about anything with umami on the sly—Caesar dressing, Bolognese, or beans on toast. A furtive dash of a potent, exotic elixir.
It's true that a splash of fish sauce makes for a good marinara. But the implication was that you had to hide fish sauce, sneaking it into the food of unsuspecting diners, lest they balk ("You put what in the tomato sauce?"). Everyone loves a good secret, but fish sauce—which is known as nuoc mam in Vietnam, nam pla in Thailand, patis in the Philippines, and garum in the kitchens of ancient Phoenicia—is so commonplace a seasoning that it's used much like salt in the West or soy sauce in East Asia. And today, rather than hiding fish sauce, many Southeast Asian chefs, food creators, and home cooks are wielding the traditional ingredient loudly and proudly in creative dishes, recipe titles and even newsletter titles.
"Fish sauce seemed weird and scary to a lot of folks," says Andrea Nguyen, award-winning author of six Vietnamese cookbooks, of the late '90s and early aughts. It was then that she was shopping around a proposal for her first cookbook, which she wanted to call "Pass the Fish Sauce." The book was eventually published in 2006 with the title "Into the Vietnamese Kitchen," which was suggested by her publisher, Ten Speed Press (and which Nguyen thought was elegant and inclusive-sounding).
The implication was that you had to hide fish sauce, sneaking it into the food of unsuspecting diners.
The title "Pass the Fish Sauce" lives on, however—it's now the name of Nguyen's newsletter, which she launched last November. Nguyen says this name not only underscores the importance of the condiment to Vietnamese cuisine but also reflects more of its hallmarks: "Building umami (nuoc mam is our go-to for savories), personalization of flavor (you can have it your way and sprinkle a little extra in, if you like), and community at the table and in the kitchen (pass the bottle or bowl, please)."
"We use [fish sauce] in everything, as it's our main source of sodium—very little salt is used," says Daniel Le, chef of Essex Pearl, a creative Southeast Asian restaurant in New York City. Le grew up in a Vietnamese American home in Southern California, where fish sauce was a household staple, before working in Western fine-dining institutions like the Ritz-Carlton in Laguna Beach. His menu at Essex Pearl represents a coming into his own for his heritage and training. There, fish sauce manifests in both traditional and nontraditional ways: a sticky coconut and fish sauce caramel coats a braised buri fillet; silky salmon sashimi slices bathe in a pool of nuoc cham (a dipping sauce consisting of fish sauce, water, sugar, and lime juice); and raw oysters on the half shell are served with a roasted red chile nuoc cham in place of mignonette. 
Inserting Southeast Asian ingredients like fish sauce into the conversation on desserts has been Abi Balingit's passion since 2020, when she launched her blog The Dusky Kitchen. In it, she created a recipe for shortbread cookies with a calamansi and patis glaze. The recipe, "Stamped Calamansi-Lime Patis Shortbread," is featured in her new cookbook Mayumu: Filipino American Desserts Remixed, which also includes a recipe for spicy caramels flavored with bagoong, a fermented shrimp paste.
"I think it just felt natural to tap into using fish sauce and bagoong," says Balingit, noting Southeast Asian flavor profiles are big on savory-sweet combinations. "I never really shied away from them in terms of desserts, because growing up here and trying maple-bacon donuts, I think it's similar," says Balingit. 
Add sour to the flavor matrix, and you get another classic category of Southeast Asian sweets: fresh fruit with fish sauce. Balingit recalls seeing her aunt put fish sauce directly on apple slices. And tart, unripe green mango with a sticky, fish sauce–infused caramel dipping sauce is a classic Thai snack, says Leela Punyaratabandhu, author of three Thai and Southeast Asian cookbooks. 
"The idea of pairing any fish-containing ingredient with fruits as a sweet snack may seem strange, but it works," says Punyaratabandhu. She includes a recipe for the dish in her cookbook Bangkok. But when she can't find green mango in the United States, her favorite substitute is tart Granny Smith apples. 
Fish sauce also gets the spotlight in dishes like "Pan-Seared Fish Sauce Pork Chops" and "Garlicky Fish Sauce–Spiked Tomato Sauce with Bucatini and Ricotta" in Ronnie Woo's cookbook, Did You Eat Yet?: Craveable Recipes from an All-American Asian Chef. The popular content creator, while not Southeast Asian by heritage, considers fish sauce a cooking essential. "At this point, you've probably eaten more fish sauce than you know," writes Woo in the entry for fish sauce in the book's "Fridge Staples" section. "Fish sauce is everywhere and in everything." The secret's out in the open. 
The traditional method for making fish sauce is fairly rudimentary: small fish, usually anchovies, are salted and kept in barrels for months as they ferment. The resulting amber-colored liquid is drawn from the bottom of the barrel and filtered. However, most commercially available fish sauces are not made by salting and fermenting the fish but with chemical flavoring or anchovy powder, along with salt and sugar to quickly create the condiment—a shortcut many say compromises on creating the kind of nuanced flavor that can only come from fermentation over time. 
Most commercially available fish sauces are not made by salting and fermenting the fish but with chemical flavoring or anchovy powder.
Traditional fish sauce manufacturers only account for about 10 percent of the market in Vietnam and less than 1 percent globally, according to Danny Tran, who co-owns Son Fish Sauce with his wife, Albee Nguyen Tran. "It takes us a year to produce, and mainstream fish sauce takes only a few seconds to blend," says Tran. "Our process is no secret—it's 70 percent anchovy, 30 percent sea salt, and we let Mother Nature do her work in the island." 
Albee Nguyen Tran's family has been in the fish sauce business for four generations in Vietnam's Son Rai Island. Danny Tran grew up in Orange County, California, surfing and skateboarding, when he and a few friends decided to move to Saigon during the global recession in 2011. He got into the food business by opening a crawfish restaurant, but it was around this time that he came across a magazine article that made him turn to a more antiquated concept: "I read a GQ article where they asked these top chefs in America what their favorite ingredient was, and across the board, they said fish sauce," Tran recalls. "So I turned to my girlfriend at the time—now my wife—and said, 'Hey, doesn't your family make fish sauce?'"
She was initially skeptical, since her family only made fish sauce the traditional, long and laborious way, which she didn't think would be commercially viable to sell outside Vietnam. But Tran believed there was a market for it, thanks to the growing interest. They launched the Son brand in 2014.           
Andrea Nguyen likens fish sauce to olive oil—there's your finishing fish sauce, which you want to savor in dipping sauces and dressings, and then there's your cooking fish sauce, which can be a bit dull and more one-dimensional. For the former, some Vietnamese brands like Son and Red Boat will denote the intensity of the fish sauce with an "N," referring to its nitrogen level. The higher the number, the more oomph. Then, if you're really going artisanal with your fish sauce, you can make it yourself: Punyaratabandhu starts by salting frozen anchovies, which are much easier to find than fresh ones where she lives in Chicago, before packing them into a glass jar. "I leave the jar alone for six to twenty-four months before filtering the liquid," she says.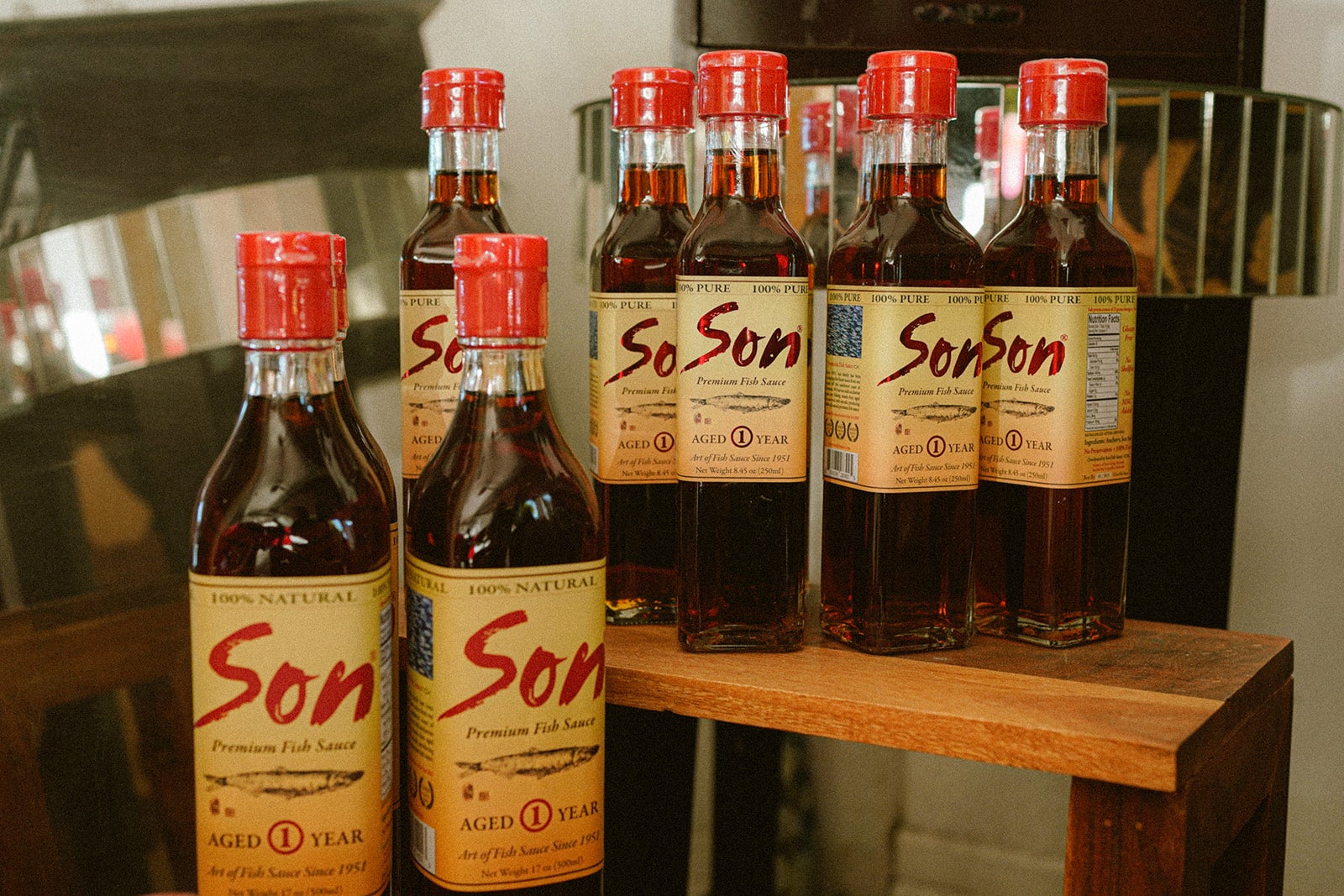 While it's nice to have access to both mainstream and artisanal fish sauces for finishing and cooking, for many Southeast Asian Americans, it comes down to what fish sauce is the most readily available at their local grocery store. There's no shame in having just one bottle in your fridge either. 
Balingit was excited to find fish sauce recently, for the first time, in a local grocery store where she lives in Bed-Stuy, Brooklyn, where there are no Asian markets nearby: "I was like, 'Wow, it's finally happening!'"
Shelve It explores the world of groceries, from the fluorescent-lit aisles to the nooks and crannies of your cupboard. We dive into why certain ingredients got pantry staple status, the connection between cookbooks and buying habits, the online-ification of grocery shopping, and what gets shelved along the way.
Photo: Ben Hon (salmon sashimi)