Fish Sauce Caramel Is the New Salted Caramel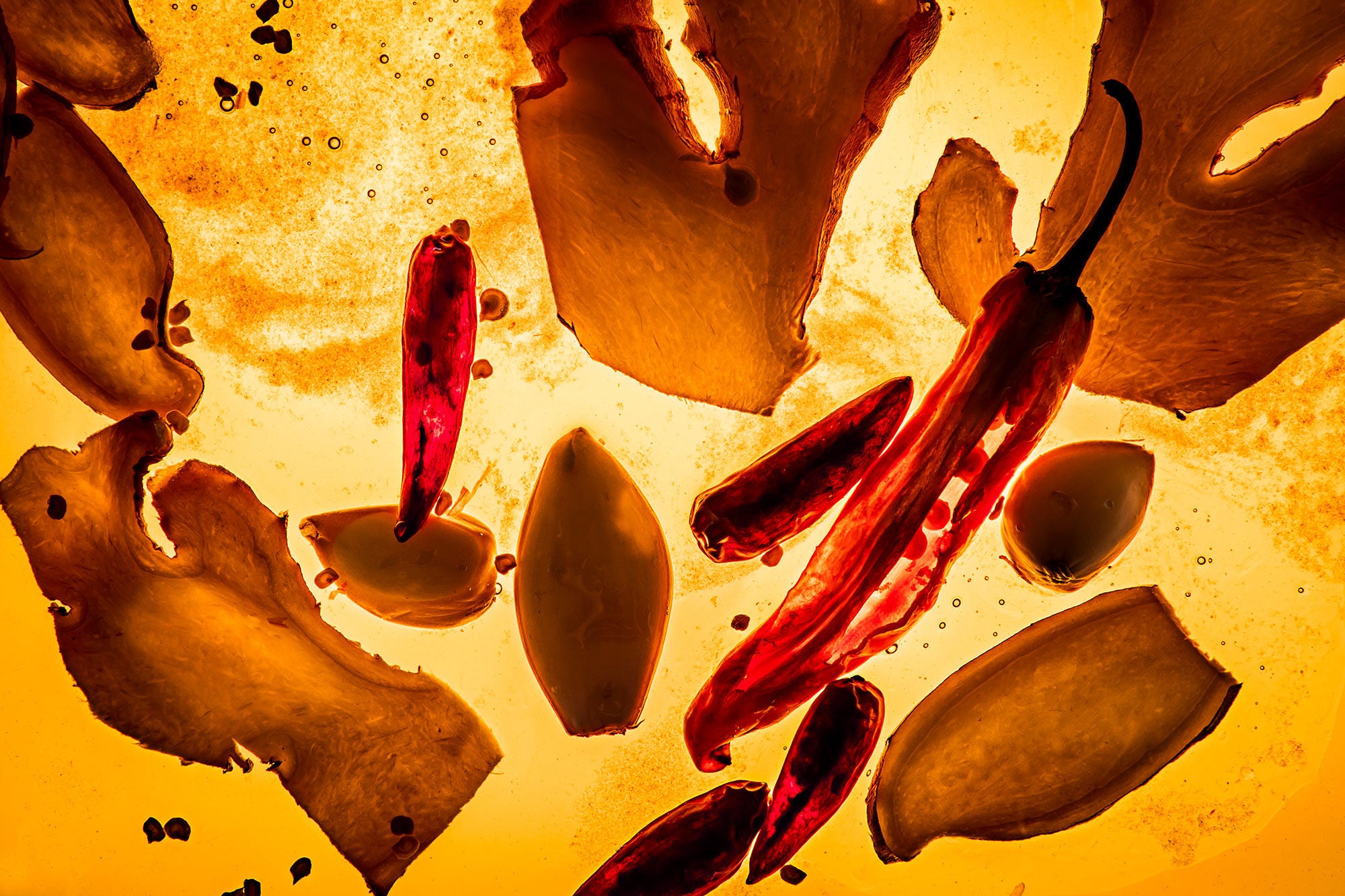 Get to know the sweeter side of fish sauce.
On its own, fish sauce packs a punch of briny piquancy. But to widen the world of fish sauce even more, just add some mellowing sugar and heat as a catalyst. Traditionally, fish sauce caramel is a combination that's heavily embedded in homey, slow-cooked Vietnamese dishes, layered with umami and the slightest touch of bitterness. But the combination of inky sauce and liquid sugar has found a home in all types of home cooking. You can spot it in both tangy glazed chicken wings and creamy, wax-paper wrapped candies. And once you've mastered the basic harmony, the combo will change the way you think about every course of the meal.
In Vietnamese cooking, nuoc mau, a viscous, nearly blackened caramel sauce made with boiling hot water and sugar, combined with heaping spoonfuls of fish sauce, is used as a simmering liquid for stewy chunks of beef in bo kho and lends a glistening sheen to braised pork belly in thit kho tau. At its heart, nuoc mau isn't so much a drizzling caramel for your sundae (more on that later), but rather a foundational sauce for savory dishes, since it's cooked down to a bitter, molasses-like state.
For Nick Bognar, chef at Indo in St. Louis, the blueprint of nuoc mau plus fish sauce opens up a universe of marinades, finishing glazes, and dressings for many of his Southeast Asian–influenced dishes. His adaptation utilizes honey for more sweetness, in addition to palm sugar, plus aromatics that are infused into the liquid to bring out the crisp brightness of tropical herbs with a kick of spice. "It's very much inspired by Vietnamese caramel sauce," he says. "It's sweet and salty with that underlying fish sauce flavor but made a little more complex with the addition of chiles, fresh lemongrass, and galangal."
That same fish sauce caramel lays the groundwork for a grilled pork steak marinade before being wrapped in Bibb lettuce, then dipped in a funky naam prik and mingles with a fresh squeeze of lime and coconut milk in a lighter hamachi crudo. But for the everyday cook, the simple addition of acid turns fish sauce caramel into a salad dressing or fresh spring roll dipping sauce, not too far off from nuoc cham. When left alone, the syrupy sauce makes for an easy chicken wing coating, or better yet, a glaze for grilled ribs.
Flipping the script to caramel's sweeter side, fish sauce brings its unmistakable funk and richness to desserts. "At first sight, a lot of people don't equate fish sauce and confections together," says Cecilia Leung, executive chef at Los Angeles café the Little Flower. But in developing a creamy caramel candy flavored with oak barrel remnants of the crystallized salt used to ferment the fish sauce, Leung reasons, "It's delicate, rather than a punch in the face of eating fish sauce. You taste the saltiness like a typical salted caramel, but it definitely has tropical flavor to it, since there's also palm sugar, which adds another layer of earthiness."
Similarly, at Fat Rice in Chicago, fish sauce swaps places with salt, for a supercharged version of salted caramel to top a crispy rice dessert. Adrienne Lo, a partner at the restaurant, says that fish sauce brings out more intense notes than plain salt. It's not necessarily that the end result tastes like fish, but that the fermented complexity beyond a sprinkling of salt revs up caramel's familiar sugarcoated sweetness.
"It goes with anything that salted caramel sauce would go with," says Lo. "Coffee, ice cream, chocolate, apples, toasted nuts, whatever!"