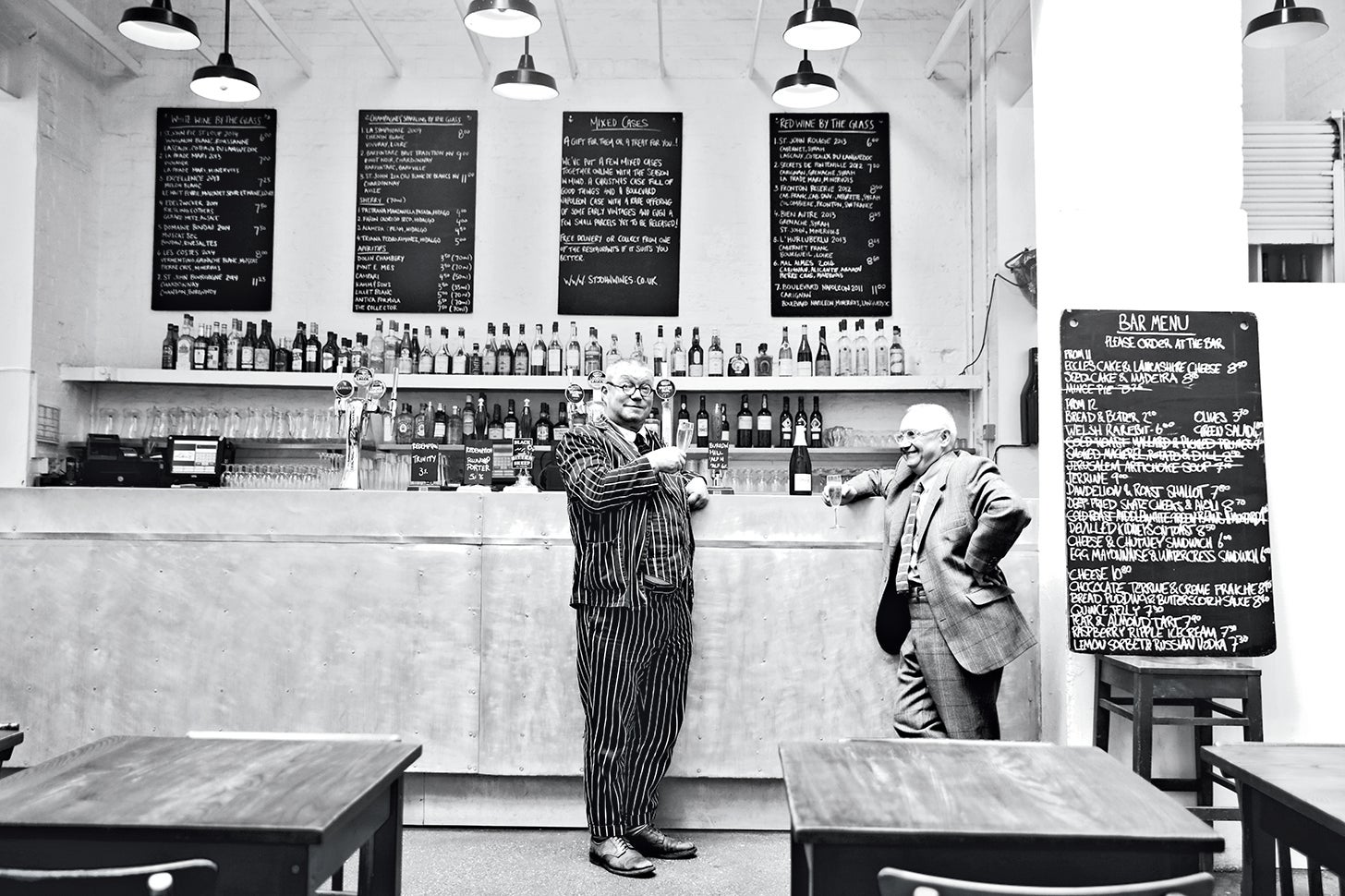 In the newly released The London Cookbook (Ten Speed Press), journalist Aleksandra Crapanzano visited London's best restaurants, tea shops, cocktail lounges and butcher shops in search of the recipes and stories that make the city a global dining capital. Wait, you thought London was all fish and chips and boiled vegetables? Not even close. Crapanzano colorfully profiles the city's characters, and here we read about a memorable lunch with Fergus Henderson of St. John Bread and Wine. A living legend.
Fergus has one of the great smiles. When something stirs his fancy, his face opens, like a child's, in gleeful delight. It is infectious and generous, and I challenge anyone to resist it. When I first met Fergus, it was a little before eleven on a weekday morning. He had asked me to join him for a meeting and then lunch at St. John Bread and Wine. I was about to ask for a cup of coffee, when I saw him enter the restaurant. He greeted me as if I were an old friend and handed me a glass of Champagne. When I opened my mouth to protest, he gave me that pink-cheeked smile and, kindly cutting me off, said simply: "because." "Because" to Fergus is because it is life, because it is good, because it can be even better with a glass of Champagne, because I am your host, because we will feast and be merry, because all will be well, because why not? I drank the Champagne, of course, and all was indeed as his smile had promised.
We were soon surrounded by a circle of friends—locals stopping by the bar, some after a morning yoga class at Fierce Grace down the street, others still in last night's party clothes. Two cooks had just gotten engaged to each other, and so another bottle of Champagne was opened. Three young Japanese women approached Fergus for an autograph, and drinks were sent to their table. At noon, Fergus led me up the stairs to lunch in the dining room with Trevor Gulliver, his longtime business partner.
Five hours later, we were still at lunch, still feasting, still drinking, and still very merry. We'd followed the Champagne with a crisp white and a full-bodied red and then vintage port to accompany the cheese course of Welsh Rarebit. Moreover, we'd eaten one of the great meals of my life, including this plaice with salsify and capers. Salsify makes Fergus smile that smile of his. When ordering, he promised it would have a "delicate and subtle, creamy flavor" that would make it "a perfect partner to plaice." Having learned that absolute submission was the wisest approach to this lunch, I nodded happily. Something of a salsify novice, I became a convert and now love its almost oystery taste.
By the time we'd moved on to Apple and Calvados Cake, my happiness held a sharp note of sadness. Fergus, as so many know, has Parkinson's disease. It has neither dampened his public spirit nor curbed his immense talent, but it is a tragedy that a man of such luminous generosity should suffer. He no longer dances with Margot (his wife) on tables, as they are known to have done—this he told me, ever the stoic, making light of heartbreak for the sake of others. What effort this must take him. And all with that smile of his.
Plaice, Salsify, and Capers
Serves 4
INGREDIENTS
1 pound salsify
3 pounds plaice, cut into 4 portions
Olive oil for frying
10 tablespoons unsalted butter
½ cup dry vermouth
4 lemons, 2 juiced and 2 halved
2 tablespoons capers, rinsed
Leaves from 1 small bunch curly parsley, finely chopped
DIRECTIONS
1. In the words of Fergus: First, prepare the salsify. It is grown in very sandy, light soil. To keep it straight, the end is often left on to protect the root. It should be handled with a degree of care and kept whole, roots on. Like beetroot, salsify will bleed during cooking, losing flavor. Lightly brush away the excess soil, then remove the remaining dirt by immersing it in cold water and gently cleaning with a brush that is not too stiff.
2. Preheat the oven to 375°F.
3. Place the whole roots in a braising pan or small roasting pan and cover with water, add a little salt, and cover with foil. Either gently poach on the hob (stove) or cook in the oven. It will take 20 to 30 minutes. Test with a small knife, as you would potatoes. Remove from oven. Pour off the water and then cover the pan in plastic wrap so that the roots continue to steam. When cooled slightly, peel away the outer skin with a small knife, and cut into 2 1⁄2-inch lengths.
4. In a large heavy frying pan, fry the plaice, skin-side down, in a little olive oil, until golden.
5. Place the pan in the oven for about 4 minutes. Turn the plaice over, and add the salsify batons to the pan. Return to the oven for about 3 minutes, although obviously this will be determined by the thickness of your plaice.
6. When just cooked, lift out the fish and place the pan back on a medium to high heat. Add the butter and sizzle until golden and nutty brown, then stop the butter from burning by adding the vermouth, then the lemon juice. Add the capers and parsley to finish. Serve each piece of fish with a half lemon.
NOTE: If you can't source plaice, halibut and sole are delicious alternatives. Salsify looks rather like dirty parsnips or even horseradish. Once cleaned and cooked, they have a delicious creamy, almost oystery taste. They are a root vegetable and a member of the dandelion family.
Excerpted from The London Cookbook by Aleksandra Crapanzano, copyright © 2016. Photography by Sang An. Published by Ten Speed Press, an imprint of Random House LLC.