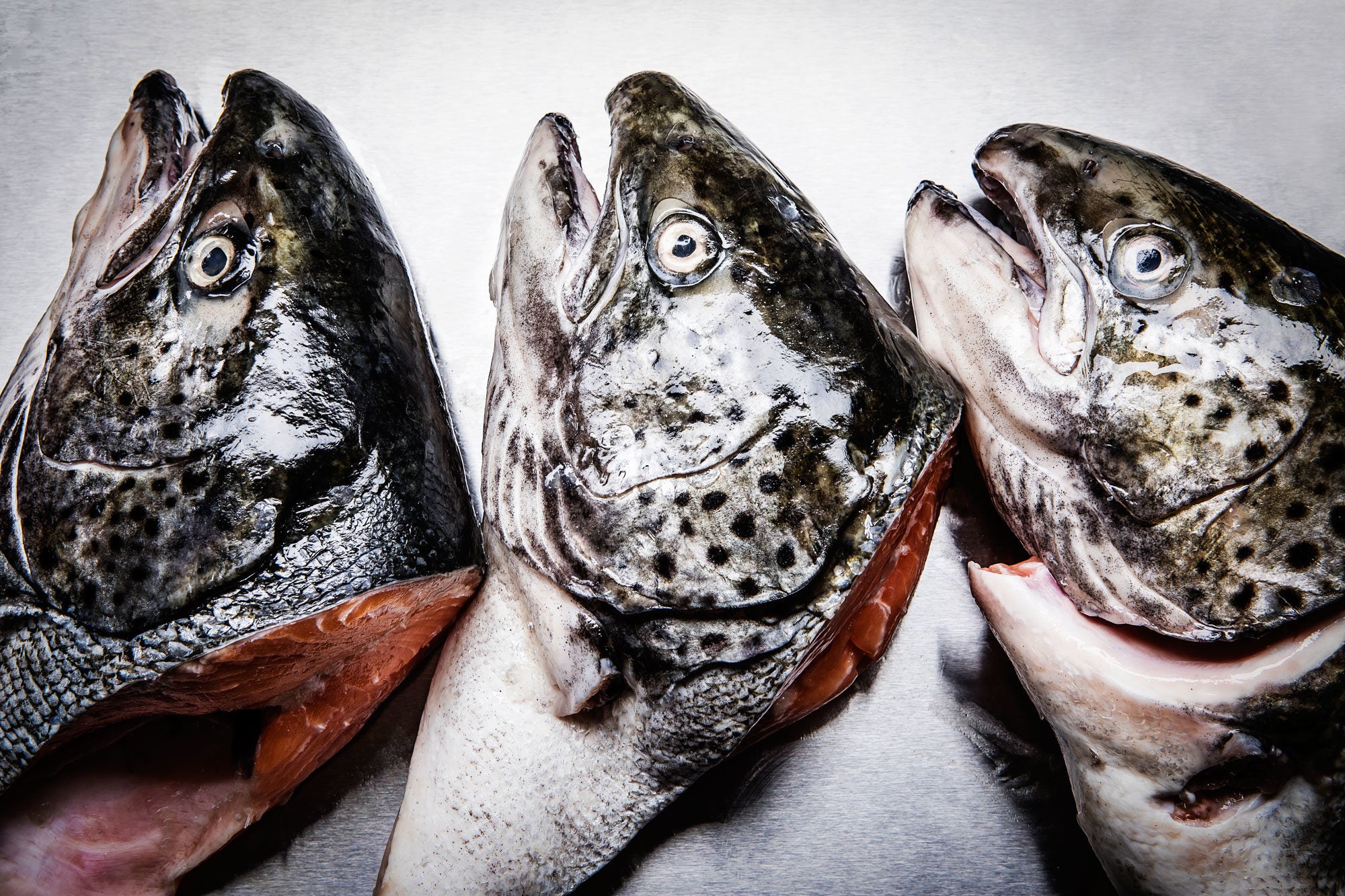 How to take on this meaty, underrated cut from the fishmonger.
Americans tend not to enjoy being reminded that the meat they're eating was once a living, breathing thing. When it comes to heads, tails, feet, and tongues, we're cautious at best and avoidant at worst. But why shouldn't we look our dinner in the eye?
On top of their dramatic appeal—a bit of a litmus test to see if your guests respond with shrieks or awe—fish heads are cheap (or even free) if you know where to look, and they're incredibly underrated to cook at home. They soak up the flavors of sweet, acidic glazes and smoke with ease. And whether you're poaching them to make a stock, searing them in a pan, or roasting them in the oven, they're really hard to overcook. They're also a lot more fun to eat than your average cling-wrapped salmon steak from the C-Town. In one single head, there are a whole range of textures, from the crackly, charred skin to the buttery cheek meat to the rich, gelatinous eyeball. (Yes, you can eat the eyeball, and yes, I would recommend it.)
For restaurants where whole bass, tuna, or salmon is regularly butchered, turning the head into a special or a bar snack is a no-brainer. At Momofuku Ko in New York City, Connor MacDonald recently roasted black bass, kampachi, red snapper, and striped bass heads in a vinegary, caper-filled tomato sauce. At St. Anselm in Williamsburg, Brooklyn, Katrina Zito grills the heads and tails from all of the salmon butchered throughout the week and serves them paired together on one plate.
At the Four Horsemen, also in Williamsburg, Nick Curtola turns whatever fish heads are plentiful after butchering into a rotating menu item. This could include fluke, cod, striped bass, black bass, red snapper, tilefish, mackerel, or others. "We change the set often, but there is generally a glaze of some sort involved," says Curtola. This could mean a jus full of toasted green peppercorn one day, or a glaze made from cider vinegar, brown sugar, pimentón and garlic another day.
To be clear, even if you don't have a restaurant kitchen full of freshly butchered fish at your disposal, cooking the head is well within reach for the novice home cook. Most markets break down fish on a daily basis, so call around to your neighborhood spots and ask when they might have salmon, bass, or red snapper heads available. Fancier fish markets (like Mermaid's Garden in Prospect Heights, Brooklyn) may charge by the pound, but many (like Win Sea Food Market, in Manhattan's Chinatown) will likely only charge $1 to $3 apiece, especially if they might otherwise be tossing the heads in the garbage.
"Cleaning is very simple," says Zito. "Just take out the gills and clean out anything that doesn't look like it should be there." (This might include bits of blood or veins that are left after the gills have been removed.) Curtola tackles the gills with a pair of kitchen scissors and the scales with a cheap fish scaler before giving the head a quick rinse in cold water. "The scales like to hide behind the gill plates and around the fins," he warns.
If you're roasting or pan-frying (as I did recently with a few salmon heads) and want to ensure even cooking, you can cut the head straight down the middle into two halves, using a sharp chef's knife. Taking a cue from Curtola's and MacDonald's vinegary approaches, I basted my heads with a bright agrodolce once the skin was crisped, and finished the heads in a pan full of charred, juicy cherry tomatoes. The result was a glistening, caramelized piece of fish in a sweet, spicy sauce that was happily soaked up by a bed of coconut rice.
For a much simpler way to cook the heads, poach them in a pot of barely simmering salted water that's flavored with a few garlic cloves and charred scallions. You can strain the stock to freeze and use later in risottos, chowders, and noodle soups—quality stock is like liquid gold come chowder season. The soft, juicy meat will pull away from the bones, and you can pile it onto a bowl of rice for a less confrontational dinner.