My Favorite Cold Brew Isn't Cold Brew at All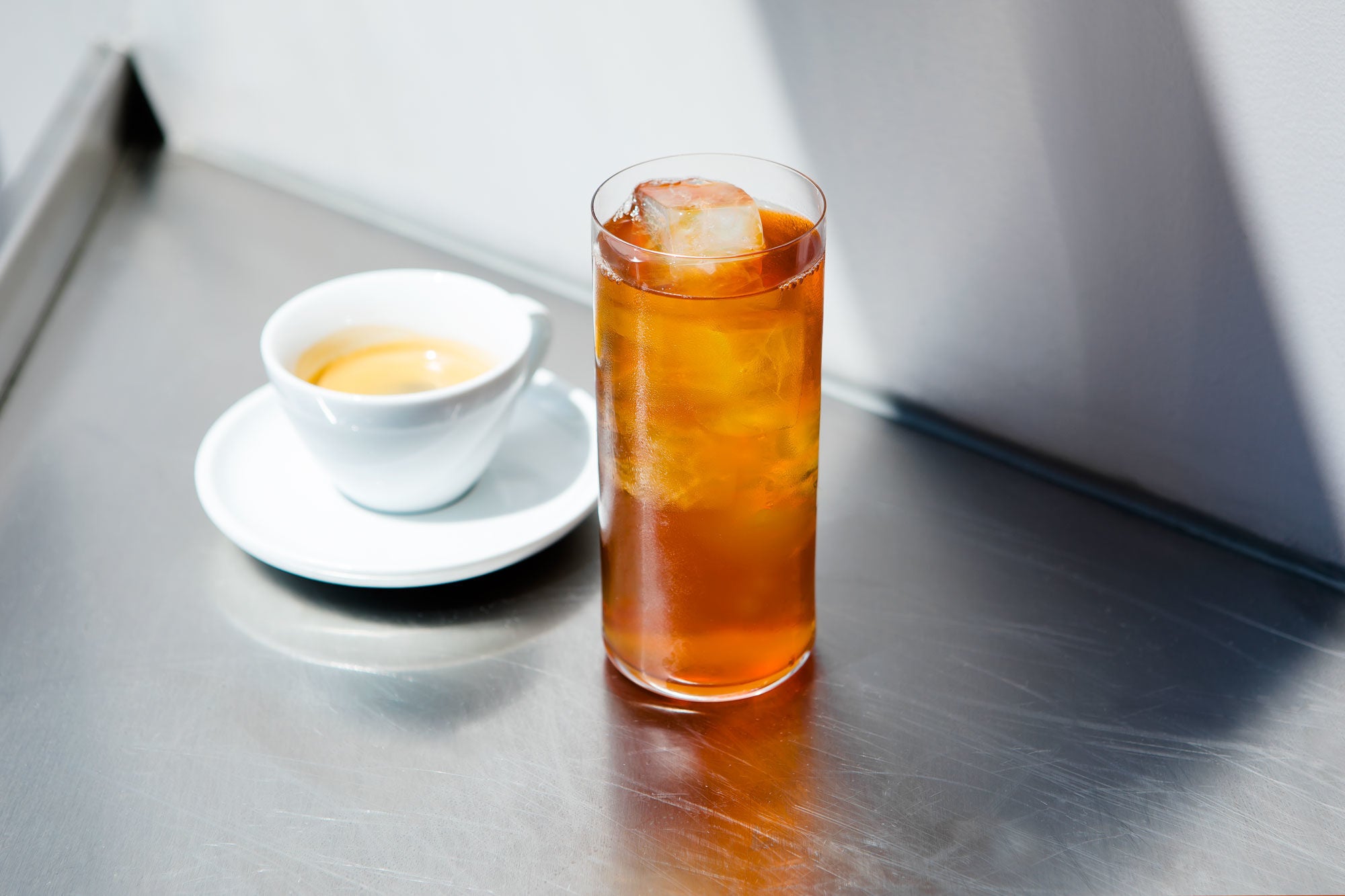 Iced tea with a sidecar of espresso has become the next-wave order for coffee nerds in the know.
For some it's been a hot girl summer, for others, a season of flash-chilled coffees and frosty cold brews. But here now—before the long, hot days end—I'd like to argue for a third way: a union of carefully brewed, beautifully sourced tea, iced down for the season, served alongside a flavorful shot of espresso.
I think about cold brew coffee, like, a lot. Some of that is because of my day job, working as an editor for the coffee publication Sprudge, but it's not the only reason. Some products just mean more; to mangle Freud, sometimes a cigar isn't just a cigar. Here at the end of a long and thirsty summer spent drinking up cold brew—in which the loftiest of American publications are devoting serious ink to debating the topic while regional cold brew festivals draw big crowds—cold brew's popularity feels like a runaway horse and buggy, a cultural force bigger than the sum of its parts, a trend that's become a trope that's become positively mundane in the hands of the likes of every last café on every last city block in every last city in America, not to mention corporate overlord players like Starbucks, Baileys, and yes, that grand arbiter of 21st-century Americana normativity, Trader Joe's.
White Claw fucked up. They should have released a cold brew spiked seltzer, perhaps timed for a local festival of choice, zeitgeist layered upon zeitgeist updosed with corporate synergy. Fade to black.
My conscious choice as a coffee journalist is that I don't really enjoy cold brew, at least not as a consumer. I have no beef with successful cold brew entrepreneurs, and I'm cool with farmers in Panama and Ethiopia and Indonesia selling more coffee because of this trend. But I don't drink it—I think cold brew tastes like flubber, somewhere between flat and rubbery, like it was grown in a lab—and as a caffeine delivery mechanism, it puts me out of whack, no matter how much oat milk or CBD or whatever else you try and upcharge it with. And I've come to dread the annual ritual dance of cold brew fetishism thirst that happens each and every summer, taking wing like the great migration of the piping plover. You can set your watch to it.
Which is not to say my coffee order doesn't change with the seasons. I'm a batch-brew-at-home person, both in the kitchen and in the office. In Sprudge's book, The New Rules of Coffee, we write about why the ease and simplicity of home batch brew can also beget great quality with the help of a couple of suggested brewers (the Bonavita, the Moccamaster) and a solid entry-level burr grinder (by Baratza). My devotion to a hot pot of coffee doesn't change throughout the year, whether it's 80 or 18 degrees. But at the café, I've hit on this little summer ritual that, frankly, gives me joy, and I think you should try it, too.
Try pairing good espresso with a good iced tea.
Tea, it turns out, has become a useful totem for coffee lovers, a divining rod to use in sussing out a café's bona fides. There have never been more cafés in America, which means there have never been more pretenders to quality in the café setting—places that look like a fancy café, and talk the lingo, but are selling low-quality, mass-sourced beans without really giving much of a shit about how it tastes or whether the product is being respected. It used to be that you could walk into a coffee bar, do a quick visual scan, and make a reasonable determination—if they were using high-quality equipment (a La Marzocco or a Slayer behind the bar, for example) and the space looked like someone had put active thought into the interior design, the odds were in your favor. But as the specialty coffee movement (sometimes called "third wave") has gone bing-boom-bonanza over the last decade, these easy approximations have fallen by the wayside. Everyone has nice gear now. Everyone's café looks good on Instagram. And almost everyone serves a form (or eight) of cold brew.
But tea, well—a good tea program says a lot about how a café thinks about coffee. And quality-focused tea sellers here in the United States—from scaled brands like Steven Smith, Rishi, and Kilogram to plucky indies like Song Tea and Spirit Tea—have jumped on the third-wave coffee bandwagon as a capable partner for delivering their products with skill and intentionality. If a coffee bar cares so much about one kind of hot drink, they should care about all kinds of hot beverages.
It turns out they taste great together—a world of interlocking and overlapping pairings and flavors.
That's made for a delightful aftermarket collision of two very different flavor experiences, uniting two very different beverage practices and histories (tea and coffee) into a single modern retail delivery setting. It turns out they taste great together—a world of interlocking and overlapping pairings and flavors.
At Everyman Espresso in Park Slope, Brooklyn, proprietor Sam Lewontin works with teas by Rishi Tea of Milwaukee for a selection of approachable daily offerings, alongside a few rotating select oolong teas from Spirit Tea of Chicago. "Tea is something that's been in cafés for ages, and usually badly," says Lewontin. "But that's starting to change."
Everyman's café style is imbued with New York City functionality—a product of its environment as a brand with cafés in Manhattan and Brooklyn, and a literal interpretation of the "everyman" name. The best possible order here is a shot of espresso and an iced tea to go. Enjoy your espresso while the tea steeps, then take your iced tea with you out into whatever the city demands next.
There's another combo I've been drinking all summer—my "iced tea summer"—and it's one of the best flavor combinations of my life. Heart Coffee Roasters in Portland, Oregon, partners with Song Tea of San Francisco for its tight, focused tea program, which means that here you can pair a shot of Heart's ever-evolving Stereo espresso blend with Song's "Red Eighteen" tea from Taiwan. The result expands on the malic stone-fruit acidity for which the coffees of the Great Rift Valley (Rwanda, Uganda, Burundi) are so rightly prized, fusing and morphing with the sweet red elixir of the tea like some sort of heavenly candied jujube syrup. Drunk together in concert, the mind boggles, yielding long mouthfuls of plum and peach candy with lovely aromatics and just the right amount of refreshment. The caffeine hits you first, a studied jolt to the cortex, followed by a long, mellow wave of theanine, some real walking-around energy of the mental acuity kind, and a remarkable mood stabilizer for the rest of your day.
I am obsessed with it, and Song Tea founder Peter Luong has a reasonable guess as to why.
"What's traditionally thought of as iced tea is brewed very strong, and often sweetened with sugar," he tells me. "At Song, we work with our partners to focus on iced teas with aromatic characteristics and florals. It goes beyond just a simple 'iced tea' into creating something that mixes well with other flavors."
Luong is right. Quality-sourced, quality-brewed iced tea is relatively new; Americans have a whole wide, complex set of cultural attachments to iced tea, most of which are based on big pitchers of tan liquid flavored with sugar. Not that there's anything wrong with that, but an iced Spirit Tea oolong or Song Tea red unmoors the reality of iced tea from its cultural baggage and shows us a great range of possibility for tea as a cool, flavorful, refreshing drink.
It is delightfully odd and very 21st century that it took third-wave coffee to bring this all about in America, but here we are, and the right iced tea "recipes" for the coffee bar setting are an ongoing matter of great discussion and debate in Western tea communities. Some have embraced the coffee industry's punctiliously fussy obsession over each and every variable, building complex recipes for tea weight, water volume, and temperature, as well as steep time for each progressing steep. Others pursue a path more in line with the idea of tea as a personal matter of taste—you might be a short, hot, multiple-steep person, or you might (like me) go all in on the wabi-sabi embrace of "grandpa-style" tea, literally a handful of leaves in a mug of hot water. (I love this style because it's like a full rejection of all the coffee orthodoxy I've absorbed via osmosis over the last decade of writing about coffee. It feels both delightfully transgressive and utterly comforting, and I can't get enough.)
Regardless, for all of these iced tea recipes, Luong and others recommend a standard starting point: Brew your tea first, using around half as much water as you normally would, then add ice. You can add ice chunk by chunk until you reach your desired level of dilution, which is what Luong recommends, or you can weigh out your ice and pour the concentrated tea straight over the top, which is what Lewontin and his team do at Everyman.
There are, of course, far more precise ways of measuring out and steeping iced tea, but life is short. Try it this way first, and if your geek senses are enraged by the casualness of it all, by all means, bust out your digital scale and thermocouple and get lab-y.
A few flavor pairing suggestions:
Espresso with iced black (or "red") tea for sweet, tannic, beautifully lush notes. Try this with Heart Coffee Roasters' Stereo blend or Stumptown Coffee's Hair Bender, then pair it with Song Tea's house "red," which is how fully oxidized black tea is termed in China and Taiwan.
Espresso with iced oolong tea for long, round, wonderfully "blue" notes. Try this with a single-origin espresso from Counter Culture Coffee (the Rwanda Kigoma, if you can get it) and a tea like Qi Lan oolong from Spirit Tea, or charcoal-roasted Dong Ding from Seattle's Floating Leaves tea. Note that there is a huge range in flavor styles and production methods that fall under the banner of "oolong," so talk to your barista and explore more online.
A small espresso-and-milk drink—like a cortado or a macchiato—with iced white tea for a lovely and refreshing set of balancing flavors. White tea, such as a Baimudan or Silver Needle (I love Song's Baimudan, or any of the lovely offerings from White2Tea), is sneakily delightful when paired with steamed milk and espresso, offering a kind of aromatic "cut" that reminds me of Bordeaux and prime rib. Don't knock it till you've tried it.