Everything Your Coconut Milk Can Do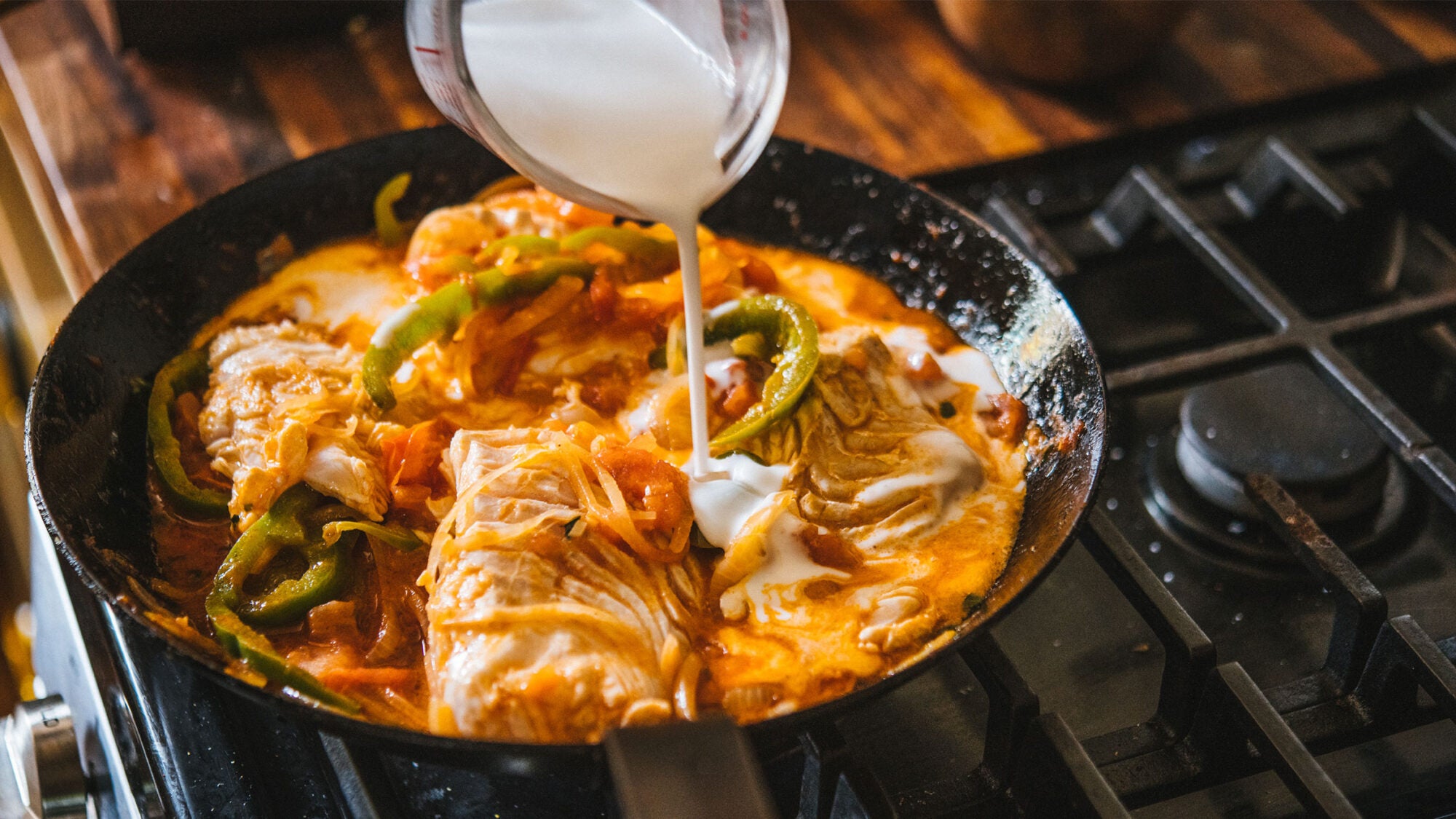 That partially finished can in the refrigerator is just a salted caramel sauce waiting to happen.
I'm adamant about keeping a steady supply of full-fat coconut milk cans stowed away in my kitchen cabinet, ready to be poured into batters, stews, and beverages alike. It's nonnegotiable for seafood stews like moqueca de peixe, and a chewy cassava cake would be incomplete without it. A worthy pantry mainstay, it's affordable (typically $2–$4 for a standard 13.5-ounce can), shelf stable for at least two years, and stocked at most grocery stores, markets, and vegetable stands. But best of all, the can's versatility lends itself to spicy, savory, and acidic main courses just as well as it does to lush, creamy desserts. 
I tend to gravitate toward recipes that have been designed to use up the entire coconut milk can in one go—like butter mochi, banana leaf–wrapped morsels of suman, or cuatro leches. But with fewer people to cook for (and share with), I've found myself downsizing most recipes. I'll keep the remaining liquid in a sealed Mason jar with the best of intentions, but I'll admit that I'm guilty of letting it get lost in the sea of leftovers that often take over my fridge. Sometimes, I'll remember too late there's a perfectly portioned ¾ cup of coconut milk to make a single portion of Thai green curry—and then end up opening another can, fearful it'll meet that same fate. I've learned that the easiest way to prevent this graveyard of doomed cans from forming in the back of the refrigerator is a handy roster of recipes that are flexible enough to make on a whim, with whatever quantity of coconut milk you have left—all with the distinct accent of tropical, dairy-free richness. 
Pastry chef Pichet Ong's salted palm sugar caramel—which calls for ⅓ cup of coconut milk—can be used for more than just the accompanying frozen coconut parfait and drizzled onto pound cake loaves, pancakes, and oatmeal. Not exclusive to grilling, Molly Baz's sambal oelek and coconut milk–marinated chicken is easily adaptable for year-round cooking on a cast iron skillet indoors—and uses about half of a standard can. Plus, once cooked, the marinade makes for an even better sauce to slather on top. 
Tejal Rao's method for coconut rice is easy enough to remember without a recipe—just replace half the water used to make rice with coconut milk instead. Top it with a fried egg and pickled chiles for a meal, or garnish it with fresh fruit for dessert. And, when in doubt, blend those last few centimeters at the bottom of the can into your smoothie of choice, which, for me, is a refreshing and creamy avocado shake. 
8 Ways to Use Up the Whole Can 
While writing In Bibi's Kitchen, one of author Hawa Hassan's biggest cooking revelations she revealed to us were the many uses of coconut milk—be it for dessert, rice, fish, or stew. Case in point: her recipe for digaag qumbe, a Somali chicken stew simmered with coconut milk and yogurt. 
It's time for a coconut shrimp revival, wrote LA Times columnist Ben Mims in a 2017 TASTE story. He was so on the money, and there are many layers of coconut in his recipe: coconut milk for the marinade, coconut oil to fry, plus a final dredge of dried coconut and coconut flour. 
The classic Thai combination of creamy coconut ice cream and salty peanuts has spawned many reinventions. Pichet Ong pays homage to the childhood favorite in this recipe for frozen coconut parfait topped with peanuts, salted palm sugar caramel, and corn. 
TASTE columnist Scott Hocker presents his take on Dr. Jessica B. Harris's moqueca de peixe, adapted with a touch of chiles, which are nicely tamed by the Brazilian seafood stew's foundation of coconut milk and dende oil. 
A smooth, palate-cleansing soup for dessert is as simple as simmering a can of coconut milk with sugar and some mini tapioca pearls.
The best part about Molly Baz's recipe for spicy coconut grilled chicken thighs is the sambal oelek and garlic-spiked marinade. The sharp flavor penetrates the meat but also adds extra layers of flavor once it's reduced to a thick, saucy topping for the chicken. x
For Tejal Rao, coconut rice can double up as a hearty meal with a fried egg and pickled chiles, or can be easily modified with extra sugar and sliced fruit placed on top for dessert. To make it on a whim, replace half the amount of water typically used to make rice with coconut milk. 
Andrea Nguyen's adaptation of Night + Market's recipe for pork steaks takes shape in the form of satay, and it calls for a coconut milk and condensed milk–heavy marinade. Seasoned with soy sauce, turmeric, and curry powder, saving a bit of the marinade to use as sauce is an essential step.