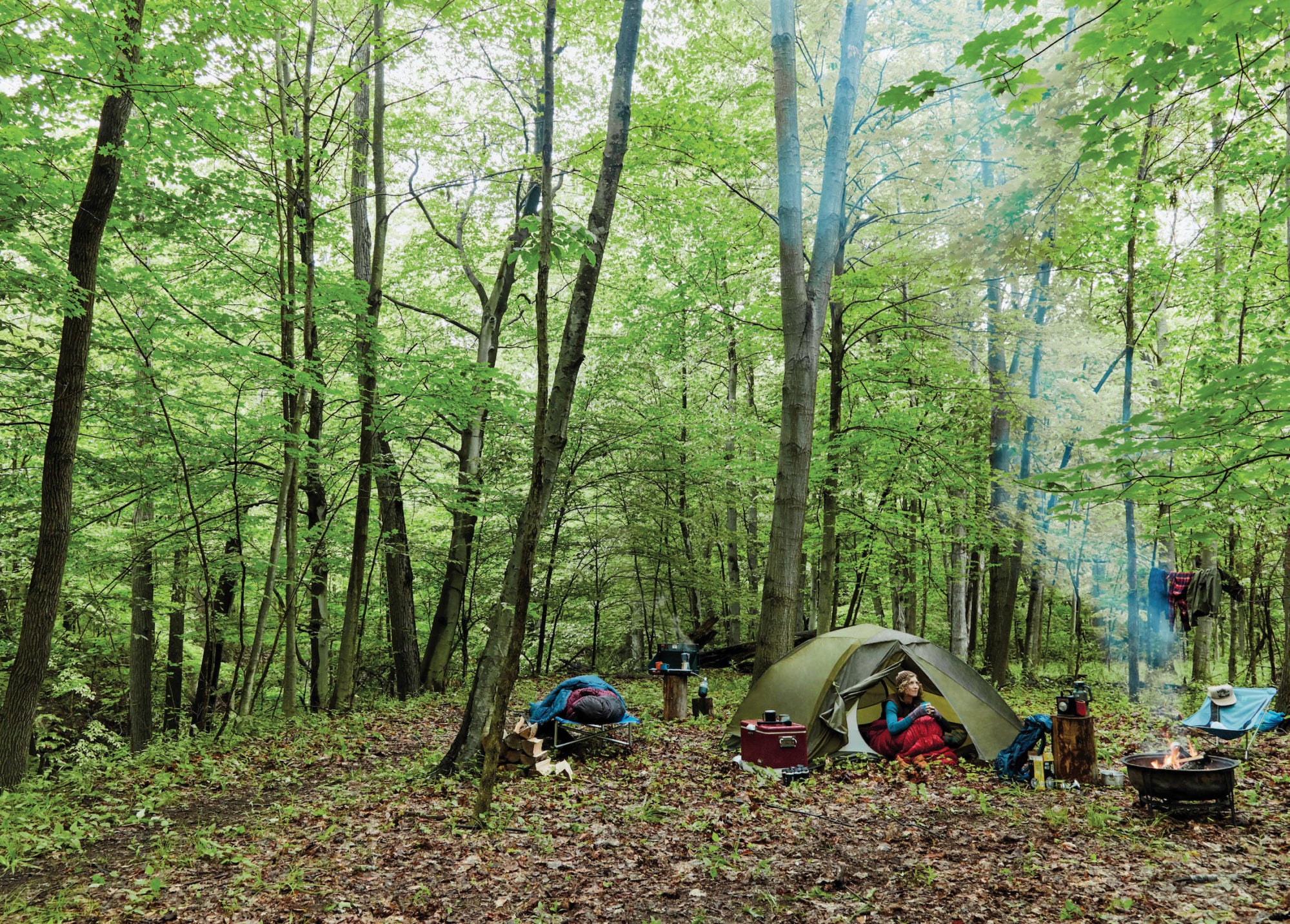 Creating your own makeshift kitchen outside is one of the most compelling parts of camping.
Camping has always appealed to me, not so much because of the idea of going to sleep under the stars, or bravely fending off packs of adolescent black bears in search of snacks. It's more about the eating component, where I channel every survivalist skill I learned from reading Hatchet and The Boxcar Children in elementary school to create a workable kitchen in the wilderness. Reveling in my own self-sufficiency as I build a fire to pop some popcorn. Sipping coffee out of a rustic enamel cup next to a running creek in the morning.
"When you're responsible for creating your own shelter and makeshift kitchen, and put in the hard work to do so, you reinforce your ability to survive in the wild," says Emma Frisch, the author of the new cookbook Feast by Firelight. "It's redeeming and feels good!" Frisch is the cofounder of Firelight Camps, a self-identifying "glamping" spot on the precipice of Buttermilk State Park in Ithaca, New York. In her book, Frisch combines some of the scrappier, more inventive parts of camping (did you know you can use a small pebble to whip cream?) with some of the more cushy parts of cooking in your own home.
In the book, you're encouraged to eat apple crisp and sip Bloody Marys—nary a hot dog or can of beans in sight. For Frisch, this type of cooking is less about elevating or complicating food, and more about returning to the roots of camp food and the roots of living from the earth, whether it's cooking a trout you caught that day or turning fresh cherries into dessert with cream and crushed graham crackers. "I actually think most traditional camp foods have 'real food' roots, and that modern, processed food has come to redefine it only recently," she says.
For Frisch, food is a big part of the draw of camping. And with a little bit of legwork, before you pack up your coolers and head into the woods, you can eat pretty well. Chances are, you're probably not going to be hauling your whole pantry along with you for the trip, but by doing a little prep beforehand and making some careful selections, you can be prepared to tweak the flavors of salads, grilled meats, and even baked goods. Frisch likes to keep za'atar, olive oil, salt, pepper, and honey at hand whenever possible for seasoning on the fly.
For Frisch, who struggled with the word "glamping" when she and her husband first started the business, there are upsides and downsides to this cushier version of the great outdoors. "I am a gear-head, and I miss the process of meticulously packing everything for a DIY camping trip, especially for backcountry camping," she says. "I believe there is absolutely a time and place for both. For example, with our two-year-old and another baby on the way in September, glamping is a lot more appealing!"