Everyone Who Invented the Everything Bagel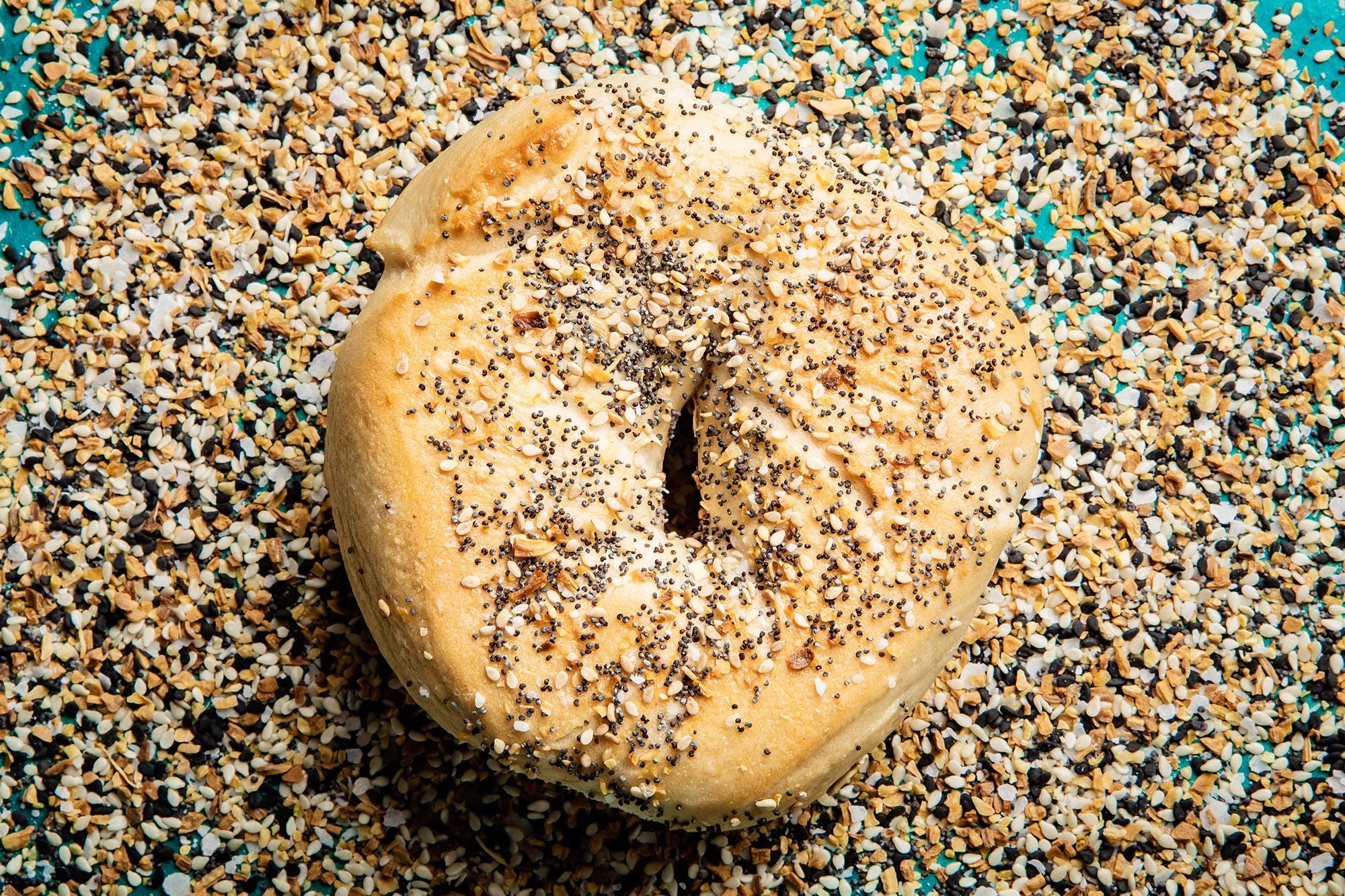 A handful of middle-aged men think they invented it. We talked to four of them.
Poppy seeds, sesame seeds, dried minced garlic and onion, and sea salt. These five ingredients aren't necessarily the heroes of the spice world, but in the bagel reality, they are enough. In fact, they are everything. Mixed together, they revolutionized the bagel world sometime in the early 1980s. Or maybe it was the early 1970s. It depends on who you ask, because no fewer than four different people claim to be the everything bagel's inventor, including restaurateur Joe Bastianich.
Whichever story you believe, this burst of creativity and push from that American sensibility that everything can and should be made bigger, bolder, and more flavorful put an indelible mark on the bagel landscape. And since then—whenever it actually was—we've never looked back.
Now we're finding homemade everything bagel seasoning on menus around the United States, a default way for chefs to sprinkle a bit of New York City sensibility across their cuisine. The Grocery in Charleston offers an everything English muffin. In Washington, DC, District Doughnut debuted its first savory product by creating a doughnut filled with whipped chive cream cheese and topped with everything bagel seasoning. Christina Nguyen, chef at Hai Hai in Minneapolis, has publicly gushed about how she sprinkles the combo onto her hummus for a snack. Fan Fried Rice Bar, a Taiwanese spot in Brooklyn, tosses it into their breakfast fried rice bowl. The craze was only fueled when Trader Joe's began selling shakers of Everything but the Bagel Sesame Seasoning Blend in February 2017.
But how did we get here? We talked to a few bagel experts, as well as the four people most commonly credited with the everything bagel's creation, to find out.
A Bagel Seasoning Is Born, and Reborn, and Born Again
David Gussin, owner of 516ads.com: I was about 15 years old in 1980, working at Charlie's Bagels in Howard Beach in Queens. I was working the counter and helping Charlie bake some bagels. One of my jobs was sweeping out the oven, and instead of throwing out the burned seeds, one day I said to Charlie, "Hey, put these on a bagel," and that's how it was born. He easily agreed, and he charged a nickel more.
The next time I saw the everything bagel was at a bagel shop in Lindenwood, a section of Howard Beach, a little while later. I didn't go home and tell my mom and dad and say I created the everything bagel. But as time went on and I saw it getting more popular, it was really nice. When domain names first came out in 1996, I bought the domain name "everythingbagel.com." At the time, it told the story of the everything bagel. After a few years, I just let it go.
I wasn't ever thinking about monetizing it. I don't want to look like an idiot by trying to claim that I was the inventor of it. I would come across looking like a jerk.
Joe Bastianich, chef and partner in Bastianich Hospitality Group:  It was around 1979, and my first job was to deliver the New York Post, and I would deliver it to the Bagel Den in Bayside, Queens. The owner asked me how much I make delivering papers, and I said five bucks a week, and he said he'd pay me ten bucks per week to work there. The inspiration for the everything bagel came about in the trough where some the seasonings would fall off the baking bagels. I had this idea to make a bagel with all of that fallen seasoning. I stopped working there once I went on to high school and didn't think much about the everything bagel. I wasn't on a mission to spread the word about or disseminate the everything bagel.
Seth Godin, marketing guru: My past comments about the everything bagel were true but designed to be hyperbolic, not a fact in recorded history. In 1976, at age 16, I was making everything bagels. So were a lot of people.
My point in this kerfuffle was that there's no way that the everything bagel (or email, for that matter) was invented in 1979 or wherever. Because if they were, then in 1976, when I was doing both, it would mean that I was the inventor, and of course I wasn't.
Brandon Steiner, CEO of Steiner Sports: When I was 12 years old in 1971, living in Bensonhurst, Brooklyn, my mother pushed me to get a paper route. I was trying to get people to subscribe to the paper, and so this lady in the neighborhood agreed to subscribe if I'd deliver bagels and milk to her a few times per week. There was a bagel factory in the neighborhood, so I'd go in the morning there to buy her bagels. At the time, there weren't a lot of bagel places. This bagel place started baking bagels at 4 a.m. They were baking thousands of bagels every morning. I was 12 years old, busting my ass, and they would see me many mornings picking up bagels for this lady and her friends, and the owner of the bakery asked me if I wanted to learn how to bake bagels.
So I was making bagels in the morning for a few months, and one day, the guy asked me to be his night baker. He was going to give me an extra quarter per hour to do it. So I took the night job. It was much slower than the morning job, and I'd get bored, so I started screwing around with the bagels, adding different kinds of seasoning to them: poppy and sesame seeds, for example. Then I added onion and garlic. And then salt. Plus, there were all those seeds that had fallen off in the oven. And I added them all on the same bagel. And just like that, the everything bagel was born. We started making the everything bagel every night.
So Who Really Invented it?
Christopher Pugliese, owner of Tompkins Square Bagels in New York City: I remember in the early '80s, I was working at Bake City Bagels in Gravesend, Brooklyn, and one day it just appeared. I have no idea where the everything bagel came from or how it got to our shop, but it changed everything. People were going crazy for it. I grew up watching Sesame Street in the 1970s. And sometime in the 1980s, Elmo became so popular that kids didn't care as much about the original residents of Sesame Street. This is what happened with bagels. The everything bagel is the Elmo of bagels.
Melissa Weller, pastry chef and bagel maker at High Street on Hudson in New York City: Isn't it possible that all three or four people came up with the idea on their own? In the bagel book The Bagel: The Surprising History of a Modest Bread, Maria Balinska writes about how it wasn't until maybe the early '80s or so when bagels were sold on the street. Before that, they were made in below-ground factories and then sold wholesale to other companies. But eventually bagels were sold directly to the public, and maybe that's around the time people started to get new ideas for bagels.
Joe Bastianich: I don't want to be competitive with the other people who say they've invented it. I know it doesn't always line up.
How Did More Become More?
Christopher Pugliese: I sell ten times more everything bagels than I do other bagels at Tompkins Square Bagels. It's crazy. If we have a problem with production, I just say to make sure that we have everything bagels. The others don't matter as much. I think we have less subtle palates than we did in the 1980s, and the everything bagel really just pops with flavor—which is maybe one reason why it's so popular.
Melissa Weller: I recently realized during a trip to France, where I felt like nothing was salted, that in America we put so much salt in everything that we have gotten used to saltiness. And I think the popularity of the everything bagel might be related to this. We overseason too much these days. People love the combination of sweet and salty together. It's got an umami aspect to it. Salted caramel, for example, or soft pretzels.
Joe Bastianich: It's crunchy, salty, the burnt garlic bits and onion—and this combination, and the immense flavor that you get. And the fact that in an everything bagel, the toppings are a bit more burned. It's that medium. You have to give it more time in the oven, and it gets a little more crispy. It's the impact it makes. The flavor. The texture. Add some salmon and cream cheese, and you've got the most epic dish of all time.
Brandon Steiner: If you can't make up your mind what kind of bagel you want, there's the everything bagel. It's really a party in your mouth.
Beyond the Bagel
Joe Bastianich: I buy the everything spice at Trader Joe's. I put it on popcorn. It's awesome. It's also good on pastrami sandwiches. I love that flavor. I would sprinkle it over a steak, but I haven't done that yet.
Melissa Weller: As for the usage of everything seasoning for other things, I've had it on a croissant. I'm not really a trend person. So I prefer it on a bagel. Do I need it on everything? No. There is a time and a place for it.
David Gussin: I love that Trader Joe's sells everything bagel seasoning. It went beyond the bagel. It's now on everything, including pizza and everything else. I've tried and it, and it's delicious. I put it in my eggs, on my steak, and it's excellent seeding. It's become a phenomenon. I love seeing the Trader Joe's seeds because I know where it was planted.
Paul Chen (chef and owner of Fan Fried Rice Bar in Brooklyn): In New York, people have bagels or bacon, eggs, and maybe potatoes for breakfast. We took all the essential elements and created a same-but-different flavor with the breakfast fried-rice bowl. It was partly inspired by my love toward the everything bagel, so I created a fried-rice version to pay homage to it.