Everyone Should Have a Gross Recipe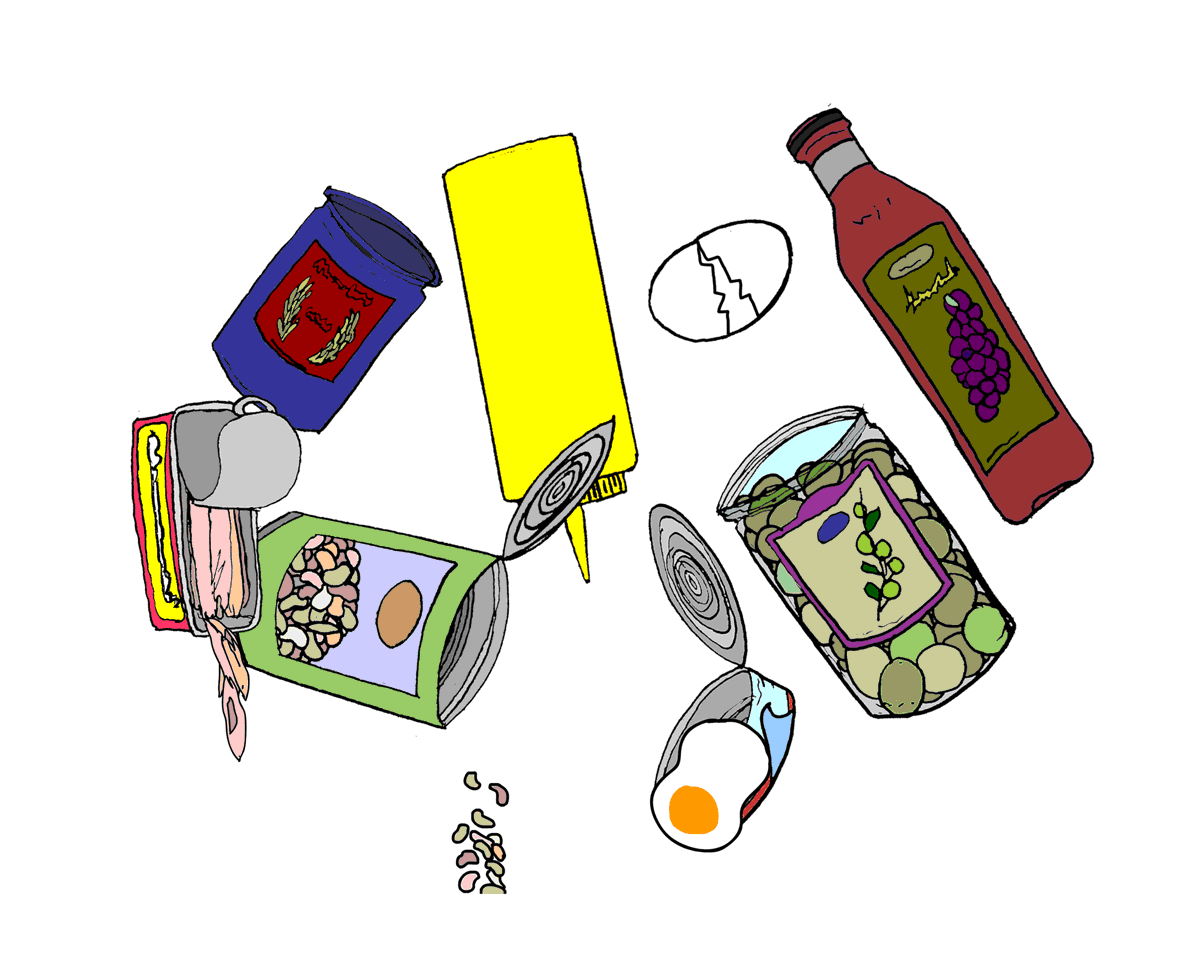 Sometimes your best recipe is a thing you would never in a million years serve to guests.
Here is the recipe for a dish that I, an adult human nominally very interested in good food, regularly cook. Put some canned beans (cannellini or navy are best) in a saucepan to heat through. In a large bowl, mix some canned tuna with a spoonful of capers, a chopped shallot, some diced olives, a dollop of Dijon mustard, two chopped green bird's eye chiles, and some red wine vinegar. If you're feeling fancy, add a raw egg yolk or some chopped canned anchovies or some good extra-virgin olive oil (or all three!). When the beans are on the "over" side of cooked (for me, this takes 5 to 10 minutes over a high heat), drain them and add them (still hot, this is crucial) to the mixing bowl. Use a tablespoon to beat the mixture into an abominable lukewarm beige paste. Eat, ideally from the same large bowl, ideally with the same spoon, ideally with no further accompaniment.
I call it Gross Tuna, because while it is one of my absolute favorite things to eat, I know that if I put it on your plate, or even simply told you what I had done, that is the word that you would use to describe it: gross. The acidity is off the charts. The salt content likewise. They work together, even in such extremes, because they have the creaminess of the just-hammered, basically disintegrated beans as a baseline (the beans' essential blandness also means the occasional bite of chile comes as a welcome surprise).
But you wouldn't see that. You'd see something whose color is the stuff of nightmares, a gray-brown-pink sludge straight out of a Cronenberg film; you'd smell something whose allium-and-tuna-jacked aromas would hang over you like human mosquito-repellent for days. You wouldn't eat it, but I would, and I have: countless times and on at least three continents, assembling it—or something like it—in domestic kitchens and at salad bars in Paris, Singapore, San Francisco, and Chicago.
It is one of a handful of what I think of as my Gross Recipes: dishes that I would never—could never—serve to any other human being but myself. I cook these dishes when I'm tired, or short on time, or sick; I can prepare them almost on autopilot, on muscle memory developed over years of repetition. I have made them a lot—and every time, I have given silent thanks that no one else was present to see what I was doing, the crimes against conventional cooking that I was committing.
Look closely enough at the Gross Recipes and you can trace their forebears—actual combinations of complementary ingredients that normal people cook in the real world. Gross Tuna is a mash-up between salade Niçoise and the Italian tonno e fagioli. Gross Rice is basically the fried rice you'd find on most street corners in Southeast Asia (rice, oil, garlic, maybe an egg) with the addition of a load of onions, peas, and carrots (why?!) and some extra seasoning (heaps of curry powder and Lao Gan Ma chile crispy, mostly). Gross Soup is based on the comforting stews my grandmother used to make in her home just outside London—a simple braise of chicken, onions, and carrots—but with multiple added carbs (pasta and potato, most frequently), huge quantities of black pepper, and the whole thing cooked down until it is basically mush.
A Gross Recipe is an expression of you: of the uniquely briny, spicy, bland, mushy, crunchy things at the core of you, in concentrations that the average person would find actively off-putting.
When I've raised the topic of my Gross Recipes, delicately, with friends, I've heard whispers confirming I wasn't the only one who did terrible things like this. One friend knows someone who regularly cooked pasta with tinned tuna, peas, and Greek yogurt (a hall of fame Gross Recipe, by the way); a cookbook writer of some standing said she didn't cook much disgusting stuff herself but would sometimes make pasta with tuna, mayo, and canned corn for her kids.
And then there was a recent episode of the Carbface podcast, on which Laurie Woolever described a Gross Recipe for what she called "poor man's blintzes" involving, eggs, cottage cheese, and maple syrup. I asked her to explain how it came into being. "For a while, I was making French toast for my son every morning before school, and there would always be a bit of egg and milk batter left over," she says of her Gross Blintzes. "One morning I decided to cook it in the pan, rather than tossing it. As I am always on some sort of high-protein diet, I decided to add a bit of the cottage cheese that I always have on hand."
A few weeks later, the recipe evolved to include a bit of maple syrup drizzled over the top, and Woolever found herself re-creating the blintzes even on days when she didn't have any French toast batter left. "I know that cottage cheese has a perception problem—it's lumpy, it's bland, it's semi-liquid—and I spent many years thinking I hated it for those reasons, but it makes so much sense at the center of this gross recipe," she told me.
Like every good Gross Recipe, Woolever's started with a normal recipe and ended up warped as a result of the very human drive to improvise and tinker. I recognized familiar themes: The monotone texture, the monochrome color, the speed with which it comes together, bringing idiosyncratic comfort that only a parent could love.
Every Gross Recipe is a story like this, one that we only ever tell to ourselves. A Gross Recipe is not something for outward consumption, a piece of performative gimmickry like the horror-show confections that used to be occasionally featured and fetishized in the magazine Lucky Peach. It is not a publicity stunt (like a politician ordering a cinnamon raisin bagel with lox). It does not appear on Instagram.
First and foremost, a Gross Recipe is an expression of you: of the uniquely briny, spicy, bland, mushy, crunchy things at the core of you, in concentrations that the average person would find actively off-putting. In cooking for others, we are always making compromises—in favor of decorum, preference, presentation, and hard-coded culinary norms that dictate what goes with what and in what quantity. A Gross Recipe throws all of that out of the window; it is one of few chances that any of us get—in a kitchen or elsewhere—to be who we truly are.
Even if who we truly are is a slurry of fish, pickles, and beans.