What Ever Happened to Sun-Dried Tomatoes?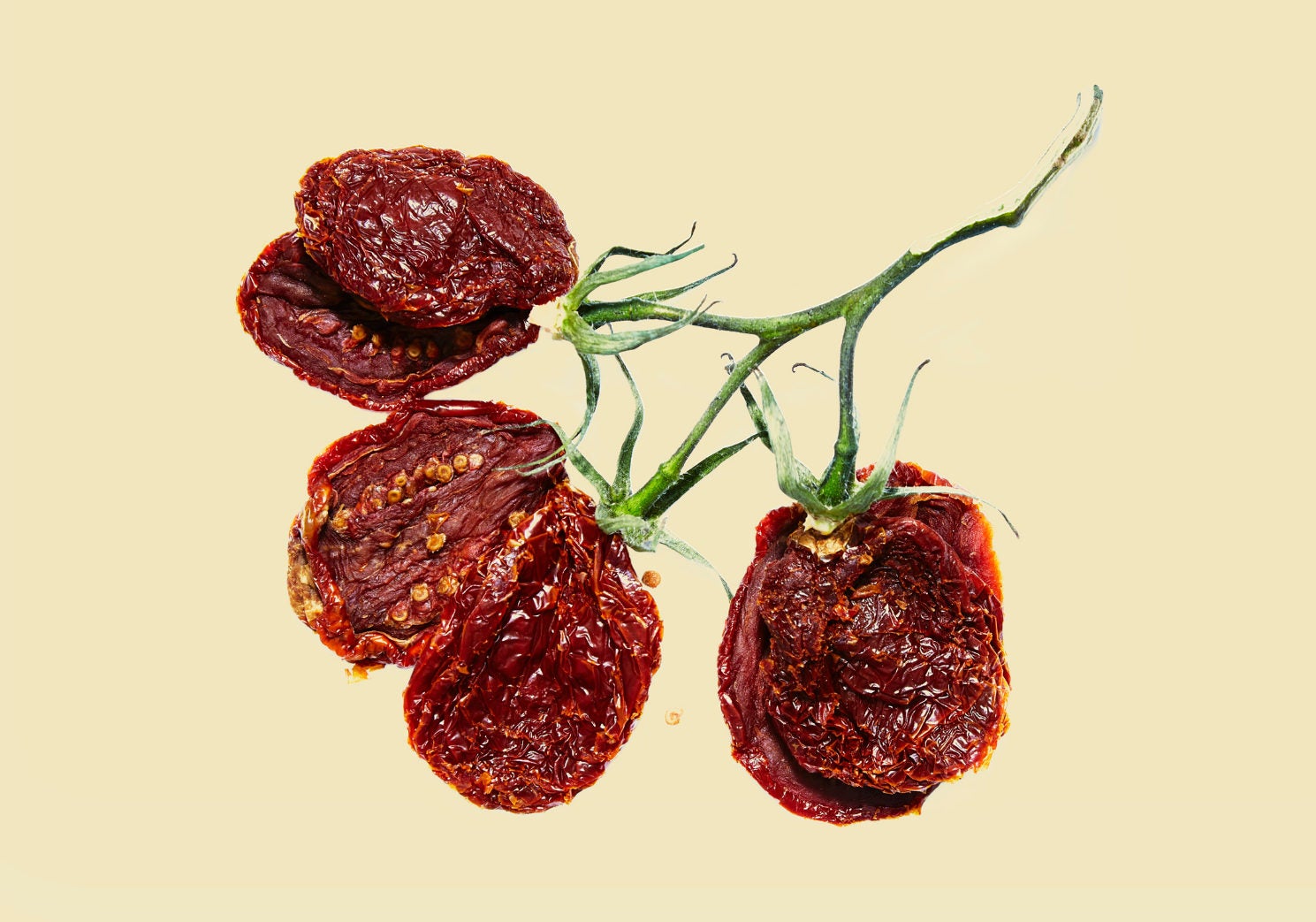 To some, they are flavor firecrackers and a beloved relic of the past. To others (cough Ruth Reichl) they are "an example of all the worst qualities of tomatoes."
For nearly a decade, sun-dried tomatoes—the wrinkly, umami-packed fruit made by laying tomatoes out to bathe in the sun for an extended period of time—were ubiquitous in American cooking. They were featured at both hip and workaday pizzerias, turned into a popular bagel flavor, and incorporated into half a billion dinner party salads during the Clinton administration. And the food media went wild.
But then, suddenly, they were gone. No chef would cook with them, and they were no longer welcome in the halls of Saveur. So what happened?
Sun-dried tomatoes themselves are a product of the Mediterranean region, mainly southern Italy. Tomatoes came to the boot from South America via Spanish explorers in the mid 1500s, and as it turned out, they grew exceptionally well in the Mediterranean's sunny, temperate climate. So that the tomatoes could be used throughout the year, people would dry them out on a rooftop and then preserve them in olive oil. The drying process, they discovered, brought out an intense, sweet and tart flavor in the tomatoes, so sun drying became a widespread technique.
Many chefs and writers I interviewed recall first seeing sun-dried tomatoes in the 1980s as an imported product from Europe in specialty food stores. This was around the time that two important shifts in food were happening: The Mediterranean diet was gaining popularity, and food magazines and cooking shows were on the rise, ushering in a push toward home cooking.
In 1975, scientists Ancel Keys and Margaret Keys published How to Eat Well and Stay Well the Mediterranean Way, and in 1993, the Harvard School of Public Health introduced the Mediterranean Diet Pyramid, declaring the heavily plant- and grain-based cuisine one of the healthiest in the world. Sun-dried tomatoes arrived in shops around the same time as other Mediterranean ingredients, like capers, olives, and anchovies.
David Kamp, the author of The United States of Arugula, notes that in New York, Dean & Deluca was one of the first places to really get consumers excited about these types of ingredients. But what made sun-dried tomatoes the most popular of these Mediterranean offerings, he adds, is that they were versatile and simple, and people already knew what dried fruit was. "They weren't too outlandish. You could use them in everything from salad to garnishing a chicken breast. And people loved the way they tasted," he says.
With the emergence of food magazines like Food & Wine in 1978 and Saveur in 1994, along with the premiere of the Food Network in 1993, entertaining at home became more popular than ever. "When we were starting Saveur, we were trying to represent a generation that was discovering the whizzy ingredients," says Dorothy Kalins, the founding editor-in-chief of Saveur. "Sun-dried tomatoes were this flavor firecracker, and a perfect way to get some flavor at a time of the year when nothing tasted good." Sun-dried tomatoes became an accessible luxury and a go-to seasoning for home cooks—a way to enliven a soup, stew, or pasta sauce, and a topping for a Greek salad, goat cheese pizza, or rosemary focaccia.
The 1995 cookbook Sun-Dried Tomatoes, which author and stylist Ethel Brennan cowrote with her mother, Georgeanne Brennan, was part of a series of single-subject cookbooks on trending ingredients, like goat cheese or herbes de Provence. Ethel Brennan says that Sun-Dried Tomatoes ended up going through several printings, far outperforming all of the other books in the series.
Chefs picked up on the trend, too. The restaurant Barbetta, in New York, claims to have served sun-dried tomatoes as early as 1968, when owner Laura Maioglio brought them back from her family's house in Italy—though Maioglio notes that sun-dried tomatoes weren't yet available in American stores at the time. More likely trendsetters were places like Square One, one of the very first pan-Mediterranean restaurants in America, which opened in 1984; chef Joyce Goldstein used sun-dried tomatoes in a chicken pasta and as a stuffing for Cornish game hen. Another famed San Francisco restaurant, Jeremiah Tower's Stars, was known for its grilled prawns with sun-dried tomato vinaigrette. Zabar's in New York was doing a salad with mozzarella, asparagus, and sun-dried tomatoes in 1985.
Amy Dencler, who has been cooking at Chez Panisse since the '90s, remembers using sun-dried tomatoes regularly as a garnish when she started. In a 1988 D Magazine write-up of trendy new spots in Dallas, sun-dried tomatoes are mentioned in descriptions of seven different restaurants: as a component of a red bell pepper soup at the Riviera, as a topping for a veal pizza at Sfuzzi, and in countless pastas across the city.
Sun-dried tomatoes were so widespread that the Los Angeles Times wrote in 1990, "It has become so common to open an Italian menu and find a listing for angel hair pasta with sun-dried tomatoes, virgin olive oil and fresh basil that it comes almost as a shock to scan a list and read a mention of spaghetti with meatballs."
But then things started to get out of hand.
Starting in the '90s, American tomato growers, seeing the popularity of sun-dried tomatoes, started to take part of their crop and dry them out not in the sun, but in commercial dehydrators. These tomatoes were much cheaper to produce and sell than the imported sun-dried tomatoes from Italy, enabling the ingredient to become even more mainstream—a staple not just for specialty food stores, but for any grocery store.
The problem was that these cheaper sun-dried tomatoes were also significantly lower in quality—much more bitter, and without the characteristic sweetness and intensity. "It's the good old American way," laughs Goldstein. "Not only did Americans use them too much, but then they made a version where there was no flesh left, and the flavor was totally leached out."
She blames these "damned dehydrated tomatoes" as the beginning of the end for sun-dried tomatoes in chefs' and consumers' minds. "If people had understood the quality and the texture of the good sun-dried tomatoes, people may have gotten into them for much longer," she says. "Instead, they just peaked for a couple of years."
Writers started to decry the annoyingly singular dominance of the ingredient. Ruth Reichl, who was the restaurant critic for The New York Times from 1993 to 1999, says she became frustrated by the way in which sun-dried tomatoes gave way to monotony on menus. "There is something really irritating about seeing variations of the same dish over and over again no matter where you go," she says. "It's a sign of chefs not following their own hearts and instincts. 'People like this; I'll find a way to put it on my menu' — I don't think that's the way chefs should work. That's the path to mediocrity."
Kamp recalls having squid ink pasta with scallops and sun-dried tomatoes and distinctly feeling like the trend had gone too far. "People were going aspirational-ingredient crazy," he says. "It wasn't the ingredient that was the problem. People were just using it in these inappropriate contexts."
Not only was this oversaturation happening in restaurants, but thanks to the new affordability of sun-dried tomatoes, commercial items like sun-dried–tomato-flavored bagels emerged in the '90s, along with sun-dried-tomato-and-basil-flavored Wheat Thins, and pinkish-hued sun-dried tomato tortillas.
As soon as sun-dried tomatoes entered the mass market, it was as if overnight they disappeared from menus and magazines alike. This is what happens, Brennan recalls. "Once anything moves out of an exclusive domain and into the public, and people are using it gratuitously and not in a way that is sophisticated with flavor," she says, "high-end restaurants weren't going to touch them at all."
By the late '90s and early 2000s, the initial novelty of sun-dried tomatoes had long since worn off. Dehydrated tomatoes were now more available than the authentic sun-dried version, and the only people championing them were large food corporations. Sun-dried tomatoes had moved into the realm of the passé, along with items like raspberry vinaigrette, cold pasta salad, and red velvet cupcakes. "They used to be a chef's way of saying, 'I am hip! I know what's new!'" Reichl says. "But when they weren't new anymore, people got tired of them. We were discovering all sorts of other ingredients, and sun-dried tomatoes just didn't have that same kind of cachet."
To this day, the sun-dried tomato's reputation as outmoded persists. PJ Calapa, chef of the southern Italian restaurant Scampi, in New York, remembers suggesting adding a sun-dried tomato dish to the menu and getting a tepid response: "My sous chefs were like, 'Chef, why would you do this with sun-dried tomatoes?' I felt like I couldn't even put the word on the menu because it had this negative connotation." When Calapa did eventually add the ingredient to the menu, as part of a mackerel crudo, "We called it a tomato conserva," he says with a laugh. "I don't know of any other ingredient that would have prompted me to have to do something like that. It's like, what did sun-dried tomatoes ever do to us?"
Calapa isn't the only chef harboring sympathy for the sun-dried tomato. Dencler says she really likes sun-dried tomatoes, and that Chez Panisse Café has started using them as a topper for pasta. At Lilia in New York, sun-dried tomatoes add a tangy punch to chef Missy Robbins's agnolotti filled with sheep's milk ricotta and saffron. The trendy new restaurant inside the Chicago Athletic Association, Cherry Circle Room, serves cauliflower gratin with sun-dried tomatoes (labeled as "blistered tomato" on the menu), as chef Pete Coenen says he likes how the tomatoes' acidity "cuts through the savoriness" of the dish. The Danny Meyer–backed salad chain Tender Greens, serves a tuna Niçoise salad with oven-dried tomatoes. And in the ultimate mash-up of '90s and 2000s trends: the newly opened Wow Donuts and Drips in Dallas is serving a sun-dried tomato basil doughnut.
Others, like Reichl, insist that sun-dried tomatoes ought to stay obsolete. "They are an example of all the worst qualities of tomatoes," she says, firmly. "Hard, chewy, not sweet, and without any of the lusciousness you want in a tomato."
But whether or not sun-dried tomatoes are poised for a comeback is almost beside the point. Sun-dried tomatoes are important in American cuisine because of the way that they, as a single ingredient, were able to open up the minds of consumers to an entire region of bright, briny tastes. "They changed the flavor palate nationwide," says Brennan. "You could be critical of the sun-dried tomato, but the truth is that they paved the way for a much broader interest and diversity in the food we were eating."
That midpriced restaurants serve bottarga in their salads; that there's a bar of nine varieties of olives at Whole Foods; that there are jars of capers situated next to the tomato sauce in most grocery aisles. For all this, you can thank the sun-dried tomato.