The Eton Mess Is Beautiful, Chaotic, British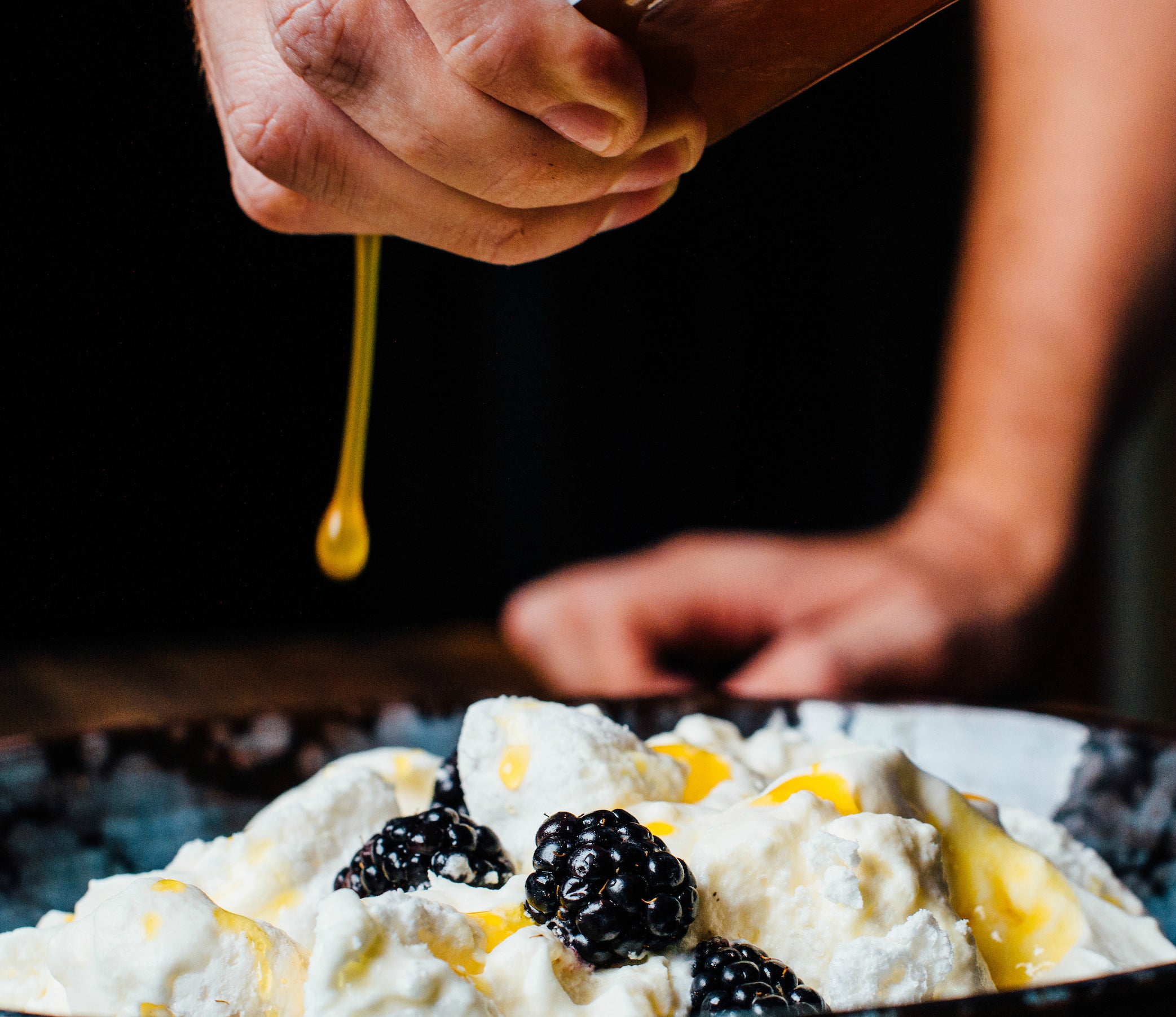 ­­Many years of eating, cooking, and writing about food have left Scott Hocker with many stories to tell. In this occasional column he re-creates a dish tied to a distant, or sometimes recent, food memory.
When I first ate Eton mess in 2011 it was less a disarray and more a meticulous calculation. Nubs of crunchy-chewy meringue danced with yogurt mousse and bands of blackberry jam—topped with a jumble of fresh berries, all stacked judiciously in a Weck jar and crowned with a scoop of mint-rosewater ice milk. It was a precise dessert from an exacting pastry chef, Shuna Lydon, who during various positions at Manhattan kitchens always kept her desserts seasonal—yes, as so many pastry chefs do, but also surprising.
I have always been drawn to meringue. The slick chew-and-shatter of French meringue. The sticky give of Italian meringue, a billowy type mounded on fruit pies. I think I ate more lemon meringue pies as a kid than Whoppers from Burger King. But the intersection of saccharine meringue, flowing cream, and ripe, tart fruit in Lydon's Eton mess at the now-closed Peels in Manhattan's East Village was everything I had never realized I wanted from a dessert. I knew hers was a florid, scrupulous interpretation of the classic British dessert. So what of Eton mess in its birthplace of England? What was this dish—first mentioned in 1893 and associated with a college founded in 1440 by King Henry VI—like in the country that created it?
Last month, my boyfriend, Brandon, and I wandered the United Kingdom for two weeks. A real vacation! I figured we might stumble on Eton mess during our wanderings, as Eton mess is a firm part of the vernacular of newish restaurants celebrating classic English dishes. Bothering to seek it out, though, was the least of my worries. With jet lag seeped into my bones, there would be no scouring restaurant menus for one specific dessert—er, pudding, as they call dessert in the Kingdom.
Our home base for a few days was Bath, at the foot of the Cotswolds, that absurdly bucolic area in south-central England. We headed north into the heart of those hills late one weekday morning for a hike. Or as they are called in England, a "walk." I wonder what the Brits call a "walk" without hills and sheep.
Lunch was the first order of business being that we had slept in. Our destination: the Wild Duck Inn, a 16th century pub in the hamlet of Ewen. Ivy stretched over the building's façade, and the warren of dining areas was like a Victorian garden maze that had transported itself to the 21st century. The food was classic with an eye to freshness: just-caught brill, local asparagus, and potatoes. I eyed the dessert—er, puddings—menu, and there it was: Eton mess with Somerset strawberries.
I hoped this kind of old dessert would still feel dynamic in its homeland in 2017. But we all know time can be cruel. Out came an accumulation of small meringue bumps, dense, rolling whipped cream and deep-red strawberries.
I was stunned. It was one of the finest desserts I have ever eaten. Clear, concise, and rich. The cream was barely sweet, but hefty with loads of butterfat. The meringue pieces were both crisp and soft. The berries were peerless. If this is a proper mess, may chaos reign across the world for all time.
I tried to replicate the Inn's Eton mess at home in New Orleans. Meringues are a bugaboo in the weighty, humid summer months of south Louisiana. They go soft and clinging. Still, it's worth the trouble. I like mine with unsweetened whipped cream. The meringues and the fruit, too, if you are lucky, are plenty sweet. Me, I choose fruit that has sharpness and some kick. Blackberries maybe. I sluiced passion fruit syrup across the mess, adding a yellow shock and more tang.
That's my mess, though. Do what you like with yours. Everyone's mess is always ultimately theirs and theirs alone.