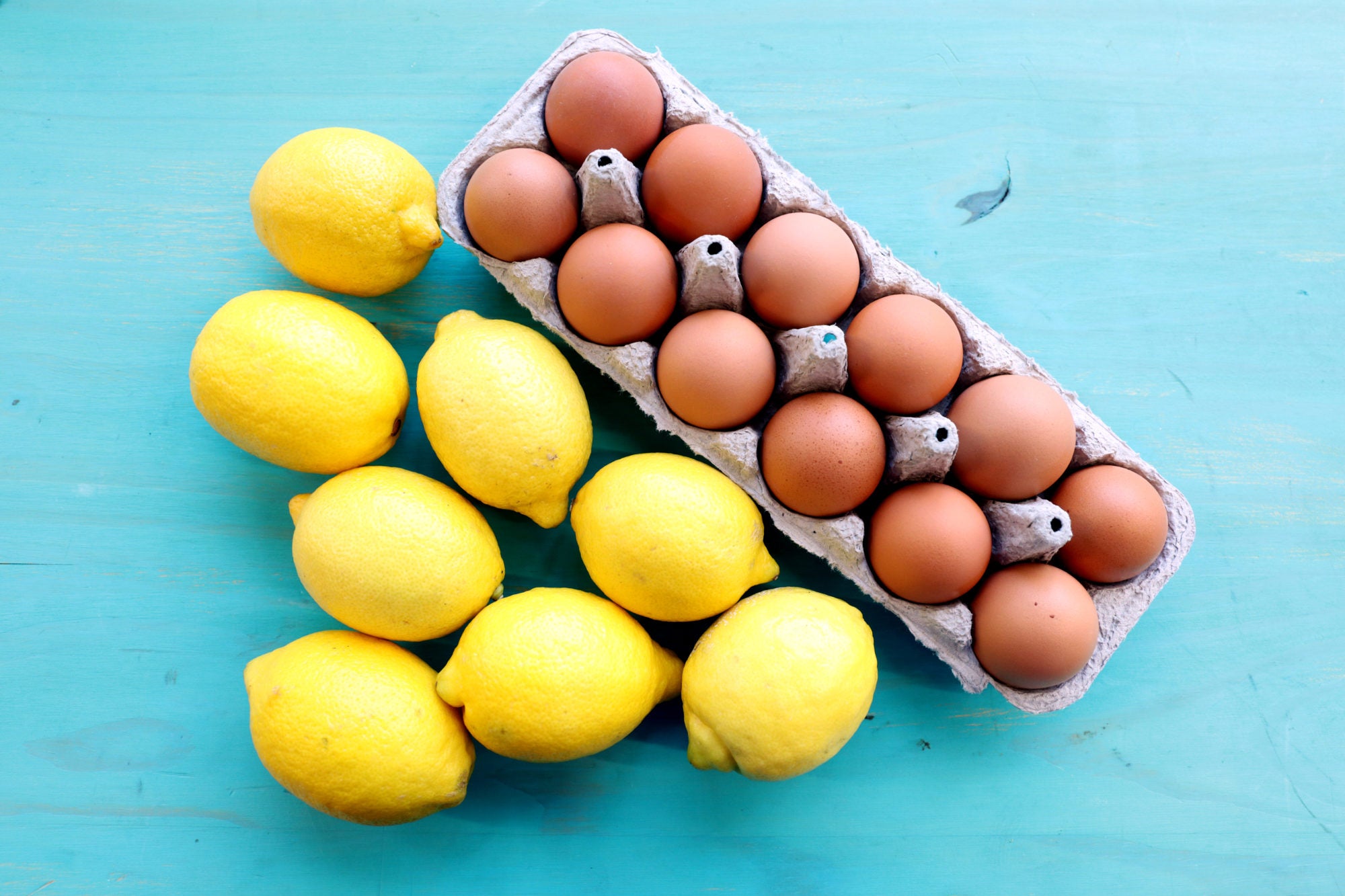 A bowl of Greek chicken soup is the gateway to the wide world of egg and lemon.
I was homesick, and sick, in San Francisco when fortune smiled upon me in the form of a bowl of chicken soup so silky and satisfying it felt like being tucked into a 1,000-thread-count robe after a warm, revitalizing bath. Because I was at an outpost of Souvla, a Greek fast-casual chainlet, the chicken soup was called avgolemono.
Together, egg and lemon make a mighty duo. Sweet applications of the pairing are plentiful: It's the combo that makes smooth lemon curd, bouncy puddings, and lofty soufflés, all of which are part of a compendium of desserts that I've always loved—I was that weird kid who wanted lemon meringue pie instead of chocolate cake and ice cream for his birthday parties. Gooey lemon bars and Shaker lemon pies are my bakery go-tos, and when given the opportunity, I'll be the jerk who orders a Ramos gin fizz at a bar, demanding that the bartender shake a good dose of lemon juice with an egg white (along with gin and some cream) for several minutes, until the drink rises from a tall glass in a frothy cloud.
But the avgolemono had me looking closer at savory egg-and-lemon applications. As simple as its ingredients may be, the soup deserves to be eulogized just as much as its more typically sweet egg-lemon brethren, to say nothing of mayonnaise and hollandaise sauce, those other infallible emulsions of eggs and acid.
Avgolemono is made using whole eggs, as opposed to just the yolks, a difference that Tony Cervone, the chef at Souvla, likens to the difference between a dense all-yolk pasta and one that's, well, not. The egg whites thin out the broth a little bit, while the ample squeeze of lemon juice at the end helps boost the flavor even more, producing something lighter and brighter.
Cervone says avgolemono isn't the only savory Greek dish that calls for the intermingling of egg and lemon. He's partial to magiritsa, which appears on Souvla's menu for special events and the restaurant's annual Greek Easter celebration. It's a dish that's reserved for midnight at the end of Lent, when Greek Orthodox families traditionally butcher a whole lamb and then slowly cook it on a spit. The offal is set aside and poached while the lamb is prepped for the fire, resulting in a hearty stock that is then added slowly to a blend of lightly whisked eggs and lemon juice. The mixture of the eggs and acid thickens and fortifies the stock, resulting in a flavorful, satisfying soup. It plays a similar role in the classic youvarlakia in avgolemono, or meatball stew, where it's combined with a light beef broth to create a thick, silky sauce that enrobes the meatballs.
Sephardic Jews have been using the combination of egg and lemon as a thickening agent—called agristada—in their cuisine for the past 500 years. The technique likely traveled to Greece after the Alhambra Decree of 1492, when Jews were expelled from Spain by the Catholic monarchy. Rather than relying on milk (in observation of kashrut, or Jewish dietary laws) as a thickener, they made agristada by combining egg and lemon with a slurry of flour and water (or stock). Agristada is still found Spain, where it's most often called salsa blanca or huevo y limón and served as an airy and elegant faux-cream sauce alongside fried breaded fish or cooked artichokes. The Jews who made their way to Italy, where they established Cucina Ebraica in Rome, adapted this egg-lemon sauce as bagna brusca or brodo brusco, to include garlic and sometimes anchovy. In Arabic, the same egg-lemon sauce/soup is called tarbiya, similar to the Turkish terbiye, both of which are indistinguishable from avgolemono.
When I returned home, I embarked on my own savory egg-lemon conquest. I discovered that whisking semi-opaque egg whites together with a singular radiating yolk creates a pastel palette that begs to be brightened with color and acidity. What fascinates me at this stage isn't the citrusy smack, but the fact that you now have sundry options based on the same two ingredients. The world, in other words, is yours.