The Cult of Old Bay: 8.3 Million Blue-and-Yellow Cans and Growing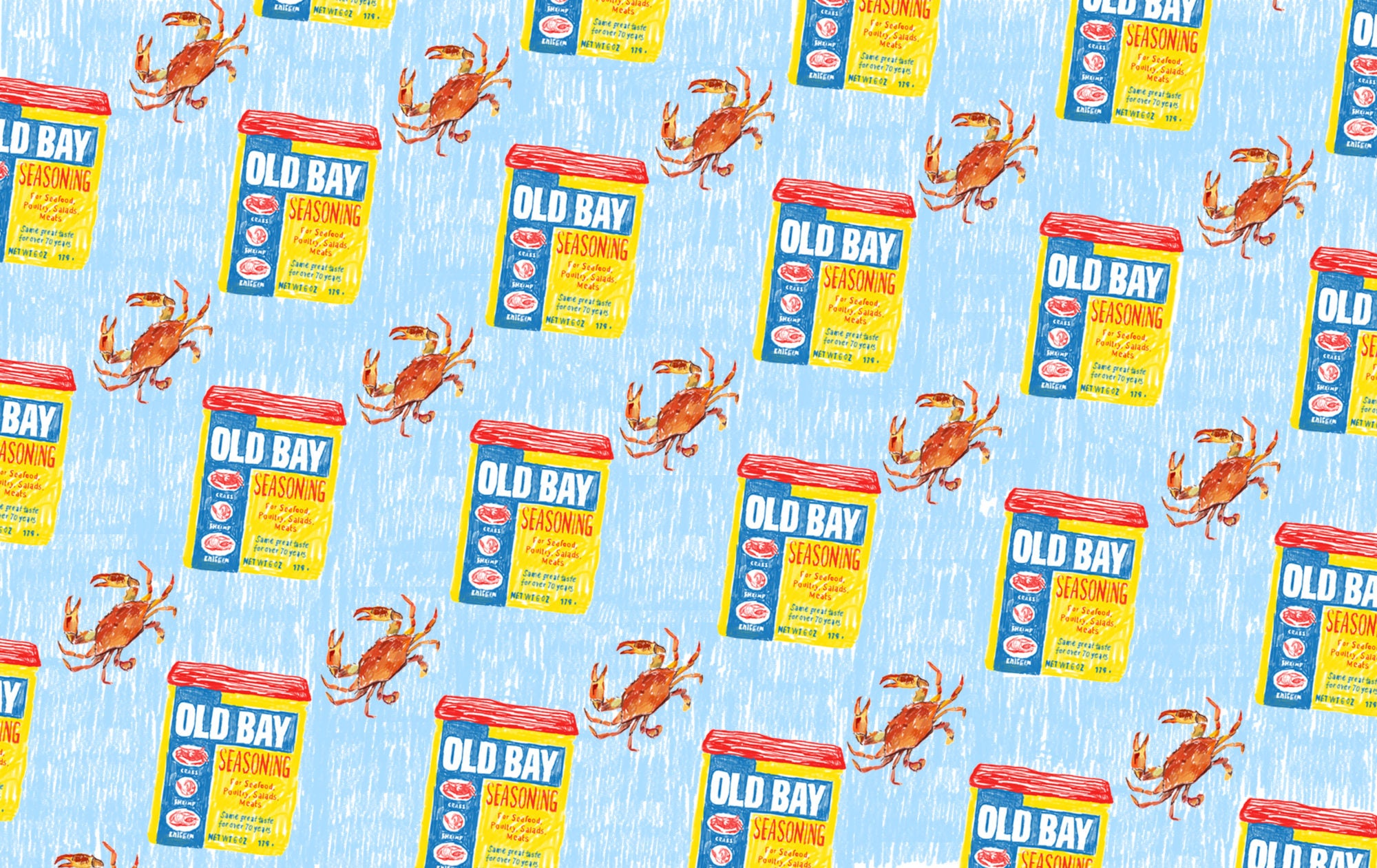 When a visit to the spice cabinet opens up new possibilities—and serves a spoonful of nostalgia.
"What are you doing?" my mother asked as she entered the kitchen and saw me standing in front of the spice cabinet, my right palm inches from my face. As she approached, I instinctively closed my hand into a fist to protect its contents from investigation. I was ten years old and didn't know what else to do.
"Open your hand."
I followed orders.
My mom instantly recognized the reddish powder that I had been licking out of my hand. She looked at me incredulously. "Are you eating Old Bay?"
When I was ten, I knew I loved Old Bay's salty, peppery, slightly sweet flavor. But I didn't know how to cook, so it made sense to me to skip the cooking part and just eat the seasoning directly. Today, my Old Bay consumption is a little more subtle: I may add a sprinkle of it to freshly popped popcorn, toss it with raw shrimp before searing them in a hot pan, or add a heavy shake to flour for dredging fried chicken. It lends instant layers to soups, perfectly spices drawn butter for seafood, and is hands down the best seasoning for french fries. Old Bay is, in short, a treasured part of my pantry and one of the most versatile spice blends I own.
I am, of course, not alone in my love of Old Bay: About 8.3 million blue-and-yellow cans of the seasoning are sold annually in the United States. Its devotees share recipes and stories in the Old Bay fan club and join the Old Bay Facebook page, which has 551,000 likes and comments like "I put that s#!t on EVERYTHING!" There are Old Bay hats, T-shirts, and Christmas ornaments. Snack food company Herr's sells a whole line of Old Bay–branded chips, cheese curls, and cheese balls; the blend has even been added to chocolate and beer. And more often than not in Maryland restaurants, you'll find shakers of it right next to the salt and pepper.
Old Bay's appeal lies in its marriage of sweet paprika, dried mustard, and varying amounts of celery seed, salt, black pepper, garlic powder, and other (undisclosed) spices. The blend was created in 1939 by Gustav Brunn, a Jewish spice merchant who fled Germany during World War II and eventually landed in Baltimore. While there's no definitive account of where he got the idea for the blend, the recipe is very similar to the robust and colorful spice blends that permeate Cajun dishes in Louisiana and the Gulf Coast.
Brunn started selling his "Delicious Brand Shrimp and Crab Seasoning" (Old Bay's original name) on the streets of Baltimore, but it didn't catch on because most home cooks and restaurant kitchens used their own sweet-and-savory spice blends—known as kitchen peppers—to season a variety of dishes, including blue crabs. That changed when a seafood wholesaler agreed to sell Brunn's blend to local restaurants, and Old Bay—named for a Chesapeake Bay steamship line—took off, eventually becoming a beloved staple throughout the Mid-Atlantic. The signature blue-and-yellow cans were simply marked "Old Bay: Sea Food Seasoning."
Old Bay's only competitor was a blend made by the Maryland-based McCormick & Company; to throw his rival off the scent (so to speak), Brunn listed 13 ingredients on his label even though Old Bay had only four primary ones. His deception worked: McCormick stopped making copycat blends and eventually bought the Old Bay recipe and trademark in 1990 for an undisclosed, and presumably hefty, sum.
While any Old Bay fanatic can tell you that its uses are endless, the spice blend's claim to fame is that it's the perfect accompaniment to crabs—preferably the sweet flesh and flaky texture of Maryland blue crabs. The seasoning sticks to the shells and flavors the meat with a tangy spice that lingers on your lips and tongue and turns your fingers orange-red. If you've ever been to a crab boil, or within a one-mile radius of one, you're familiar with the smell of a pile of freshly cooked crabs that have been generously doused with Old Bay and steamed with beer.
I certainly am: I grew up in Maryland, and just thinking of that smell makes my mouth water and fills my mind with memories of newspaper-covered tables, good music, a pile of cooked crabs, and the happy faces of people I love. But it's been over a decade since I've lived in the Mid-Atlantic, and blue crabs can be hard to find, so over the years I've learned to improvise.
When I lived in New England, I discovered through trial and error that Old Bay overpowers lobster meat but is a perfect match for the sweetness of little neck clams, especially when you add some butter and white wine. For a Super Bowl party, I once combined Old Bay with cumin and garlic in a mortar and pestle and rubbed it onto a whole pork butt that I roasted for hours and shredded into tacos. In New Jersey, I crusted lamb blade chops with the seasoning and a hefty pinch of salt before giving them a hard sear in a cast-iron pan, and then roasted turnips, kale, and radishes in the drippings.
No matter where I've gone, Old Bay has helped me make new ingredients and a new place a little more familiar. I may not eat it out of my palm anymore, but I do often look into my cabinet and think, What does this dish need? And usually the answer is the spice blend that tastes like home.