Eat More Vegetables. To Get There? Make Better Salad Dressing.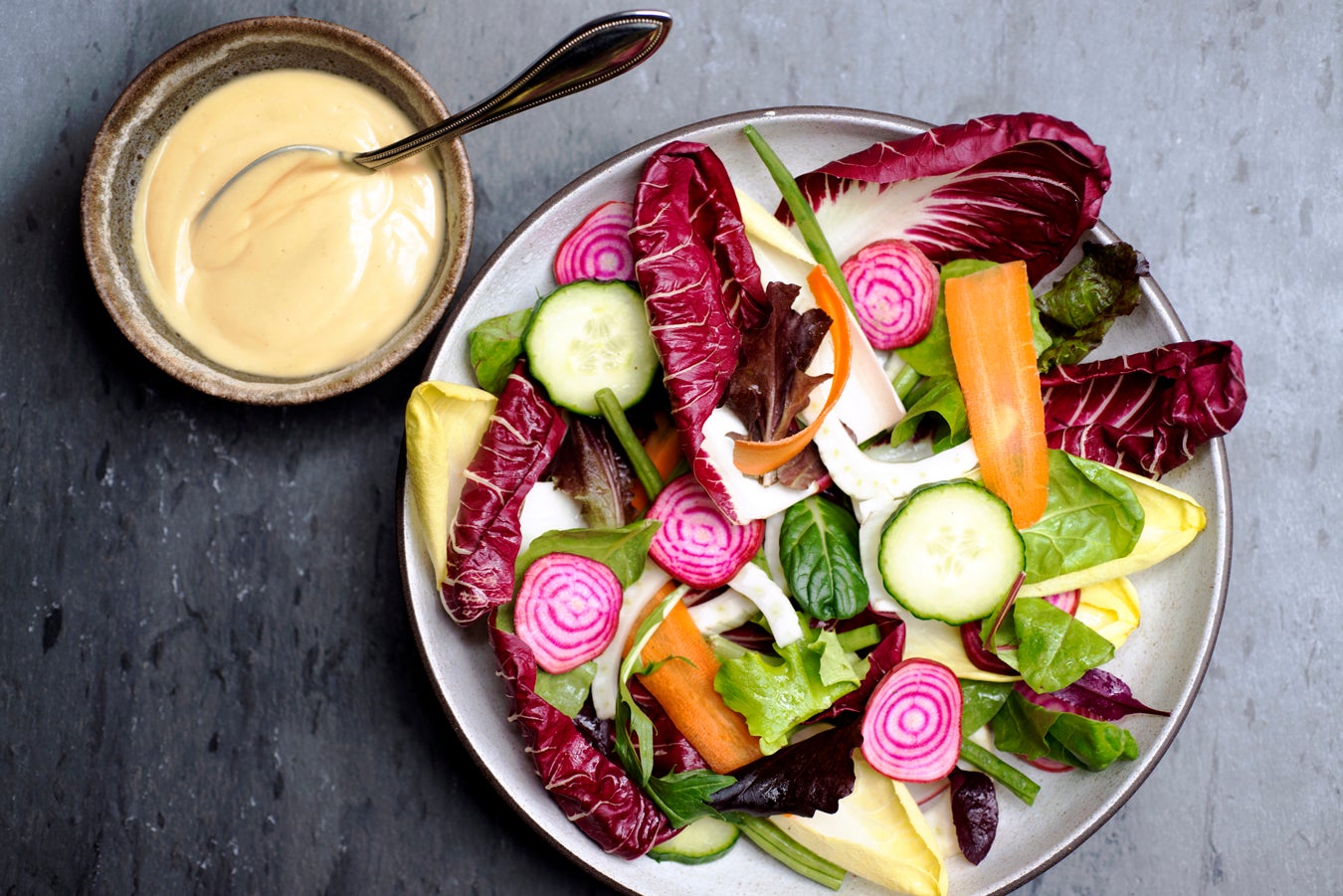 Making good salad dressing is one great balancing act. Fat and acid must align. Add too much and everything goes limp. Add too little, it's dry. We think we have some things figured out, with help from chefs and food writers: Rikki Giambruno, Gabriela Cámara, and Nancy Singleton Hachisu.
One of my greatest struggles in life is eating more vegetables. It's not that I don't like vegetables. In fact, I love them. But sometimes after a long day of work, the siren song of a juicy burger around the corner from the office is too strong to resist—or the thought of peeling carrots, chopping parsley, and measuring spices seems like a mountain too high when a pan-fried pork chop is plenty filling. Yes, I love vegetables, but I don't love prepping them at 8:47 p.m. on a Tuesday. My solution has been salads, or, to be more accurate, salad dressing—a really, really good one. If you have a dressing you love at the ready in the fridge, a helping of vegetables is just a shake of a jar away.
A dressing is what makes a pile of greenery a salad. Like a good rug, it ties everything together, albeit with acid and oil instead of color and pattern. Classically, these were dumb simple. (That's not to say that there isn't an art to the vinaigrette, which like so much in the canon of simple cooking can be easy to mess up if you're not paying attention.) In Essentials of Classic Italian Cooking, Marcella Hazan recounts the Italian proverb on getting it right. "For a good salad, you need four persons: A judicious one for the salt, a prodigal one for the olive oil, a stingy one for the vinegar, and a patient one to toss it."
The oft-cited oil-to-acid ratios for a vinaigrette are 3:1 or 2:1. Unfortunately, things can't just be that straightforward. Oils vary in flavor and bitterness, as does the acidity of different vinegars and even sharpness from lemon to lemon. I checked in with Rikki Giambruno, the executive chef at Franny's in my old Brooklyn neighborhood, to find out how one of my favorite vegetable restaurants works its magic. "We make a broken vinaigrette in the moment, tweaking a little here and there with salt or fat in the bowl," he says. "It's an active and alive process. The balance comes out of a good amount of sharpness, a good amount of fat—nice and light to showcase an ingredient." For that broken vinaigrette, which just means a dressing that isn't emulsified, Giambruno reveals that the proportion is often closer to 1:1 of lemon juice and really, really, really good olive oil—it's a far cry from that old Italian proverb, but it works. That ratio changes if the chef uses a neutral or nut oil, or if they use a red wine or champagne vinegar. Basically, your ideal vinaigrette proportion is entirely dependent on the ingredients you have and your very own taste.
No matter what your proportions, the amount of dressing you use is another balancing act: Too much and everything goes limp; too little, it's dry. Starting with thoroughly dried ingredients is key in getting your dressing to stick without sogginess. Forget the salad spoons for mixing it. The best way to do it is to toss the lettuces with your hands, slowly adding the dressing so that you can feel when the leaves are just coated and glossy.
For those of you who grew up with a side salad bowl, it may be a surprise to hear that it's not a universal dish. Outside of Europe and the Middle East, salads aren't really a thing. I caught up recently with Mexican restaurateur Gabriela Cámara, who owns Contramar in Mexico City and Cala in San Francisco, among a bunch of other places. "Our salads are our sauces and stews," she tells me over the phone. "Salads are a Western concept." Slices of avocado served as toppings and pickled vegetables are also more traditional vehicles for vegetables, not arranged and tossed in a bowl. Still, at Cala, Cámara makes a hybridized Mexican-American salad that changes with the seasons. Sometimes it's fresh beans with a pico de gallo–inspired vinaigrette, and other times it's bitter chicories with a creamy pepita dressing, a blend of pumpkin seeds with equal parts extra-virgin olive oil and a Californian chardonnay vinegar. In East Asia, the salad as we know it is something of a novelty, too. Nancy Singleton Hachisu, author of Preserving the Japanese Way, who is living everyone's dream life on an idyllic Japanese farm, tells me that bottled Japanese dressings are a fairly recent phenomena: "Classically, Japanese ate vegetables pickled or fermented (tsukemono), vinegared (sunomono), and dressed (aemono)." Still, Hachisu, who grew up in California, makes her own dressings with Japanese ingredients, like ground toasted sesame seeds with rice vinegar and a local rapeseed oil.
The dressings that Giambruno, Camara, and Hachisu all make are built on the idea of finding the most beautiful ingredients and just adding a hit of vinegar and oil to support their flavors. But here's the thing: I'm not Alice Waters, meeting local farmers each morning to pick through a rare box of just-sprouted microgreens. And I am not Yotam Ottolenghi, mixing 18 different vegetables and spices. On the weekends, when I can grab a handful of pea shoots or delicate lettuces at the farmers' market and eat them a few hours later, that chef-y vinaigrette-to-taste made with pricey oil and vinegar is the way to go. But my vegetable struggle is on weeknights, when a plastic tub of greens bought several days prior is what's for dinner. On those days, I rely on a souped-up vinaigrette that provides its own pop of flavor. This dressing is dialed in to my life's shortcomings: my prewashed greens, my weeknight lethargy. We cook for the lives we have, not the lives we want.
I stole my ideal vinaigrette from my father, who adjusted a recipe from an old cookbook called Noodles Galore over the years until it became his own. It's lip-smackingly good—a mustardy, garlicky lemon vinaigrette that is rounded out with a nearly imperceptible amount of sugar that just smooths the acid's sharp edges. I've changed it up to swap in a couple ingredients with bonus health benefits: raw honey instead of white sugar, red wine vinegar instead of white vinegar. I can make it on a Sunday in less than ten minutes. It's my go-to, all-purpose dressing: I like keeping a bottle at work for a robust lunch salad, it's good at dinner for some quickie greens, and even I love it for a breakfast salad. I'll take one over a bone-chilling green juice any day of the week—just ask the Israelis, who often eat a mix of cucumbers, tomatoes, and red onion in the morning.
Now, as much as I love my vinaigrette, part of keeping the salad train going is changing up the scenery. So I also swap in one or two other dressings. I make a miso dressing with just rice vinegar, a touch of honey, and walnut oil. The great thing about miso, the Japanese fermented paste, is that the producer has already put in a ton of work to develop its flavor so you don't have to do much. Hachisu uses brown rice miso for her dressings, but I like to use the more common white miso since ideally you use up a miso within a couple of months of opening a jar, and I'm not using four different kinds of miso every day. It's a tad more sour, so I mix in a touch of honey just to soften it. Walnut oil may seem like a funny choice for an Asian-inspired dressing, but when I got back from Grenoble, France, where they produce some of the best walnuts in the world, with a bottle in tow I found that its mellow nuttiness works well with Japanese-style ingredients. It plays better with other ingredients than sesame oil, which is often dumped into Asian-inspired dressings and can have a bullying presence.
In addition to mixed salad dressings, making a creamy dressing to eat dip-style with crudité is an easy way to make crunchy vegetables disappear. I've seen good crudité—meaning fresh, good-looking vegetables, like fennel and endive, instead of dried-out baby carrots and celery—disappear faster at a dinner party than cheese and crackers. When I'm making it for myself, I'll cut up a manageable one or two different kinds of vegetables instead of the more impressive array for company. For mine, I take the basic idea of a homemade ranch dressing and work in a little Latin flavor. Jicama matchsticks, quartered radishes, and Persian cucumbers cut lengthwise all make nice companions, but it's also good drizzled over some hearty romaine lettuce leaves. If I'm having some tacos or a quick sandwich, this is the vehicle for delivering a boatload of vegetables with maximum ease. It even goes well alongside a burger.