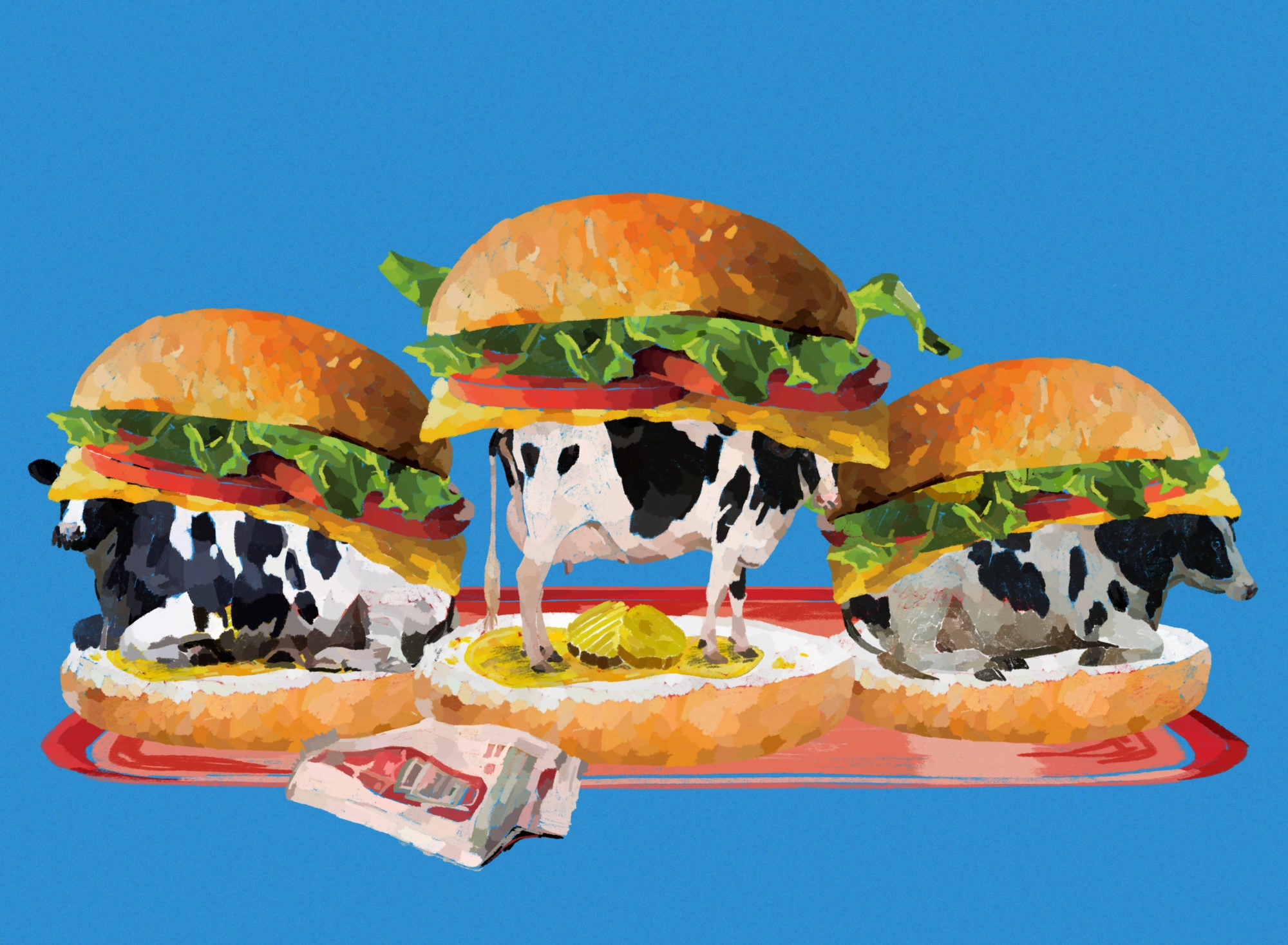 Holsteins, Jerseys, and other dairy breeds are being used for meat once the milking is done. And it's turned out to be some of the best-tasting beef around.    
Nine years ago, Claire Herminjard was scanning USDA slaughter records when she landed on an interesting data point: 15 percent of beef comes from the dairy industry.
The data point contained a world of promise. Herminjard, a Duke University grad with a degree in public policy, was looking to leave the San Francisco tech industry to launch a business related to sustainable "worry-free beef." The USDA records told her that dairy cows could also be used for meat after their milking careers concluded, when they were five or six years old. Shortly thereafter, Herminjard noticed that milk was one of the fastest-growing categories in the organic market and made another discovery: Organic dairy-cow meat—from animals raised free of hormones, pesticides, and GMOs—was being sold in the conventional (non-organic) market.
"You had certified organic beef mixed into feedlot beef," she says, meaning that even though it was certified organic, it was mixed in with nonorganic meat and sold under that label. She started reaching out to organic dairy producers in Marin and Sonoma counties in California to partner with them, paying 40 percent more than the conventional market rate. In 2011, just two years after looking through those slaughter records, she launched Mindful Meats. In America, milk prices are historically low and small dairy farms are struggling to stay afloat, with many shutting down and farmer suicides rising, so this additional stream of revenue was vital for many.
Most American beef cattle, of which there are hundreds of breeds, including Angus and Hereford, are fattened quickly on a diet of grains. This is so that they reach market weight in about one year and can be slaughtered by the time they're two years old. The dairy breeds, like Holsteins, Jerseys, and the cross-breeds that Mindful Meats procures, are between five and six years old on average, with some as old as 13 or 14. While a single beef cow typically turns into 600 pounds of meat, the dual-purpose cows—those used to produce dairy and later beef—produce about 80,000 pounds of food in total, including milk, cream, butter, and beef. Typically, dairy cattle, which are skinnier after a lifetime of expending energy to produce milk, are made into hamburger meat, stew meat, and animal food.
Originally, Herminjard assumed that the older dairy-cow meat, as opposed to the beef produced by younger cattle, would be too tough for anything other than ground beef. "Ranchers and butchers first told me, 'Good luck finding good steak,'" she recalled. But when she harvested the first two cows and sent them to some local chefs, they came back with surprising feedback: "This is the best beef we've ever had."
In her quest for sustainable meat in America, Herminjard had unwittingly stumbled onto a culinary tradition of mature meat that has roots 5,500 miles away in Spain's Basque country.
One of the world's premier suppliers of mature meat is Txogitxu in San Sebastián, a coastal city known for its abundance of Michelin-starred restaurants in Spain's northern region. When I called up Imanol Jaca, the butcher-owner of Txogitxu, to ask him about this Spanish tradition, he was quick to correct me, noting that it was a Basque tradition—a characteristic display of the region's fierce independence. "In January and February, you go to the cider farm houses to taste the cider and buy it for the year. Originally, the cider men gave clients salt bacalao. About 100 years ago, they started giving meat instead."
Today, in Basque country, most restaurants serve txuleton (pronounced choo-le-ton), a plancha-roasted rib steak of heavily marbled mature meat distinctive for its deep cabernet color, extra-beefy flavor, and thick layer of yellow fat. "The taste of old cow is very different from young cow," says Jaca, who prefers very old and very fat cows. "It tastes of cream, milk, and grass."
Jaca sells about 1,500 kilos of beef, typically from Frisonas instead of Holsteins or Jerseys, every month to restaurants and markets in Spain and elsewhere in Europe, including San Sebastián's three-Michelin-starred Arzak, Paris's famed market La Grande Épicerie, and the Basque restaurant Sagardi in London. He visits old-fashioned farms throughout Europe, selecting 5 to 10 percent of the retired dairy cows and oxen he sees, which are typically between 12 and 20 years in age.
If eating the meat of dairy cows seems like an obvious and economical old-world custom, one merely lost in the rise of quick-to-market factory farming of America, it's surprisingly not. Even in Europe, eating the meat from dairy cows, which typically have less meat on them, is rare. "I travel all over, and I have not seen any place [where mature meat is sought out]," Jaca tells me. When he first tried to sell his meat to French chefs, they told him, "You are crazy," but they changed their minds after trying the product.
Due to FDA restrictions, you can't get Jaca's meats in the U.S., which makes Mindful Meats all the more unique in America. That may be why it's on the menu of Mission Chinese Food in San Francisco and Spanish chef José Andrés's Bazaar Meat in Las Vegas, which offers a vaca vieja—"old cow"—dish on the menu. "Instead of an irony flavor, like young grass-fed cows, or the oily taste, like from grain-finished [ones]," says Herminjard, "you get a clean flavor profile and sweet aftertaste."
Chef-owner Dan Barber of Blue Hill at Stone Barns also uses retired dairy cows from the restaurant's working farm and prefers them. "Retired dairy cows have been alive as a working animal for about five times longer than your average beef cow," says Barber. "In the case of grass-fed cows, that means five times more time spent roaming on pasture and developing intramuscular fat. And then, after the cows are weaned from milking, all of the energy that had previously gone into producing milk gets dispersed throughout the animal's body. What you get is this super delicious and complex flavor you cannot find with conventional beef. It's really unbelievable."
Even though restaurants are just starting to turn to retired dairy-cow meat, it's already served at several California public schools, thanks in part to Herminjard. She started working with the food supplier Gold Star Foods and directly with a number of local schools, including the Sausalito Marin school district and three in Los Angeles, as well as universities, such as Santa Clara University and Notre Dame University. At Oakland Unified School District, which encompasses 30 schools, she collaborated with former farm-to-school supervisor Alexandra Emmott, who recently moved to the San Francisco school system, to figure out recipes that worked with the school's budget. "Oakland is about 72 percent eligible for free and reduced-priced school meals—that's low-income," says Emmott. "But more folks are struggling than are reflected in the number." Budgets are tight, but the school board made healthy food a priority.
"It tastes of cream, milk, and grass."
"We wanted to do better-quality, more local meat," she added. "And precooked options were really expensive." That meant using raw product, and to do that, Emmott had to overhaul the school cafeteria kitchen, bringing in new kitchen equipment, funded by government grants, and developing more from-scratch recipes, like fish tostadas and "mojo" chicken, roasted drumsticks seasoned with adobo spices. Mindful Meats was one of two suppliers that could consistently deliver beef at an affordable price point, but there was one hitch with using retired dairy-cow meat. While steak connoisseurs delight in the deep, rich color of mature meat, the school cafeteria workers voiced concern over the ground beef that came shades darker than pink commodity meat. Staff trainings quelled any anxiety.
For the organic, GMO-free ground beef from Mindful Meats, Emmott developed two recipes: a taco wrapped in a Mi Rancho tortilla and a chili with tomatoes from Joaquin Valley. She also leaned on another old-world technique: adding beans (in this case pinto and kidney) to stretch out smaller quantities of higher-quality meat.
"We decreased our food costs by 5 percent by increasing from-scratch cooking," says Emmott. "In Oakland public schools, we're ahead of the curve in serving fresh produce and whole grains." The same goes for retired dairy-cow meat, too. Now the rest of the country just has to catch up.