And the Secret to Amazing Hummus Is…Butter?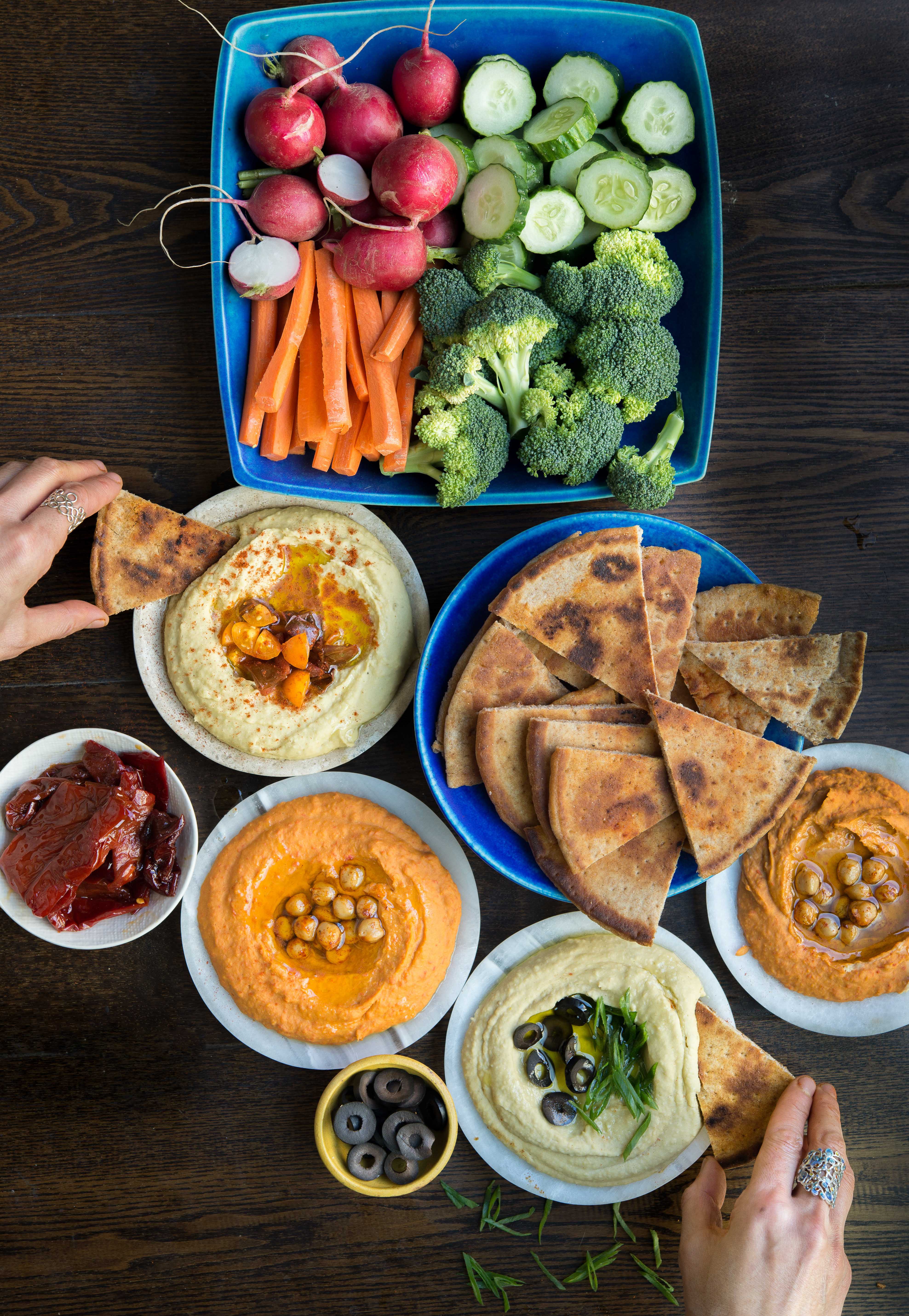 The mezze plate at Sofra, an incredible Turkish restaurant in Boston, consists of five vibrant scoops, each a microcosm of deliciousness: bright magenta beet tzatziki; earthy Moroccan carrots; a spicy, oily, yogurt-y lebneh; some smoky, tangy, eggplant-y something; and a hummus to die for. Oh, it is so good.
What makes this hummus so lush and velvety and lemony and rich? The secret is…butter. There is no tahini, and I don't like tahini anyway, but you can add some if you must. You could also add any of the following if you're into it: pomegranate molasses, mint, cilantro, smoked paprika, cayenne, ground coriander, pickled jalapenos, roasted red peppers, or sundried tomatoes.
To make this worthy of dinner, my version of the chef's wonderful hummus is served with plenty of pita chips and carrot sticks and bell peppers for dipping, everything cut up nice and bite-sized to minimize the urge to double back into the bowl.
To finish the dish, you can garnish it with chopped fresh tomato, slivered scallions, sliced pitted olives, or crumbled feta.
WARM BUTTER HUMMUS
Makes about 2½ cups
This is a riff on Ana Sortun's warm buttered hummus. She uses more butter and olive oil than the recipe calls for (believe it or not) and also garnishes the dip with a kind of cured meat called basturma before baking it in the oven. As you can see, I'm not doing that here, but it's still delicious. It is even better with freshly cooked chickpeas (I use a pressure cooker), but I rarely make it that way.
INGREDIENTS
2 cans chickpeas (or 3 cups freshly cooked chickpeas)
2 cloves garlic, smashed and peeled
3 tablespoons freshly squeezed lemon juice plus ½ teaspoon freshly grated zest
½ teaspoon ground cumin
1 teaspoon kosher salt
6 tablespoons butter, melted
6 tablespoons olive oil (plus additional, for drizzling)
DIRECTIONS
1. Dump the chickpeas and their liquid into a microwave-safe bowl and microwave them until they're hot (2-3 minutes). Drain the chickpeas and reserve ½ cup of the liquid.
2. In the bowl of a food processor fitted with the steel blade (or in a blender), whir together the chickpeas, 3 tablespoons of the reserved liquid, the garlic, the lemon juice and zest, the cumin, and the salt.
3. With the motor running, drizzle in the butter and oil and process until creamy and light. Add another tablespoon or two of the chickpea liquid if the hummus seems too stiff. Taste it and add more salt, lemon juice, lemon zest, or garlic if the flavor needs a boost.
4. Scoop into a bowl, drizzle with olive oil, and serve with raw vegetables and pita chips for dipping.