Double the Grated Cheddar, With a Kick of Sriracha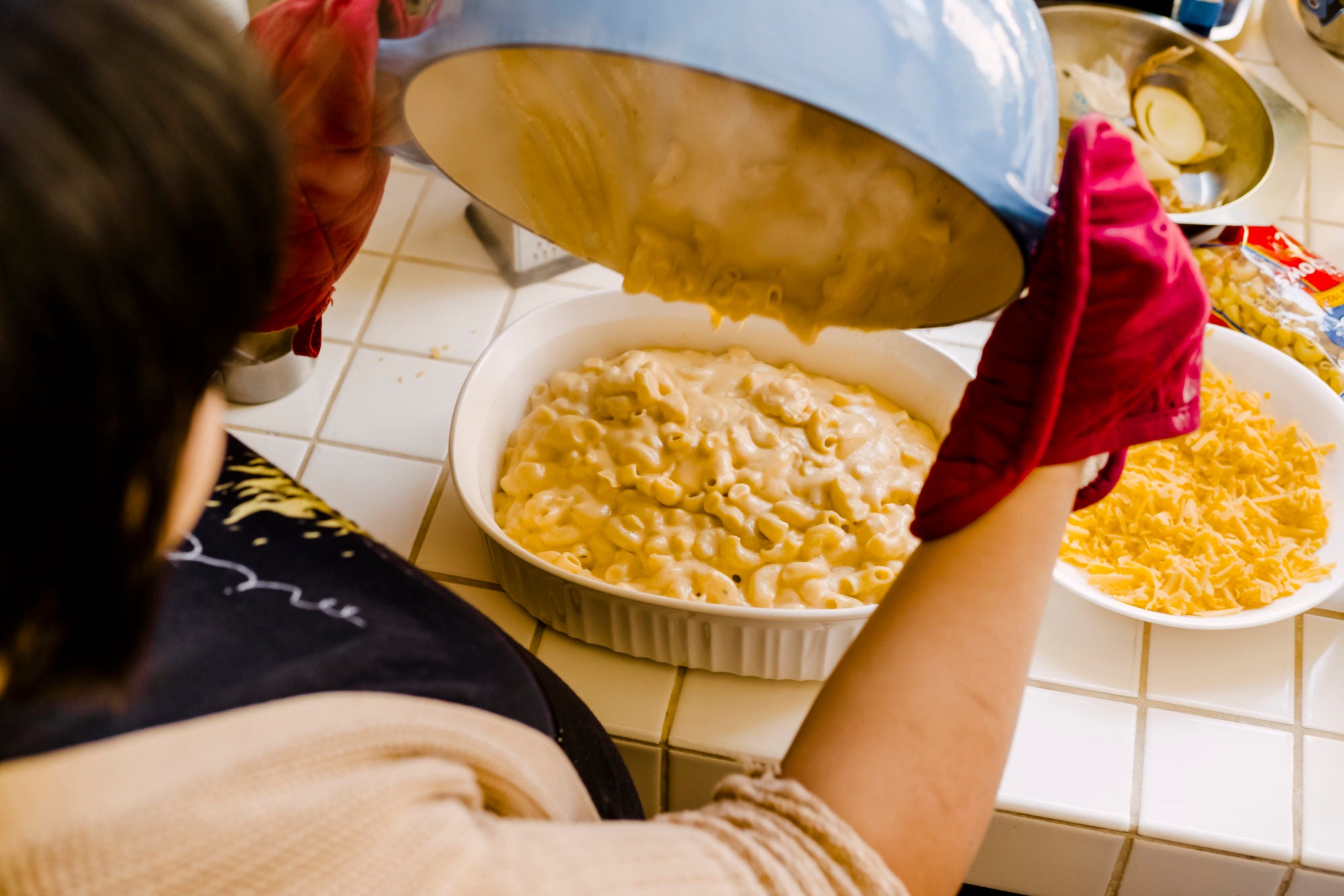 Andi Bui is drawn to the specificity of her American family, which includes two Vietnamese parents, a half-German husband, and their two multicultural children.
I've long struggled to understand the meaning of Americanness. What color is American? What flavors? Textures? It's clear that there is no one way to be American or to fully, clearly express that in the kitchen. Our cravings as a country are vast and varied—and it shows in the food we prepare at home. In one room, many generations abide: mother, daughter, grandson. In another room we extend our hands like a hyphen to join lives: German-Vietnamese, American-immigrant, Elder-Child, Adult Child–Adult Mother. Our fridges are packed with kimchi and sauerkraut, congee and rice puddings. We eat Italian bread, French bread, potato rolls, white country bread. Some of us are proud omnivores; others of us have made commitments to veganism—all sharing a roof despite our politics.
The Bui-Kanady home in Irvine, California, exemplifies this. The elder Buis, Yen and Phiet, met in Long Beach while both attending college in the 1960s. Yen was born in Saigon and Phiet in Nha Trang. They returned to Saigon in 1972, living there until Saigon fell to the Viet Cong in 1975. In fact, many Vietnamese moved to Irvine, living alongside Iranian-Americans, many of whom moved to Irvine after the 1979 Islamic revolution, making Irvine one of the few Orange County cities where there is a large majority of Asian-Americans—about 39 percent of inhabitants in Irvine identify as Asian-American.
Their American-born daughter, Andi Bui, is a 28-year-old Vietnamese-American mother who is now sharing a home with her parents in her childhood home in Orange County, California. Andi is married with one son; a daughter is due in May. Their intergenerational home comes most alive in one place: the kitchen. Both Andi and her mother learned to cook as young adults in their 20s, and as a teen Andi experimented primarily with instant ramen in the kitchen. Her mother loved to host parties for their Vietnamese neighbors at their home but often relied on catering for their buffet-style parties.
Among photographs of Andi's first child, Joel, and their friends and family members, there's a little magnetic dry erase board with the menu for the week spelled out. There is a little bit of everything written out—from mac and cheese to leftovers from their Lunar New Year celebration a few days prior to us meeting. "Joel will eat anything in front of him," Andi tells me while keeping a watchful eye on her son, who is mixing dried macaroni pasta between sieve and mixing bowl. "He's very accustomed to Vietnamese flavors. He asks us to put sriracha in his pho. He loves spicy food."
Joel happily exclaims "Salsa!!!" before returning his attention to the business of mixing up the macaroni pasta. In the span of a couple minutes, Italian, Mexican, Vietnamese, and black Southern-American influences have all appeared in the kitchen. Andi blankets the macaroni with her roux-based cream sauce that is sharpened with a kick of sriracha. The recipe is adapted from a slim volume, The Sriracha Cookbook by Randy Clemmons. After preparing a few iterations of the recipe, Andi ended up on a winner: a version with double the amount of fresh grated cheddar cheese and a specific special touch her husband loves—fried Vietnamese shallots topping a buttery, crispy panko topping.
Moving in with her parents as an adult has provided Andi and her husband, Jacob, clear perspective on how to negotiate multiple food preferences and tastes. "It changes the type of food that we cook," Andi says. "When it was just my husband, me, and my son, we were just trying to get a quick meal on the table after work. When you live with more people, you can kinda sit on a Sunday and make something that takes a little longer—we're individually finding things that sound appealing, and now we're trying recipes out together."
Her mother, who immigrated to California as a teen, is grateful to be able to share a home with her daughter while watching her grandchildren grow up in the same neighborhood and house Andi grew up in. "When Andi was younger, we didn't have a chance to cook together because I was working with a long commute, so now having my adult daughter with me, it is a big blessing."
One of their favorite recipes to collaborate on is chả giò, Vietnamese fried egg rolls. Andi and her mother sit down around a circular white table, Yen peeling the delicate, translucent skins of dumpling wrappers they will fill with soaked vermicelli noodles, ground chicken, oyster sauce, sugar, and salt while Andi carefully writes down each measurement and suggestion from her mother for how to "personalize" the egg roll filling mixture ("Some people don't like wood ear mushrooms, but Vietnamese like it a lot," Yen says to me with a wink and smile).
I ask Andi whether the time her children will spend in the kitchen might influence them both down the line. "Our goal is to have Vietnamese traditions be a casual and positive part of their lives. Because we live in the United States, they'll get the Western influence regardless, so the more we can have Vietnamese culture be a part of their lives at home, the more they can have something to lean on."
When your neighbors have similar stories of fleeing homelands for fear of persecution, when their children are first-generation, when it isn't uncommon to speak some Farsi, some Vietnamese, some Spanish because your friends have grown up multilingual, you find that you are American in very specific ways that help to broaden the notion of what nationality can mean.
Sadly, Andi's grandmother passed away young, so she didn't grow up with an elder matriarchal figure, but her children will get to grow up and cook with three generations of women connected by culture, food, and hyphens.
Do the foods we pack into our pantries and refrigerators give us insight into what it means to be American? We think so. In this series we visit home kitchens in Los Angeles to explore the nuances of home cooking in 2018.