Don't Overlook the Georgia Oyster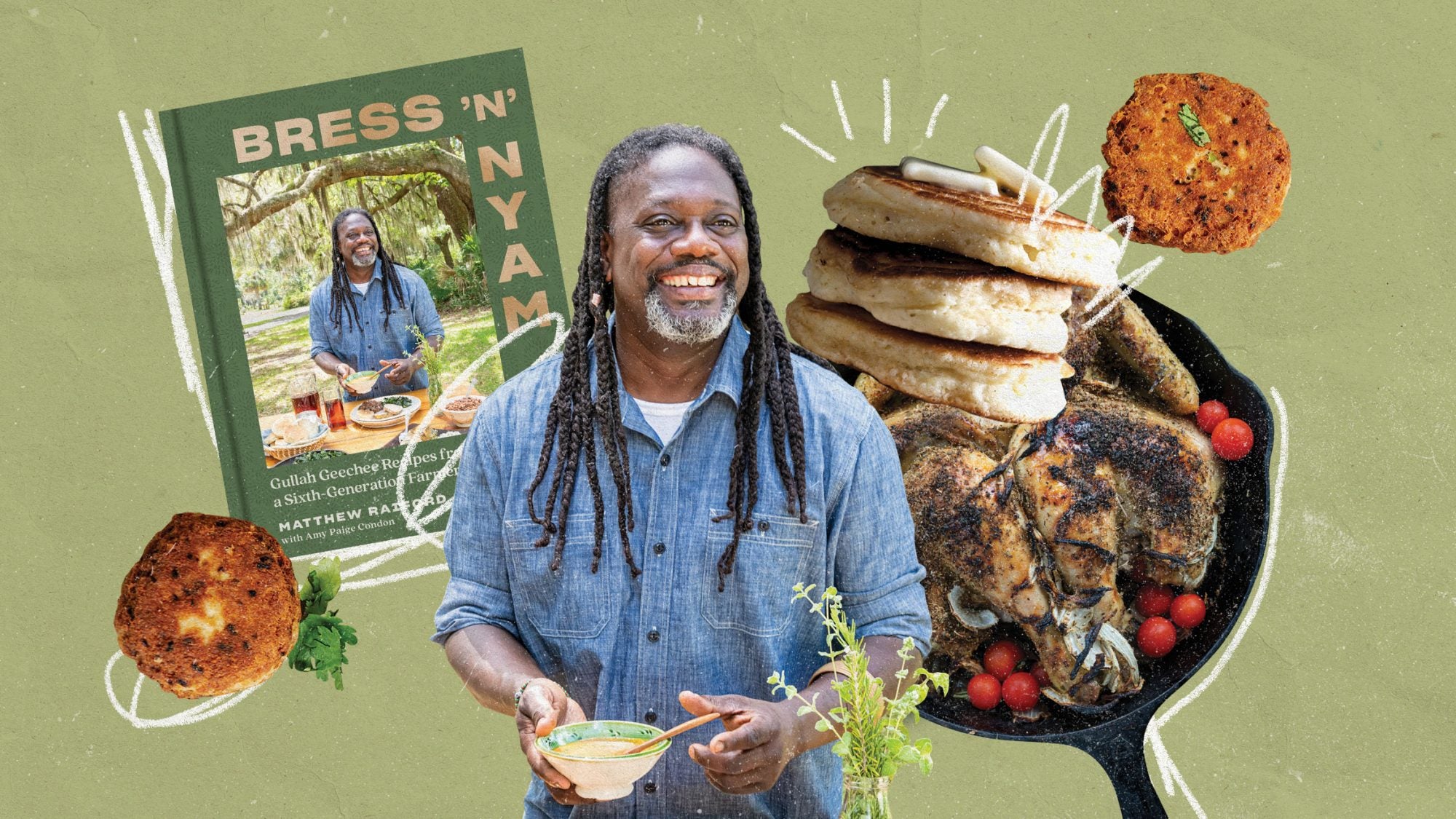 Matthew Raiford's new cookbook tells the story of the Gullah Geechee legacy that lives within the rich soil and abundant waters along the coast of Georgia.
Plenty of cookbooks touch on the topic of family history, or cooking rituals that have been passed down from generation to generation. But not many families are like Matthew Raiford's. The James Beard Foundation Award–nominated chef lives and works on the farm in Brunswick, Georgia, that was originally established by his great-great-great-grandfather Jupiter Gilliard in 1874, just a few years after emancipation from slavery.
Living on the farm for the past decade has meant stumbling upon family recipes, records of harvests past, 19th-century cookbooks, and even grocery ledgers from the early years of the farm. These documents became a jumping-off point for Raiford's new cookbook, Bress 'n' Nyam: Gullah Geechee Recipes from a Sixth-Generation Farmer. The book is an ode to the dishes and ingredients that define this part of the Georgia coast, from the griddle cakes with muscadine jelly to the "Hot Tin Oysters" that are cooked by the bushel on a big sheet of metal over an open fire.
I Zoomed with Raiford during a busy post-rain day on the farm to talk about the traditions he's working to preserve, and why everyone in the country seems to be suddenly getting on board with growing their own food.
How is everything going at Gilliard Farm, and how has this year been for you?
This year started off bonkers. It actually just poured down rain two minutes ago, which was awesome, because I have a little bit of everything planted right now, and I needed the soil to get soaked anyway, because I'm getting ready to put rice in the ground right now. I'm so excited about this year. This is called "year zero" for rice for me, because this is my very first year, and I'm working with the Jubilee Justice project to bring rice culture back. I think I'm the first person in 90 years to grow rice like this on the coast of Georgia.
Which varietals are you growing?
I'm growing a Scarlett red rice; an Arborio, which is a shorter grain rice; and I'm doing a Dragon's Eyeball, which is a black rice.
I enjoyed reading about rice in the book, and a lot of the history of Brunswick and of Georgia, and your family history, too—your great-great-great-grandfather Jupiter and all of the following generations. How much of the book was about recording that history and having it in written, printed form?
It was interesting because it was kind of a balance. The reason I started my podcast, Jupiter's Almanac, is that I had all of these letters that were written between my great-grandparents and my grandparents about what was being sold at market, what was being harvested. So I had those records in letter form already, and then there had been some documents, because someone did their master's thesis on and wrote about Jupiter Gilliard, so that was how I was able to amass a lot of that information and fact-check it. But the other part was me digging my heels into where I am. My nana's sweet potato pie in there is literally the last way I was able to make sweet potato pie with my nana before she passed.
You write about unearthing all of these incredible records on the farm, like the grocery ledger from Jupiter's lifetime. Did you find any written recording of recipes or descriptions of dishes that your family cooked?
Oh, definitely. The Jell-O pie recipe—that was my aunt Mary-Lou's. She had that written down ever since I was a little kid. The magic cobbler recipe is actually a recipe that I started doing in the '70s, because it was a little thing on the back of a Pillsbury box of self-rising flour. I even have a super old bible cake recipe that's written by my nana, and I have the original bible cake molds that those recipes go into. So I was able to find a lot of those little pieces of paper here. And then, my mom's still alive, so being able to sit down and say, "Mom, I really want to put this Effie's molasses pound cake in there. Can you walk me through how you do it?"
I think the pandemic has showed us how unprepared we are for any food system collapse.
Obviously, some of your education began on the farm, but you've also cooked in restaurants, and you've gone to culinary school. For you, what's the importance of this connection between farming and cooking?
I tell the story of not really knowing that everything was bought at a grocery store until I was almost an adult. So much of what I knew here in Brunswick was all about "I grow cucumbers, somebody else grows tomatoes, we give them back and forth. We have a farm, and you might not have a farm, but you grow peas." It was always about the best ingredients, even growing up. There was always this sense of place, sense of taste, sense of terroir. And I think, by the time I went to culinary school, and I was hearing chefs talk about getting the best ingredients, knowing your farmer, I was already like, "Oh, boom, I know that." That was already part of my DNA, part of my life.
One of the things you write about is how people in the Brunswick area have become a little less self-sufficient over time about growing or catching their own food—because of environmental factors, and new developments being built. What's important to you when it comes to self-sufficiency in food?
I think the pandemic has showed us how unprepared we are for any food system collapse. My running joke is, walking through a grocery store during the pandemic, for months, they didn't have any eggs. Like, what happened? Did the chickens stop laying all of a sudden because it's a pandemic? But what happened was people were buying massive amounts of eggs, massive amounts of meat, because we were trying to stock up. We didn't know what was going to happen. I think it's important for us all to take a pause for a moment and realize that Mother Nature has a lot to give us, and we have to be kind to the earth if we expect to continue.
I believe people are also realizing that we need to be better stewards of the environment itself. I worked part-time at Tractor Supply Company for a little while during the pandemic (they have some amazing discounts, so I couldn't help it), but what was really interesting was watching the massive amount of people who had never gardened before, had never planted a single thing before, had never had chickens before, and they were like, "Oh, let me figure out how to do that." And I think it's not just about being self-sufficient, living off the grid per se, but it's about understanding that we work for three things: food, clothing, and shelter. If food is that important to our survival, we have to ensure that we're able to continue to eat.
Oysters are such a big part of the book—diving into the history of the oyster industry in Georgia, but also lots of exciting ways to cook them. I think a lot of people think of these bivalves as a restaurant treat, but why should people get excited about buying them and cooking them at home?
Oh my god. Okay. Oysters on a hot tin. When you get a burlap sack of oysters, you know that they were harvested. Like, you're looking at a tag that says "today." And they're just so amazing. Especially the oyster liquor. Oysters on a hot tin are all about eating oysters that are raw but slightly steamed—just enough that the oyster pops open. You want it plump and juicy. You don't want a dried-up oyster.
It's always been part of us here. Low-country boils have always had crab, and sausage, and carrots, and potatoes, and big prawns. Especially for folks who are along a coastal line, who can get that all the time—it has to be part of what you do. Because there's no other taste like the salinity that's inside that oyster juice. It needs nothing!
This interview has been edited and condensed for clarity.
THREE EXCITING RECIPES FROM BRESS 'N' NYAM:
Buttermilk Griddle Cakes
The best way to eat these is slathered with butter and muscadine jelly, but we won't blame you for going the maple syrup route.
Grandma Florine's Salmon Cakes on Pepper Rice
A frugal way to make a little salmon go a long way, thanks to Raiford's great-grandmother.
Spatchcock Chicken with Roasted Vegetables
There's a trick to getting that skin "GBD" (golden, brown, delicious), as Raiford calls it.
MORE BOOKS TO BUY, READ, AND COOK FROM:
Last week, we talked vegetables—fresh, frozen, foraged—with chef Eric Ripert, author of the brand-new Vegetable Simple.
Black Smoke, by Adrian Miller, looks at the ways Black chefs and pitmasters created the foundation of the United States' barbecue culture.
Jump into the Mediterranean approach to figs, feta, and date syrup with Yasmin Khan's Ripe Figs.
If you're getting a little tired of your beans and rice routine, Joe Yonan's Cool Beans will give you a new outlook on these legumes.