Donabe Isn't Just a Pot. It's an Experience.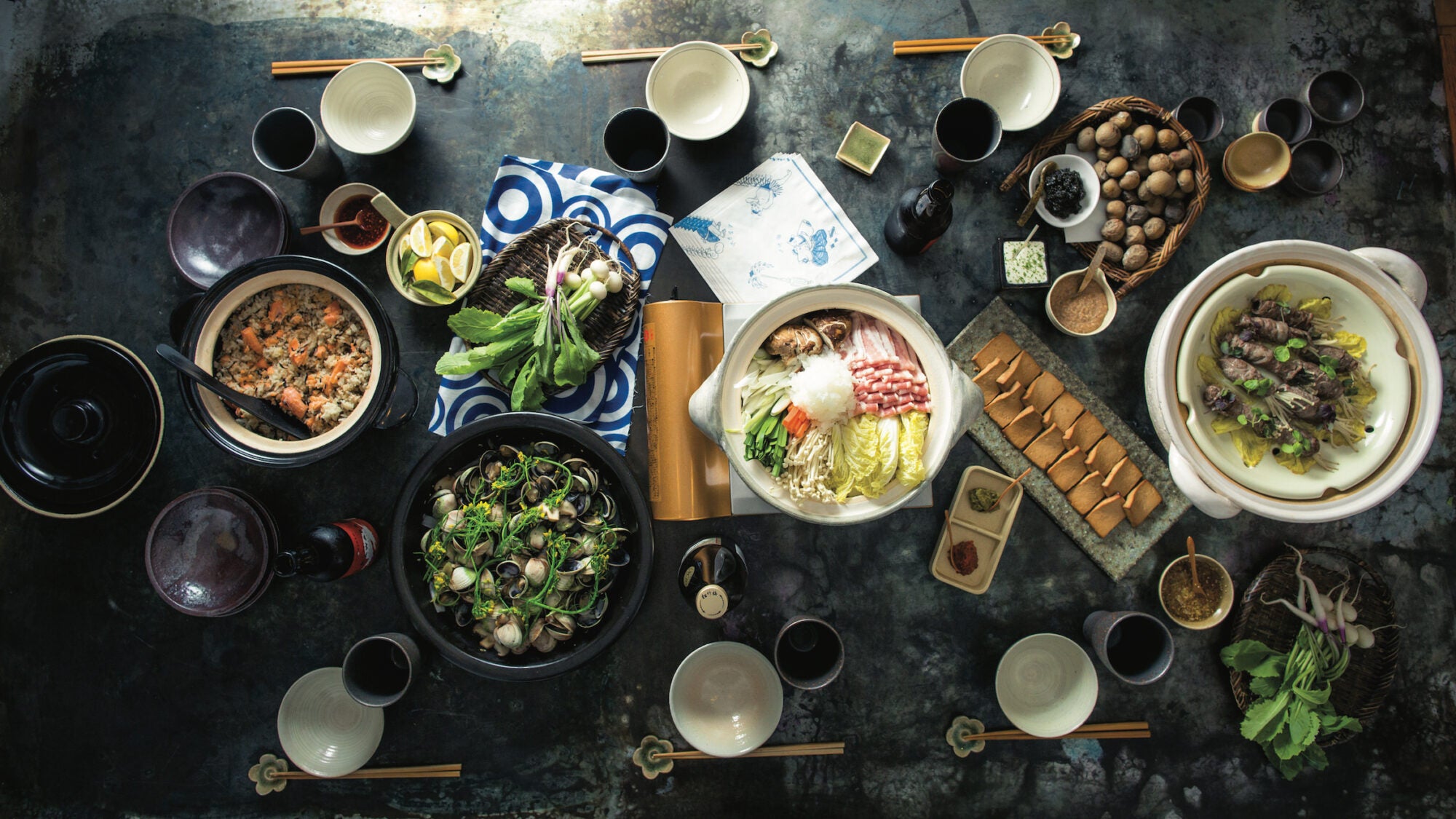 How Naoko Takei Moore introduced a generation of American home cooks to the versatility of Japanese clay pot cooking.
If you've started to notice more and more handmade clay donabe pots making their way into your Instagram feed, holding carefully composed assemblages of dashi, rippled leaves of cabbage, and silvery slices of fresh fish, cookbook author Naoko Takei Moore may have something to do with it. Moore (who also goes by Mrs. Donabe), has been evangelizing the benefits of cooking in these lidded Japanese pots since starting her business, TOIRO Kitchen, in Los Angeles in 2008.
Today, she ships donabes worldwide, from Minnesota to Saudi Arabia, and thousands of first-time donabe experimenters have turned to her 2015 cookbook, Donabe, for guidance. The book paints the picture of donabe cooking as not just another way to cook rice or a centuries-old tradition worth preserving for tradition's sake, but also as a singularly unique cooking experience that can be perfectly slotted into everyday cooking habits. Cooking in these handmade pots is a ritual, designed to shared communally. There's an art to it, whether you're tiling littleneck clams across a bed of short-grain rice or tucking a bouquet of enoki mushrooms into a pot of dashi. And there's nothing quite like the big moment when you open the lid and the whirl of scented steam lifts to reveal a perfectly cooked meal.
I was curious to ask Moore about why she thinks this contemplative style of ancient cooking has gained so many fans in recent years, and how this has dovetailed with all of the changes COVID-19 brought to our home-cooking routines, so we caught up by phone in the midst of a very busy pre-holiday week at her store in LA.
For people who are not very familiar with donabe cooking, what are the main differences between cooking in a clay pot and cooking in a cast iron pan, a Dutch oven, or some other stovetop vessel?
I always tell people, you can enjoy the same recipes you would in other casserole-style pots, but to me, donabe is really about the clay. Especially since the clay pots we carry are from this particular region called Iga—the entire region used to be a lake about 4 million years ago, in prehistoric time, so there's a very special energy coming from the donabe when you cook in it. It's a special feeling. Funny thing is, every time I cook with donabe, I feel it.
But in terms of function, because donabe is made of clay, it's very porous, so it's really energy efficient, because the porous body takes more time to build the heat—but once it builds heat, it stays hot for a long time. Even after you turn off the heat, it continues to cook the contents. And also, it cooks down really slowly. So that's an essential part of making the food—to give it more umami flavors, especially when you're doing a stew or slow-cooking something.
Your book came out about five years ago, and so many people that I know have bought donabes since then and have sort of become donabe converts. What do you think has changed since then, and do you get the sense that Americans are starting to catch on with this style of cooking?
Yeah, totally. I think so. I started this business more than ten years ago, and back then, donabe was not recognized in this country at all. Only when sometimes there was an introduction to a Japanese hot pot recipe, and sometimes, maybe an additional note would say, "Use a Japanese clay pot." It was never referred to by the original term, donabe. And most people couldn't pronounce "donabe"—they would say "doh-nah-bee" or something else. [It's "doh-NAH-bay."] And so the word "donabe" was almost never used here, but now I see it in different magazines, like the latest Bon Appétit magazine. And they refer to it as donabe, so it feels like such an achievement.
And also, I think so many people feel connected to the way of cooking. It's really not just about the recipes cooked in it. It's about how it's presented, and how it creates the communal dining experience. It's about the whole experience of it. In the beginning, a lot of people were kind of apprehensive about the idea of cooking, like it was too exotic or too Japanese. But then people started to realize that it actually makes your life much easier, because it's essentially one-pot cooking, and you can basically throw in whatever you find in the fridge or in the pantry, and you can make a really wonderful meal out of it.
Have sales increased during COVID? And do people seem more interested in this method of cooking now?
We actually got more orders after lockdown. Initially, maybe the first four to six weeks, I didn't know what to do, because I had to shut down the whole operation, so we didn't get any really big orders. But I think after that, people got more into home cooking because of quarantine. There were more orders, particularly of the classic-style donabe. And then we got more inquiries from people who wanted to buy their first donabe. But at the same time, I don't feel that the increase of orders is all because of COVID. But I think the timing matched with all of the past years of trying to spread the word of donabe to people. So I think they sort of collided.
I obviously associate the tradition of donabe with Japanese cuisine. Are there any dishes that are not Japanese that you especially like cooking in a donabe?
Donabe is really versatile. Recently, I've been enjoying making gratin-style dishes in the donabe. I can cook grains like quinoa in a donabe and cover them with different toppings, sauce, and cheese, and put it in the oven, and you can make a beautiful one-pot donabe gratin dish. But donabe can be used for any cuisine, and a lot of people tag us on Instagram and get really creative. They do sometimes European-style—like a meat stew—or South American dishes. So it can be used for any international cuisine.
One of the dishes that I'm dying to try, which I saw on your Instagram, is the sardine rice.
Oh yeah, that's a really popular recipe! Especially when people started to quarantine during the COVID situation, I think a lot of people tried the recipe, because you can have many cans of sardines stored in your pantry, and if you have some rice and ginger, you can make a really nice one-pot dish. It's really easy, and it's packed with flavor. It makes a beautiful presentation, too.
Is there a particular kind of sardine that you use when you make it? Because I notice the ones you use are very small and dainty.
I just happened to find this brand—I think it's called Tiny Tots—it has yellow packaging, and you can find it at a regular market. They tend to have smaller sardines. I like the smaller sardines because they're prettier.
Have you done donabe dishes with any other types of canned fish?
I've done a canned scallop that's good, too.
If someone is interested in trying out donabe for the first time, is there a particular size or style of pot that you recommend to people as their gateway in?
I would say classic style—that's the basic casserole-style donabe. That's good for soups, stews, and hot pot, of course, so it's really multi-use.
Another really popular style of donabe is called Kamado-san, and that's designed for making really premium-quality rice. The body is much thicker than regular donabe, and it comes with two lids (an inner lid and an outer lid) and the shape of it is really designed for the best circulation of boiling water during cooking. Of course, that donabe can also be used as a classic-style donabe for regular things.
And what is a good first dish for people to try out?
Maybe a simple hot pot. You can make dashi, or your choice of stock, and then just cook a bunch of ingredients. It's really simple, and for me, hot pot is my ultimate comfort food, and I never get tired of it. That's really the spirit of donabe cooking. Hot pot is really meant for sharing.
This interview has been edited and condensed for clarity.
FOUR EXCITING RECIPES FROM DONABE
Chicken Hot Pot
A simple combination of chicken dashi and kombu dashi are fortified with sake, mirin, and soy sauce for a simple but comforting hot pot base.
Crab Rice with Charred Green Onion, Tatsoi, and Sesame
A luxurious way to turn a single Dungeness crab into a one-pot dinner.
Pacific Saury with Tomato Sauce
The fruity acidity of tomato sauce meets the oceanic flavor of Pacific saury (or mackerel, or sardine fillets, if you can't get your hands on saury).
Pork Snow Balls
These ingenious dumplings are made by forming tiny pork meatballs, which get rolled in soaked rice and then set on a leaf of napa cabbage to steam.
MORE COOKBOOKS TO BUY, READ, AND COOK FROM
Last week, we talked to Maneet Chauhan about her new book, Chaat, which is all about the category of Indian snacks that combines sweet, tart, spicy, and cooling flavors.
Looking for a book that parents, grandparents, and twenty-somethings will all appreciate as a gift? Look no further than Lasagna.
Yossy Arefi has a flavor for every mood in her latest book, Snacking Cakes.
If your daily cooking routine could use a little inspiration, take a breeze through the candy-colored (and candy-inspired) recipes of Esteban Castillo's Chicano Eats.
Garrett Snyder writes an ode to Eat Me, a pioneering cookbook by Kenny Shopsin, the founding owner of New York's iconic, chaotic Shopsin's General Store.