Do We Still Care About Burger Rankings?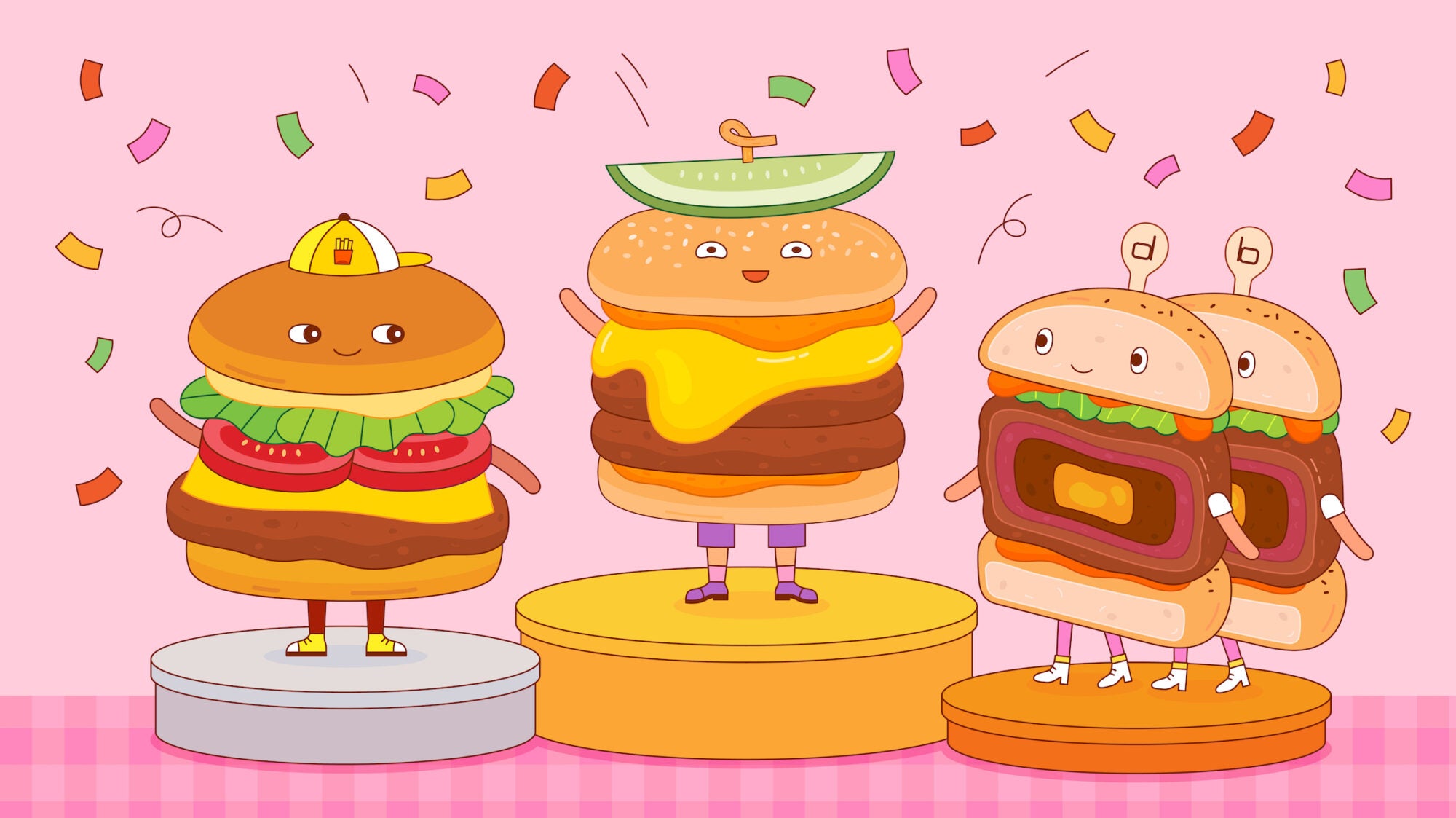 Ordering burgers is an American pastime—and so are food rankings with in-depth analysis. But with meat consumption on the decline, are the lists even worth writing? 
My mind immediately goes to a dystopian, sparingly beef-centric future whenever I see a breathless update of a region's burger rankings drop online, or the inevitable thread that starts every month on a city-specific Subreddit asking users about the best burgers in town. Does it really matter whether a particular patty on a particular bun is better than another when beef consumption is trending downward and "eco-anxiety" is trending up?
And yet, while the planet burns, burgers continue to loom large in the American psyche. "The burger is America," says Jae Lee, the chef and owner of Nowon in New York City. He makes a distinctly Korean American burger that consistently ranks on top burger lists. It's called the Legendary Burger: two four-ounce patties, a blend of Pat LaFrieda's short rib, chuck, and dry-aged beef fat; two slices of American cheese; bread and butter pickles from The Pickle Guys; a Martin's Potato Bun, seeded and toasted in butter; and a secret kimchi mayo. "It's what you had in school cafeterias. It's what you had in high school when you were broke. It's what you had in college when you were hungover," Lee continues. "It's something that is always part of your life here in America."
Cooking and eating burgers is an American pastime—and so is ranking foods with in-depth analysis. Everyone is a product of their burger ranking. I instantly respect anyone or any publication that includes my current favorite in New York City: Golden Diner's platonic ideal. I vehemently disagree with anyone on r/askTO who can stand behind Johnny's Hamburgers in Scarborough in the Greater Toronto Area, a char-broiled bummer that has disappointed me every time I've swung by. In the immortal words of Adam Richman: "We all are burger divas."
What is it about burgers that have turned us into such divas? What about them has captivated our bellies and brains for so long, and what does that say about us today, the creators and consumers? Let's go back in time.
Burger lists have always existed, according to burger historian and expert George Motz. But there was a clear turning point nearly two decades ago in the uber-meaty era of the mid-2000s, when pork belly, bone marrow, and offal graced nearly every trendy menu. Three genre-defining publications emerged during this period. First, there was A Hamburger Today, founded in 2005 by blogger Adam Kuban and focused on anything burger-related, from detailed recommendations to burger-adjacent crime (like a Hamburglar statue gone missing). "He was one of the first doing it alone," says Motz.
In 2006, venerated food writer Josh Ozersky launched Grub Street, a dedicated food news site from New York magazine that included a hefty mix of burger content in its rapid churn of blog posts. The late Ozersky went by several nicknames, but "Mr. Cutlets" seems to have stuck the hardest. Then came Beef Aficionado in 2007, writer Nick Solares's ode to meat with a strong emphasis on scrutinizing burgers. Not too long after their launches, both A Hamburger Today and Solares  went over to Serious Eats. With that, intense burger examination was no longer reserved for niche corners of the internet but for public opining, just as online commentary was taking off.
A certain swagger set into this discourse. It could be white and bro-ey at times, and it always seemed extremely caught up in the minutiae of burger crafting (the ounces of the patty, the "boutique" blends injecting extra fat and dry-aged strips into the grind, the dedication to Martin's Potato Rolls). But it was always kind of a free-for-all in these heated burger debates, and that was the beauty of it. No single burger stayed on top of the pile for long.
A certain swagger set into this discourse. It could be white and bro-ey at times, and it always seemed extremely caught up in the minutiae of burger crafting
There was the birth of the cheffy burger era, introduced by chef Daniel Boulud in the form of his foie-gras-stuffed DB Burger at db Bistro Moderne in New York City. It commanded a hefty price tag ($27 in 2001—or $44 today) and cemented burgers as a status order. It reigned supreme until other burgers entered the scene like Minetta Tavern's Black Label Burger in New York, with its dry-aged beef blend and sceney aura, or Umami Burger in Los Angeles, with its manipulation of ingredients (American cheese swapped for Parmesan crisps, tomatoes roasted in soy) to up the umami, almost in the spirit of molecular gastronomy.
Fast-forward two decades and we're in the heyday of plant-based burgers and accidentally vegan restaurants, not to mention a climate crisis that has many people questioning meat consumption as a whole. Yet burgers still reign supreme as an object of debate and desire. We're continuing to see a wave of burger obsession in media, with regularly vetted and duly revised burger lists coming from the local outposts of The Infatuation, Thrillist, and Eater, and new lists emerging in newsletters from buzzy food writers like Illyanna Maisonet and legendary restaurant critic and editor Ruth Reichl. Shows like First We Feast's The Burger Show with chef Alvin Cailan have brought the burger list to YouTube and garnered millions of views.
"There is a lot of room for different voices, different viewpoints, different rankings," explains Bao Ong, the current editor of Eater New York. "Should we keep writing these types of lists? I don't know the answer to that. But there is a demand for it, from a reader's perspective and also from a service journalism point of view."
Sure, it can be a bit of a chicken-and-egg situation: Readers are searching for more restaurant content than ever before, and publishers in turn want to get those eyeballs on their particular list for the sake of #engagement. Still, the desire for more burgers and more rankings continues to burn.
"I always keep up with media, like Eater and Infatuation," Lee shares. "I look through the lists, and I see us up there." The Legendary Burger changed Lee's life. When he started making burgers on a pop-up basis back in 2019, he was barely making ends meet; he had to sell his Italian watch to pay for rent. A week later, he got a review in Gothamist titled "Random East Village Bar Now Serving One Of NYC's Greatest Burgers."
Almost instantly, Lee went from selling five burgers a night to a hundred. "Because of that burger, I now own a restaurant," he says. These days at Nowon, customers still come in after reading that review or seeing it on burger lists. Lee and his team constantly tweak the Legendary Burger, adjusting the temperature of the griddle or changing how much they want the cheese to be melted. "We never stop," he says. "The burger speaks to me at my core; it's two cultures merged into one. I can secretly share my culture, hiding in a burger. I love that."
Before I started reporting on this story, two questions lingered in my mind: Are burger rankings an outdated holdover from food media's past, or can more be done with what's between two buns? And maybe more importantly: Can more be said about what's happening between two buns than simply arranging and rearranging them on a top-ten list over and over again? As I immersed myself in these rankings, the intense investment I felt surprised me—but what surprised me more was that I started taking notes on my phone of burgers to try.
For so long, burgers were a quiet craving for me, something that felt sinful to consume in the midst of climate change and foreign to fuss over in the mid-2000s white bro way. And, oddly enough, the rankings allowed me to relax and partake. I realized there is room to seriously argue over frivolous things like American vs. non-American cheese (I'm team American cheese!), burger blends, and price tags. There is a time and a place for a hulking cheffy burger in a restaurant, where, at this point, I eat most of my beef.
"There is a lot of room for different voices, different viewpoints, different rankings."
And the burger scene is constantly changing, not just with trends coming and going (looking at you, smashburgers) but with additional voices and new burger styles making an entrance. They're not just replicating burger debates of the past but broadening burger conversations of the future. They're making burgers in America truly, well, American. And diners like me not only want to stay on top of the burger world but be in it.
"They want to make sure they are part of the culture, part of the moment that is happening," says Motz. There is a whole world of burgers that's up for debate, not just for past elite food writers but for people like me, who have never felt like they were welcomed into the burger conversation. So, long live the burger ranking.