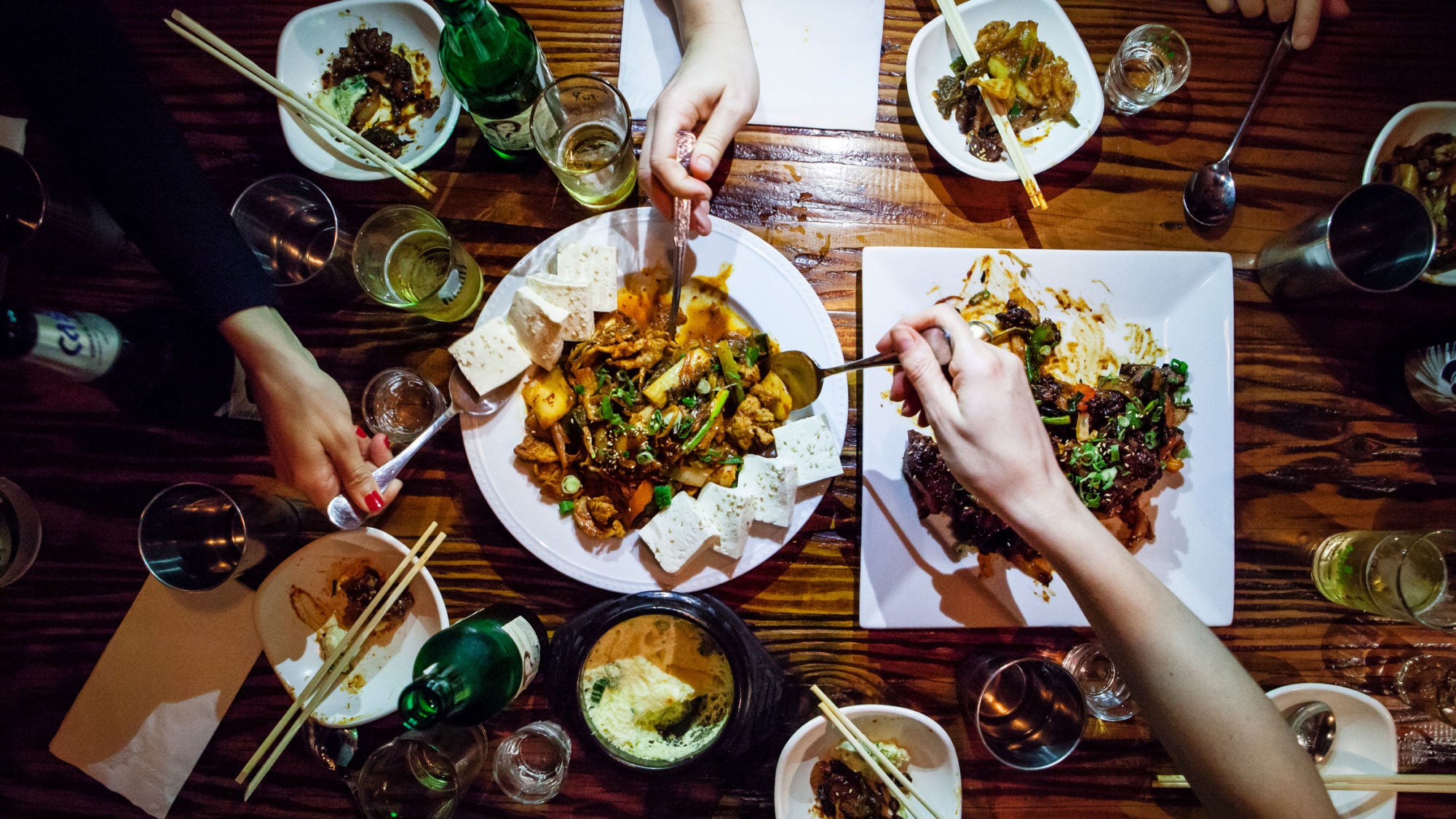 As restaurants re-open, and diners chose to participate (or not), takeout and meal kit alternatives are thriving.
A month ago, I was seated for dinner on a Friday night, the table draped with a crisp white tablecloth, a bowl of pesto cavatappi steaming in front of me, an icy gin and tonic in my hand. It was in my parents' backyard in Dallas, Texas, and my mom and dad were trying their best to transform our outdoor space into a restaurant—a creative way to address our three months of quarantining together, with not a single meal eaten outside of our home. It was time to change things up.
At that point in time, Dallas restaurants had opened up at limited capacity. But I wasn't comfortable returning to dining—not when so many restaurant workers still can't make a living wage or have access to health insurance. Workers are essentially being asked to choose between their well-being and their paycheck. Small businesses have received neither robust guidance on safety measures nor meaningful financial assistance from the government. (Not to mention that, as we all know now, Dallas wasn't taking social-distancing measures all that seriously.) I'm now back in New York City, and outdoor dining just opened up. While people here appear to be more committed to mask wearing, I am still not comfortable with going out to eat. With a self-imposed isolation from dining in restaurants, I do really miss my parents' backyard version.
But restaurants have found creative ways to adapt to this new environment, and I've been excited and encouraged by all their pivots. Before its closure due to financial stress and an impenetrable lease, I devoured a jerk chicken platter and a rum punch standing on the sidewalk outside of Crown Heights Caribbean restaurant Glady's, where the streets had become like a block party. I picked up a few orders of kimbap, packed up like burritos, and a bottle of soju from Haenyeo in Park Slope, and I ate them atop my roof. I can't wait to pick up a "Boxalis," a selection of prepared food, cocktails, and wine from the bistro Oxalis in Prospect Heights.
But the innovation that has excited me the most is the restaurant meal kit. The ones coming out of restaurants are nothing like the Blue Aprons or Hello Freshes that many have come to associate with the term "meal kit." They're thoughtfully crafted boxes of cook-and-assemble-it-yourself meals — dumplings, pizza, goi cuon, bone marrow tacos, and 45-day dry-aged rib eyes. They come with personalized directions from the chef, QR codes leading to videos with plating instructions, and aesthetically pleasing utensils. They can cost $15 or $175, depending on how fancy you want to go.
I wrote about these kits for TASTE, exploring how they are closing the gap between home cooking and restaurant food, and how positively customers are responding to them. I have yet to actually order one of these kits—I wish that I had snagged the goi cuon kit from the Dallas Vietnamese restaurant Sandwich Hag before I left—but given that I don't think I'll find myself in a restaurant anytime soon, I'm eager to try. It's still unclear what the future of the restaurant industry looks like, but I'm quite certain these meal kits, which could possibly be rebranded as "restaurant-adjacent boxes," have a big role to play, and offer an exciting future for home cooks.
What others are saying about eating out and cooking in:
Tejal Rao of the New York Times writes a smart piece about how she's not ready to eat at restaurants again, in a country where owners are now being asked to function as de facto public health officials, without any clear regulations.
I always appreciate reading Kate Taylor of Business Insider, whose work centers on issues of labor in the restaurant industry. Last week, she spoke to restaurant workers who were being abused for asking customers to wear masks.
And please read Roxane Gay's excellent essay in Bon Appétit about how she — who, prior to quarantine, dined out for most meals — changed her relationship with her kitchen during quarantine.